Day 61: Endive Quiche, Stuffed Quail, & Mango Timbales
Today's menu was fun to put together!  In order to be on time for service, we actually made the dessert yesterday afternoon and starting putting together a bunch of components this morning,during lecture, to make everything go that much smoother.  I love that feeling.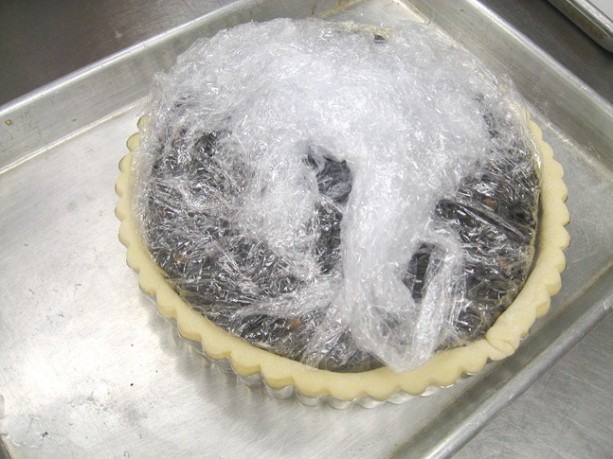 Our first course was super delicious and really creative!  Chef Patrice is really a genius when it comes to taking a classic dish or flavor profile and figuring out how to make something in a more interesting, modern way.  Our Endive & Roquefort quiche today was a perfect example of that.
In the past, we have always made quiche with pate brisee (a classic "broken" dough made with flour, butter, salt, and cold water).  Today, we used brioche bread dough. Yes, you heard that correctly!  We made the dough yesterday afternoon, allowed it to rise at room temperature and then proceeded to let it rise and set in the fridge (2nd rise).  Normally, you allow the dough to rise once again once it is shaped.  However, instead of doing that, we removed the cold dough from the fridge, rolled it out like any other dough, and molded it into our tart shells.
We then blind baked the crust (and weighed it down to prevent it from expanding and puffing, as brioche will do naturally).  The end result looked like this!  Rustic and delicious.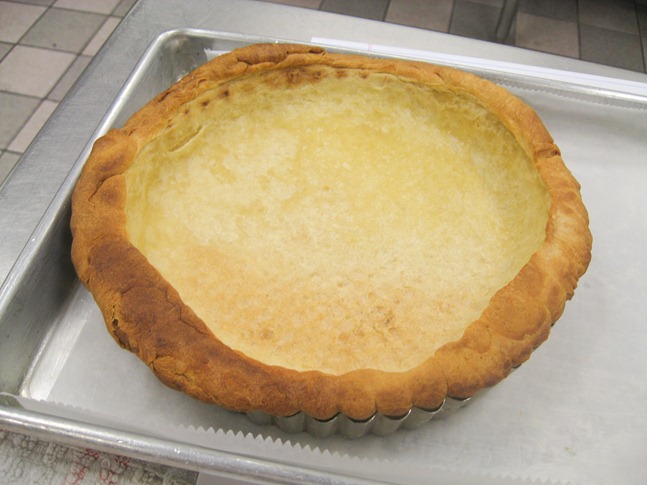 You might be wondering why we would use brioche dough?
Chef Patrice has an answer to everything.  It isn't purely for making a more interesting dish (which it does, but is sorta beside the point).  The sweetness and richness of the brioche dough is actually perfect to cut the natural bitterness of the endive filling.  Makes sense!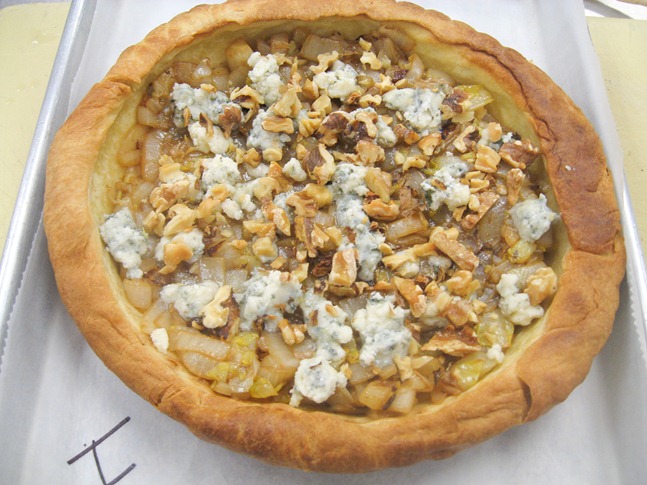 Our filling was comprised of endive, which we sautéed with a small amount of olive oil and lemon juice.  We also added in crumbled Roquefort cheese (yum!) and toasted walnuts.   All of these ingredients go extremely well together. Topped with custard (whole eggs, cream, nutmeg, salt and pepper) and baked at a low temperature.
It was delicious!  The brioche crust actually made it feel a lot lighter as well.  We served it alongside a small arugula salad.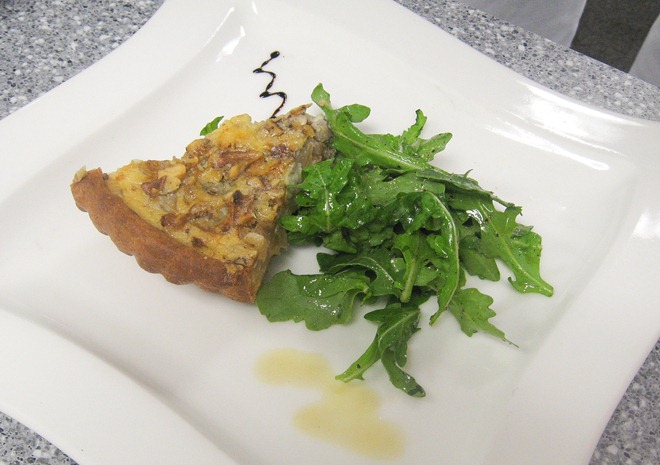 Our main course was an equally interesting dish:  Stuffed (Deboned) Quail with a side of wild rice and baby vegetables.
The quail we used actually came completely deboned (such a weird, but cool concept!)—we will apparently learn how to debone an entire chicken by the end of Phase II.  Can't wait for that day!  I'm guessing it will be difficult…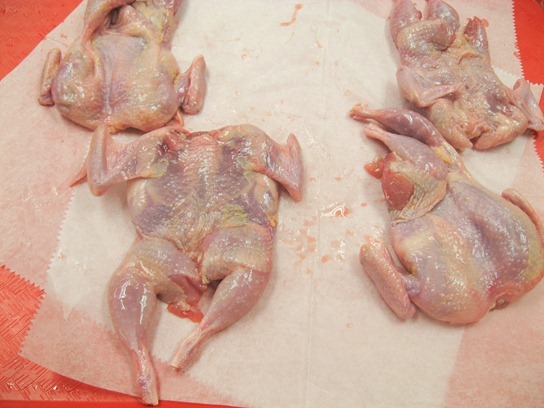 I was also excited to use baby vegetables, because I love them!   So adorable and the colors are amazing. Even if they did require a bit of trimming, cleaning, and all had to be cooked separately…
Our quail was piped full of a stuffing made from a combination of ground veal, pork, duck liver, as well as soggy bread/cream mixture, leftover pate, basil, onion and a bit of parsley.
The main purpose of making a stuffing is really to use leftovers and throw it together with whatever you have on hand (within reason…).  The trick is to have it contain between 30-40% fat to ensure that it is moist and flavorful.
Because we taste everything, we actually made little patties of the stuffing and sautéed it prior to stuffing the quail to ensure that it was seasoned properly and tasted good.  These little (often, overlooked) steps make a big difference in the end!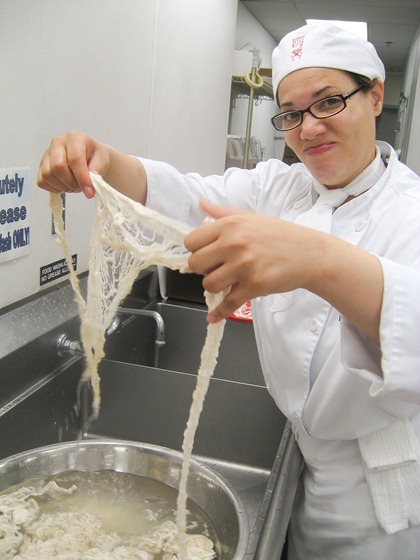 Caul Fat—pretty gross! 
Once our quail were stuffed, we wrapped them in caul fat (beef stomach lining—not the most appetizing thought in the world).  This is a very old technique but works very well because it maintains the shape of the quail, prevents the stuffing from coming out, and melts during the cooking process (since it is fat, basically).
We then braised the quail with some mirepoix, chicken & veal stock.  At the end, we reduced the liquid and added in some thyme for extra flavor.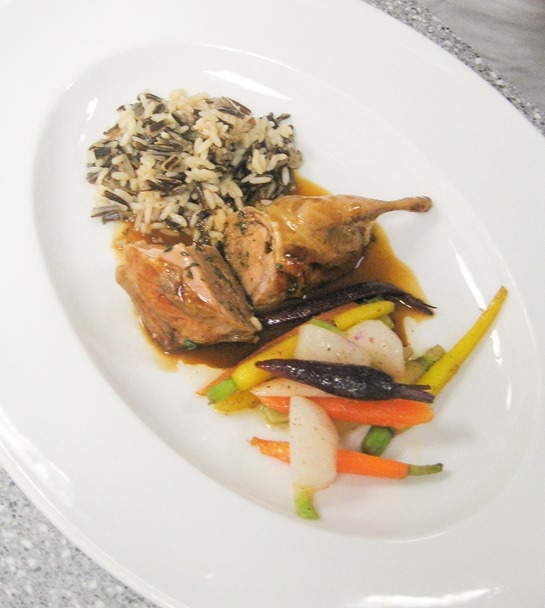 Our dessert was equally as delicious!  We actually made these yesterday afternoon, because they had to set in the fridge.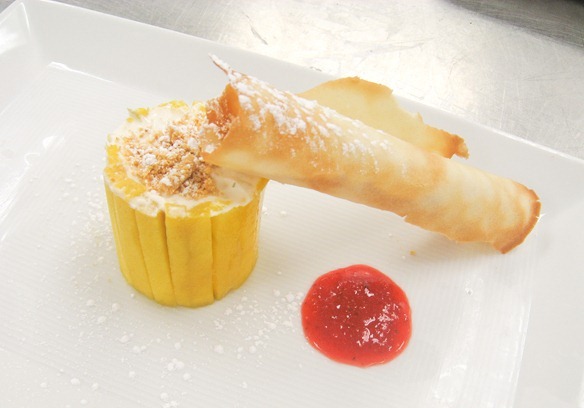 This dessert was a mango timbale filled with a mixture of fromage blanc (a creamy soft cheese, read more about it here), citrus zest, whipped cream, and a bit of gelatin, so it could set.  The most time consuming part was slicing the mango incredible thinly, cutting it into very thin matchsticks and lining the inside of the molds.  It was very delicious and relatively healthy actually!
The center also had a small layer of chopped mango mixed with a bit of triple sec.  Very refreshing!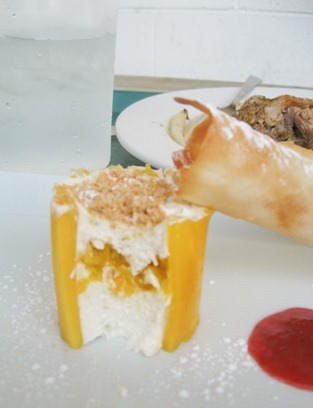 To go with the dessert, we had to make cigarette tuile cookies, which are the bane of my existence! I think they put everyone in a bad mood, haha. They are incredible fragile and difficult to do well—because they need to be rolled immediately once they come out of the oven.
Today was also our last official day working with our teammate, before we get assigned a new one next Tuesday!  I have a feeling service that day might be a bit of a mess…
The afternoon was spent taking our theory exam, which seemed to go well!  The rest of tonight will be spent preparing my recipe notebook (64 new recipes typed + 120 previous ones) to turn in, as well as preparing myself mentally for tomorrow's practical exam.  Wish me luck!
**As always, many thanks to everyone following along my journey!  I look forward to sharing the details of each day with each and every one of you. 
This post contains affiliate links, which means that I make a small commission off items you purchase at no additional cost to you. Please read my
privacy policy
for more information.