Day 75: Pigeon, Steak Poele, & Pecan Tart
This week was full of time-intensive menus to get us geared up for our difficult practical exam at the end of the week!  Everyday we were hustling to get all of our dishes out on time…
Wednesday's first course was particularly time-consuming!  It was essentially a timbale (basically a mold) of squab.  The entire thing was wrapped in braised endive leaves—and there were a bunch of other stuffing components as well!  It was our first time working with squab—which in less fancy terms means pigeon meat.  I took a bunch of photos of the butchery process, so if you are squeamish you might want to scroll on down if you would prefer not to see them!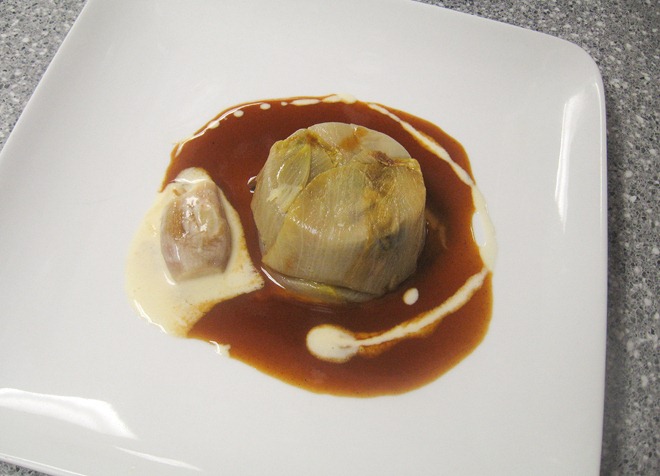 The entire process started with breaking down pigeons.  Unlike other poultry we've broken down in the past, we received the entire pigeon—head, feet, organs, everything!—and had to clean it all up.  Sounds a bit gross, but I found it really interesting actually.  A culinary school dissection, if you will!  I have to say, they were a bit sad to look at though…
It started with cutting off the head, legs, and then using your hands to remove the lungs from the rib cage!  It was a messy, dirty process.  Once we did this, we were able to literally pull out all of the organs in one go. 
We then trussed the pigeons and seared the legs and back over the stovetop, before roasting the whole pigeon in the oven.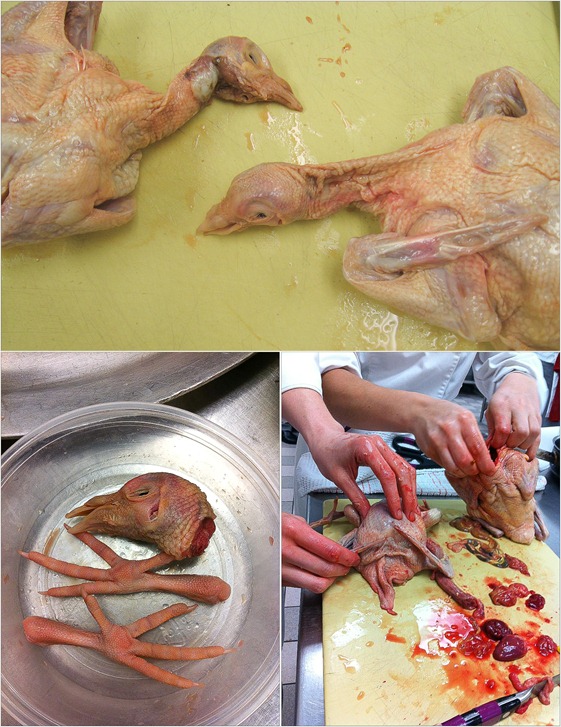 While we were roasting the pigeon, we assembled the rest of our timbale ingredients (we started braising the endive right when we arrived at school in the morning), which included sautéed mushrooms, as well as searing a small amount of foie gras (duck liver) and the livers of the pigeon. 
We also were given veal mousse—which Chef Patrice had prepared during the morning lecture—to use as binding to hold everything today.  Once our pigeon was cooked, we removed the breasts and legs and sliced the meat.  Then we lined ramekins with endive leaves and filled it up with everything.  This got baked in a water bath at a low temperature for about 30 minutes until it was all set…
To go with our timbale, we also prepared an orange gastrique (gastrique is simply caramel mixed with acid, usually red wine vinegar), which we added to a jus we prepared using the pigeon bones.  To accompany this, we also prepared a simple shallot cream sauce. 
Can you tell that this dish was a bit time-consuming??? It tasted good though!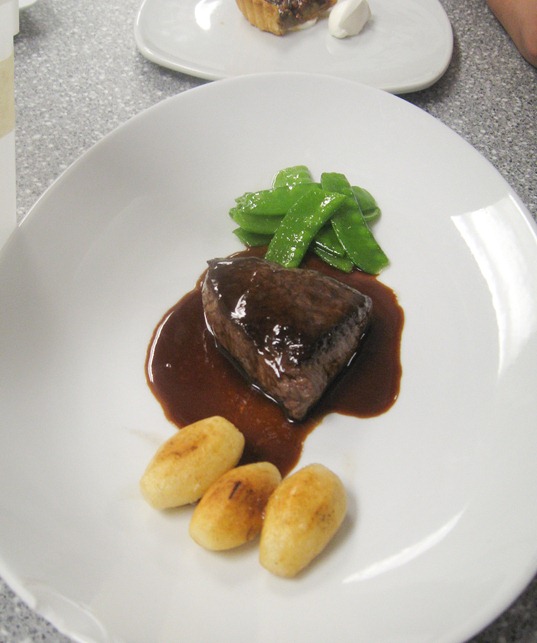 Luckily, to balance out the more labor intensive first course, we made a simpler main course of steak poele (pan seared steak), served with a bordelaise sauce.  To go with it, we cooked snap peas and also made pommes rissolees, a potato dish from Phase I, which involves tourneeing potatoes, quickly blanching them, before sautéing them in clarified butter.  We were quickly running out of time, so I had to tournee the potatoes extremely quickly during service!!
And lastly, we served a pecan tart for dessert, with whipped cream quenelle on the side.  The pecan pie was made with a pate brisee crust (flaky, sugar-free dough).  The filling was a simple mixture of melted butter, sugar, maple syrup, corn syrup, toasted pecans, and an egg.  Right when it got out of the oven, we poured on a mixture of Kentucky bourbon and vanilla extract.  Yum!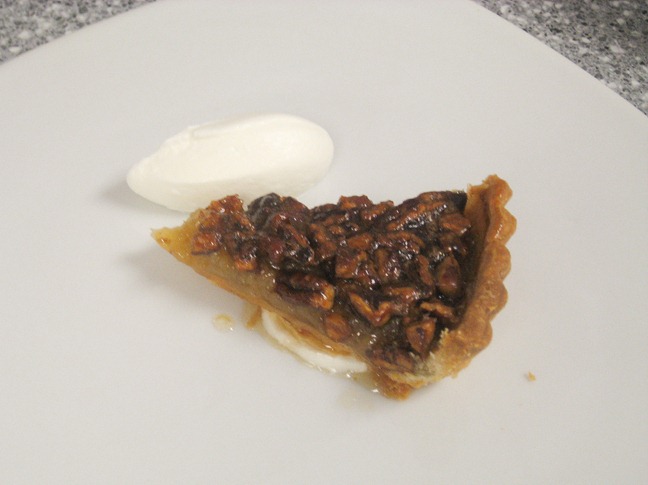 We ended the exhausting day with our third (and last) wine class of the program!  We talked a little bit about food pairing, and got to taste a wide selection of wines, as well as Champagne (Perrier-Jouet—the good stuff!) and a very good quality Madeira and Port.
I think we all didn't eat enough lunch, because we were all acting a bit goofy by the end of it.  Our spit cups were also suspiciously on the empty side…
I then headed home to try to concentrate (difficult after a wine class, I might add) on studying for our theory exam the following day!
Back soon with an update on Thursday's class, as well as today's 5th practical exam.
This post contains affiliate links, which means that I make a small commission off items you purchase at no additional cost to you. Please read my
privacy policy
for more information.