Day 74: Rockfish, Rabbit Saddle, & Clafoutis
Woops—the weekend zoomed by and I didn't ever end up writing a quick weekend update!  Before I knew it, I was heading back to school to start Week 20, which is going to end with our fifth (and notoriously difficult) practical exam on Friday, as well as another theory exam.
Overall, the menu was quite delicious!  Much better than last week's sweetbreads…if I do say so myself.  Our first course was a potato encrusted rockfish served with a green olive sauce.  We started by breaking down rockfish (I still need to practice breaking down round fish, but I'm slowly getting better at it).  We then sliced potatoes extremely thinly, until they were almost translucent, with a deli slicer, coated them with melted clarified butter, and carefully wrapped them around the rockfish filets.  We also added in some herbs (chives) for a bit of color.  Right before service, we seared these on both sides in a saute pan to cook through.  The potatoes ended up getting crispy and delicious and it kept the fish very moist.
The green olive sauce involved blending olives (which we blanched to remove some of the saltiness), onions (sweated), garlic, olive oil, parsley, lemon juice, and a bit of Pernod.  I really liked this dish!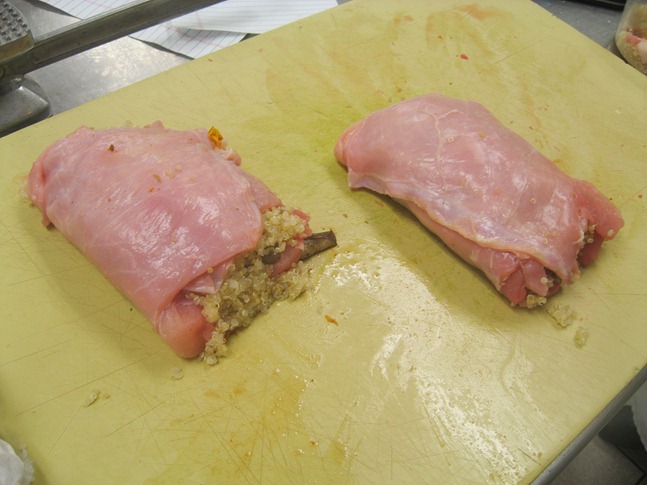 Our main course involved quite a bit of work.  The main component was a boneless rabbit saddle, stuffed with sautéed spinach, sautéed mushrooms, cooked quinoa, and sundried tomatoes.  The trickiest part was removing the spine from the saddle without puncturing the skin.  To hold it together, we wrapped them in caul fat.
The rabbit saddles ended up getting braised in a liquid made by searing mirepoix, rabbit bones and deglazing with white wine and veal stock.  This liquid ended up being reduced at the end and turned into a sauce.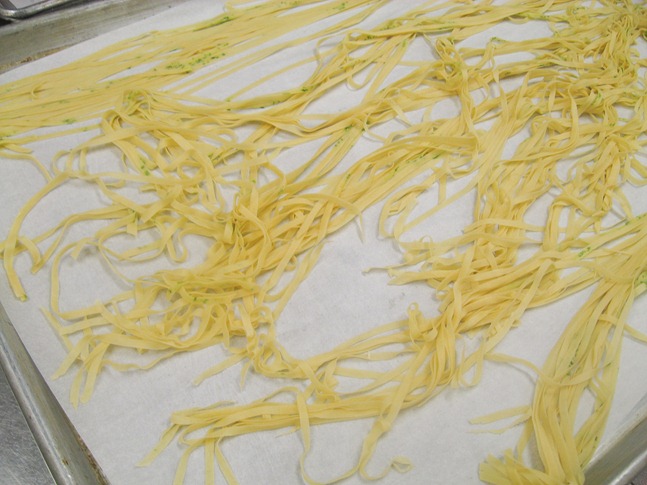 To go along with our rabbit, we also made homemade pasta (which at this point, we all know will probably be part of our fifth exam this Friday…).  To add a little interest and flavor, we actually added some chopped chives to the dough while we were rolling it.  It added a fun color variation too! 
And some plain asparagus on the side!  Peeled, of course.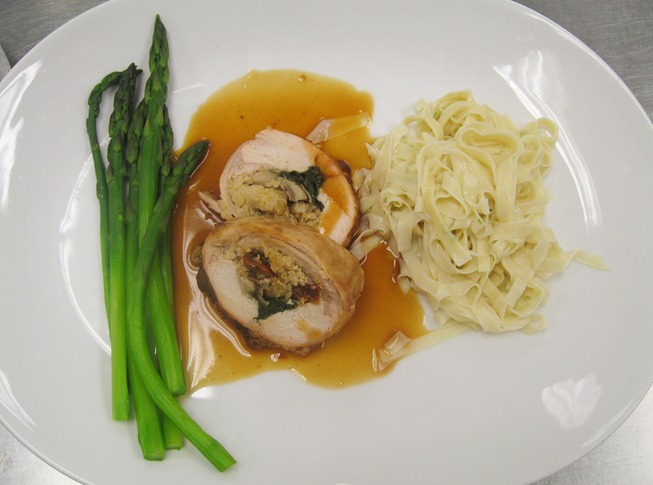 Our dessert was another winner!  We made a blueberry clafoutis.  Traditionally, clafoutis are made with cherries, which still contain their pits (which prevents the juice from spilling and adds flavor).  However, they can really be made with any type of fruit.  Since cherries are not in season, we used fresh blueberries (ironically, they are also not in season—haha) and also a bit of griottes, which are dried cherries soaked in alcohol.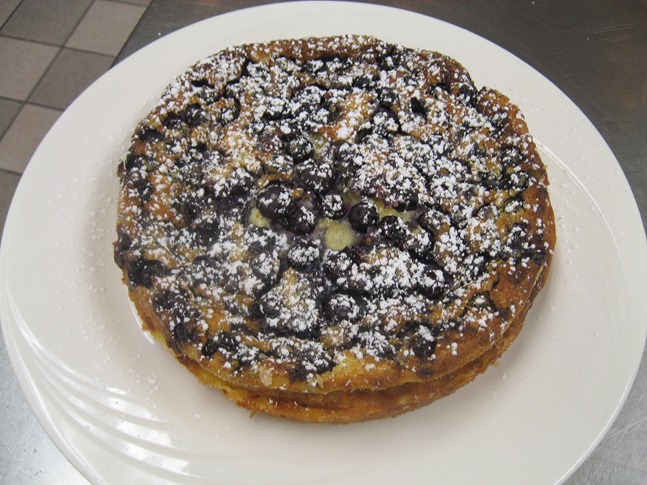 The batter is very simple to make and quite similar to a crepe batter—simply a combination of all-purpose and almond flour, sugar, cream, milk, and eggs.  It is very moist and custard like in flavor.  I liked it a lot!  And it really was so simple to make…
I see more of these in my future!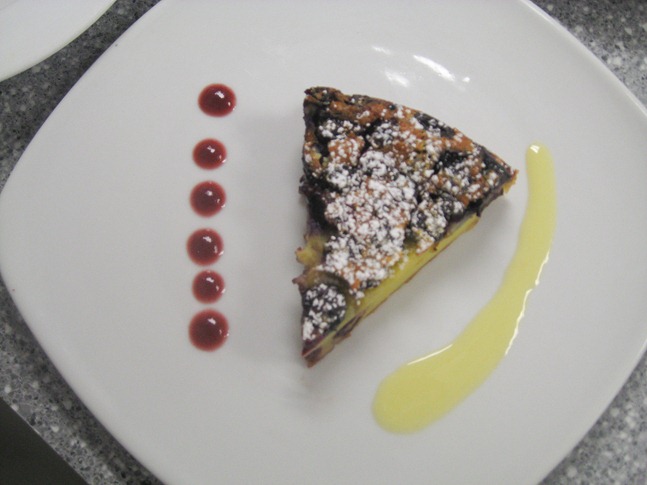 We ended the day by getting together our marinade for a venison dish we will be making this Thursday!
And now I am off to study for my upcoming test—which will most likely translate into going to bed early, as I am tired!  Posting this week might be a bit sporadic, but I will do my best to keep you all updated…
This post contains affiliate links, which means that I make a small commission off items you purchase at no additional cost to you. Please read my
privacy policy
for more information.