Day 77: Beef Carpaccio, Spatzle, & Crepe Cake
Today marked our 21st week at school!  It also marked the beginning of our last month at L'Academie, which meant that we were assigned new partners (I'll be working with Kevin), new tables, and we'll be continuing to make new dishes on a daily basis.
The last month at school is really about focusing even more on speed, efficiency and fine-tuning our skills before we start our externships in restaurants and join the real (scary) world of professional cooking.  Don't worry—I'll be writing a post all the externship within the next week, I promise.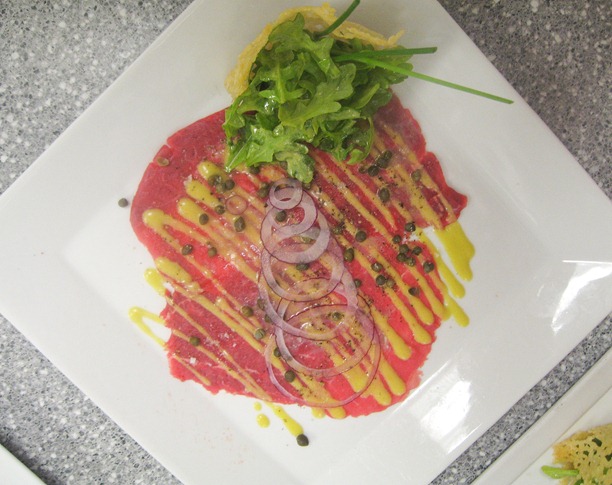 The first dish of the day was beef carpaccio, served with a Dijon dressing, capers, red onions, alongside argulua salad in a parmesan tuile.  For those of you not familiar with this dish, it is raw beef (tenderloin, in our case) pounded extremely thin.  It is almost always served with acidic, salty components (ie. capers, dressing, etc) to round out, balance the strong flavors of the raw beef. Not my favorite thing in the world, but pretty good. 
Obviously, this dish needed to be served very cold and we needed to protect our meat from oxidizing (and turning brown).  We pounded it ahead of service, placed each piece between plastic wrap, and kept it in the fridge up until the last minute.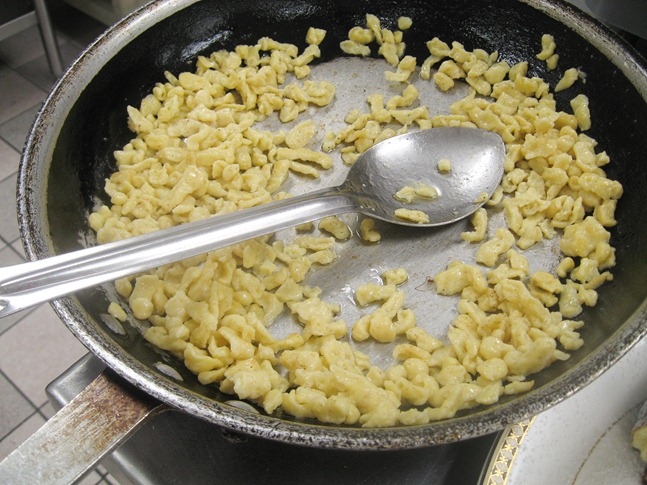 Our main course was seared salmon served with a cucumber cream sauce (made by sweating shallots, mushrooms, and reducing fumet—fish stock—adding cream, and eventually straining it and adding in cooked, tourneed cucumber).
The sauce was good, but we all thought the cooked cucumber was weird!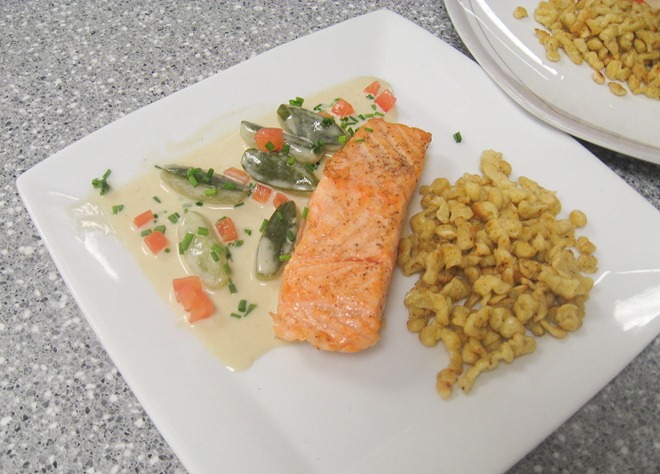 To go alongside it, we served a classic German dish of spatzle—which essentially are egg noodles.  The dough is a very simple mixture of eggs and flour (8 ounces all-purpose flour, 5 eggs, nutmeg, salt), combined in a stand mixer.  To form the shapes, we literally just pressed the dough against a perforated hotel tray right into boiling water.  The dough goes through the holes and forms little rustic noodles.  We cooked the spatzle, then shocked it in ice water, before sautéing it in butter during service.
Anything remotely similar to pasta is always a winner in my book…so I was a fan.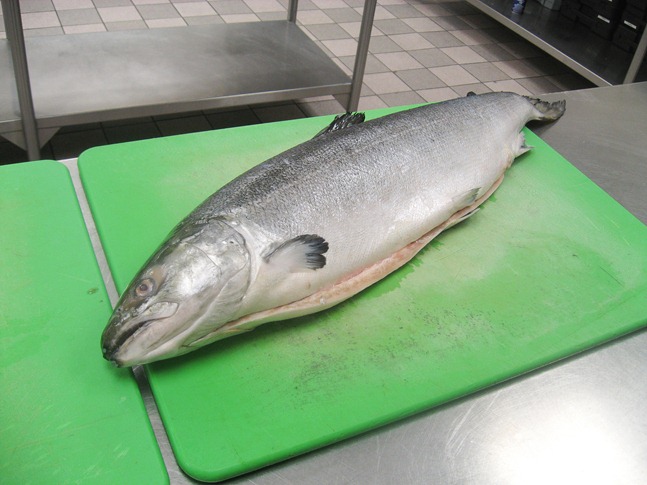 This is actually the salmon that we used today for our main courses!  And I actually helped learn how to break it down this morning, before class started, with the help of Chef Michel.  It is not as intimidating as it looks, but it is tricky to remove the skin and bones without getting rid of too much flesh. 
Definitely need to practice a lot more to  become even remotely good at this!
And, finally, for dessert we made a very unique cake made of crepes.  However, the crepe batter was much different than a traditional batter, because it involved folding in egg whites and cooking them to almost the thickness of pancakes.  This dish is bizarre to describe, but actually requires a fair amount of technique and careful attention to detail.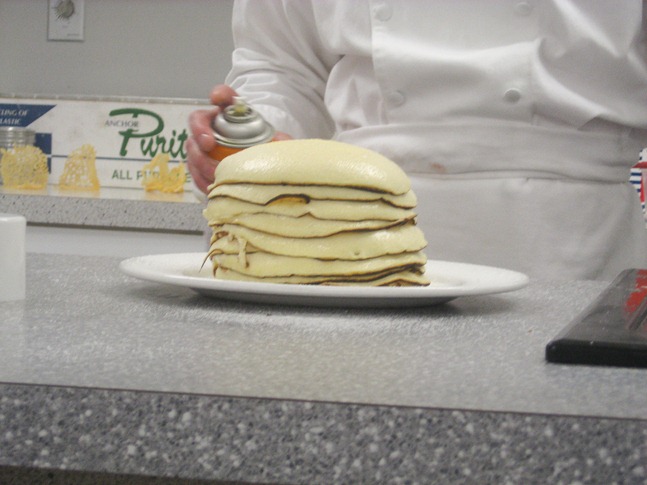 Crepe Cake – mid-way through the process
Essentially, you assemble it by cooking the "crepes" one at a time and carefully stacking them on top of each other (each layer gets sprinkled with sugar).  However, unlike a normal pancake, which you would flip on each side, these were only cooked on one side and to the point where they were basically black and burned.  Sounds weird?  Yes–it did to me too.  But the darkness really is caramelization and adds a lot of flavor to the final dish, as well as cuts the sweetness.  You also have to stack it just right in order for it not to quickly become the leaning Tower of Pisa and topple over completely…
Then the layers (we made 9) were covered with one final—and significantly larger—"crepe"– to envelop them all.  Then it went into the fridge to chill and set a bit…
The final layer went cooked-side up!  See what I mean about how far we cooked these?? Trust me, the final product was delicious.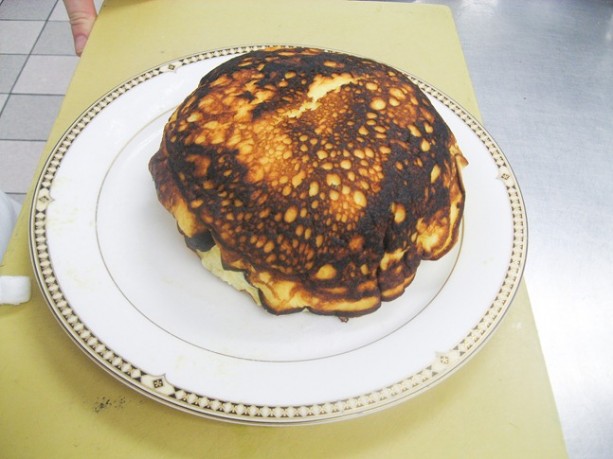 Once the cake was set, we dusted it with powdered sugar, sliced it and served it with coffee crème anglaise (yum!) and a simple strawberry coulis.  See all the layers?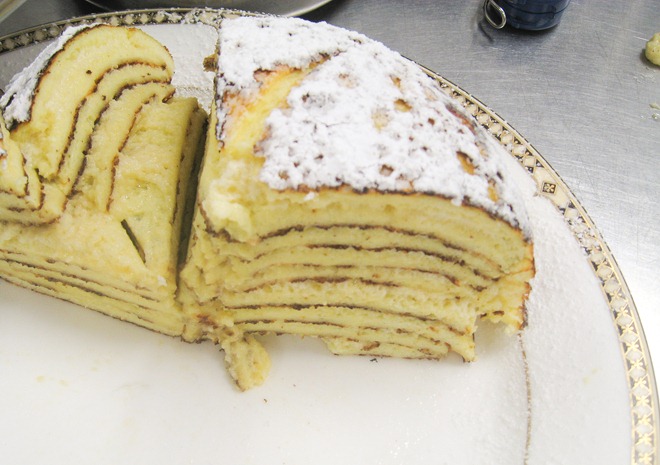 Basically, this cake tasted like an incredibly moist pancake (in cake form) and with the combination of coffee and strawberry, almost resembled a delicious breakfast.  Several of us thought it almost tasted like a jelly donut!  It was really good, one of my favorite desserts in a while. 
Simple in flavor, but delicious.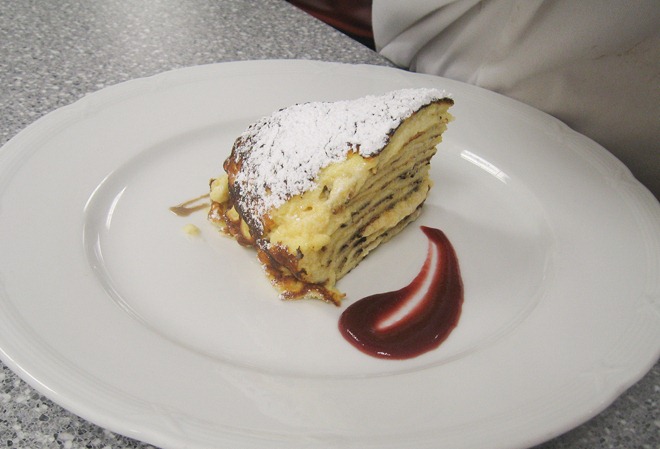 Overall, the day went well and it was a nice way to kick off our last month…  I still cannot believe it!!  Phase II has really zoomed by, despite being difficult and a bit overwhelming at times, I have learned so much.
Looking forward to continuing to share the rest of this journey with you all!
This post contains affiliate links, which means that I make a small commission off items you purchase at no additional cost to you. Please read my
privacy policy
for more information.