Day 8: Hollandaise & Eggs Benedict
After spending two full days on sanitation last week, followed by a relaxing four day weekend, I was quickly beginning to worry we would all lose our way in the kitchen come Tuesday morning.  Per my usual new (and incredibly obnoxious) paranoia, I woke up practically every hour or two Monday night petrified I would sleep in past my alarm.  Luckily, this did not happen and I arrived early, helped set up the classroom, and was in my seat in the lecture room by 7:00 am.
Once I glanced up on the white board to see the day's menu, I got even more nervous, because it officially became clear that it was HOLLANDAISE day.  Or as our chef calls it "the sauce that smells fear"…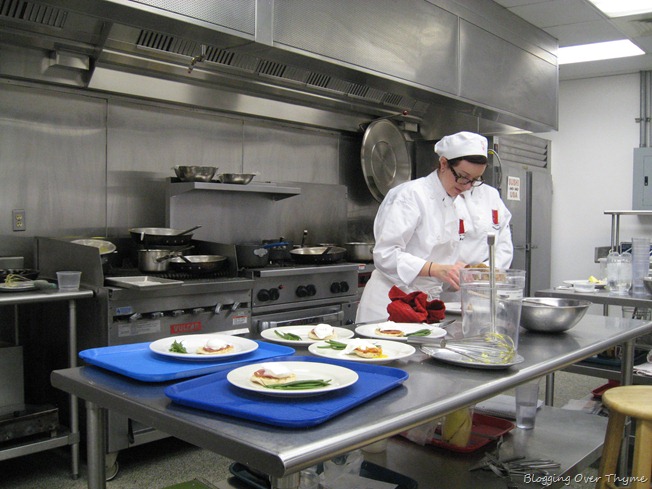 Per tradition, our hollandaise sauce was to be served in the classic dish, Eggs Benedict.  Eggs Benedict has never been my thing, but I was still excited, and a bit nervous, to finally learn how to make it from scratch. 
Essentially, hollandaise is one of the five classic mother sauces.  The other four are veloute, tomato, bechamel, and brown sauce/sauce Espanol (which we will be learning how to make soon enough).  Hollandaise involves only five ingredients:  clarified butter, egg yolks, cayenne pepper, lemon juice, and salt.   Clarified butter (butter heated to remove the fat solids—it also has a much higher smoke point) is used because the water content in whole butter makes emulsification and thickening more difficult.
As we learned, hollandaise is really not all that difficult to make.  The real difficulty comes in terms of holding the sauce and ensuring that it does not break (separate), curdle, etc.  This might not be as much of an issue in a home kitchen, but in a restaurant kitchen, things need to be prepped and prepared ahead of time.  This is where temperature becomes crucial.  There are four enemies of hollandaise and they are:  "too hot", "too cold", "too thick", or "too thin".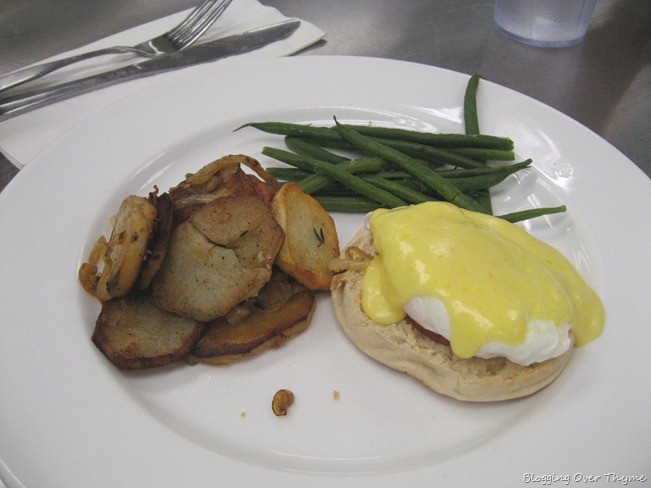 Hollandaise basically involves heating up egg yolks (with a tiny amount of water) over a baine marie (simmering double broiler) until it gains volume and becomes thick to the point where the whisk leaves a path in the sauce.  You then remove the eggs from the double broiler, where you then emulsify the yolks, whisking constantly, with clarified butter (1 egg yolk to 2 ounces clarified butter). 
You then add in cayenne pepper, salt and lemon juice.  The trick is to add enough acid (lemon juice) to the hollandaise to cut the fat and have people coming back for more!  You should definitely taste the lemon when you take a spoonful of it.  As our chefs said, this is really important, especially because hollandaise is almost all fat.  And you want people to want to take another bite, not be weighed down by it!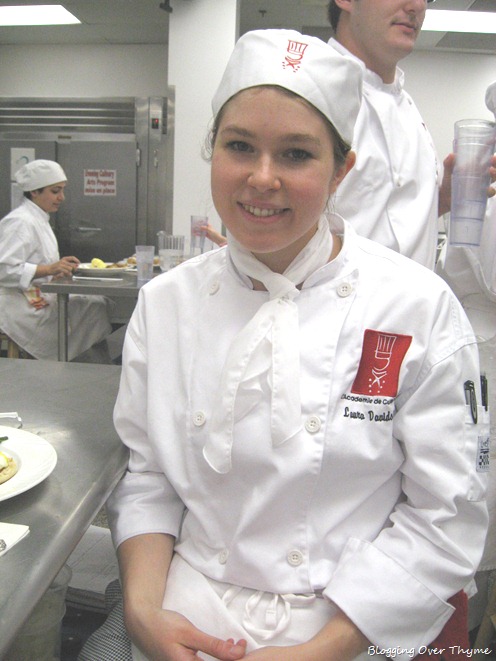 Even though I was nervous when I started my hollandaise, I ended up being really pleased because my sauce didn't end up breaking at all, even though I made it well ahead of serving, and it turned out very well (except I could have added more lemon juice and seasoning).  The trick to salvaging a slightly broken hollandaise is to add a small amount of warm water and whisk it in! 
Our hollandaise was served benedict style—on top of poached eggs.  This was our first time making eggs!  I've poached eggs one or two times at home, but never with that much success, so I was excited to learn how to perfect this technique. 
We started with four inches of water, acidulated with distilled white vinegar (which tightens the proteins in the egg whites) and brought it up to heat, until small bubbles appeared at the bottom of the pan.  To help prevent the whites from scattering in the water, we cracked our eggs into ramekins, and slowly lowered them in.  The eggs should float to the bottom, where the whites slowly begin to tighten around them, and eventually they will rise to the surface. 
Since we obviously did not want to be rushing to poach our eggs minutes before service, we learned the trick of poaching eggs ahead of time and holding them to be reheated!  The trick was to poach the eggs, until the whites were mostly cooked through, removing them into a sieve/basket in ice water.  Then right before service, putting them back into hot water to reheat!  This is apparently how restaurants can prepare and serve massive quantities of Eggs Benedict, which I found really fascinating. 
I definitely am finding that holding and maintaining foods for service, not to mention coordinating when to reheat them, is the trickiest part of the menu half the time!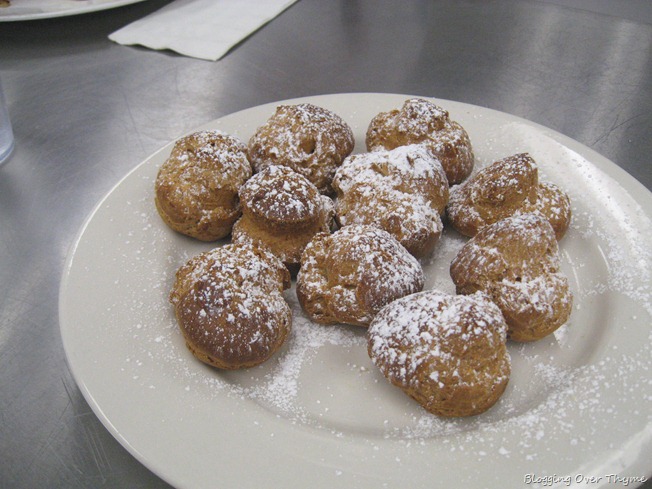 Our eggs benedict was served alongside LES POMMES DE TERRE SAUTEES LYONNAISE, as well as LES HARICOT VERTS A L'ANGLAISE, which in layman terms, basically means sauteed potatoes and onions, and plain cooked green beans. 
The potatoes were sliced in 1/4" inch slices (and dried) and then cooked in clarified butter over high heat.  By not crowding the potatoes in the pan and laying them across the whole surface, carefully flipping to brown each side, it ensures that they don't all stick to each other.  Once the potatoes were browned, we added in thinly sliced onion, and cooked until it was slightly caramelized.  Topped with a tiny bit of thyme and you have delicious diner style potatoes. 
In addition to Eggs Benedict and the rest of the savory dishes, we also learned to make PATE A CHOUX, which is another type of pastry dough traditionally used to make eclairs and, in our case, CREAM PUFFS (seen in the picture above!).  It is a relatively simple technique, but requires careful attention to piping and baking time.  Once the pate a choux were baked (to the point where the inside is very dry and almost hollow), they were piped and filled in with pastry cream, which we had to make once again.  I guess it's good I practiced over the weekend…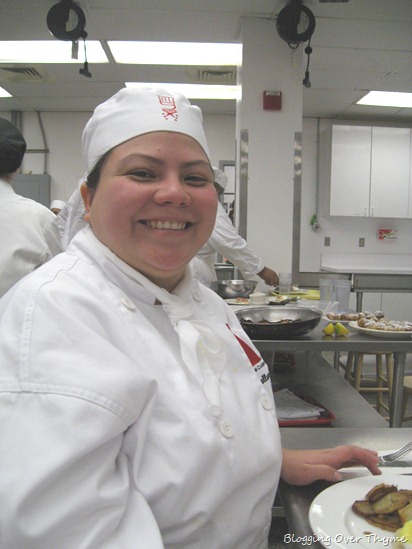 Work table partner of the day, Blanca! 
All of this was served at lunch! 
The afternoon comprised of a quick lecture with our school director, Chef Francois, who gave us a quick introduction to MEAT.  Apparently from this point on, each Tuesday afternoon will consist of a lecture all about learning the art of meat butchery.  Should be very interesting and informative, especially since I really know almost nothing about it!
Now I'm off to work on my first paper for school, which I will be doing a short presentation on tomorrow.  Can you believe I wrote a four page paper on saffron?!  Is this really my life? 
P.S.  On a side note, this post is a little bit more delayed than I originally planned, because this afternoon I was sitting outside my apartment for over an hour because there was a small fire in my building!  Luckily, no one was hurt and they were able to put it out (and my apartment was three floors above), but it still smelled like smoke when I returned.  What a weird day!
This post contains affiliate links, which means that I make a small commission off items you purchase at no additional cost to you. Please read my
privacy policy
for more information.