DC in (2) Days: Part 2
After visiting the Lincoln Memorial, I parted ways with Giovonne and Josh and met up Connor in downtown Bethesda (home of Mussel Bar, Dolcezza gelato, & Georgetown Cupcake) to get dinner at Jaleo.
We actually had a gift certificate that was begging to be used before the expiration date.  Luckily, I decided it was the perfect time to use it for a couple reasons.  I was exhausted from walking around all day and did not even feel like thinking about what to cook for dinner.  I'm definitely going to make a mental note of this in the future, because sometimes I use certificates and wish I had waited.
Jaleo is actually a sister restaurant to Zaytinya, Cafe Atlantico, and a couple other restaurants in DC.  It serves Spanish tapas and a couple other main dishes, such as a seafood paella.  I definitely prefer Zaytinya, which serves Greek tapas, but sometimes it's nice to have a change of pace.  Unfortunately, I wasn't incredibly impressed by the dining experience at Jaleo this time.  A couple dishes were way too salty, lukewarm (major pet peeve of mine, unfortunately), and on the fatty side.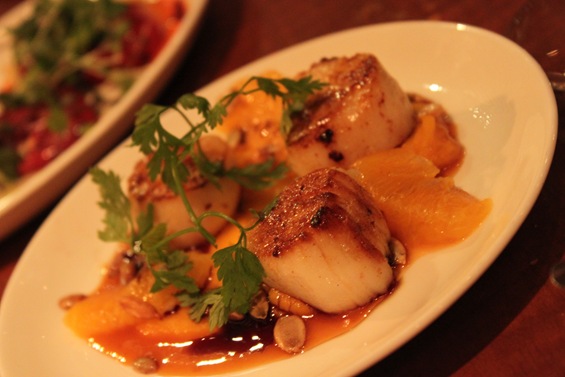 We ordered 6 tapas between the two of us, which ended up being the perfect amount of food.  I also had a delicious glass of Sarrah, which was quite tasty.
Unfortunately, Jaleo and a bunch of the restaurants mentioned above rarely change their main menu (another pet peeve), so I try to order from the special menu more often than not!
Here's the breakdown of what we had:
Special of the Day: Sauteed rainbow swiss chard with chanterelle mushrooms
Vieiras con calabaza y naranjas: Seared scallops with butternut squash purée, orange segments and pumpkin seeds
Gambas al ajillo: The very, very famous tapa of shrimp sautéed with garlic
Trigueros con romesco: Grilled asparagus with romesco sauce
Pimientos del piquillo rellenos de queso: Seared piquillo peppers filled with goat cheese
Secreto Iberico de Bellota con potatas fritas: Grilled Acorn-fed Iberico skirt steak served with fried potato wedges
My favorites were the scallops, shrimp, and stuffed pimiento peppers!  You can never go wrong with goat cheese.  I really enjoyed the combination (sweet & savory—I must be growing up!) of butternut squash, oranges, and scallops.  There was also a tiny hint of balsamic glaze, which cut the sweetness just a tad.
The biggest disappointment was the special of Acorn-fed skirt steak imported all the way from Spain.  I don't care if these pigs were eating foie gras, it was not appetizing OR attractive at all.  It was also incredibly fatty, I thought skirt steak was supposed to be a lean cut?  Someone correct me if I'm mistaken on that!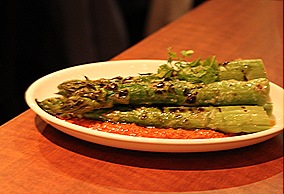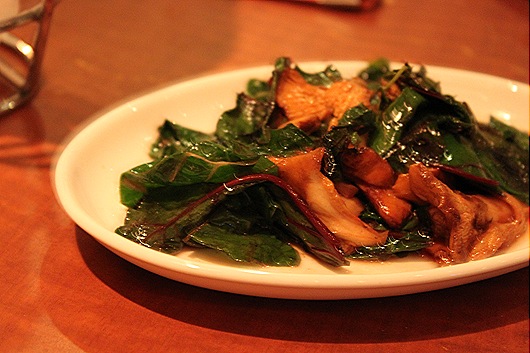 All in all, I'm not sure if I'll be heading back to Jaleo at any point in the future.  I always feel like I spend too much at the end of the meal for a so-so dining experience (luckily, the gift card negated that first sentiment).
And now…BACK TO THE SIGHT SEEING!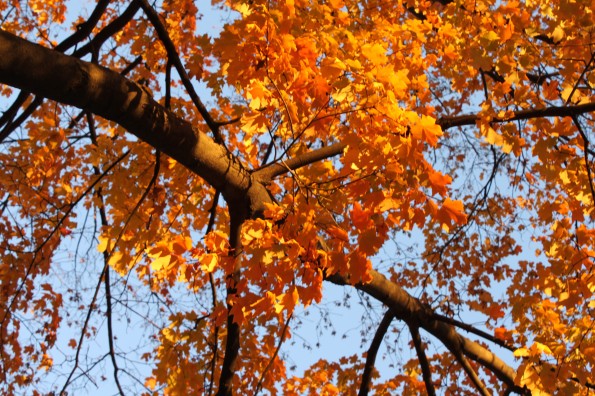 On Saturday, we all met up with another college roommate of mine, Erin, who happened to move to DC right after graduation (lucky me).  This time we decided to brave it and take the car, since most of the places we wanted to see were very spread apart.
First on the list?
Arlington Cemetery
I actually thought about it, and I'm not sure if I've even ever been there!  Maybe when I was in elementary school, but I'm not even sure then.
It was another gorgeous day!  Despite my usual feelings towards cemeteries (they generally spook me), Arlington Cemetery gave the exact opposite.
It was incredibly peaceful and serene, most likely due to the fact that the whole cemetery is kept spotless.  You could also tell that a lot of people had come to visit recently for Veteran's Day, because a lot of the graves had flowers next to them.   I definitely recommend heading over to check it out if any of you come to DC in the future for a visit (or live here and haven't gotten around to it, like me).
We checked out Arlington House, which is the Robert E. Lee Memorial, which has gorgeous views of downtown DC and the monuments.
The grounds really were impeccable!  And there were still a lot of trees with their fall leaves, which made it even more beautiful.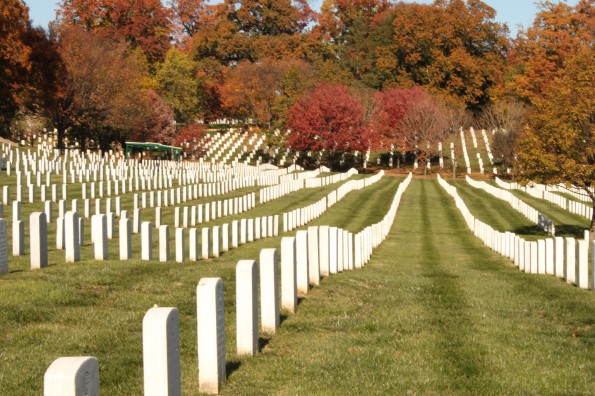 We then headed to the tomb of the unknown soldier, and the Memorial Amphitheatre, which made me feel like I was in ancient Greece or Rome!
Next on the list? The Jefferson Memorial.  One of my favorites:  Luckily, we were able to snag a parking space right along the Cherry Blossom path.  Unfortunately, the monument is undergoing a bunch of construction along the waterfront, but it was still beautiful, as always.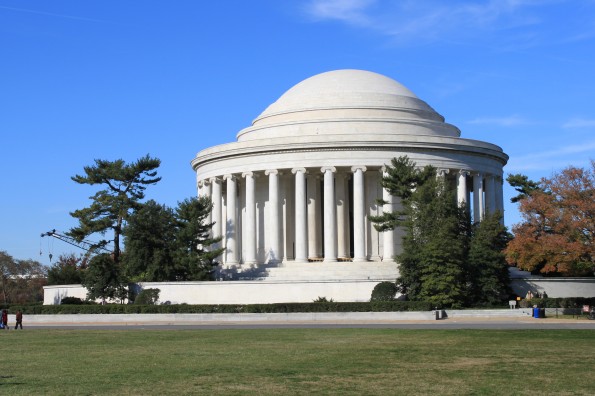 This squirrel was crazy!  Not only did it allow me to go up to it within 6 inches (this was not zoomed!), but it was also eating mayonnaise out of a package.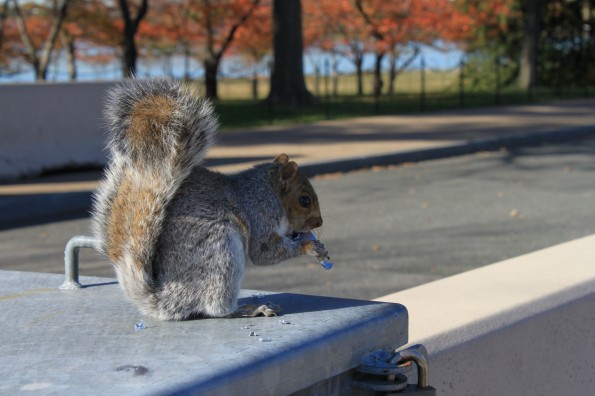 A bunch of Japanese tourists were actually getting squirrels to go right up to their hands!  Clearly, these squirrels have figured out how to work the system.
Stay tuned for DC in (2) Days: Part III!
This post contains affiliate links, which means that I make a small commission off items you purchase at no additional cost to you. Please read my
privacy policy
for more information.