DC in (2) Days: Part III
This was the weekend that never ended! I still have many more blog posts to come too. Just kidding! I promise, this is actually the last one for those of you getting bored.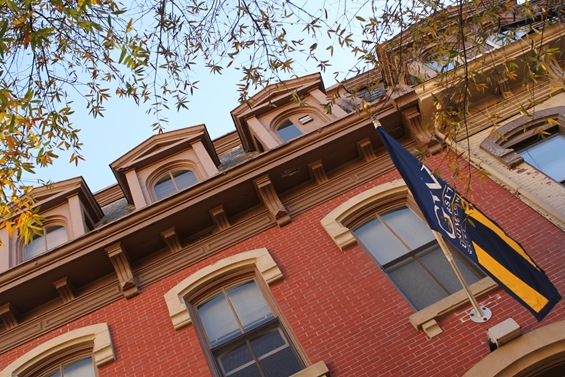 After touring around the Jefferson Memorial, we headed over to George Washington University's campus (in Foggy Bottom) to check out the law school and health sciences building. For some reason, I actually have not spent much time in that area of DC, but it is SO convenient, because it actually has a metro stop smack dab in the middle. And it's just a little under a mile walk from the Lincoln Memorial!
I actually spied a cute looking cafe called the Pharmacy (*I think?), which I might just have to check out one of these days.
It was pretty weird to see undergraduate students walking around and check out all the fraternities and sororities. I can't believe I only graduated last May. It is also polar opposite in comparison to my own undergraduate university, which was in a town of only 2,000 people and an hour's drive away from civilization.
After our mini self-guided tour, we drove through Georgetown, where we were able to check out the original Georgetown Cupcakes (read my review here) bakery and its line, which ran about 100 feet (at least) out the door and up the next street. I've been lucky to have had a bunch of cupcakes from there, but have always got mine in the Bethesda location, which is much less busy and ridiculous.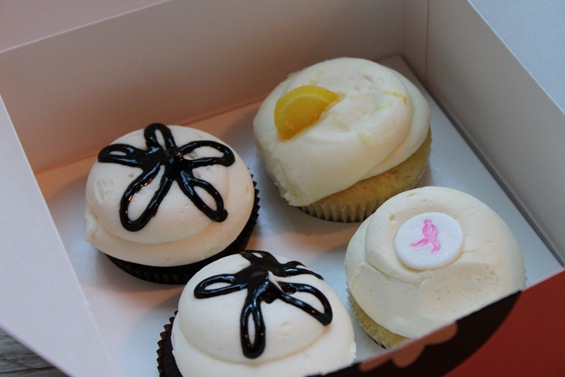 After driving through Georgetown, we headed back to Erin's apartment, where took a much needed break, put up our tired feet, and ate some snacks before heading out to dinner that night at my FAVORITE PIZZA PLACE in the city, Two Amy's.
Two Amy's specializes in Neopolitan style pizza, which means the following:
In 1998 the Italian government formally recognized Neapolitan pizza as a traditional food worthy of preservation and granted it D.O.C (Denominazione di Origine Controllata) status, which specifies the legally permitted ingredients and methods of preparation necessary to produce authentic Neapolitan Pizza. Only soft-grain flour, fresh yeast, water, and sea salt may be used for the dough, and only Italian plum tomatoes, mozzarella di bufala, extra-virgin olive oil and fresh basil or dried oregano may be used for the toppings. Fresh garlic may only be used on the Pizza Marinara. All Neapolitan pizzas must be cooked in a wood-burning oven (Source)
If you can't tell, they take their pizza pretty seriously. And they also offer some incredibly unique flavors, many of which we tried during the dinner.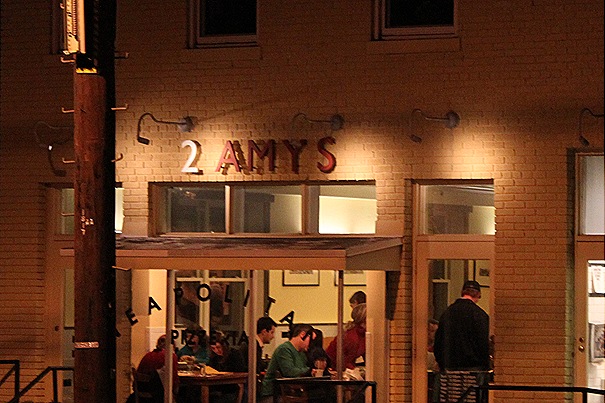 Unfortunately, Two Amy's is a pain the butt to go to often, because they don't take reservations and you might have to wait up to an hour or more to be seated, especially if you have a big party (like we did, with 6 people).
So we wrote down our party name and walked the two blocks to the National Cathedral, which unfortunately was already closed. But it was still beautiful to look at, especially lit up at night. I literally went to high school within walking distance, but it was still nice to take the time to walk around the grounds.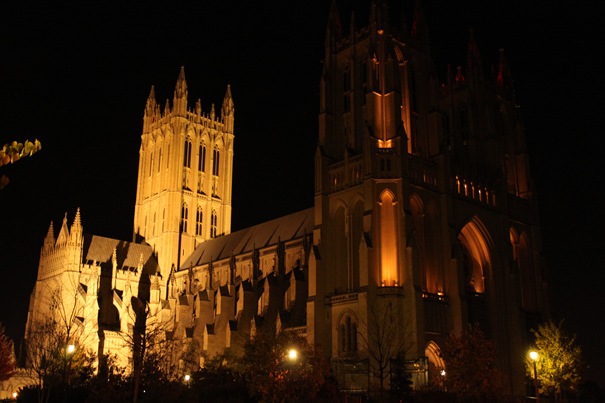 By the time we walked around, it was already time to check back with the restaurant (it ended up being a 40 minute wait—not too bad). Then we were seated! Hooray 🙂
Unfortunately, I was too busy stuffing my face to take pictures, but here's an idea of what the pizzas look like. Two Amy's crust is to die for. It's thin in the middle, but crispy and soft on the outside. If only I could make pizza this good at home. They also use great quality ingredients!
Between the six of us, we quickly consumed the following:
Mixed greens with lemon, red wine vinegar and olive oil ( x 2)
Five Pizzas:
Etna Eggplant confit, olives, capers, oregano, grana
Vongole Garlic, capers, parsley, hot pepper, cockles, grana (left pizza above–Source)
Norcia Tomato, salami, grilled peppers, fresh mozzarella, grana
Margherita Extra Tomato, mozzarella di bufala, cherry tomatoes
Two Amys Tomato, fresh mozzarella + fresh pesto (add-on)
My favorites were the Etna pizza (their Eggplant confit sauce is delicious!)and the Vongole with cockles. I've never had shellfish on pizza before, but it was delicious. The hot peppers added a great spiciness, without it being too overpowering and the capers were a great addition as well. I could have eaten even more! We definitely didn't have even a crumb of leftovers to bring home by the end of the meal. Must go back soon!
The rest of the weekend consisted of eating breakfast and driving Giovonne and Josh back to the airport! The whole weekend, though busy, was so much fun and it really reminded me, again, how much I love DC.
The End.
This post contains affiliate links, which means that I make a small commission off items you purchase at no additional cost to you. Please read my
privacy policy
for more information.