DIY: Black & White Peppermint Bark
This post contains affiliate links.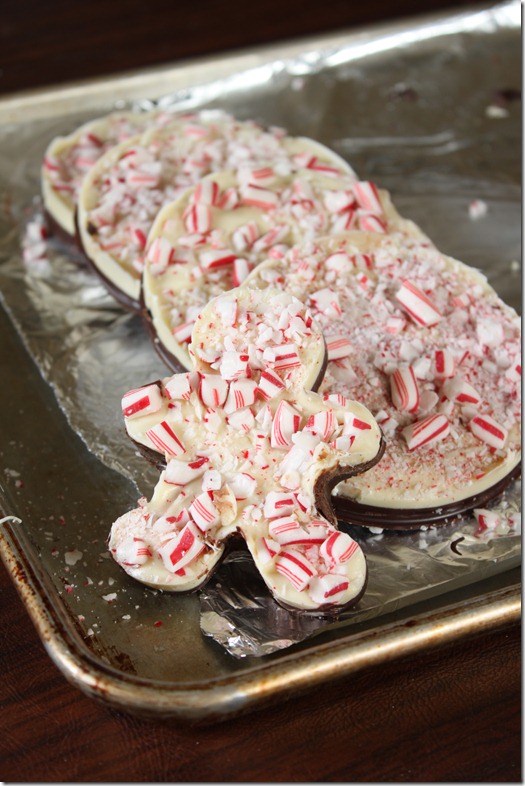 Although (I must admit), I've taken a bit of a break from the kitchen the past few days after finishing up my last day at the bakery before the New Year, I have done a bit of baking and cooking here and there.  Holidays are always hectic, especially in my family, so it's nice to have a simple go-to recipe or DIY gift on hand for a family get-together.  It involves absolutely no baking and you'll be sure to impress all your family and friends.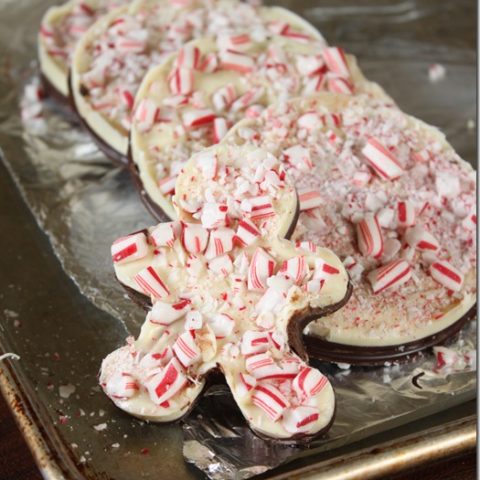 DIY Black and White Peppermint Bark
Yield: 15 Servings
Prep Time: 15 minutes
Cook Time: 30 minutes
Total Time: 45 minutes
Ingredients
11 oz. bag good-quality white chocolate chips
11 oz. bag semisweet chocolate chips
box of candy canes
canola oil
Instructions
Using a saucepan (filled with about an inch or inch-and-a-half of water) and a heatproof bowl, create a double broiler. Bring water to a slow simmer.
Pour a bag of semisweet (or white—depending on what layer you want at the bottom of your peppermint bark) in the heatproof bowl. Add a teaspoon of canola oil. Stir with a spatula until the chocolate melts completely.
Meanwhile, grab a cookie sheet and cover with aluminum foil. You can either create free form peppermint bark or use your favorite cookie cutters or molds (a bit more complicated, but it works!). Pour the chocolate on the cookie sheet (or into the molds) until it is 1/4 inch thick, spreading out as needed.
Place in refrigerator and let cool for 30 minutes until hard. Meanwhile, unwrap candy canes and place in a freezer bag. Using a rolling pin or mallet, crush into small pieces.
Repeat with the remaining white/semisweet chocolate. Remove the cookie sheet from the refrigerator and pour the second layer of chocolate over the first layer, spreading out until 1/4 inch thick. Immediately sprinkle the candy cane uniformly over the chocolate.
Place in refrigerator and let cool for 30 minutes. Remove and cut into pieces. If using a mold or cookie cutters, use a sharp nice to poke around the edges of mold. Push gently with your fingers until the peppermint bark separates.
Place into a holiday cookie tin and give as a gift or as a special treat for your family to munch on throughout the holidays.
Nutrition Information:
Yield: 15
Serving Size: 1
Amount Per Serving:
Calories: 224
Total Fat: 14g
Saturated Fat: 8g
Trans Fat: 0g
Unsaturated Fat: 5g
Cholesterol: 4mg
Sodium: 21mg
Carbohydrates: 27g
Fiber: 1g
Sugar: 24g
Protein: 2g
A Beautiful Plate provides nutritional information, but these figures should be considered estimates, as they are not calculated by a registered dietician.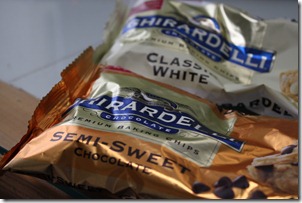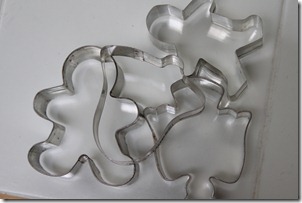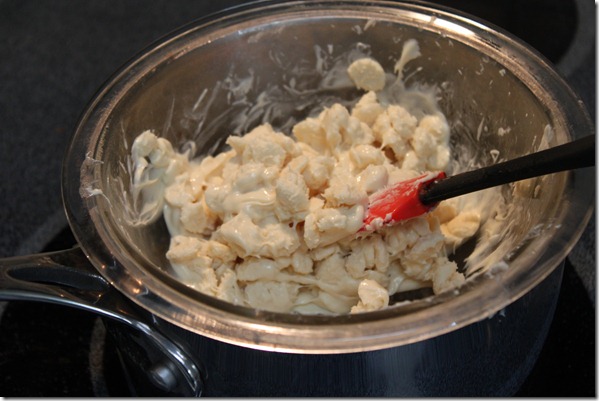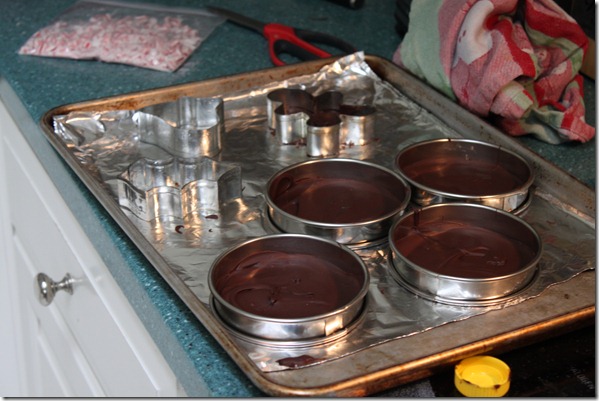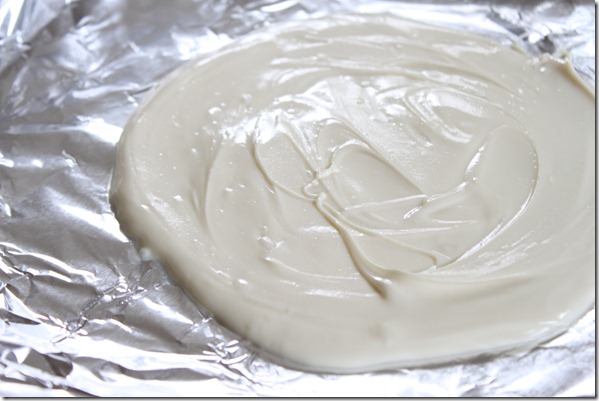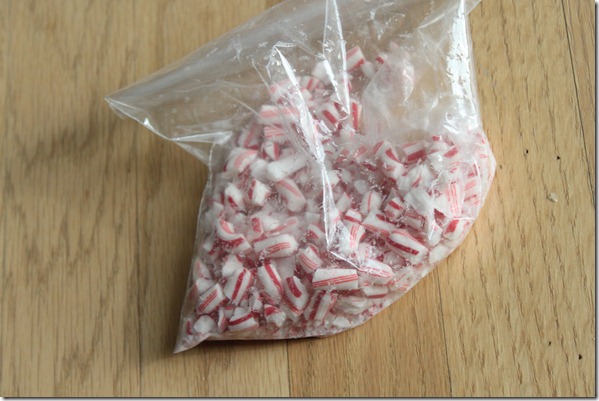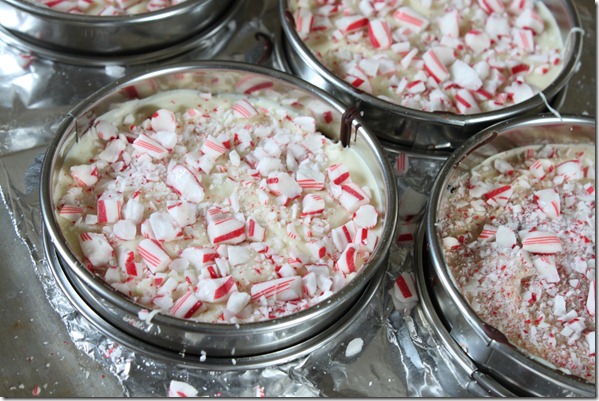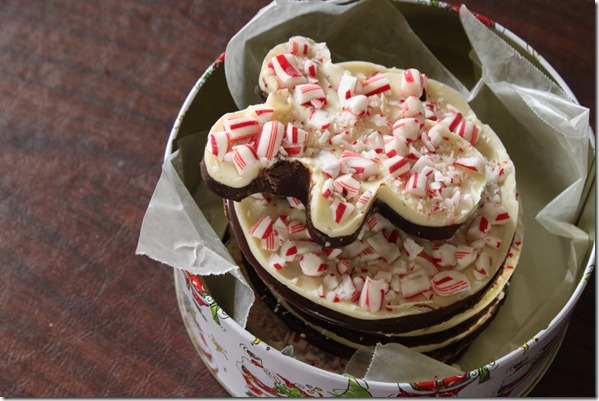 Your friends and family will love it.  Be sure to grab a piece for yourself too.  After all, you did all the "hard" work!
This post contains some affiliate links, which means that I make a small commission off items you purchase at no additional cost to you. Please read my
disclosure policy
for more information.