My Family's Banana Bread Recipe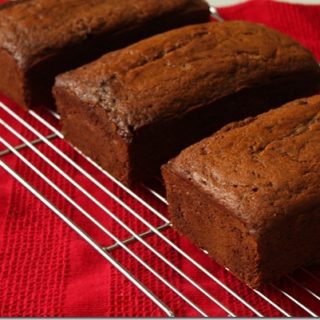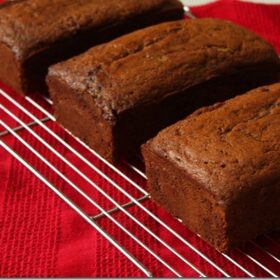 Favorite Go To Banana Bread
My family's favorite banana bread recipe, which is prepared with equal parts whole wheat and all purpose flour.
Ingredients
1 cup (120 g) whole-wheat flour
1 cup (120 g) unbleached all-purpose flour
1 teaspoon baking soda
1 teaspoon cinnamon
¼ teaspoon ground nutmeg
½ teaspoon Diamond Crystal kosher salt
1 stick (4 oz; 115 g) unsalted butter, melted and slightly cooled
½ cup (100 g) granulated sugar
½ cup (100 g) lightly packed brown sugar
2 large eggs, slightly beaten room temperature
3 medium very-ripe bananas mashed
⅓ (80 mL) cup very hot water
Instructions
Preheat the oven to 350°F (176°C) with a rack in the center position. Grease a 9 inch x 5 inch loaf pan and set aside. In a medium bowl, whisk together the whole wheat flour, all purpose flour, baking soda, cinnamon, nutmeg, and salt. Set aside.

Combine with the melted butter, granulated sugar, and dark brown sugar in the bowl of stand mixer, fitted with a paddle attachment. Mix on medium speed until combined. On medium speed, add the eggs one at a time until incorporated. Add the mashed banana and mix over low speed until combined.

With the stand mixer on low speed, add the flour mixture in three additions, alternating with two additions of hot water, scraping down the bottom of the bowl once or twice. Mix until the flour has just been absorbed; avoid over mixing.

Transfer the batter into the greased loaf pan and smooth the top with an offset spatula or knife. Bake for 60 to 70 minutes or until a toothpick inserted in the center comes out clean. Allow the bread to cool in the pan set on a cooling rack for 5 to 10 minutes, before removing. Cool completely before serving.

Note: This banana bread tastes great the day of baking, but I actually prefer how it tastes the day after baking, when the flavors settle and become more pronounced. Leftover bananan bread can be wrapped well or placed in a Ziploc bag and stored at room temperature for up to 3 days. Place a paper towel on the surface of the loaf to prevent gumminess from forming on the surface during storage.
Serving: 1serving, Calories: 280kcal, Carbohydrates: 52g, Protein: 5g, Fat: 7g, Saturated Fat: 4g, Polyunsaturated Fat: 2g, Cholesterol: 55mg, Sodium: 323mg, Fiber: 3g, Sugar: 26g
This post contains affiliate links, which means that I make a small commission off items you purchase at no additional cost to you. Please read my
privacy policy
for more information.