Eastern Market & Ted's Bulletin
One of the greatest perks of our new apartment is it's close proximity to restaurants, shops, and public transportation.  Something Connor and I are taking advantage of more and more as we continue to live here.  Being able to go into the city whenever we want, without having to worry about parking and traffic, is so helpful, especially on days when we feel like exploring a new area or trying out a restaurant.
Since we moved, I've been meaning to visit the famous Capitol Hill's Eastern Market for months, especially since it is conveniently located on the same metro line as the one in Arlington.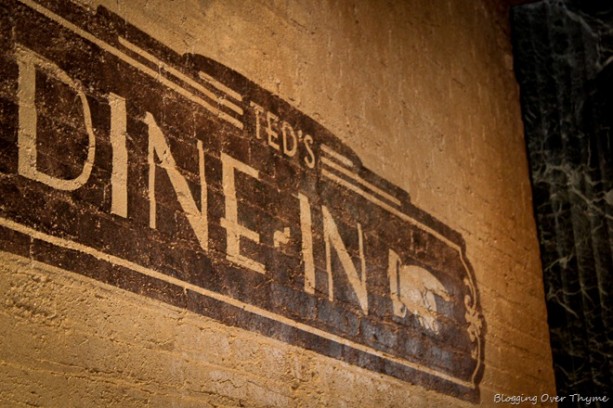 It has been many years since I've been to the Eastern Market and in keeping with our weekend adventure, we decided to try a local breakfast spot.  Within a few blocks of the market, we discovered Ted's Bulletin.  Apparently we weren't the only ones, because there was a large line running out the door and we were quickly informed that it would be a 25-30 minute wait for a table.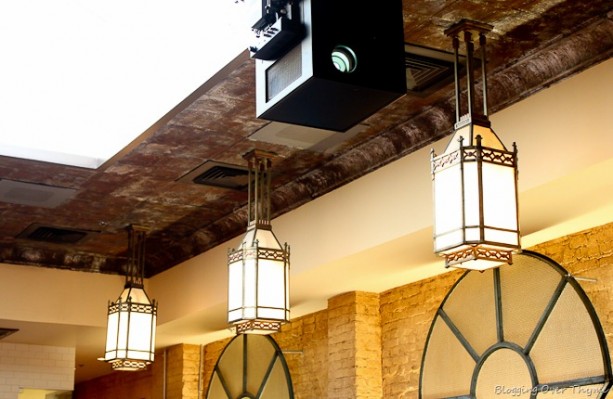 Immediately upon walking into the door, we knew we wanted to wait and check out this place for ourselves.  We spent a good chunk of that time just taking in the surroundings.  The restaurant and bar was decked out in art deco light fixtures, displays, and décor—all remnants salvaged from an old Philadelphia Civic Center.  With the combination of televisions playing 1930's movies and menu items such as home-made pop tarts, I felt like I had been transported to a different era.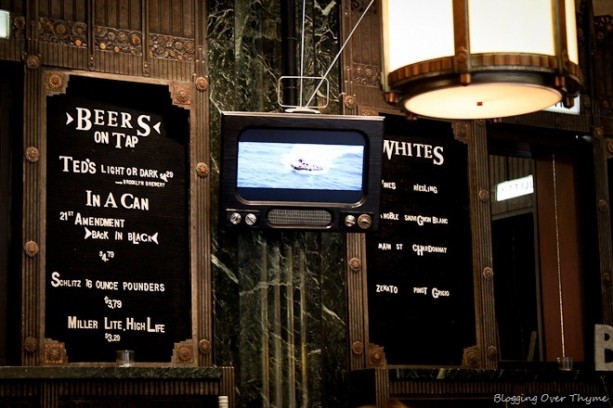 We were even more impressed once we were seated and handed our menus—which were printed to look like you were reading a newspaper—aptly named "Ted's Bulletin."  We both ordered coffee right away, which was served in a large, thermal carafe and left at our table. 
I loved this little detail.  At most breakfast spots, I have to resort to flagging down waiters throughout the meal and asking for warm-ups and refills.  This was a clever and efficient solution, which I wish more cafes offered. 

After perusing the menu for a while, we made our final decisions.  Most of their breakfast specials are quite large, meat-heavy, and have a Southern influence.  Since I wanted a lighter breakfast, I decided on something simple:  easy-over eggs with hash browns, and bacon (included). 
However, instead of choosing toast as my side, I decided to go with their house-made corn bread.  I was expecting a small biscuit or thin wedge, but this place was not kidding around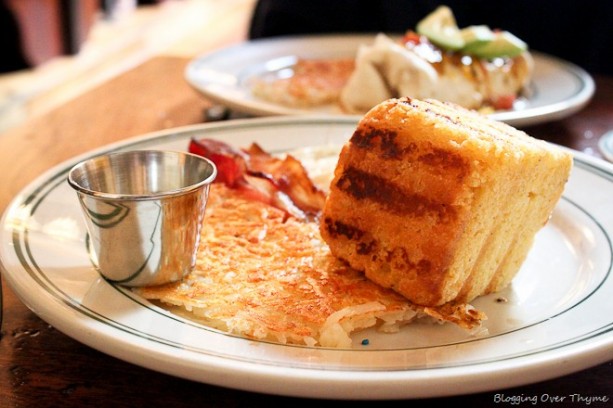 The piece of cornbread literally took up half the plate.  It was delicious!  Full of butter, on the sweeter side and not at all dry.  See the grill marks?  That's how they warmed it up to be served.  The shredded hash browns were equally as good and very moist and tender.
Connor chose to go on the heavier side and ordered the house specialty breakfast burrito, which was cutely named the "The Walk of Shame."  Filled with sirloin steak, scrambled eggs, hash browns, cheddar, green chile sauce and topped with sliced avocado.  He really enjoyed this as well and inhaled the whole thing, per usual.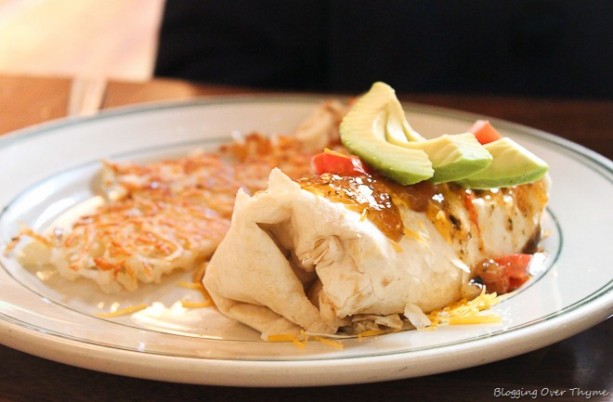 And, of course, because we couldn't leave without trying their famous home-made pop tarts, we ordered one on the side to go with our meals.  There were a handful of pop-tarts to choose from—including one Elvis-inspired pop-tart involving bacon and peanut butter.  Fun idea, but not quite our thing.
Instead, we decided to go with a classic choice, a strawberry pop-tart, at the suggestion of our waitress.  I wasn't quite sure what to expect as someone who has never eaten an actual Pop-Tart before, but it was definitely better than I expected it to be.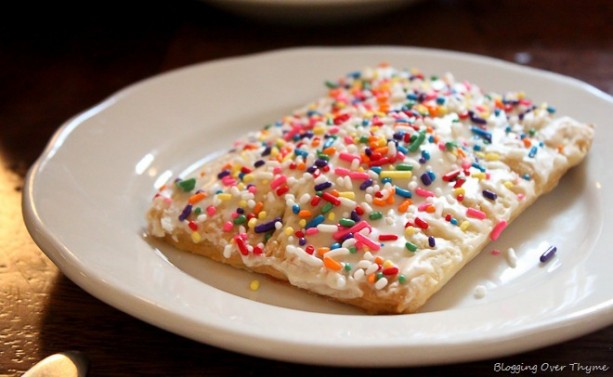 The pastry resembled a sweet, flaky butter cookie, but the strawberry filling was a bit lacking.  Connor and I both agreed that it needed to be more tart and that there needed to be a lot more of it.  Definitely a fun idea though!  Overall, we had a great time at Ted's Bulletin.  It was a lot of fun and definitely worth a visit if you're in the area.
After our breakfast, we went over to the Eastern Market, where we scoped out the farmer's market, flea market, and local craft stands.  One of my biggest finds of the day was fairytale eggplant for only $2/lb.  Such a steal—and delicious roasted with olive oil.  I only wish I had bought more of it!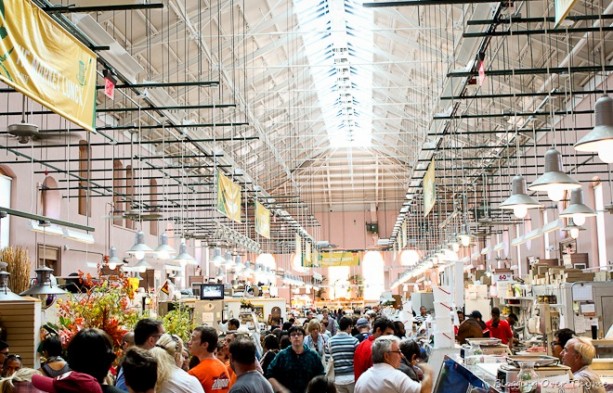 I had my eye on a few finds at the flea market, specifically some huge mirrors framed with old tin-ceiling tiles, but quickly walked away ran away when I saw the price tags.  $500-$800 price tags to be exact.  So much for my original idea of finding a cheap flea market find!
Afterwards, we took a short walk around the neighborhood to fulfill my love of real-estate snooping.   I kept telling Connor that we should have gone to the market on a Sunday, so that we could have gone into open townhouses—just for fun, of course.    Don't even try to tell me that I'm the only one out there who does this too!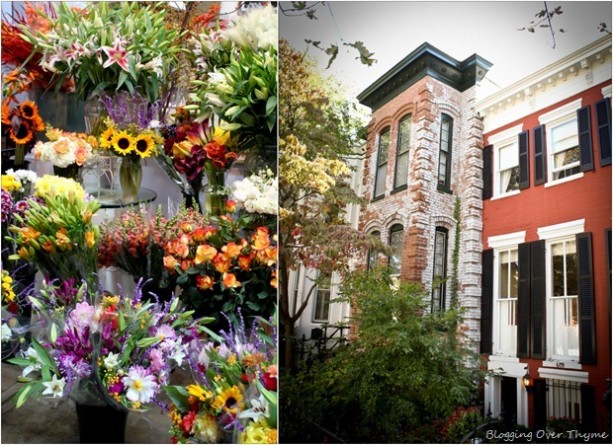 Guess I'll just have to head back over to the Eastern Market sometime soon!
This post contains affiliate links, which means that I make a small commission off items you purchase at no additional cost to you. Please read my
privacy policy
for more information.