Pumpkin Coconut Soft Serve with Maple Almond Crunch
Hope everyone had a great Halloween!  The weather ended up being a bit crazy in DC over the weekend—freezing cold with hail and snow.  I'm hoping this isn't a preview of the winter ahead…
As promised, I am back with the official recipe for my latest kitchen experiment.  This fall-inspired dessert was thrown together at the last minute with just a handful of ingredients found in my pantry and fridge.  It turned out to be a big success!

There was a lot of experimentation and spontaneity involved in this dish.  I definitely made additions and adjustments as I put it together—and kept tasting as I went.  Connor played sous chef and was put in charge of keeping track of everything in a small notebook.
Initially, I made this pumpkin-coconut 'soft-serve' without the addition of almonds, but thought it lacked a bit of creaminess and body. 
Inspired by my trip to San Francisco, where I tried an incredible chocolate-almond sorbet (which resembled a rich ice cream), I decided to see if I could achieve a similar richness by adding almonds to the blender.  It worked wonders!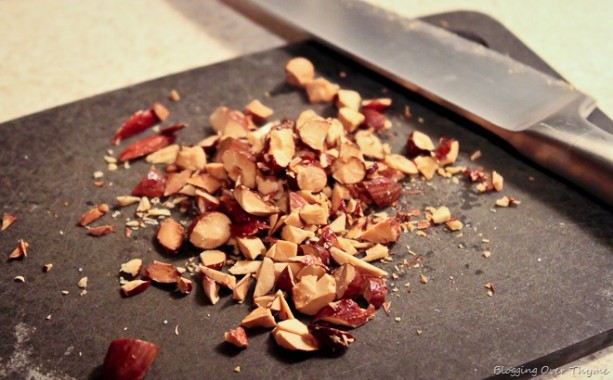 The extra fat and creaminess of the almonds added so much to the final product and really made the whole dish come together.  The subtle coconut flavor also went beautifully with the pumpkin.  These two ingredients will definitely be used together more often in the future.  Enjoy!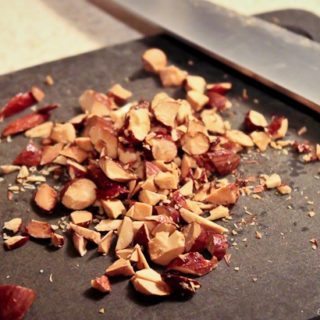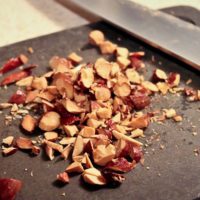 Pumpkin Coconut Soft Serve with Maple Almond Crunch
Yield: 2-4 Servings
Prep Time: 10 minutes
Cook Time: 30 minutes
Total Time: 40 minutes
Ingredients
Maple Almond Crunch:
1/2 cup raw almonds
2 tablespoons pure maple syrup
Soft Serve:
2/3 cup coconut milk
1/2 cup low-fat greek yogurt
3/4 cup canned pumpkin puree
1/4 cup maple almonds (see recipe below)
1/4 cup + 2 tablespoons packed dark brown sugar
1/2 teaspoon vanilla bean paste (or 1/2 teaspoon vanilla extract)
3/4 teaspoon pumpkin spice
pinch salt
15 ice cubes (or more–until reaches desired consistency)
Instructions
Maple Almond Crunch: Preheat your oven to 300 Fahrenheit degrees.
Spread the almonds on parchment, on a baking sheet.
Pour on maple syrup and stir. Roast for 30min, stirring once every 10min.
Allow to cool. Set aside 1/4 cup for soft serve. Cut the rest into small pieces with knife and set aside.
Pumpkin Coconut Soft Serve: Place ingredients in high-power blender (Vitamix works well)—making sure to place liquids and soft ingredients on the bottom.
Blend. If consistency is not frozen enough, place in freezer for 15-20 minutes. Spoon into bowl and top with maple almond crunch.
Nutrition Information:
Yield: 4
Serving Size: 1
Amount Per Serving:
Calories: 291
Total Fat: 20g
Saturated Fat: 8g
Trans Fat: 0g
Unsaturated Fat: 11g
Cholesterol: 3mg
Sodium: 97mg
Carbohydrates: 23g
Fiber: 4g
Sugar: 15g
Protein: 9g
A Beautiful Plate provides nutritional information, but these figures should be considered estimates, as they are not calculated by a registered dietician.