Classic French Boule
This post contains affiliate links.
Over the past year, I've come to realize that yeast, an ingredient that once intimidated me, has quickly become one of my favorite ingredients to use in the kitchen.  I've experimented with multigrain loaves, English muffins, and cheesy no-knead focaccia, but this following recipe is my all-time favorite.
It is easy to make and will satisfy any and all cravings for a great, crusty artisan bread.  It is wonderful with soup, sandwiches, or plain with a nice pat of butter.  In my opinion, a great bread doesn't need a lot of frills or toppings.
Not to mention, it is incredibly wallet-friendly in comparison to quality store-bought artisan breads, which will generally cost around $5-6/loaf.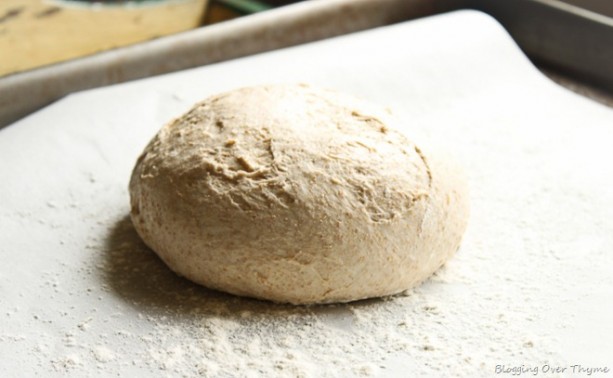 This dough recipe, which makes two 2-pound loaves, can be stored in the refrigerator for up to two weeks, allowing you to make homemade bread any day of the week.  I promise, after tasting this bread, you'll be making it all the time.  I do!
The recipe is adapted slightly from one of my favorite cookbooks, Artisan Bread in 5 Minutes A Day, by Jeff Hertzberg and Zoe Francois.  The original recipe calls for 100% unbleached white flour.  But I have experimented and made it with part whole wheat and the end result is even more delicious, while still retaining a great crust and not being overly dense.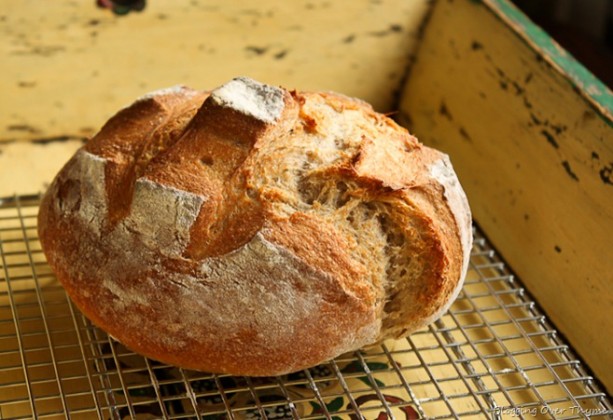 While the cookbook title is a bit misleading, the Hertzberg & Francois's bread recipes  are foolproof and can easily be made and put on the table in less than 2 hours—with 45 minutes needed to rest the loaf and another 45 minutes for the baking process.  The actual active time is less than 5 minutes–hence the title.
Here's my adaptation!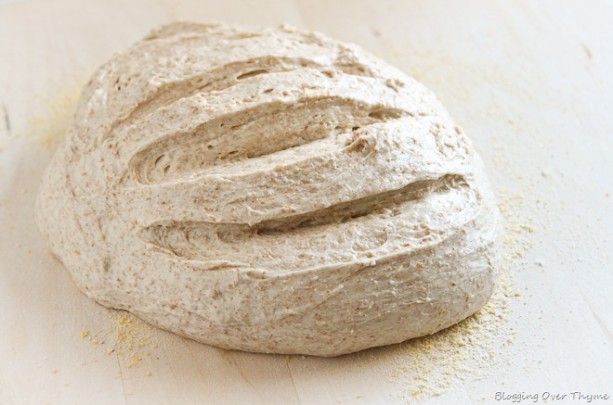 Recently, I brought a loaf of this bread as a contribution to a dinner party with family and friends and it was a big hit.  I highly recommend you to do the same over the upcoming holidays!
It is unique, delicious, and makes a great conversation starter.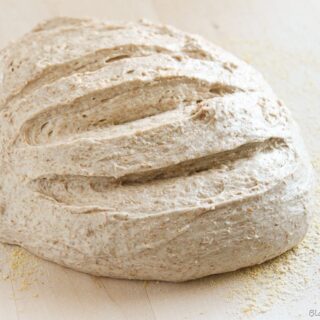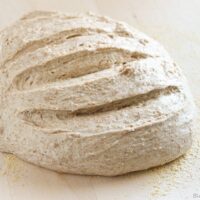 Classic French Boule
Yield: 16 Servings
Prep Time: 2 hours
Cook Time: 1 hour
Total Time: 3 hours
Ingredients
3 cups warm water
1 tablespoon + 1.5 teaspoons Active Dry yeast
1 tablespoon + 1.5 teaspoons kosher salt
4 cups unbleached all-purpose flour
2 1/2 cups whole wheat flour
cornmeal for dusting
Instructions
Day Before: In large container (with non-airtight lid), whisk together warm water, yeast, and salt. Slowly add in flours, mixing with wooden spoon. When dough becomes too difficult and thick to stir, mix together with hands until all the flour comes together and dough is uniform. The dough should be very wet and sticky. Do not knead. Cover lightly and allow to rise at room temperature for at least two hours. Place in refrigerator and cover lightly for up to two weeks.
Before Baking: Dust pizza peel lightly with corn meal, remove about half of the dough and "cloak" and shape loaf in a round in about 30-60 seconds—stretch the surface of the dough ball around to the bottom of the loaf, rotating the dough ball as you go, so that it is relatively smooth on the surface. The bottom will flatten out during baking. Allow to rest at room temperature for 45 minutes. **Note: If you do not have a pizza peel, place on baking sheet covered with parchment paper.
Preheat oven to 450 degrees Fahrenheit. If using pizza stone, allow to preheat for at least twenty minutes.
Once oven is ready, dust loaf with floor and using serrated knife, slash a scallop (seen below) or tic-tac-toe pattern about 1/2" deep on top of the loaf.
Place baking tray in oven or slide loaf onto pizza stone and bake for 35-50 minutes, or until internal temperature (taken from side of loaf) reads between 190-200 degrees Fahrenheit. Even if the loaf appears cooked from the outside, the easiest way to tell if it is fully cooked is using a digital instant-read thermometer. **Note: Steam allows bread to develop a crusty, crisp exterior. One way to incorporate steam into your oven at home is to place a broiler tray on an oven rack and fill it with very hot water immediately after placing the loaf in the oven. Close the oven door immediately.
Allow baked loaf to rest on rack until it comes to room temperature or for at least 15-20 minutes before slicing.
Notes
Adapted From Artisan Bread in 5 Minutes a Day.
Nutrition Information:
Yield: 22
Serving Size: 1
Amount Per Serving:
Calories: 150
Total Fat: 1g
Saturated Fat: 0g
Trans Fat: 0g
Unsaturated Fat: 0g
Cholesterol: 0mg
Sodium: 148mg
Carbohydrates: 32g
Fiber: 3g
Sugar: 0g
Protein: 5g
A Beautiful Plate provides nutritional information, but these figures should be considered estimates, as they are not calculated by a registered dietician.
This post contains some affiliate links, which means that I make a small commission off items you purchase at no additional cost to you. Please read my
disclosure policy
for more information.