Over the past year, I've come to realize that yeast, an ingredient that once intimidated me, has quickly become one of my favorite ingredients to use in the kitchen.  I've experimented with multigrain loaves, English muffins, and cheesy no-knead focaccia, but this following recipe is my all-time favorite.
It is easy to make and will satisfy any and all cravings for a great, crusty artisan bread.  It is wonderful with soup, sandwiches, or plain with a nice pat of butter.  In my opinion, a great bread doesn't need a lot of frills or toppings.
Not to mention, it is incredibly wallet-friendly in comparison to quality store-bought artisan breads, which will generally cost around $5-6/loaf.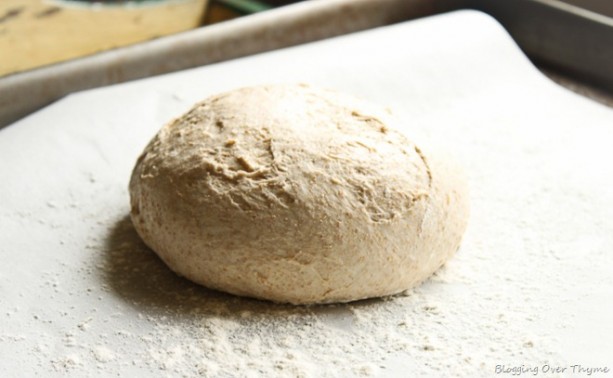 This dough recipe, which makes two 2-pound loaves, can be stored in the refrigerator for up to two weeks, allowing you to make homemade bread any day of the week.  I promise, after tasting this bread, you'll be making it all the time.  I do!
The recipe is adapted slightly from one of my favorite cookbooks, Artisan Bread in 5 Minutes A Day, by Jeff Hertzberg and Zoe Francois.  The original recipe calls for 100% unbleached white flour.  But I have experimented and made it with part whole wheat and the end result is even more delicious, while still retaining a great crust and not being overly dense.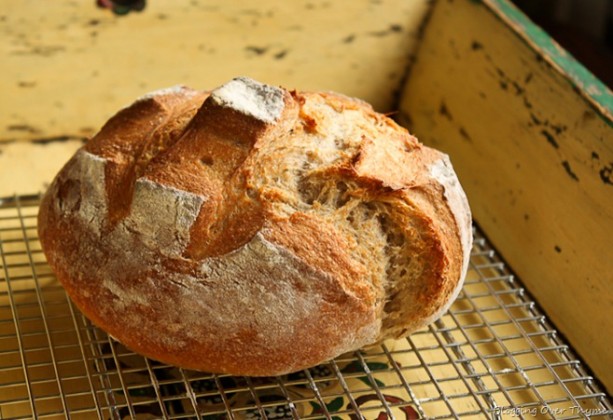 While the cookbook title is a bit misleading, the Hertzberg & Francois's bread recipes  are foolproof and can easily be made and put on the table in less than 2 hours—with 45 minutes needed to rest the loaf and another 45 minutes for the baking process.  The actual active time is less than 5 minutes–hence the title.
Here's my adaptation!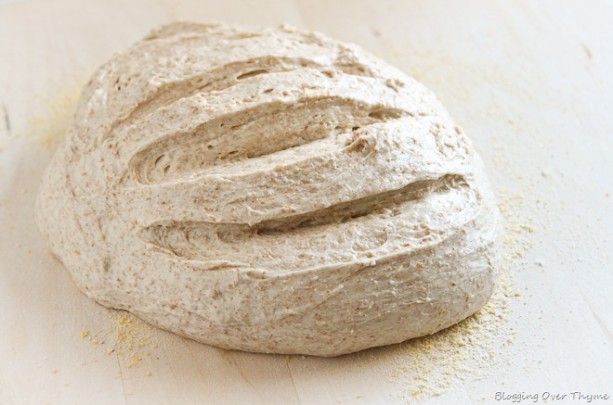 Recently, I brought a loaf of this bread as a contribution to a dinner party with family and friends and it was a big hit.  I highly recommend you to do the same over the upcoming holidays!
It is unique, delicious, and makes a great conversation starter.