Easy Healthy Chickpea Curry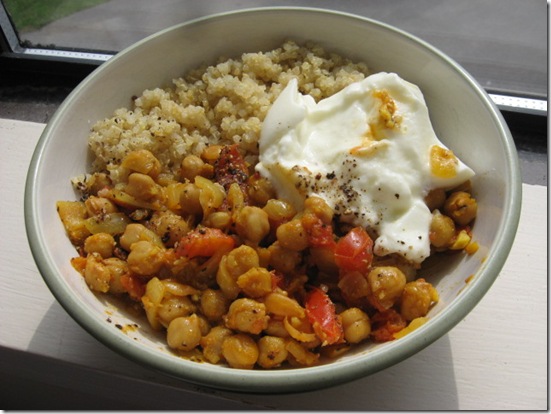 Ok, so I literally came up with this recipe at the last minute in college, when I was desperate for a new dinner option, to use up a can of garbanzo (chickpea) beans, and craving Indian.  I promise it is super easy…after all, I was stuck in a college apartment kitchen and generally didn't have enough time for long food preps, etc.  It turned out great (much to my excitement..and stomach) and so now I'm here to pass along the goods to you.  It is super healthy, has tons of fiber and protein from the chickpeas, and is very low in fat.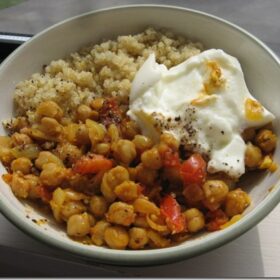 Easy Healthy Chickpea Curry
Ingredients:
1 tablespoon extra virgin olive oil
1 medium onion, chopped
2 cloves garlic, minced
1 teaspoon curry powder
1/2 teaspoon turmeric
1 teaspoon coriander
1 teaspoon cumin
1 (15-oz) can of chopped tomatoes
1 (15-oz) can of chickpeas, drained and rinsed
2 spoonfuls plain yogurt (optional)
salt and pepper
Directions:
Heat oil in non-stick skillet over medium heat. Add onion and saute until soft or golden color.
Add the garlic and spices, and cook for 1-2 minutes, stirring continuously until aromatic.
Add the tomatoes and cook 1-2 minutes.
Add the drained chickpeas, cover, and allow mixture to simmer for 20 to 25 minutes, stirring occasionally. Stir in the yogurt just before serving. Serve immediately.
All images and text ©
.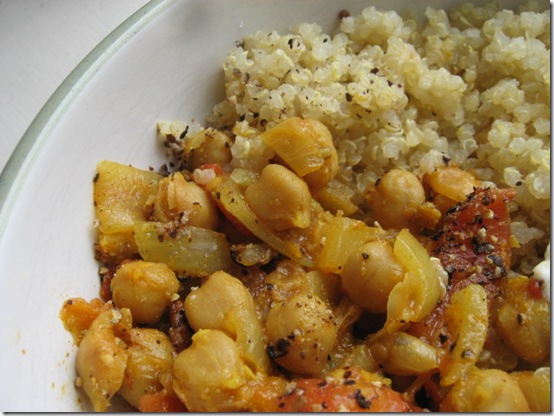 Super easy, what did I tell you? This is great served with quinoa, but would also be great with brown rice or basmati, or nothing at all.  I always serve it with a big spoonful of greek or regular plain yogurt.  This really helps cut any heat and just tastes good!  Enjoy and be sure to let me know your thoughts if you decide to make it yourself !