Easy Lemon Vinaigrette (+ 5 Easy Variations!)
My go-to EASY lemon vinaigrette made with just three ingredients – and five ways to mix it up!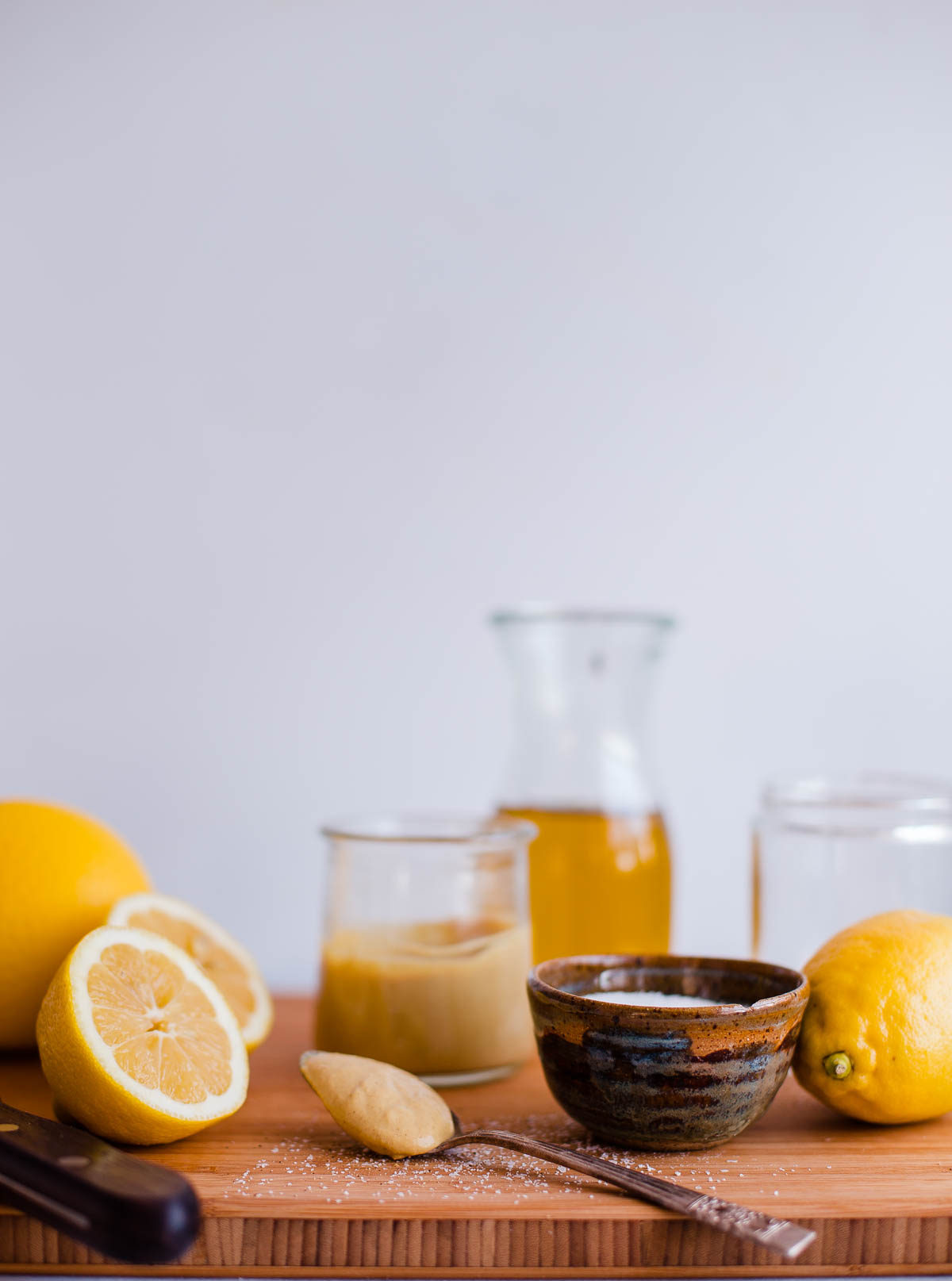 Have you officially overdosed on all things sweet? I'm here to help.
We're making the world's easiest lemon vinaigrette today. So easy that I questioned whether this vinaigrette even deserved its own post. Only three ingredients and five minutes of time are required to throw this together. You can make a big batch of it and you can even store it on your countertop.
Ok, so here's the deal. This is the lemon vinaigrette that I have on hand every single day in my kitchen. I definitely make other types of dressings and vinaigrettes for other applications, but this is my old stand-by. I even made it in my crappy college kitchen back in the day.
It is actually the same lemon vinaigrette that my mom has been making for decades, and I love it for several reasons: 1) it is tart, light, and goes well on almost all greens, 2) it is incredibly healthy, 3) I always have the ingredients on hand to make it.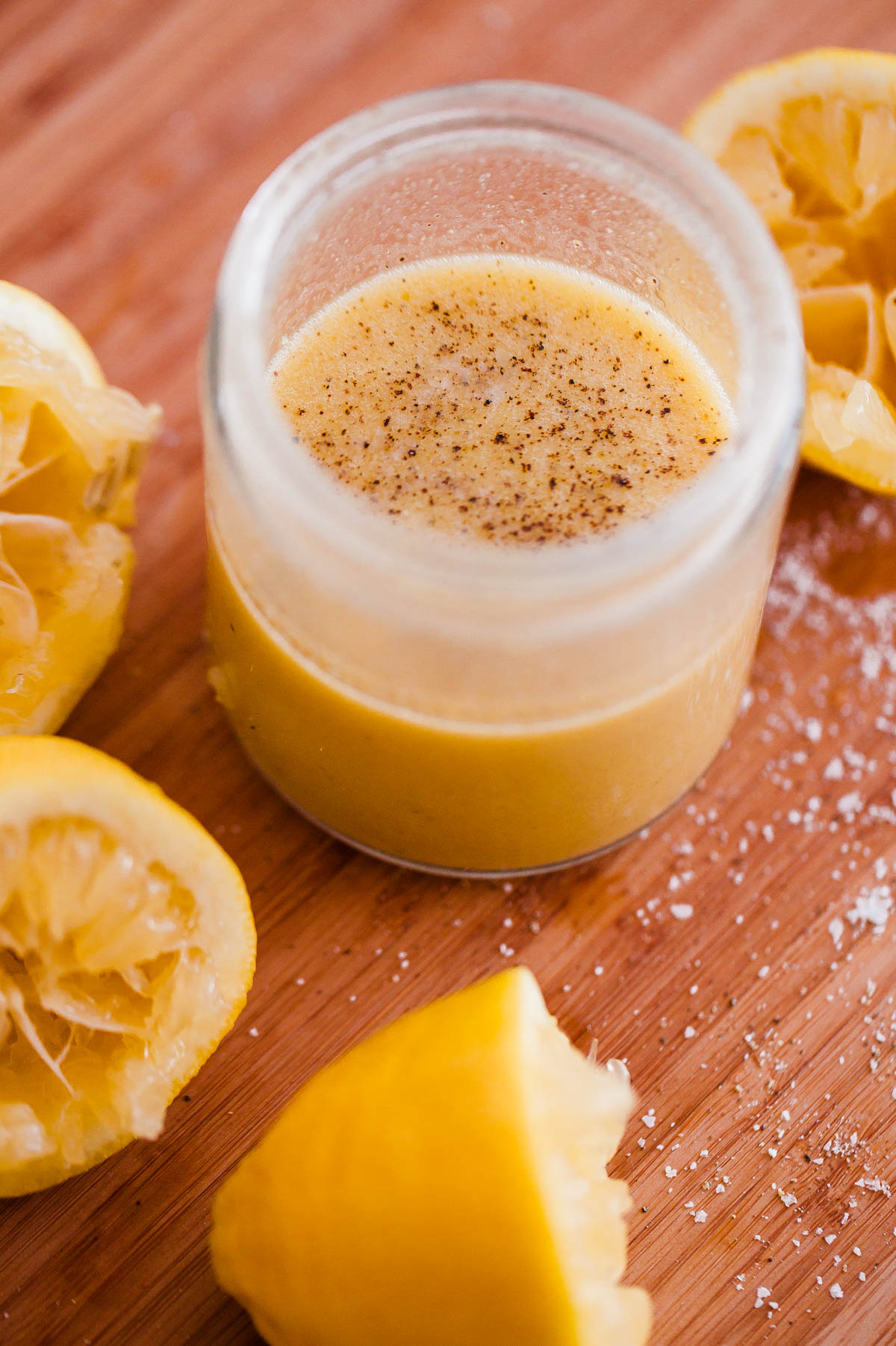 How to Make an Easy Lemon Vinaigrette:
This lemon vinaigrette is a broken emulsification, which means that I literally stick all of the ingredients in my favorite salad dressing container or glass jar and shake it for a good ten seconds.
The vinaigrette will actually stay fairly well emulsified once you do this, and I'll give it one last shake right before I use it. I make a double batch of it at the beginning of each week.
Traditionally, vinaigrettes are made with a 3:1 ratio of oil to acid (eg. 3 parts oil to 1 parts acid, for example: 1 cup olive oil, 1/3 cup vinegar).
I generally find that ratio too oily and almost always prefer a vinaigrette made with an equal parts (1:1) oil and acid.
I use this dressing container, which has measurement lines on the side, but you can certainly eyeball the ratios as well. This is vinaigrette, not rocket science.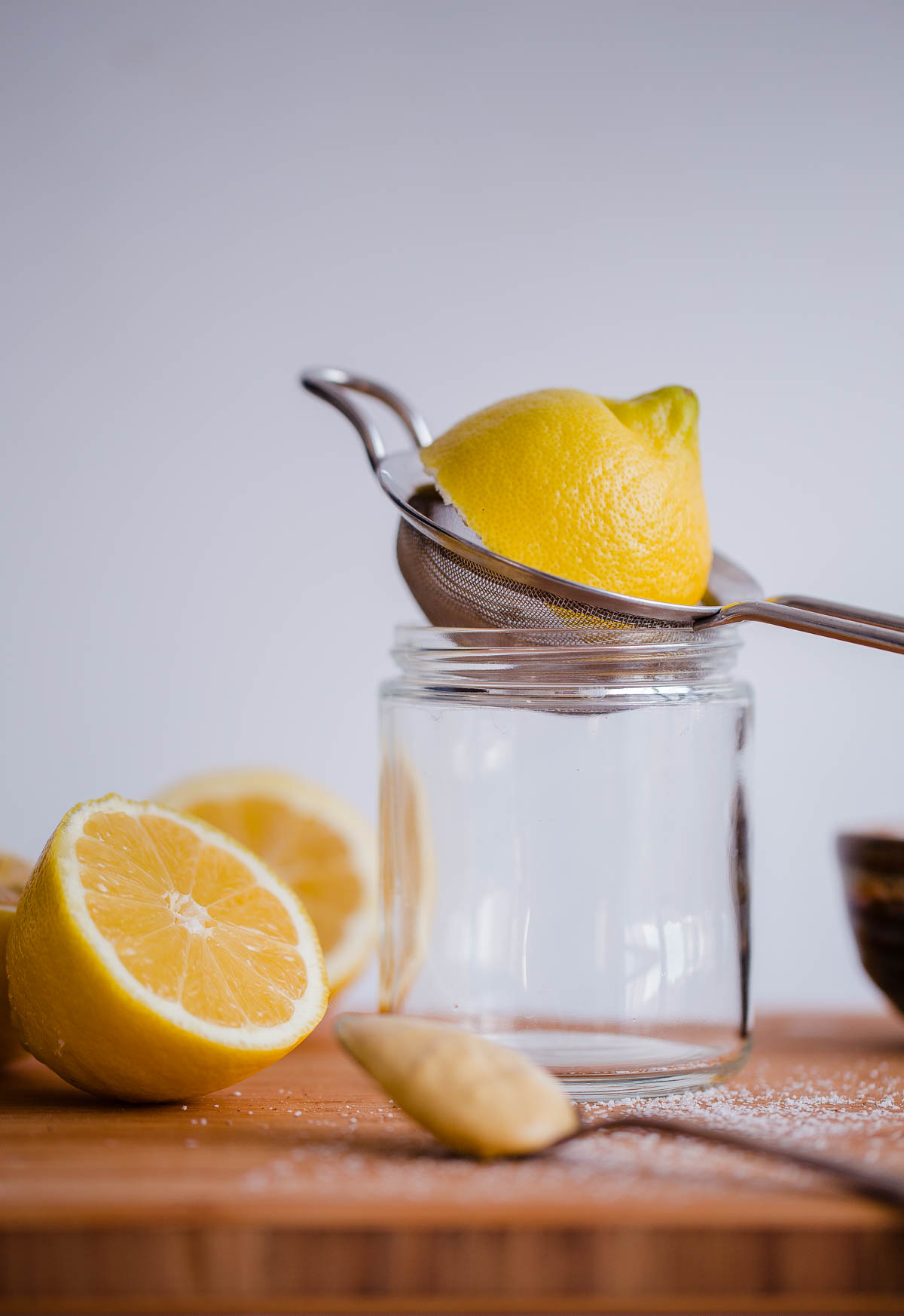 If you're sensitive to tart things (I happen to love them!), you might prefer to use a bit more olive oil in this lemon vinaigrette. Just taste and adjust to taste!
It will taste tart on its own, but generally mellows out once tossed with salad greens (especially if you typically add sweeter elements, such as tomatoes, carrots, etc. to your salads).
Easy Lemon Vinaigrette Variations:
The best part about this easy lemon vinaigrette is that you mix it up in so many different ways. Here are just five ways that you can tweak and change it up on any given day:
substitute half of the lemon juice with aged balsamic vinegar, red wine vinegar, or sherry vinegar – or add other citrus juices, such as freshly squeezed orange juice
add a smashed clove of garlic (remove it from the dressing before serving) or finely minced shallot
add finely chopped fresh herbs, such as tarragon or basil, just before serving
substitute part of the olive oil with toasted walnut oil, hemp oil, avocado oil, or your other favorite infused oil (*if you are using nut oils, I recommend storing the dressing in the fridge)
add dried herbs, such as oregano, to give it a Mediterranean twist
If you're looking for other salad vinaigrette inspiration, here are a handful of other everyday vinaigrettes that are just as easy to prepare.
The best reason to make homemade vinaigrette is that it tastes better and is far fresher than even the best quality store-bought dressing.
You can control all of the ingredients that go into it, which means that you can adapt and tweak it exactly to your taste.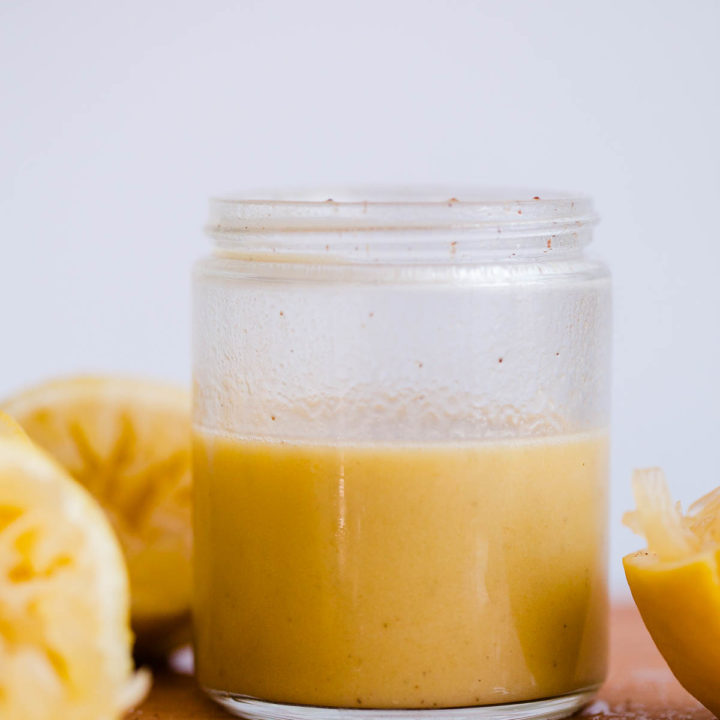 Easy Lemon Vinaigrette
Yield: 1/2 Cup
This lemon vinaigrette is a broken emulsification, which means that I literally stick all of the ingredients in my favorite salad dressing container or glass jar and shake it for a good ten seconds. This recipe yields a tart, bright, and versatile viniagrette that can be used in many different ways!
Prep Time: 5 minutes
Total Time: 5 minutes
Ingredients
1/4 cup (roughly 2 juicy lemons) freshly squeezed lemon juice
1/4 cup extra virgin olive oil
2 heaping teaspoons Dijon mustard
1/4 teaspoon kosher salt (*I use Diamond Crystal salt, if using other varieties adjust to taste)
1/8 teaspoon freshly ground black pepper
Instructions
Place all of the ingredients in a spill-proof container or jar, cover, and shake well. Store at room temperature for up to a week and shake just before using.
Nutrition Information:
Yield: 4
Serving Size: 1
Amount Per Serving:
Calories: 121
Total Fat: 14g
Saturated Fat: 2g
Trans Fat: 0g
Unsaturated Fat: 11g
Cholesterol: 0mg
Sodium: 346mg
Carbohydrates: 0g
Fiber: 0g
Sugar: 0g
Protein: 0g