How to Line Any Size Cake Pan with Parchment Paper
How to line a cake pan with parchment paper easily and effortlessly. This time-saving trick will make cake baking even easier!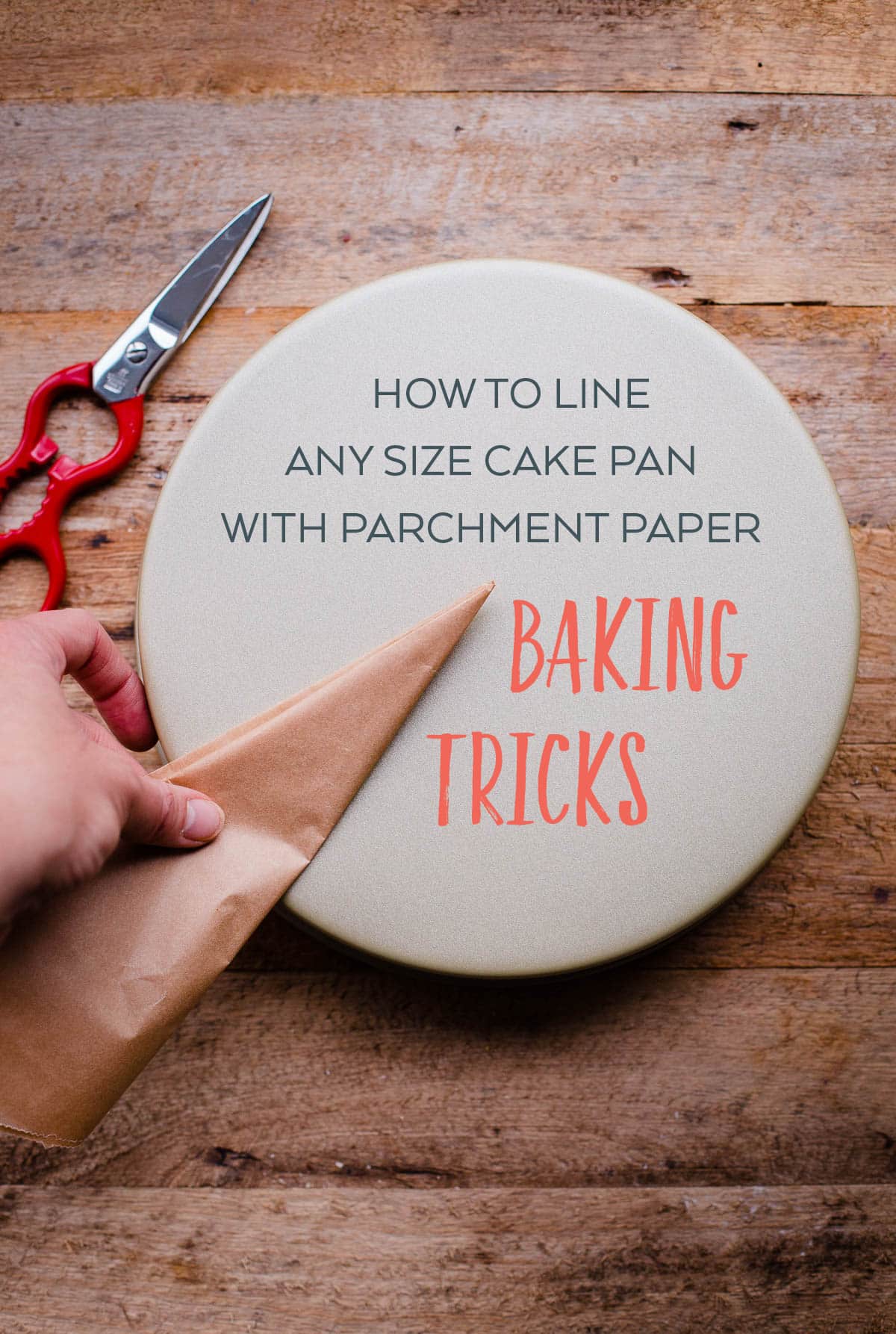 This week will hold a new first for me. I received my very first commissioned cake order for this Thursday. One of Connor's colleagues, whom I've never met before, contacted me a few weeks ago and asked if I would make their birthday cake for them. Eee!
Given the timing and fact that some of you might be baking a cake (no pressure) this week for Valentine's Day, I wanted to pop in today and share one of my favorite baking tricks: how to line a cake pan with parchment paper. Any size cake pan for that matter! Some of you might be familiar with this technique, but I have a feeling there will be a few of you that will benefit from today's post. I learned this trick in culinary school (we also used this method to make 'cartouches' – which are essentially parchment paper rounds that you put on the surface of sauces or stews to prevent evaporation on the stove – it really works!) and have never turned back since.
First, let's get down to the basics. If you encounter the words, 'grease, line with parchment paper, and grease and flour' in any cake recipe, don't be tempted to skip this step. Many cake batters are extremely fragile and have a tendency to stick to even the most non-stick cake pan. In addition, that extra step of layering your pan with parchment, greasing and flouring it will allow your cake layers to rise properly and gain additional height.
This is particularly important for any cake recipe that doesn't contain chemical leaveners (aka. baking soda or baking powder) and relies on folded egg whites for height and volume (eg. genoise or sponge cakes). The last (and I really mean, the last) thing you want to do is take the time to bake a cake and have half of it stick to the pan when you go to invert it. It is very depressing, trust me. The parchment paper provides that extra level of insurance to prevent this from happening. I like to use natural parchment (it also doubles as a wonderful affordable food photography background), but this is my own personal preference.
There are a few ways to line a cake pan with parchment paper. You can buy those fancy pre-cut parchment rounds (which are expensive and only come in specific sizes), cut out parchment rounds by tracing (which is time-intensive and inevitably results in multiple rounds of trimming, because it always ends up being far too big for the pan), or you can use this incredibly easy folding technique below: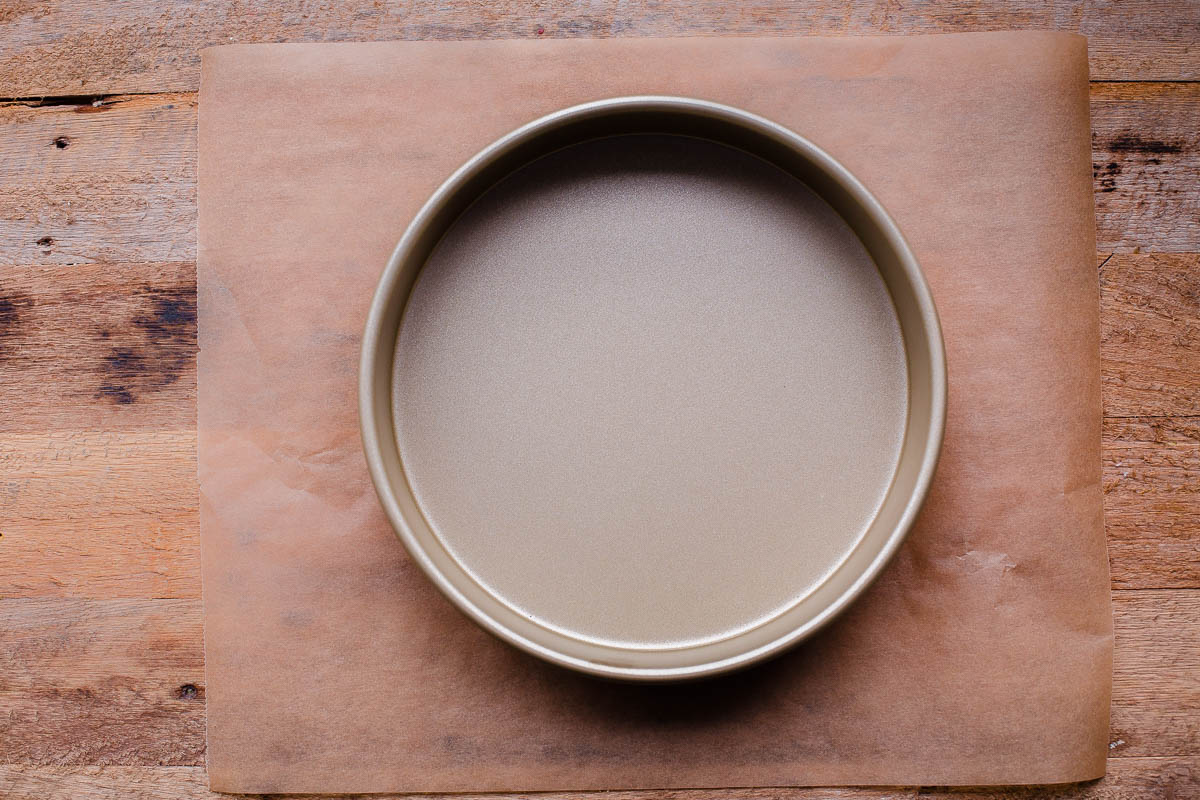 First, you're going to cut out/tear a piece of parchment that is only slightly larger than the your required cake pan. I had pre-cut half sheet pan parchment papers on hand, but I normally would try to waste as little as possible.
As long as both sides of the parchment piece are slightly longer than the cake pan diameter, you are good to go.


Fold the piece of parchment paper in half and then fold it in half again. You will end up with a rough folded square of parchment.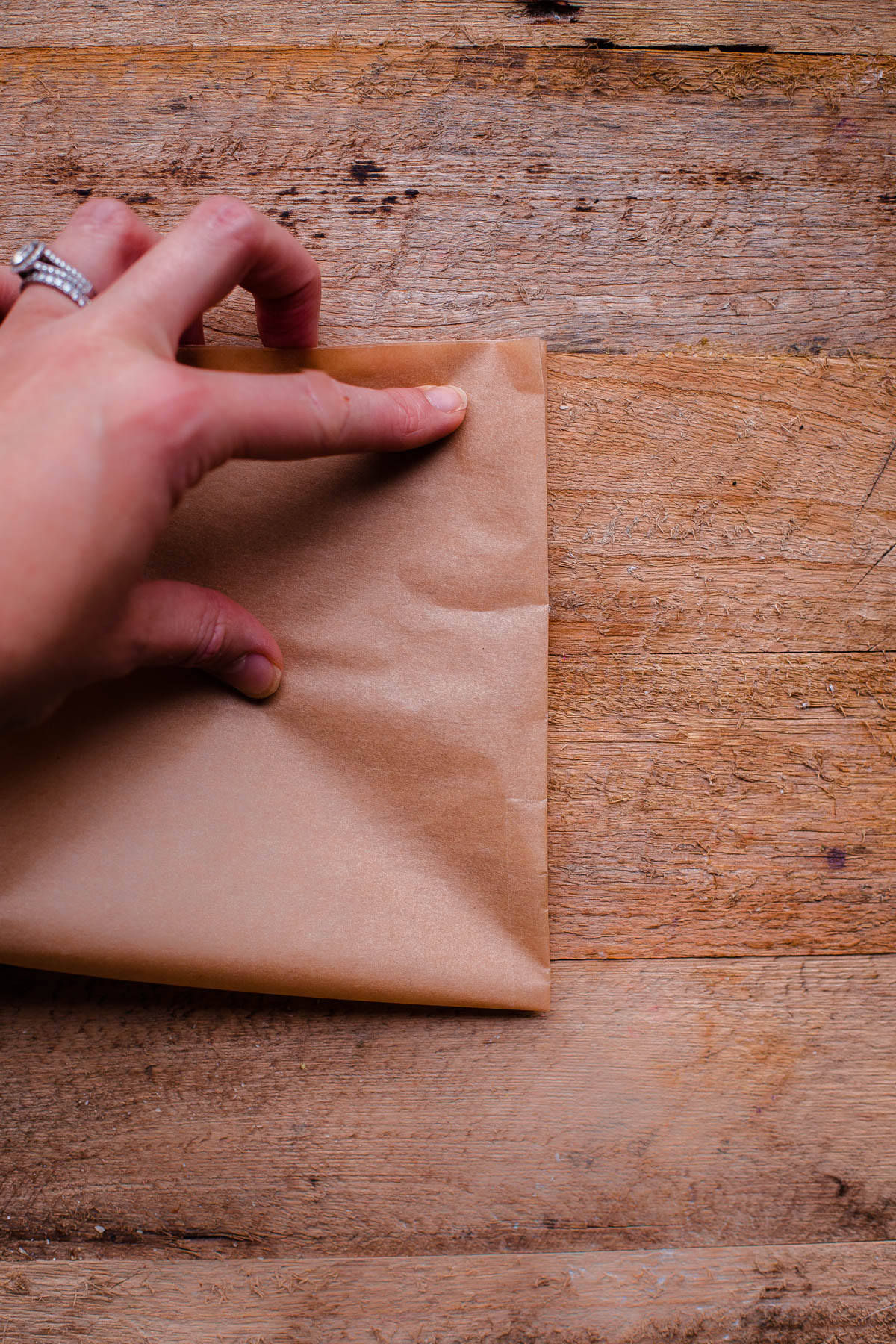 Fold the square into a triangle (bringing the folded edge to folded edge).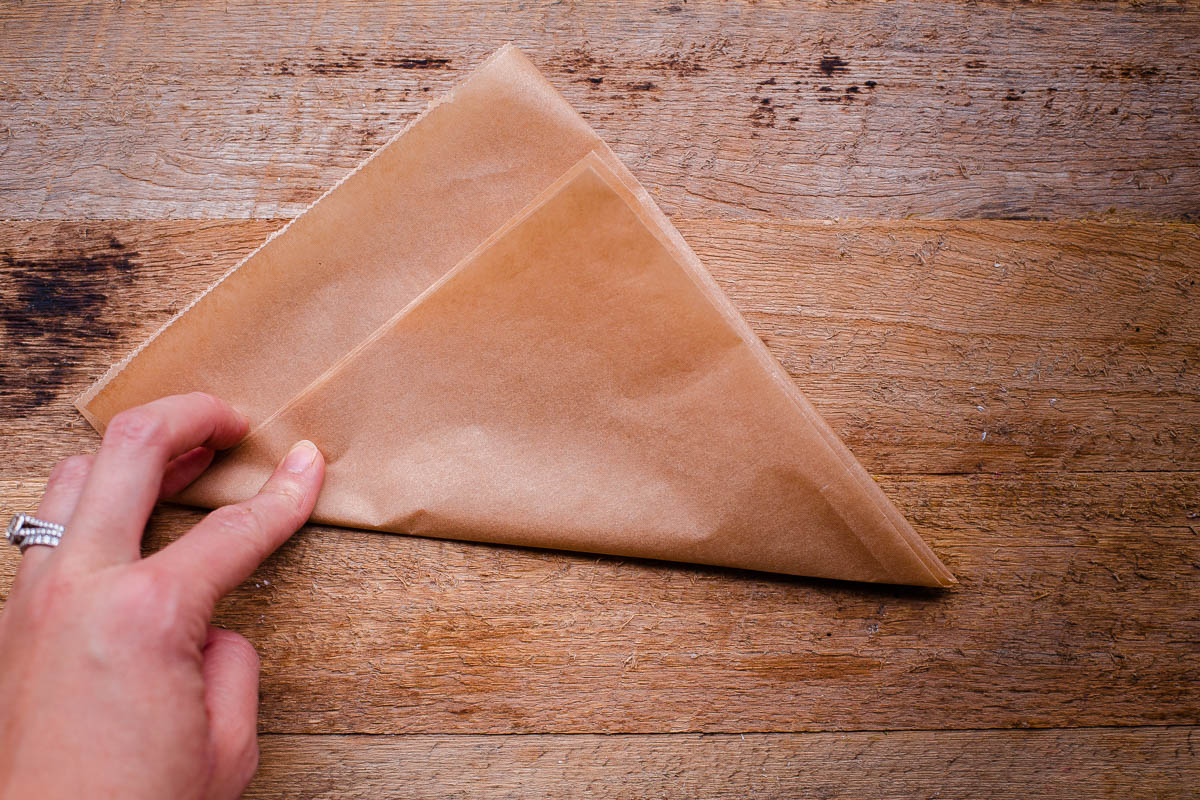 Keep folding the triangle in half to create a smaller triangle (as you would when making a paper airplane). I do about two additional folds. The smaller the triangle, the easier it will be create a 'perfect' round for lining. But if it's too thick, it will be harder to cut with scissors.


Place the (ungreased) cake pan upside down on your countertop and line the tip of the triangle to the 'estimated' center of the pan. This doesn't have to be perfect, but try to eyeball it as closely as possible.
Holding the parchment triangle centered in place, cut the parchment following the curve on the sides of the cake pan with scissors.


Unfold the parchment and set in the inside of the cake pan to ensure it fits properly. Trim if necessary (although once you get the hang of it, you'll rarely need to do this!). Grease and line the pan as instructed for the recipe.
Voila! No need for pencils, tracing, or any of that fussy stuff.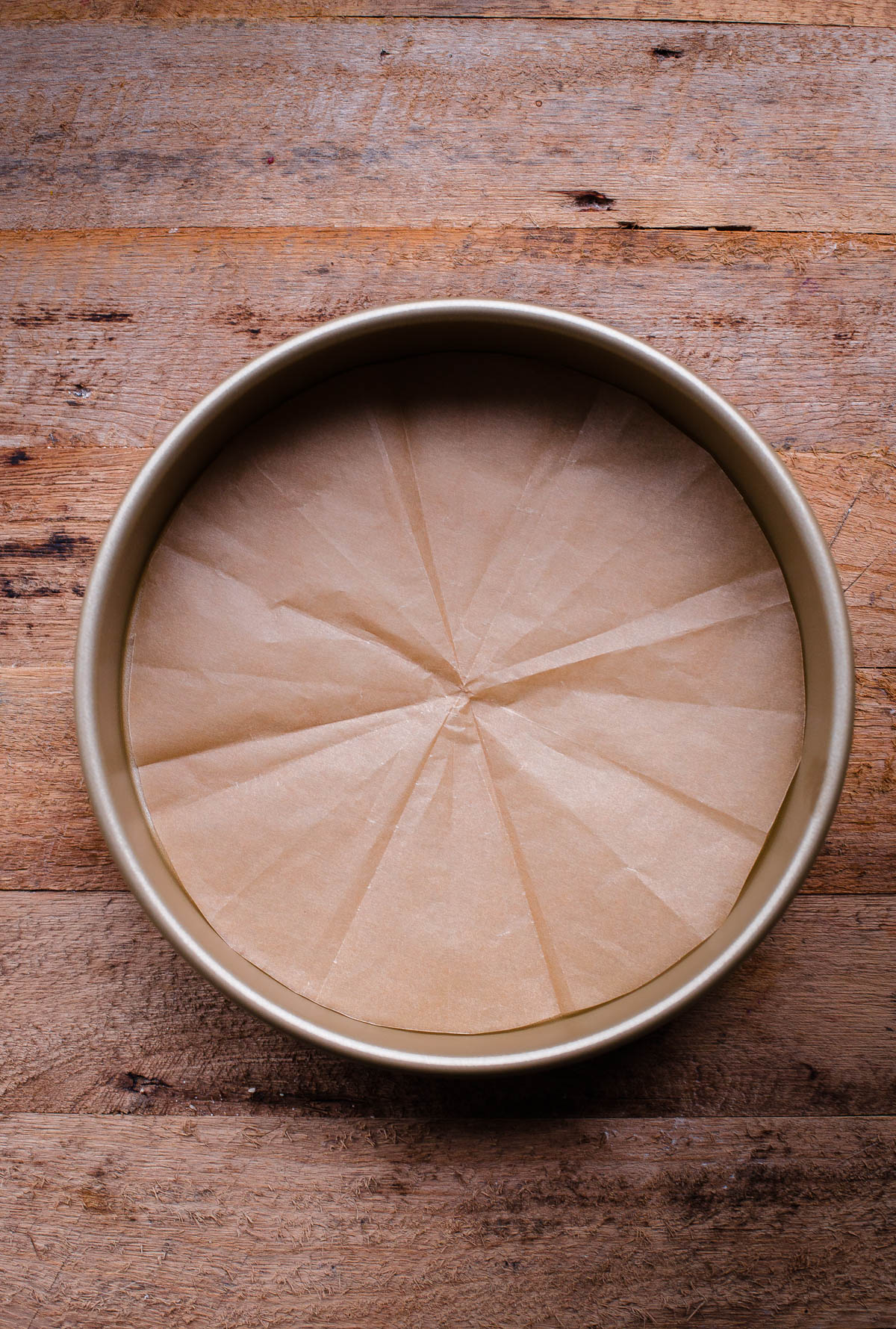 Whenever you next encounter the sentence 'line with parchment paper' in the instructions of a cake recipe, take a short visit back to this blog post and give this method a try!
P.S. If you enjoy little posts about tips and tricks for baking or cooking, please let me know and I'm happy to share more of them!
This post contains affiliate links, which means that I make a small commission off items you purchase at no additional cost to you. Please read my
privacy policy
for more information.