Espresso Hazelnut Cookies with Dark Chocolate Drizzle
These buttery and crisp hazelnut cookies are infused with instant espresso, pipped into a beautiful cat tongue shape, and finished with a dark chocolate drizzle.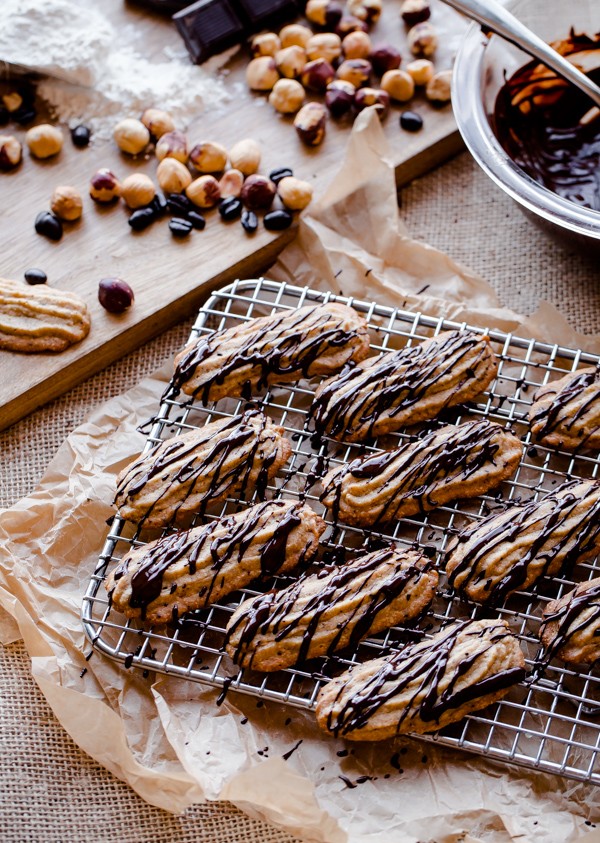 While I was browsing my recipe archive a few weeks ago, I had a harsh dose of reality. I have not shared nearly enough cookie recipes on this site. As in, I could probably count the number of cookie recipes I've made and shared on one hand.
It was about time that I did something about that.
Don't get me wrong, I love cookies. I really do. But the on the spectrum of desserts that I crave on a somewhat regular basis, they are near the bottom of the list. Muffins and quick breads are close to the top, along with other casual tea cakes, or simple one-layer cakes.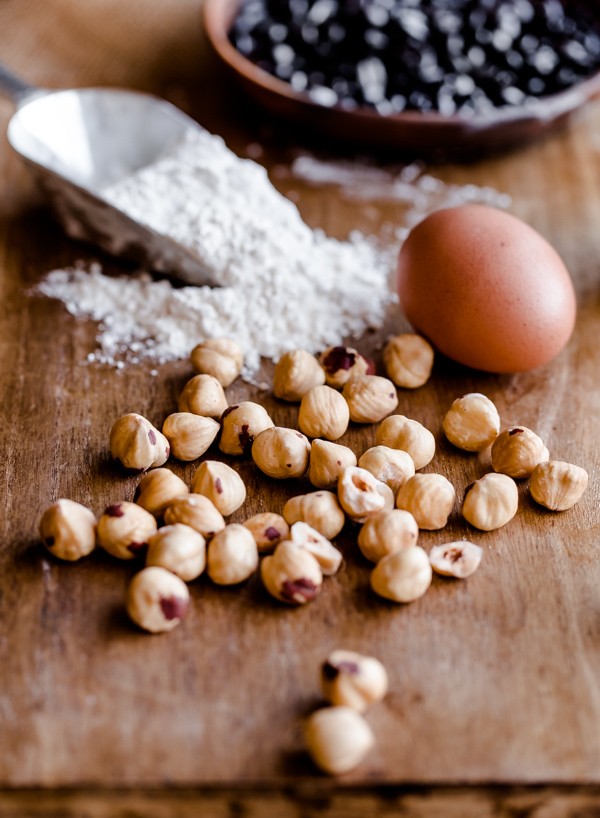 So, when I seek out a cookie recipe to share with you guys, I want it to be extra special and a little unique. I'm all for the classics, but I'm sure you can find a million recipes for those all over the web. I'd rather share something new and different!
These espresso hazelnut cookies are exactly that, and so much more. Anything that involves espresso (and anything in the coffee realm) is an instant winner for me. Have I ever told you that I asked for an espresso machine from my parents when I was three years old?
Totally normal (said no one).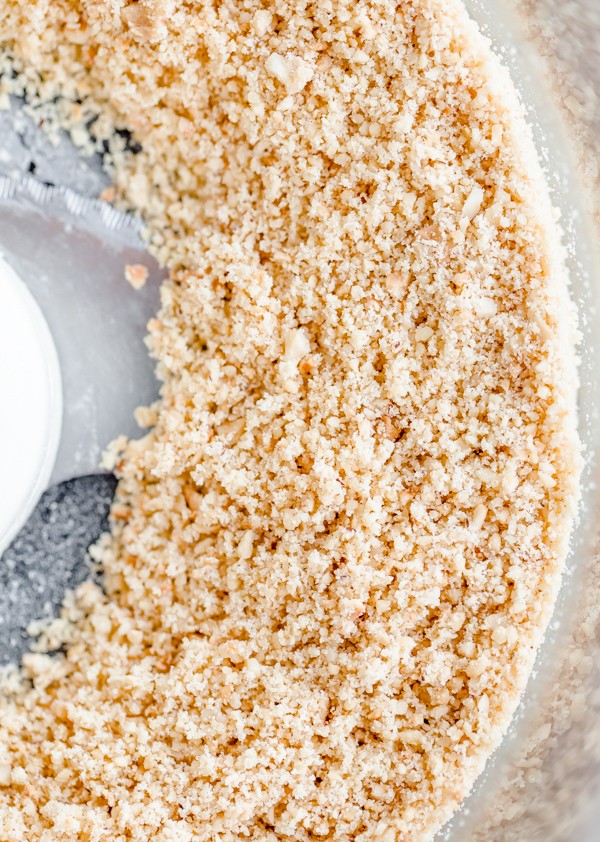 The cookie dough batter is flavored with my favorite instant espresso coffee powder. It is probably one of my most highly-used baking ingredients. If I'm not using it as a powder, I like to dilute it with a teensy amount of hot water and use it as an extract. Again, it tastes awful when used for drinking purposes, but for adding an espresso touch to glazes or batters, it can't be beat.
These espresso hazelnut cookies are crisp and buttery, similar to a shortbread or classic sable, and have so much flavor. We can thank butter and whole toasted hazelnuts for that. The hazelnuts are ground down to a coarse meal (similar to almond meal, if you have used that for baking before!) and folded in the cookie batter.
I'm fairly positive that no other nuts can rival the hazelnut in flavor. Nothing's better.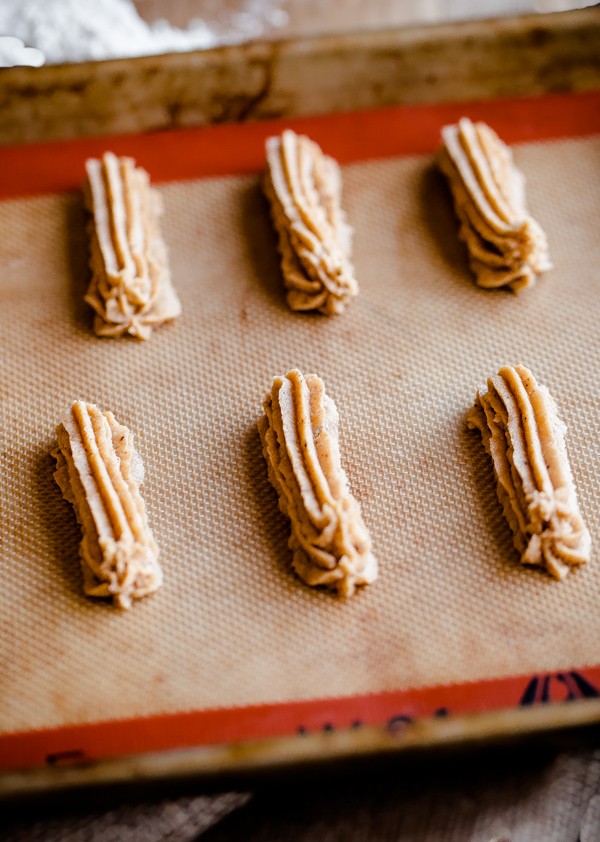 On that note though, I must admit that hazelnuts are probably the most high-maintenance of all nuts (strangest sentence ever).
Most affordable hazelnuts (I pick them up at Trader Joe's!) come with their skins on. Hazelnuts have very bitter skins, and for the most part, you will want to remove them as much as possible for most recipes.
TO make life exponentially easier, seek out blanched hazelnuts or even hazelnut meal! They are both available, just a bit more pricey.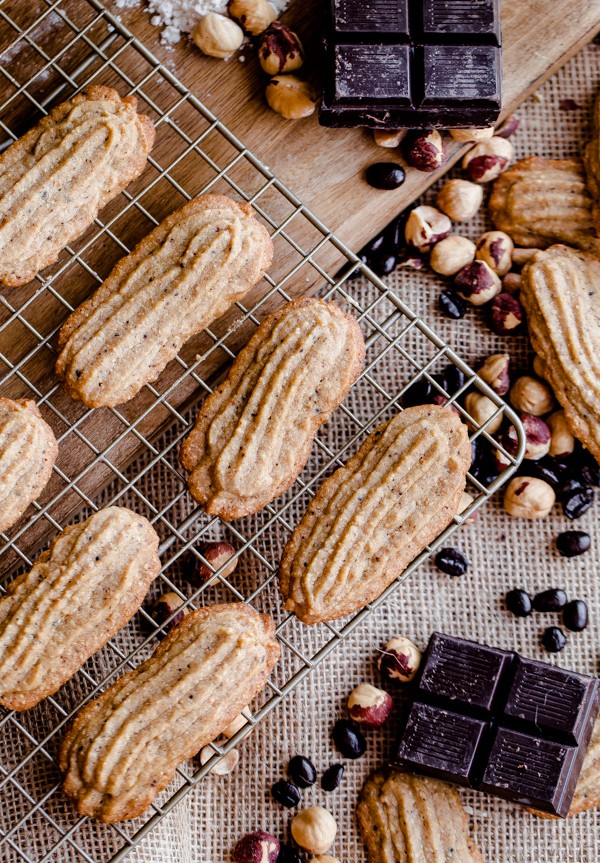 These cookies get their intricate shape and lines from the use of a piping bag and star tip! It sounds complicated, but it makes the process extremely quick and painless. Unlike most cookie recipes that produce dozens and dozens of cookies (not necessarily a bad thing), this recipe has also been scaled down to make only 14 to 15 cookies in total–all of which should fit on one single baking sheet. Better for those of us with very little self-control, if you know what I mean!
As an added bonus, this recipe requires no chilling time. The batter can go from the bowl to the oven in a matter of minutes. The actual batter itself comes together in less than 10 minutes (as long as you have your hazelnuts toasted and ready to go), and is straight-forward and simple!
Once baked and cooled, the cookies are finished with a simple and rustic chocolate drizzle! The bittersweet chocolate compliments the espresso and hazelnut flavors perfectly. Almost like a hazelnut mocha drink–in cookie form! Enjoy.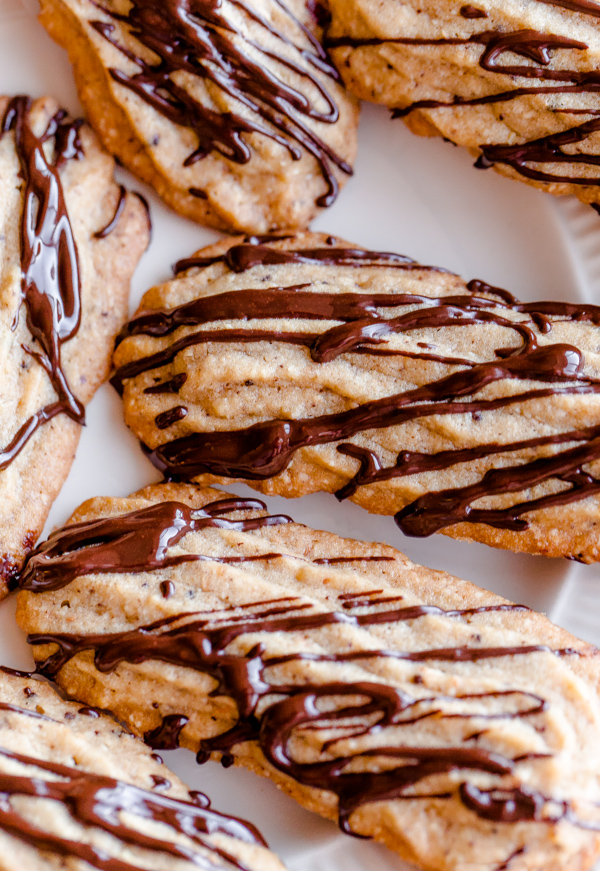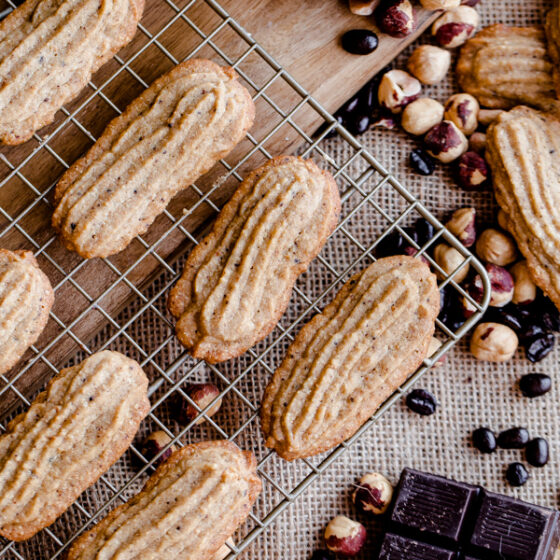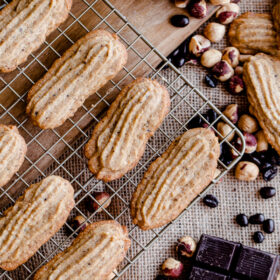 Espresso Hazelnut Cookies with Dark Chocolate Drizzle
These delicious buttery and crisp hazelnut cookies are infused with instant espresso powder, pipped into a beautiful cat tongue shape, and finished with a dark chocolate drizzle. This cookie recipe requires no chilling time. The batter can go from the bowl to the oven in a matter of minutes!
Ingredients
Espresso Hazelnut Cookie Dough:
½ cup (60 g) roasted blanched hazelnuts
½ cup + 2 tablespoons (75 g) unbleached all-purpose flour divided
1½ teaspoons instant espresso powder I recommend Medaglia d'Oro brand
¼ teaspoons Diamond Crystal kosher salt
6 tablespoons (3 oz; 85 g) unsalted butter softened
¼ cup (50 g) granulated sugar
½ (25 g) large egg room temperature, see notes for tips
½ teaspoon pure vanilla extract
Dark Chocolate Drizzle:
2 ounces (60 g) bittersweet chocolate coarsely chopped
½ tablespoon (8 g) unsalted butter
Instructions
Preheat the oven to 350°F (176°C) with a rack in the center position. Line a half sheet pan with parchment paper or a silicone baking mat. Set aside.

Prepare the Hazelnut Flour Mixture: Combine the blanched hazelnuts and two tablespoons (15 grams) of all-purpose flour in the bowl of a large food processor. Pulse the hazelnuts and flour together repeatedly until it forms an even, coarse meal (do not over pulse, or the nuts will clump and oil will begin to release and create nut butter). Set aside.

Combine the remaining all-purpose flour, espresso powder, and salt in a small bowl, and whisk together.

Place the butter in the bowl of a stand mixer fitted with a paddle attachment. Beat the butter at medium speed for 1 minute, or until creamy. Add the granulated sugar, and beat at medium speed for an additional 2 to 3 minutes, or until the mixture is light and fluffy. Add the egg and vanilla, and beat at low speed for an additional minute or so, scraping down the bowl to ensure all of the ingredients are evenly incorporated.

On low speed, add the all purpose flour mixture and mix until just combined. Fold in the hazelnut meal with a spatula. Place the cookie batter in a pastry bag fitted with a large star tip. Pipe two-inch strips of dough onto the prepared baking sheets, leaving about 1½ inches between them. They should fit on one standard sheet pan.

Bake for 12 to 14 minutes, rotating the sheet halfway, or until the edges begin to caramelize and lightly brown. Carefully transfer the cookies to a cooling rack and allow them to cool completely before decorating.

Prepare Chocolate Drizzle: Combine the chopped chocolate and butter in a small microwave-safe bowl. Microwave the chocolate in 20 to 25 second intervals, stirring with a rubber spatula after each interval, or until the mixture has melted and is smooth. Place the cooled cookies on a wire rack set above a sheet of wax paper. Using a spoon or fork, drizzle the cookies with the warm, melted chocolate back and forth over the tops of the cookies. Don't worry if it isn't perfect! Refrigerate the cookies for 10 to 15 minutes, or until the chocolate has set completely. Cookies can be stored in an airtight container at room temperature for up to 5 days.
Tips for Success:
To halve an egg easily, whisk one full egg in a small bowl (it should be roughly 50 grams in weight). Use a kitchen scale or tablespoon to measure.
You can also substitute the whole hazelnuts in this recipe with 60 grams of Bob's Red Mill hazelnut meal.
Adapted heavily from Chocolatier magazine (January 1989 issue). 
Serving: 1serving, Calories: 125kcal, Carbohydrates: 14g, Protein: 2g, Fat: 7g, Saturated Fat: 4g, Polyunsaturated Fat: 3g, Cholesterol: 20mg, Sodium: 58mg, Fiber: 1g, Sugar: 1g
This post contains affiliate links, which means that I make a small commission off items you purchase at no additional cost to you. Please read my
privacy policy
for more information.