Butternut Squash Feta Hand Pies
Savory and flaky butternut squash hand pies filled with roasted vegetables and feta cheese.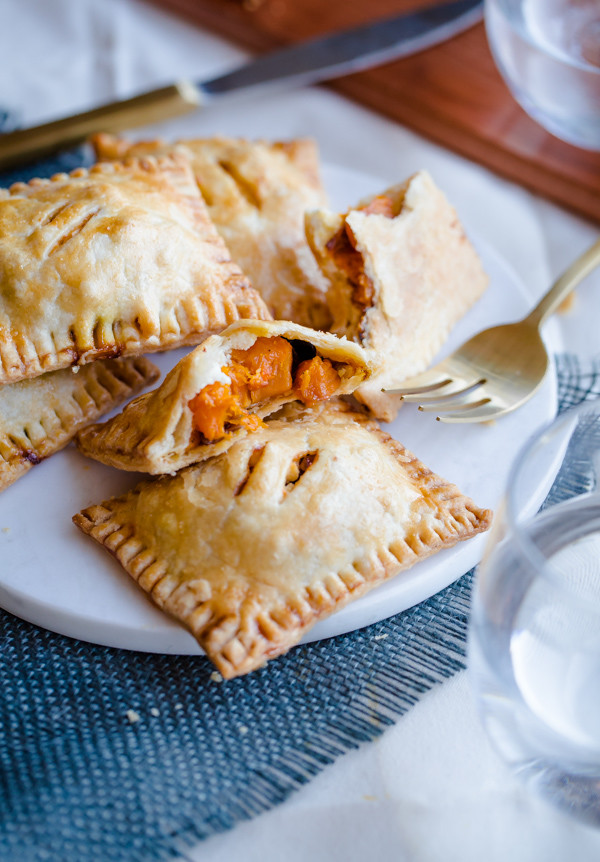 Winter appears to be in full force. In my effort to embrace the winter season, I'm sharing another butternut squash recipe with you all!
Butternut squash has made its way into many of my recipes. I've made Butternut Square Tartines, prepared my favorite Roasted Brussels Sprouts and Squash side dish, pureed it for a Roasted Butternut Squash Soup, and added it to a Fully Loaded Guacamole.
It was about time that I created Butternut Squash Hand Pies.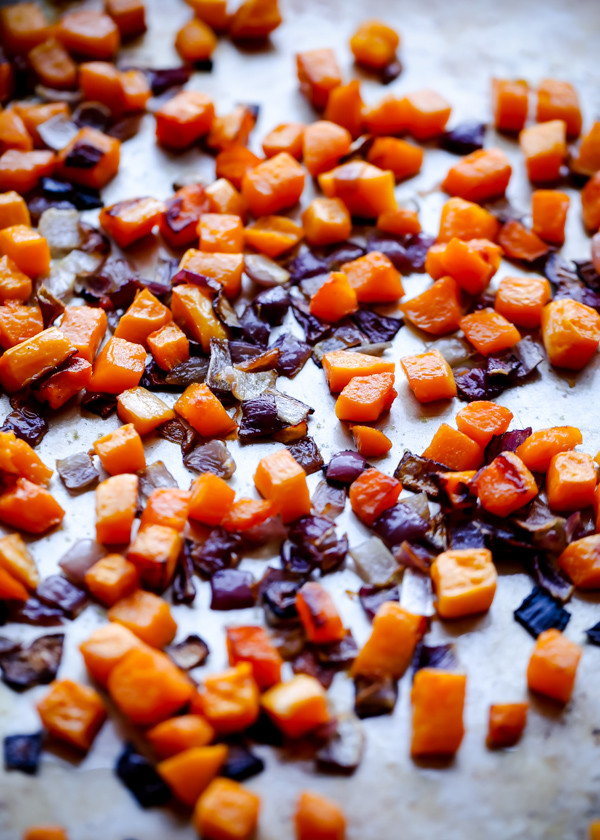 When most people think sweet hand pies, I'm a huge fan of savory pies and pastries, as evidenced by this large and in-charge Roasted Butternut Squash Pie.
I've been on a mission to share a savory pie for a while now. The idea came to me in several different forms and I eventually settled on savory hand pies.
If there is anything more fun than traditional pie, it is hand pies. Hand pies are classy, tastier versions of pop tarts. Miniature, portable food is always fun!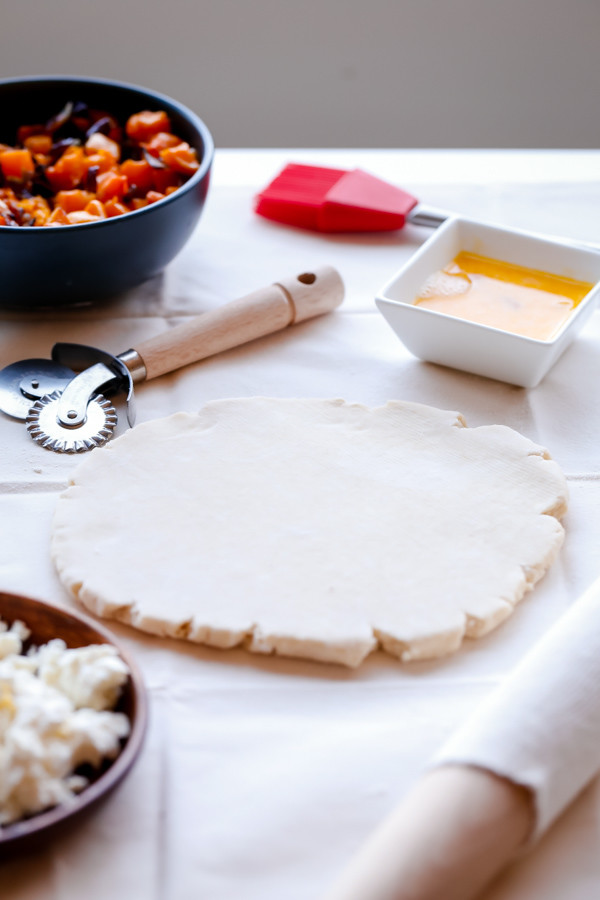 For whatever reason, butternut squash was an obvious filling choice for me. It is slightly sweet, doesn't contain a lot of moisture (the last thing you want is soggy, falling-apart hand pies!), and goes well with so many different things.
To cook the squash quickly, I chose my favorite cooking method: roasting.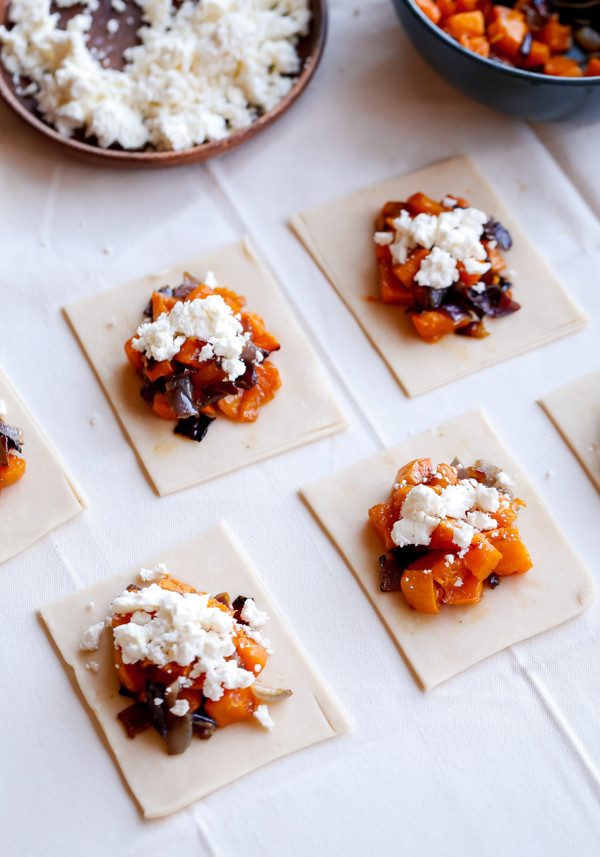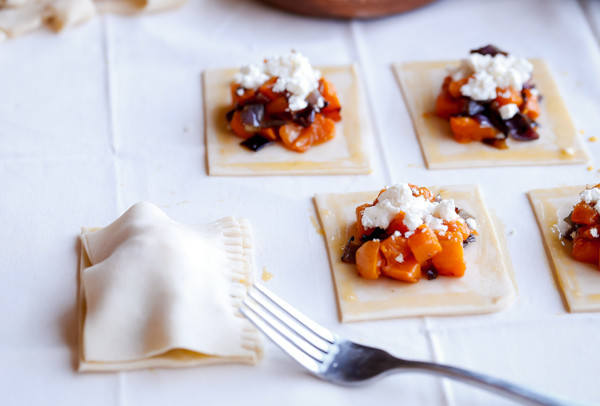 To add some contrast in flavor, I also added red onions (any type of onion would work!). The onions caramelize during the roasting process and add a lovely (delicate) bitterness to the final dish.
I took inspiration from this Butternut Squash Locro and added tangy, salty feta cheese. If you've never paired butternut squash with feta, I promise it is a match made in heaven.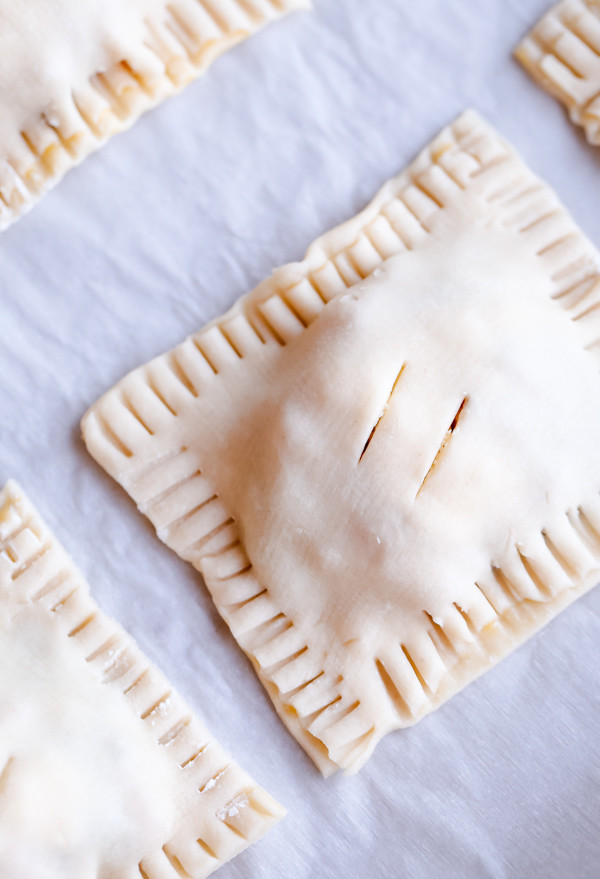 While individual hand pies take a bit more work and time, the steps can be broken up and the filling (and well as the pie dough) can be prepped ahead.
This hand pie dough recipe is forgiving and comes together quickly. Although there are several different opinions on the best way to prepare pie dough, the food processor is one of my favorite methods.
The food processor speeds up the process tremendously and helps prevent you from over-working or over-handling the dough. It also helps produce a consistently textured dough, which in my humble opinion, is particularly important for hand pies.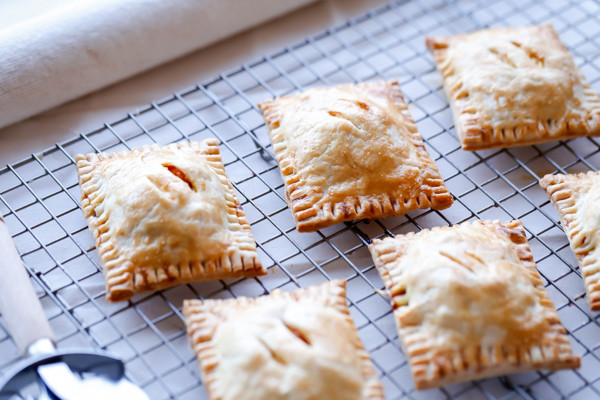 Whatever you do, don't be intimidated by the length of today's recipe! Brevity is not my strong-suit, I know, but I tried to be as detailed as possible in order to make the assembly as clear and easy-to-follow as possible.
Although these butternut squash feta hand pies make a perfect snack on their own, they would be wonderful paired with a simple salad or soup for dinner, or enjoyed packed and eaten on-the-go!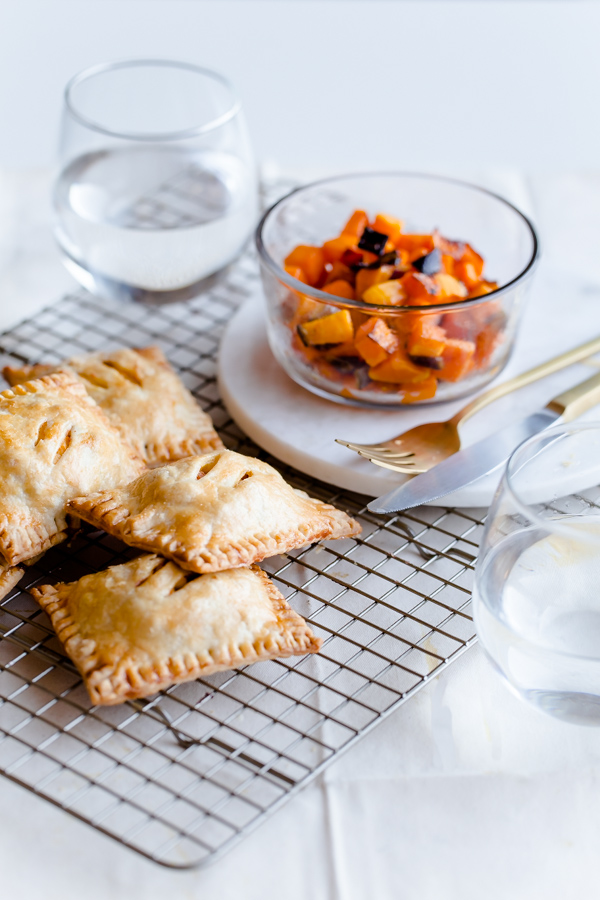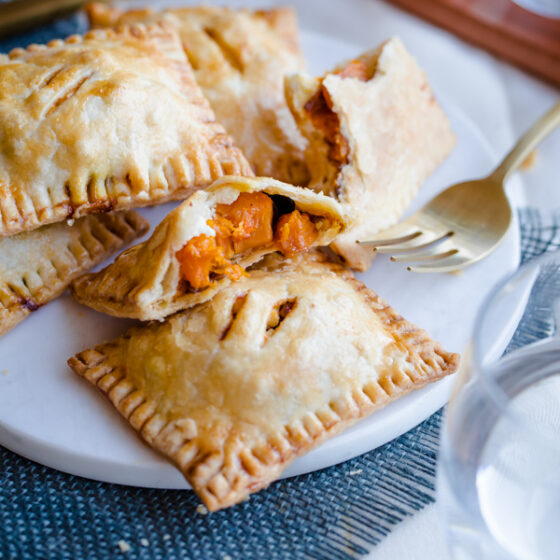 Butternut Squash Feta Hand Pies
Savory and flaky butternut squash hand pies filled with roasted vegetables and feta cheese. Although these butternut squash feta hand pies make a perfect snack on their own, they would be wonderful paired with a simple salad or soup for dinner, or enjoyed packed and eaten on-the-go!
Ingredients
Pie Dough:
1½ cups (180g) unbleached all-purpose flour plus more for dusting
½ teaspoon kosher salt
4 oz (8 tablespoons; 115g) cold unsalted butter cut into ¼-inch cubes
¼ cup (60 mL) ice water
Filling:
1 lb (16 oz) butternut squash trimmed, peeled, and cut into ½-inch chunks
½ red onion diced
2 tablespoons extra virgin olive oil
freshly ground pepper
1-2 ounces feta cheese crumbled
Instructions
Prepare Pie Dough: Combine the flour and salt in the bowl of a large food processor. Pulse several times to mix thoroughly.

Add the butter and pulse several times until the butter is thoroughly incorporated and the texture resembles that of a coarse meal—you want the butter pieces to be in varying sizes, some small and others slightly larger. This will result in a flakier texture.

While pulsing, slowly add the water - you may not need all of it or you may need a touch more - and continue to pulse until the dough just begins to clump together loosely.

Remove the dough to a clean counter top, shape together with your hands into a square disc, and cover tightly in plastic wrap. Refrigerate the dough for 1½ to 2 hours. The dough can also be prepped in advance, wrapped tightly in plastic wrap, and refrigerated for 1-2 days.

Filling: Preheat the oven to 425°F (220°C) with a rack in the center position. Combine the cubed  butternut squash and diced red onion on a half sheet pan and toss with the extra virgin olive oil, and season with salt and pepper. Spread out evenly onto the baking sheet.

Roast the vegetables for 20 to 28 minutes, tossing with a wooden spoon every halfway, or until the vegetables have softened and have begun to caramelize. Set onto a rack to cool completely.

Assembly: Reduce the oven to 375°F (190°C). Set aside the egg wash and a pastry brush. Line two half sheet pans with parchment paper.

Remove the pie dough from the fridge, and allow it to rest at room temperature for 5 to 10 minutes. Once it has rested, place the dough on a lightly floured counter top.

Using a lightly floured rolling pin, roll the dough into a square that is slightly larger than 12 x 12-inches (don't worry if the edges are not perfectly straight). Using a pastry cutter or knife, trim off the rough edges. Using a pastry cutter, cut the dough into 12 (3 x 4-inch) rectangles. Note: The easiest way to do this is to use a ruler to notch one side of the square of dough at 4-inch intervals and the perpendicular side of the square at 3-inch intervals). Use the ruler to line up the notches and cut the dough into 12 rectangles.

Place six of the pie dough rectangles onto the lined sheet pan. Place the remaining six pie dough pieces on a separate parchment-paper lined sheet pan sheet and chill in the refrigerator while you work. Using a spoon, portion the butternut squash onion filling into the center of each rectangle, pressing down slightly to compact the filling into a mound, leaving a ½-inch border on all sides. Sprinkle the tops of the squash and onion with crumbled feta, dividing the cheese evenly among the pies.

Using a pastry brush, brush the border lightly with the egg wash. Remove the remaining dough rectangles from the fridge. Using the lightly floured rolling pin, roll each top rectangle dough until they are slightly larger than the bottom rectangles of dough (this will help cover the filling). Place each rectangle on top of the filling-top rectangles. Use a fork to crimp the borders of the dough and seal the pies (dip the fork in flour to prevent it from sticking). Brush the tops of the pies lightly with the egg wash, then use a sharp knife to make two ½-inch slits into the tops of each pie. Chill the filled hand pies in the refrigerator for 10 minutes.

Bake for 25 to 30 minutes, or until golden brown. Place the pies on a cooling rack until cool enough to handle. Serve warm from the oven.
Tips for Success:
Hand pies can be stored in the refrigerator for 4 to 5 days in an airtight container. To reheat, bake in a 325°F (165°C) oven for 10 to 15 minutes.
Pie dough adapted from
here
.
Serving: 1serving, Calories: 146kcal, Carbohydrates: 17g, Protein: 4g, Fat: 7g, Saturated Fat: 2g, Polyunsaturated Fat: 5g, Cholesterol: 38mg, Sodium: 333mg, Fiber: 3g, Sugar: 2g
This post contains affiliate links, which means that I make a small commission off items you purchase at no additional cost to you. Please read my
privacy policy
for more information.