Butternut Squash and Feta Hand Pies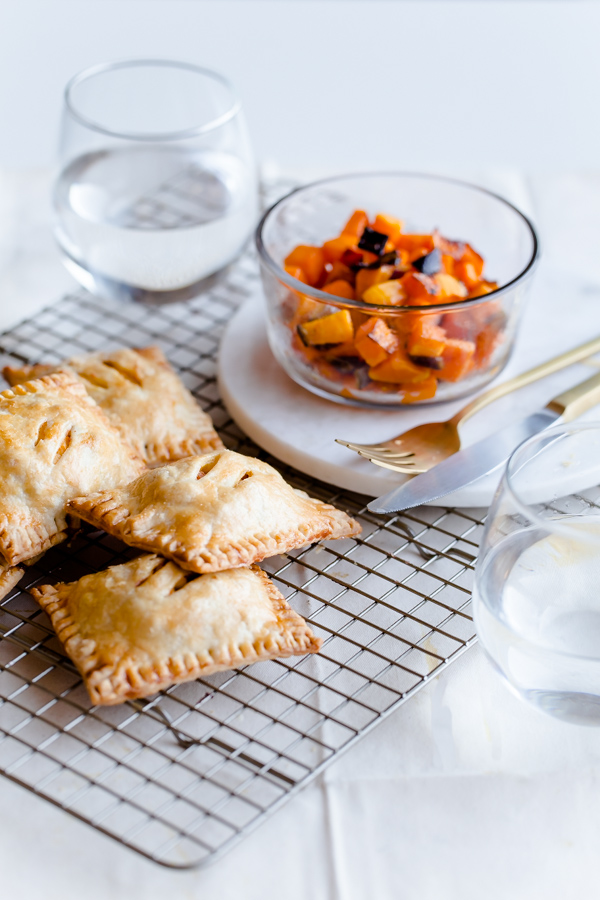 Winter appears to be in full force. If we used the recipes I've shared most recently on the blog as a barometer of my feelings on this, I'm clearly all over the place.
I was clearly in denial on both of these days–but for the most part, I'm trying to embrace it (while secretly fearing it will carry into the month of April, aka. our wedding), soak up the last of winter produce, and remind myself that I will only feel like cranking up my oven for so much longer.
Butternut squash might be on its way out soon, so I figured it should go out with a bang! And let's face it, if you're going to go out with a bang, you might as well involve a buttery homemade pie dough. Right?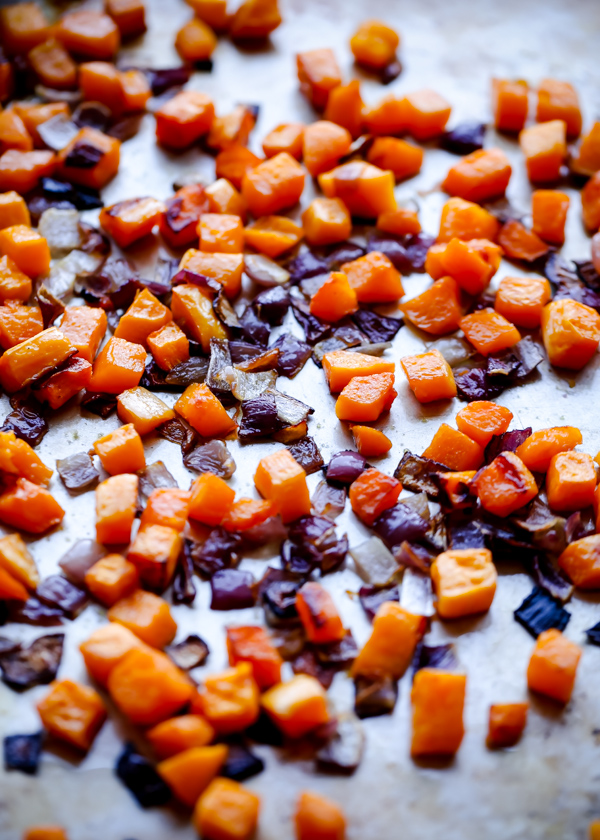 Butternut squash has made its appearance on the blog more times than, well,  ever this past year. I put it on top of sandwiches, roasted it with Brussels sprouts and tossed it with a simple vinaigrette, pureed it into a creamy soup, and even stuffed it into guacamole.
It was about time that I stuffed it into flaky pie dough. These things just need to happen. And while you're at it, cheese should probably be incorporated in some way or another.
When most people think of the word 'pie', fruits and berries, and all things summer, come to mind. Not that there is anything wrong with that (whatsoever), but savory pies do not get a ton of love in the culinary world.
Let's change that.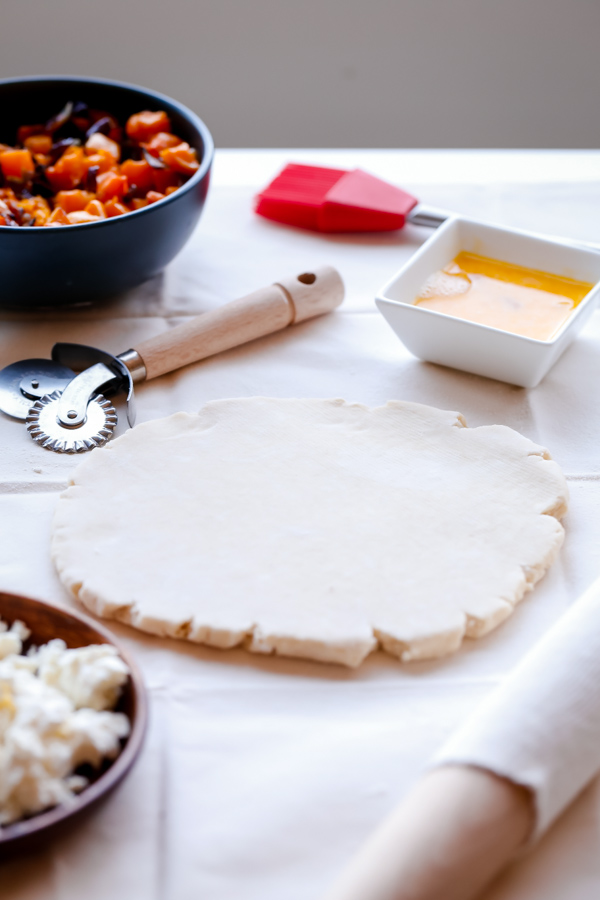 I've been on a mission to share a savory pie for a while now. The idea came to me in several different forms (an Indian samosa pie still needs to happen), and then eventually settled on savory hand pies.
If there is anything more fun than traditional pie, it is hand pies. Hand pies are basically classy (much better-tasting) versions of pop tarts. Miniature, portable food is always more fun!
For whatever reason, butternut squash was an obvious filling choice for me. It is slightly sweet, doesn't contain a lot of moisture (the last thing you want is soggy, falling-apart hand pies!), and goes well with so many different things. To cook the squash quickly,  I chose my favorite cooking method: roasting.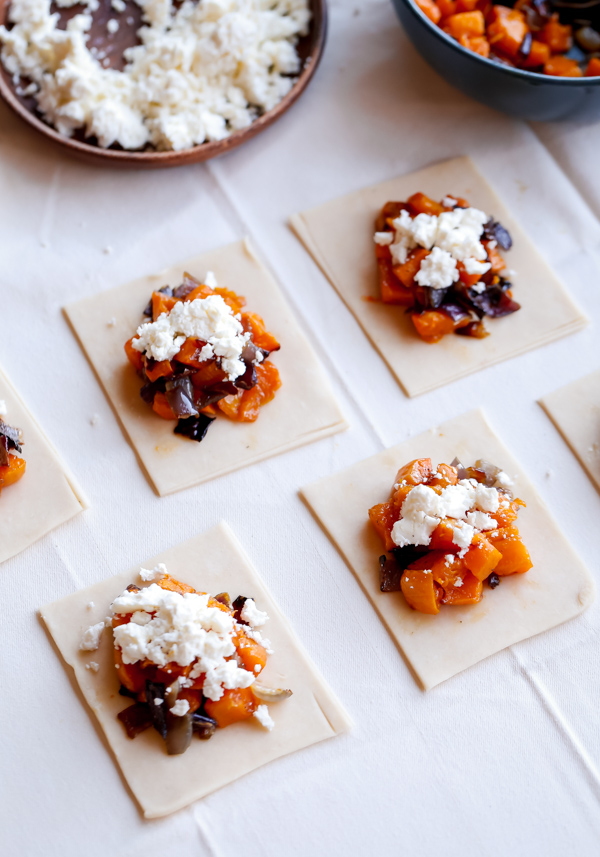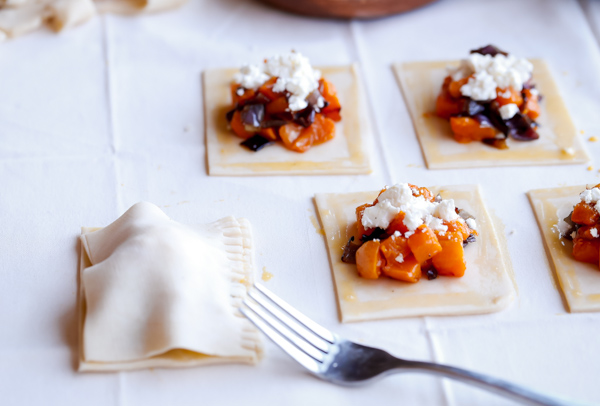 To add some contrast in flavor, I also added red onions (any type of onion would work!). The onions caramelize during the roasting process, and add a lovely, (delicate) bitterness to the final dish.
I took inspiration from one of my favorite dishes (and earliest blog recipes), and chose to add tangy, salty feta cheese to round everything out. If you've never paired butternut squash with feta before, I promise that you will be more than pleasantly surprised with the outcome.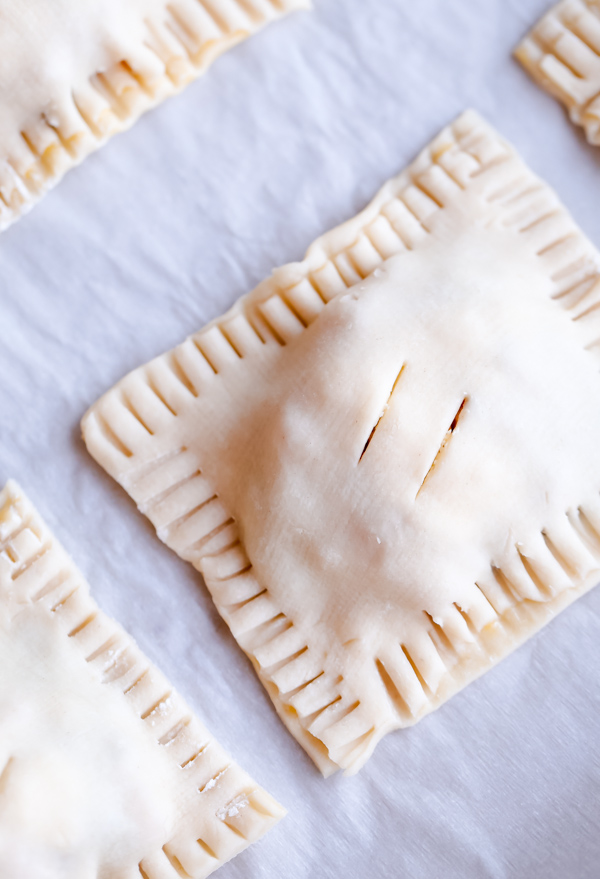 While individual hand pies take a bit more work and time (this is definitely a weekend project–yet they could be stored for a weeknight dinner!), but the steps can be broken up and the filling (and well as the pie dough) can be prepped ahead of time.
Today's pie dough is one of my favorite recipes.
It is very forgiving, and comes together quickly. Although there are several different opinions on the best way to prepare pie dough, I'm a huge fan of using a food processor. It speeds up the process tremendously and helps prevent you from over-working or over-handling the dough. It also helps produce a consistently textured dough, which in my humble opinion, is even more essential for hand pies.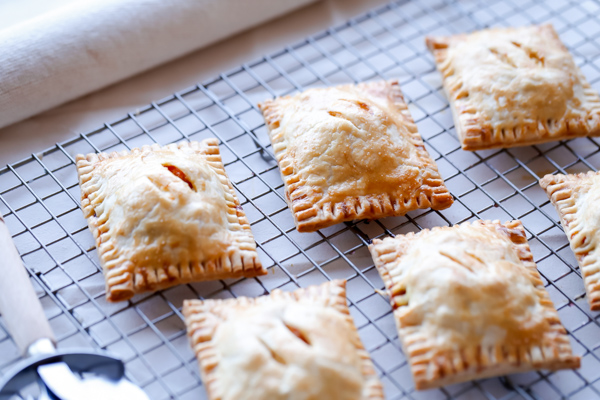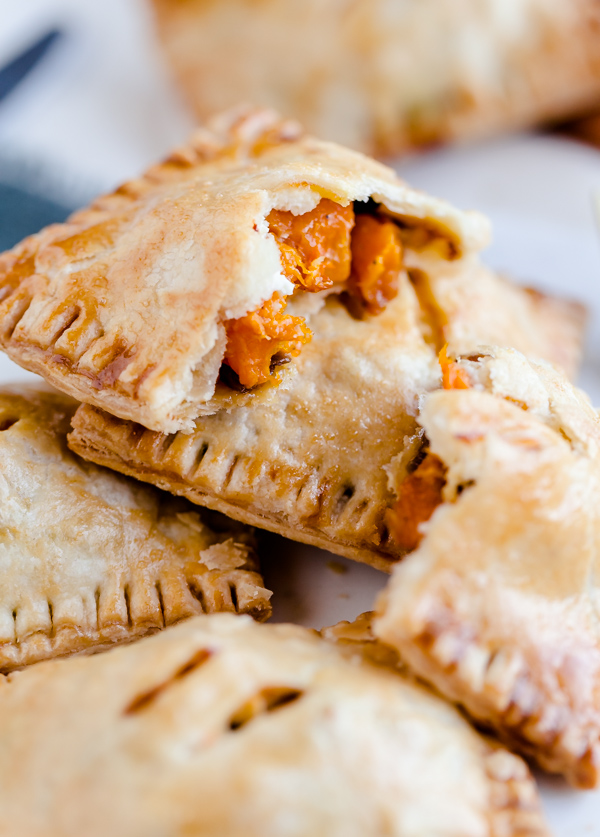 Whatever you do, don't be intimidated by the length of today's recipe! Brevity is not my strong-suit, I know, but I tried to be as detailed as possible in order to make the assembly as clear and easy-to-follow as possible.
Although these butternut squash and feta hand pies make a perfect snack on their own (they even taste great cold!), they would be wonderful paired with a simple salad for lunch, homemade soup, or taken and eaten on-the-go!