Everything Bagel Breakfast Waffles
Cheddar cheese infused everything bagel waffles topped with sunny-side eggs and crispy bacon! The breakfast of champions.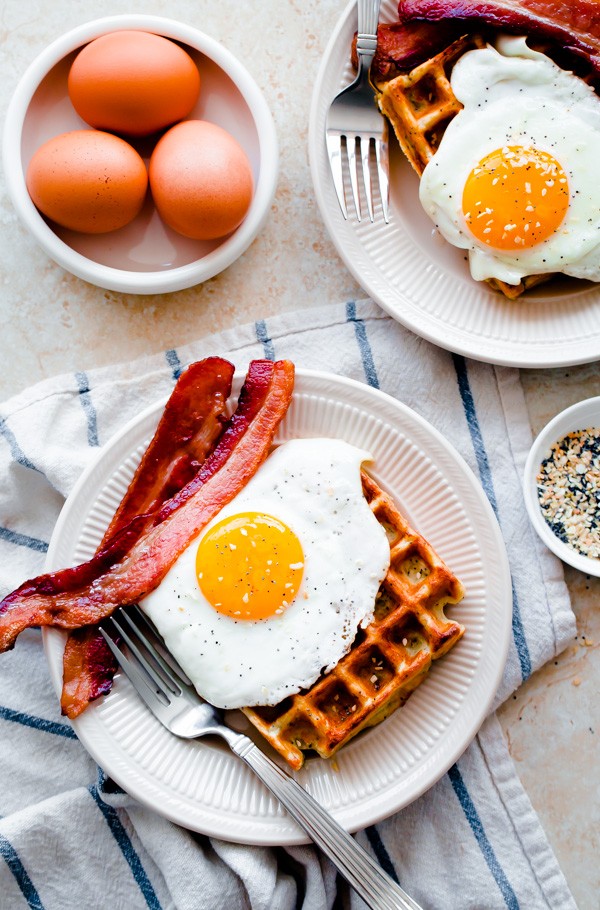 Aghhhh! Remember when I told you that I had more everything bagel recipes in the works?! Yes, yes, yes. Well, these everything bagel waffles (waffles infused with everything-bagel seasoning) were what I was referring to in that post. The idea came to me several weeks ago and, logically, I couldn't let it go.
Today is a big day. Not only is this my first waffle recipe to ever grace the blog (we registered for a waffle maker and sure enough, a good family friend actually got one for us!), but um, it's an everything bagel waffle. Oh, but I didn't stop there. The waffles have grated sharp cheddar cheese in them, and they are topped with sunny-side up eggs and crispy thick-cut bacon.
So, basically, they are the holy grail of all waffles. I'm pretty sure this is what they meant by the breakfast of champions. Thoughts?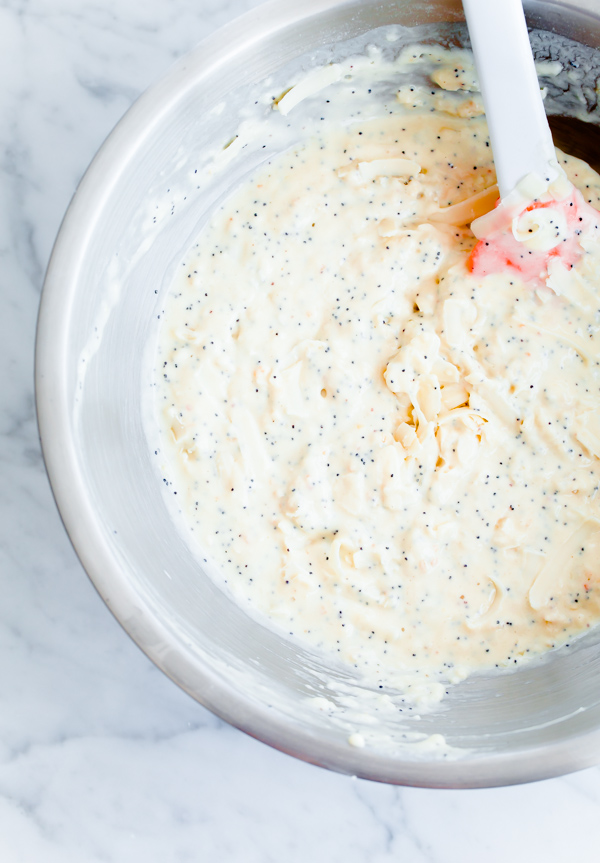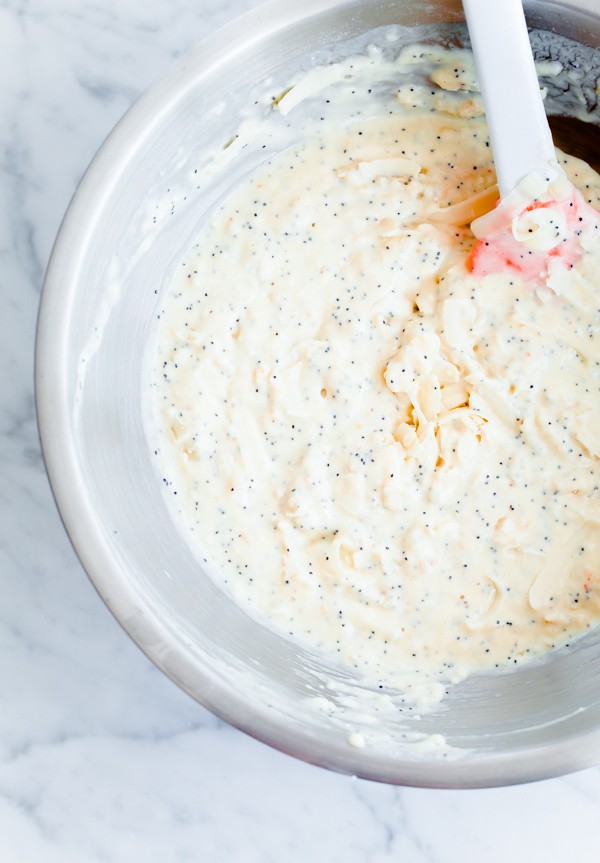 I've come to discover that it is a bit nerve-wracking to develop waffle recipes, because you never quite know what will happen when you ladle the batter into the greased waffle iron and close the lid. Will it stick and create a giant disaster (that is impossible to clean up)? I couldn't help but worry that I was going to open it up to see a complete mess and spend the rest of the morning cleaning my new, potentially-destroyed machine.
Alas, that didn't happen. After a few test runs, my waffle maker beeped affectionately and let me know the waffles were 'ready'. Nervously, I opened the lid to see the results of my experiments.
So far, so good. The waffles were crisp, golden brown, and smelled spectacular. Imagine a cheddar cheese everything-bagel aroma wafting into your kitchen for 10 minutes or so, and you have a pretty good idea of what it felt like to be me in that moment.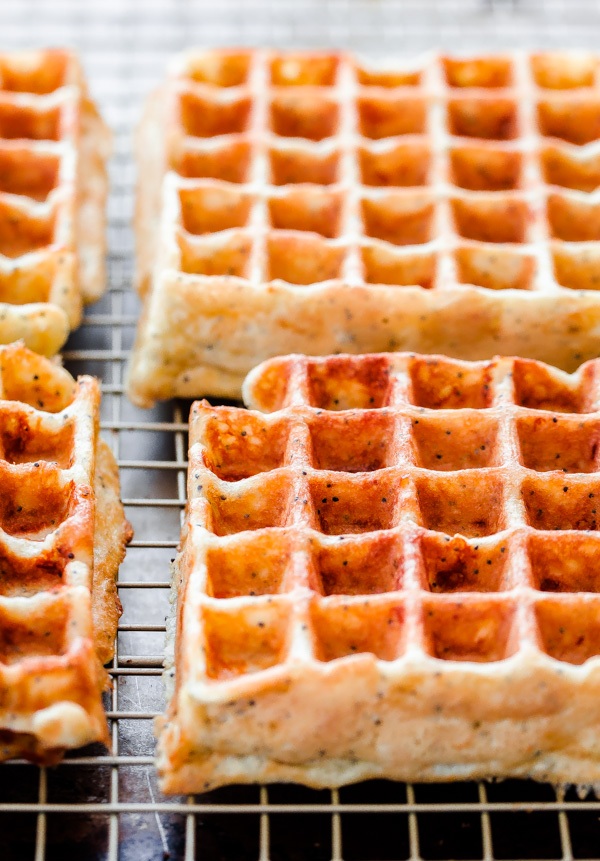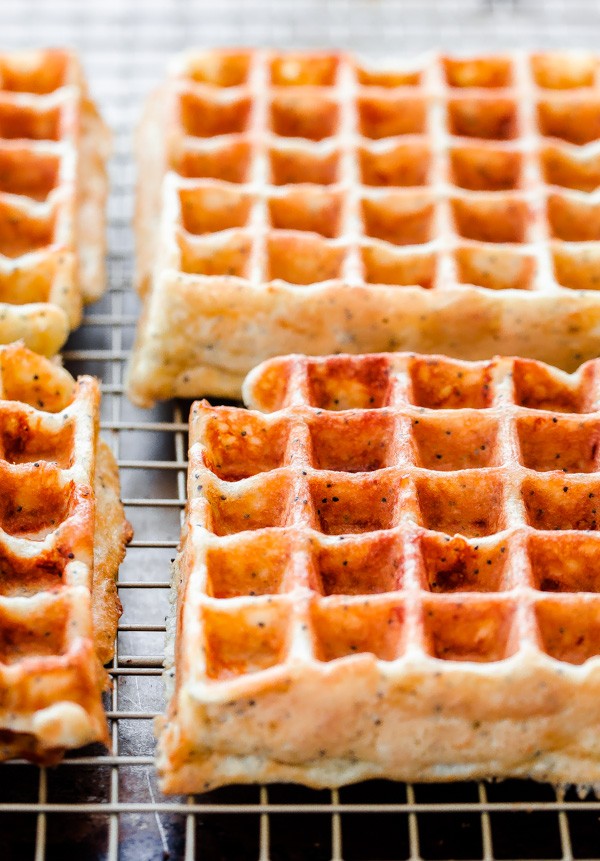 I hate to curse, but if I'm being honest, I proceeded to bite into these waffles and say, "Holy **it." So…they're pretty tasty.
Honestly, they were good enough to eat on their own, but when you top them crispy bacon and runny sunny-side eggs (that were cooked in rendered bacon fat!!!)….wow. If you can't tell already, these breakfast waffles are not exactly health food. But it's Monday, and we deserve it.
Let's talk bacon for a second. My favorite way to cook bacon is to preheat the oven to 400 degrees Fahrenheit, lay the bacon strips on a baking sheet lined with aluminum foil, and bake for 20-25 minutes, flipping them halfway through. They cook perfectly and you don't have to worry about bacon fat splattering all over your stove-top. Plus, you can easily turn down the oven a bit (200 degrees F is ideal) and keep your waffles warm on a baking sheet, if you are making a lot of them at one time!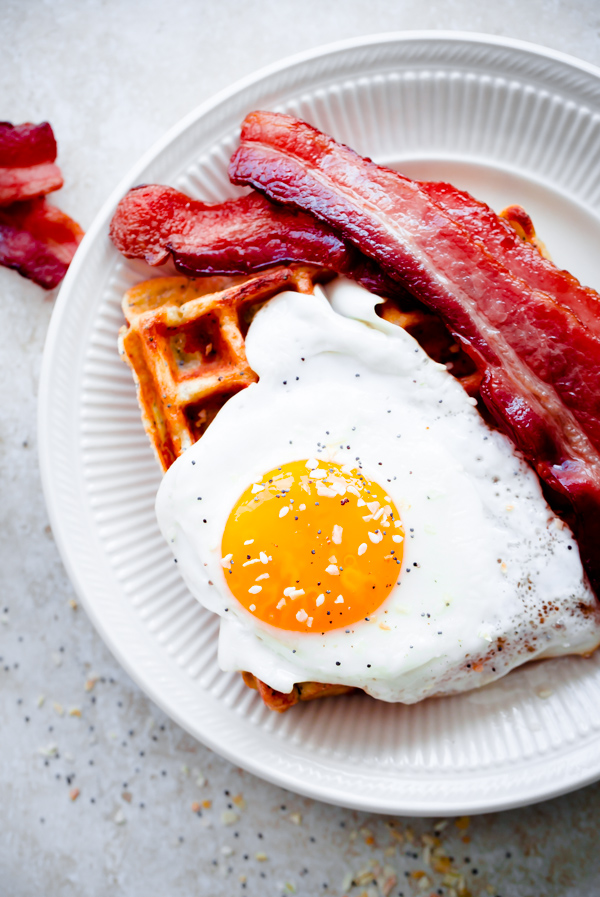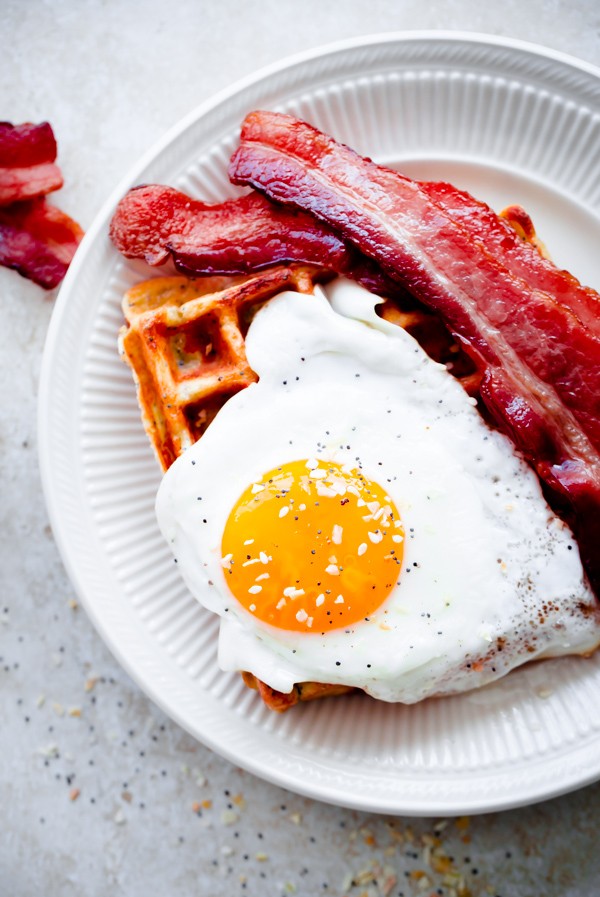 The best thing about homemade waffles? You can freeze them! I actually made an extra batch of these and proceeded to freeze them so that Connor could have an easy breakfast option in the morning. The trick is to cook them slightly less (as shown in the photo above), so that they will be the perfect texture once toasted in your toaster.
See the recipe notes for more details!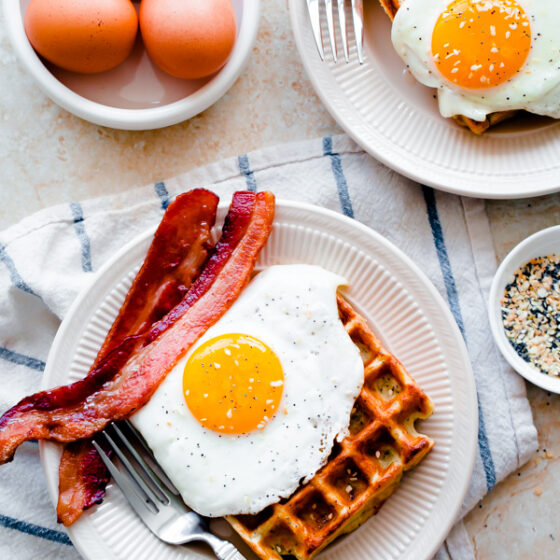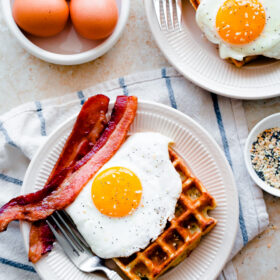 Everything Bagel Breakfast Waffles
Buttermilk waffles infused with everything bagel seasoning and sharp cheddar cheese, and topped with sunny side up eggs and crispy bacon.
Ingredients
8 ounces thick-cut bacon roughly 10 strips
1¼ cups (150 g) unbleached all-purpose flour
1 tablespoon poppy seeds
1 tablespoon white sesame seeds
1 teaspoon dried minced garlic
1 teaspoon dried onion
¾ teaspoon baking powder
½ teaspoon baking soda
½ teaspoon Diamond Crystal kosher salt
¼ teaspoon freshly ground black pepper
2 large eggs
1¼ cups (300 mL) buttermilk
1 tablespoon (15 g) unsalted butter melted
Toppings:
5 large eggs for topping
reserved bacon fat for frying
Instructions
Cook the Bacon: Preheat the oven to 400°F (204°C). Line a half sheet pan with aluminum foil. Lay the bacon strips on the foil-lined baking sheet, leaving space between them. Bake for 15 minutes, flip each strip carefully with tongs or a fork, and continue to bake the bacon for an additional 5 to 10 minutes, or until the bacon is crispy and most of the fat has rendered.

Transfer the bacon to a paper-towel lined plate, and carefully pour the rendered bacon fat from the baking sheet into a small bowl. Set aside for later. You will be using the rendered bacon fat to fry the eggs later.

Prepare the Waffle Batter: In a large mixing bowl, whisk together the all-purpose flour, poppy seeds, white sesame seeds, dried minced garlic, dried onion, baking powder, baking soda, and salt. Set aside.

In a medium bowl, whisk together the two eggs, buttermilk, and melted butter until smooth. Pour the wet ingredients into the dry mixture, and gently stir until mostly incorporated. Fold the grated cheddar cheese into the batter with a spatula. Allow the waffle batter to sit for 10 minutes as preheat your waffle maker.

Grease your waffle maker lightly with baking spray. Pour the waffle batter into your waffle maker (depending on the size and brand of your waffle maker, this amount will vary) and cook according to the manufacturer's directions or desired texture.

Prepare the Sunny Side Eggs: As your waffles cook, heat a large non-stick skillet over low to medium heat. Pour in a tablespoon or so of the reserved bacon fat and cook the eggs as desired - over easy or sunny side up. Be sure to keep the yolk runny and season lightly with salt and pepper.

Assembly: Top each everything bagel waffle with a sunny-side egg and a few strips of crispy bacon. Optional: Sprinkle with everything bagel seasoning. Serve immediately.
Tips for Success:
Everything bagel waffles can be cooked and frozen ahead of time. Cook the waffles, place them on a wire-rack lined baking sheet until cooled. Place in the freezer until frozen, then place the frozen waffles in a large freezer-safe bag for storing (squeeze out any excess air). Freeze and toast/defrost in a toaster or toaster oven.
Serving: 1serving, Calories: 618kcal, Carbohydrates: 51g, Protein: 25g, Fat: 34g, Saturated Fat: 13g, Polyunsaturated Fat: 6g, Monounsaturated Fat: 13g, Trans Fat: 1g, Cholesterol: 284mg, Sodium: 928mg, Potassium: 366mg, Fiber: 2g, Sugar: 4g, Vitamin A: 636IU, Vitamin C: 1mg, Calcium: 276mg, Iron: 5mg
This post contains affiliate links, which means that I make a small commission off items you purchase at no additional cost to you. Please read my
privacy policy
for more information.