Everything Bagel Cheese Twists
Homemade cheese twists made with frozen puff pastry, and infused with everything bagel seasoning. These addictive flaky pastries are great for entertaining!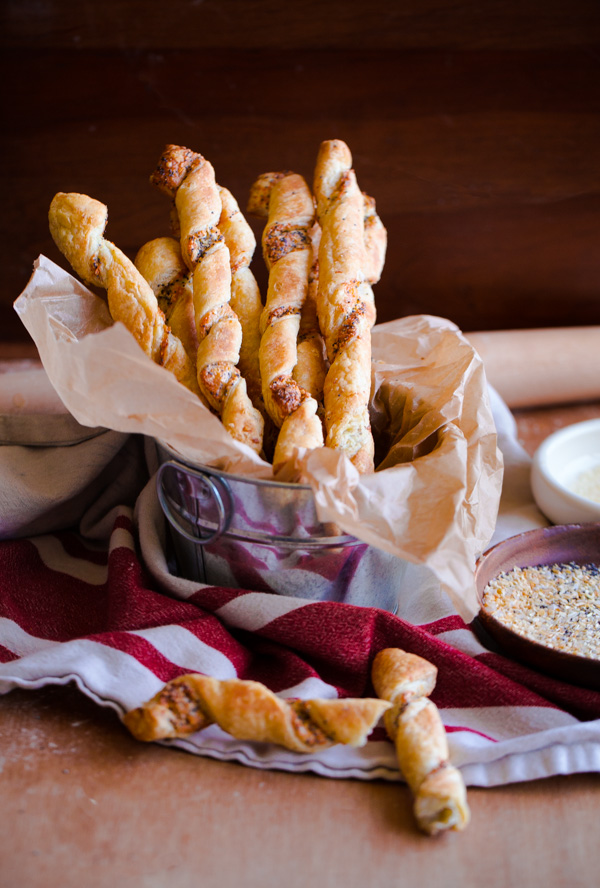 Oh my gosh, oh my gosh!!! I've been dying with excitement over these cheese twists. Words cannot describe how happy I am to finally get to share them with you (thank god for the immediacy of the internet).
I was this close to sharing another recipe but decided at the last minute that you had to know about these cheese twists because, let's face it, this coming weekend is the perfect excuse to make them. Oh, and they are ridiculously easy to make.
First, let's talk everything bagel seasoning, because I'm having an uncontrollable urge to everything-bagel-ize all the things. It's officially a verb now.
I must admit, if I'm being completely truthful, there was a time in my life where I avoided everything bagel anything like the plague.
I was a staunch supporter of the toasted plain bagel. If even the slightest piece of minced dried onion or garlic made it anywhere onto my plain bagel (or infused its flavor into my plain bagel–which let's face it–was just as offensive in my mind), I was simply not having it. No, no, no.
Ugh, I was the worst. Clearly.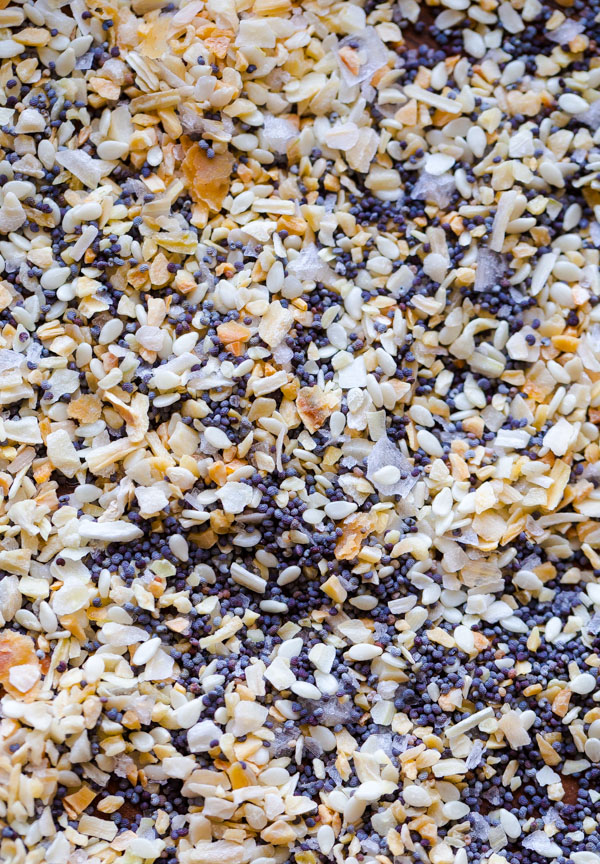 Thankfully, for whatever reason, I grew past that stage and eventually began to slowly embrace everything bagels and everything bagel seasoning. Like turned to love, and the rest is history as they say. Plain bagels are my nemesis now.
Give me all the everything bagel things, starting with these ridiculous, flaky, cheesy puff pastry twists!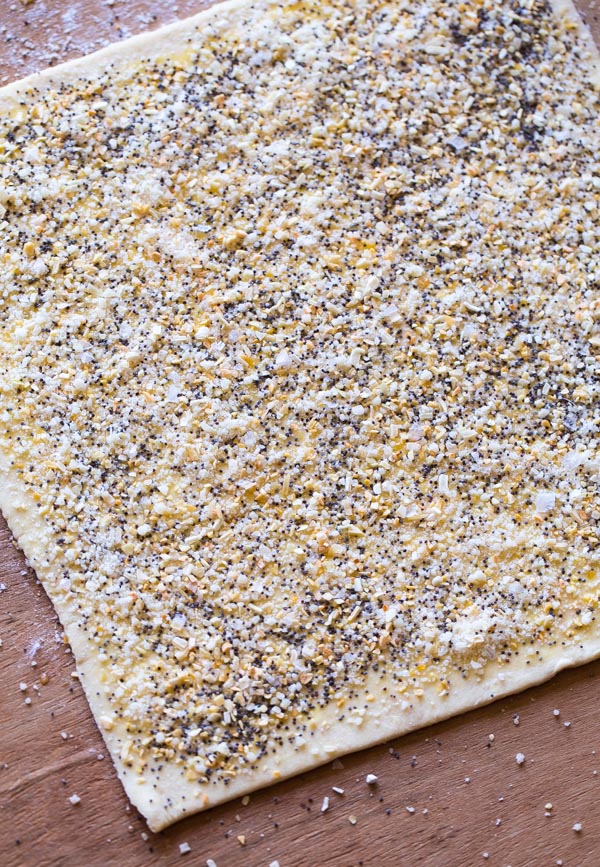 It seems a little silly having to use the word 'bagel' when no actual bagel is involved in this case–or basically whenever using a mixture of poppy seeds, minced garlic, minced onion, salt, and sesame seeds–but I'm not sure what the proper protocol is in this situation, so everything bagel cheese twists it is.
Let's get to it!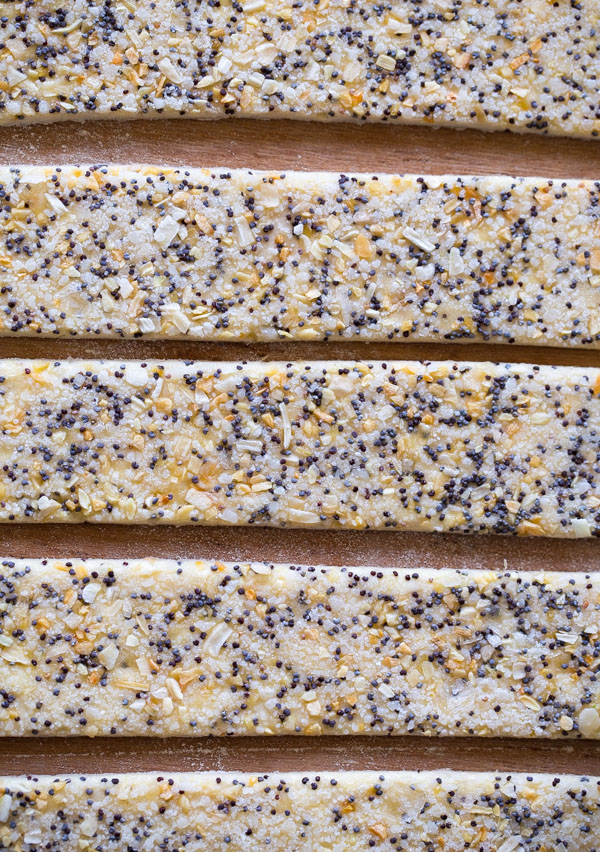 These cheese twists could not be easier to make!
The trick is to use frozen puff pastry sheets, which could not be easier to use. The great part about this recipe is that it can easily be halved or doubled for a crowd, and the baked cheese twists hold up relatively well once baked.
The first step involves making the everything bagel seasoning! This homemade version uses a combination of poppy seeds, minced dried garlic, minced dried onion, sesame seeds, and my favorite Maldon sea salt.
I prefer the delicateness and texture of Maldon for this application, but feel free to substitute this with a more traditional pretzel salt or other flaky sea salt. Just remember, not all cooking salts are equal, so adjust amounts as necessary.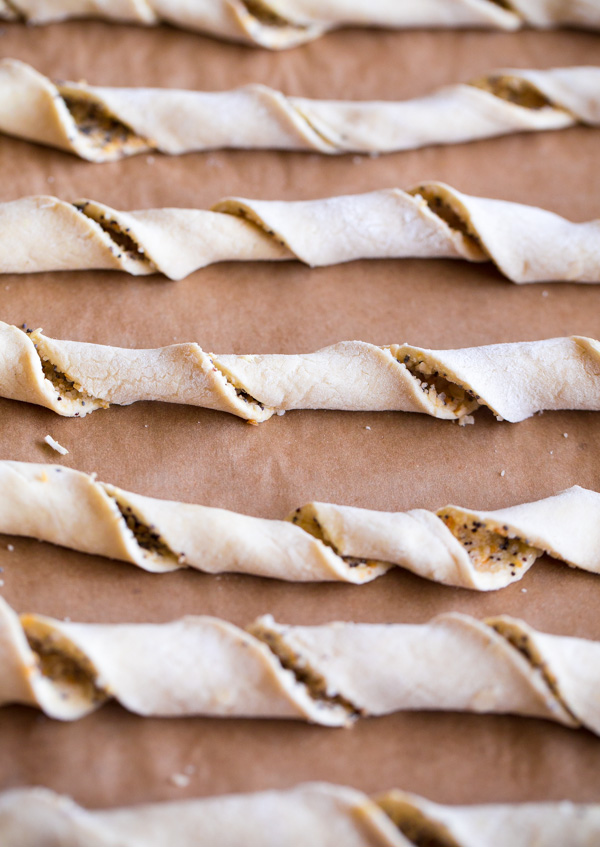 The second step involves rolling out the puff pastry sheet just slightly, brushing it with a light egg wash, and sprinkling on finely grated parmigiano-reggiano cheese (you can substitute with grana padano too!), followed by half of the everything bagel seasoning.
You will then want to use the rolling pin to lightly press–in a rolling motion– the cheese and seasoning into the puff pastry sheet. This helps make them stick to the dough, so don't forget this step!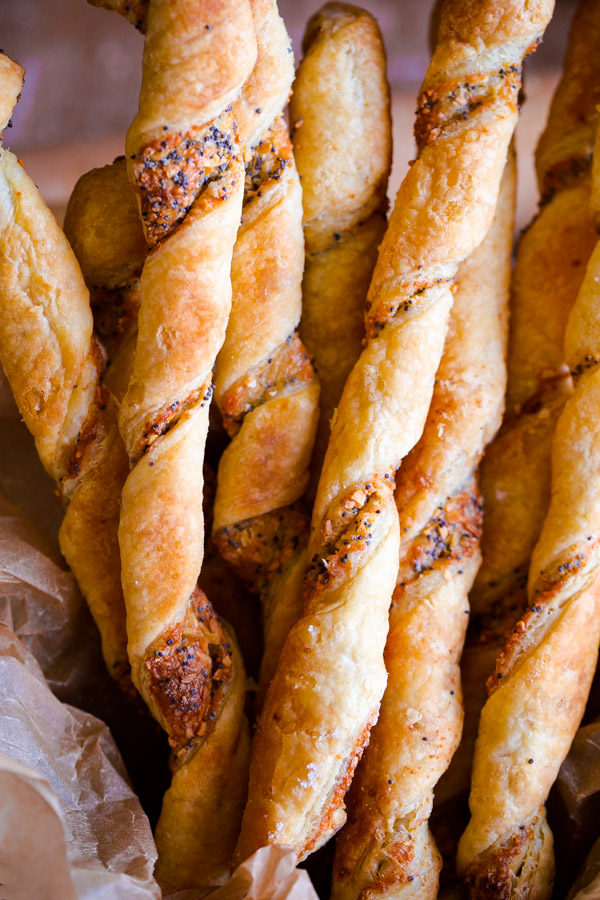 Then, you simply cut the puff pastry into strips and twist the strips from one end to the other, place them onto a parchment-paper lined baking sheet, and pop them into the oven! Really, it is that easy.
My biggest piece of advice when it comes to puff pastry (either homemade or frozen!) is to work quickly.
Heat is its enemy, so if the dough begins to get too soft, pop it onto a baking sheet, and place it in the refrigerator or freezer for 5 to 10 minutes to chill it.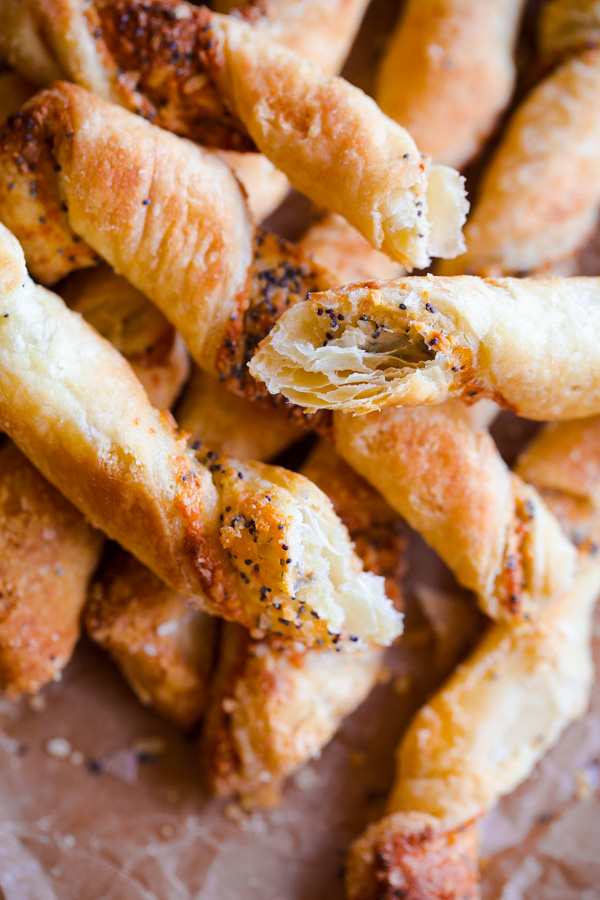 The fun part about these cheese twists is that they all come out a little differently than the next! They make the best party snack, appetizer, and would be such a great addition to a breakfast or brunch spread.
Seriously, portable flaky puff pastry sticks with cheese and infused with everyones' favorite seasoning mix?! Instant crowd pleaser.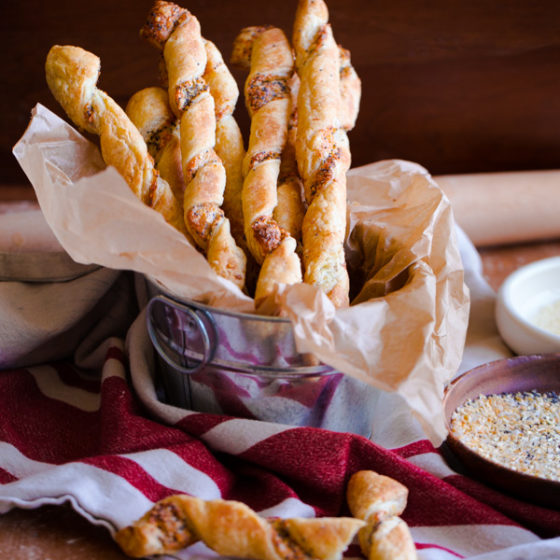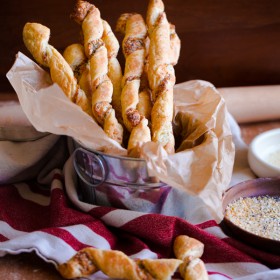 Everything Bagel Cheese Twists
Homemade cheese twists made with frozen puff pastry, and infused with everything bagel seasoning. These addictive flaky pastries are great for entertaining!
Ingredients
Everything Bagel Seasoning:
1 tablespoon poppy seeds
1 tablespoon minced dried garlic
1 tablespoon minced dried onion
2 teaspoons sesame seeds
1 teaspoon Maldon salt
Cheese Twists:
unbleached all-purpose flour for dusting
2 sheets frozen puff pastry, defrosted preferably Pepperidge Farm or Dufour brand
1 large egg beaten
⅓ cup finely grated parmigiano-reggiano cheese
Instructions
Thaw frozen puff pastry as directed by package. Preheat the oven to 400°F (204°C) with a rack in the center position. Line two large baking sheets with parchment paper and set aside.

Prepare the Everything Bagel Seasoning: Combine all ingredients in a small bowl or container, stir, and set aside.

Assemble Cheese Twists: Working with one sheet of puff pastry at a time (and relatively quickly to avoid overheating the dough), carefully place the sheet of puff pastry on a clean, lightly floured counter top. Using a lightly floured rolling pin, roll the dough slightly to remove any creases. In a small bowl, whisk together the egg and 1 teaspoon of cold water. Using a pastry brush, lightly brush the puff pastry sheet with egg wash.

Sprinkle the dough evenly with half of the grated parmesan cheese; then sprinkle with half of the everything bagel seasoning mixture. Using the rolling pin, lightly press down on the surface to allow the cheese and seasoning to stick to the dough.

Using a pizza cutter or very sharp knife. cut the dough crosswise into roughly nine (¾-inch to 1-inch wide) strips. Twist the strips, starting at one end and rolling loosely along the length, and place them on the parchment-paper lined baking sheets, leaving an inch of space between them. Repeat with remaining sheet of puff pastry.

Bake for 10 minutes or until lightly browned. Carefully flip the cheese twists, and continue to bake for an additional 5 to 8 minutes, or until they are golden brown and have risen substantially. Allow to cool on a rack before serving.
Serving: 1serving, Calories: 32kcal, Carbohydrates: 2g, Protein: 2g, Fat: 2g, Saturated Fat: 1g, Polyunsaturated Fat: 1g, Cholesterol: 13mg, Sodium: 169mg
This post contains affiliate links, which means that I make a small commission off items you purchase at no additional cost to you. Please read my
privacy policy
for more information.