Salt and Why The Type and Brand You Use Matters
You know how I mentioned that I want to write about cooking and try some new things? I'm channeling my inner cooking nerd and doing just that.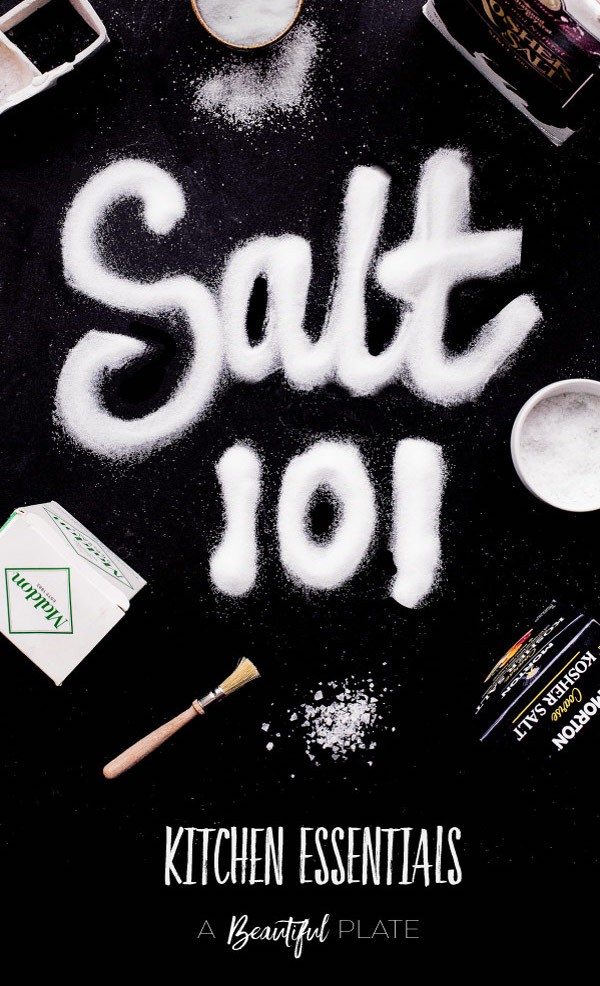 Today I'm taking a deep dive into cooking salts. Why? This topic fascinating and, more importantly, sorely neglected in the recipe world.
A few weeks ago, I shared my favorite books to become a better cook. It was so well received that I couldn't help but wonder, "why am I not writing about this stuff more often?" I mean, a) I love learning about it, b) I studied this in culinary school, and c) I truly want this website to be both a recipe and cooking resource.
Things are going to get a bit technical today. If you love to cook, I have a feeling you'll get some incredibly powerful knowledge out of today's post.
Today's topic is something I should have addressed years and years ago. Why? Because salt is included in every recipe on this site. Salt is the most important ingredient in your kitchen pantry. Learning how to properly season your food is one of the most powerful cooking skills that you can learn.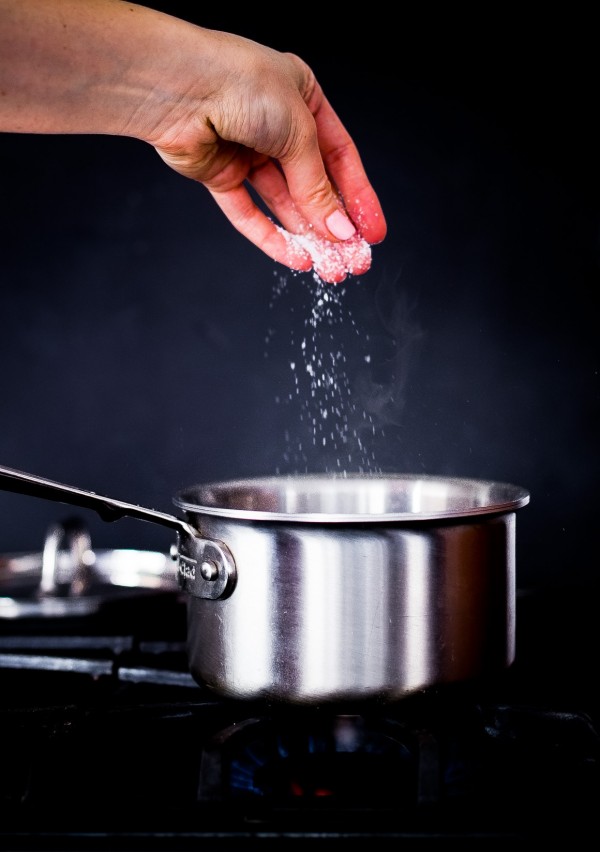 If you've ever stood in the grocery aisle and stared at the huge variety of salts available, you know it is easy to feel overwhelmed and confused.
You may have wondered why some recipes call for kosher salt, sea salt, or fill-in-the-blank salt. I'm here to shed some light on the topic.
Quick Summary:
Salts are not interchangeable. More importantly, the brand and variety of salt you buy and use affects every single recipe you make. Yes, every single recipe.
In other words, if you're following a recipe and it calls for "1/4 teaspoon of ___ salt" (or worse, a recipe simply states "1/4 teaspoon salt" and does not specify the variety or brand of salt), you can unknowingly use as much as TWO to FOUR to SIX TIMES the quantity of salt the recipe was designed to contain.
How is that possible? Because every type and, more importantly, every brand of salt differs dramatically in density.
That little known fact is quite crazy and worth discussing, particularly on a website all about food. It is one of those cooking secrets that no one really talks about. This chart explains it all:
Density of Cooking Salts by Brand and Type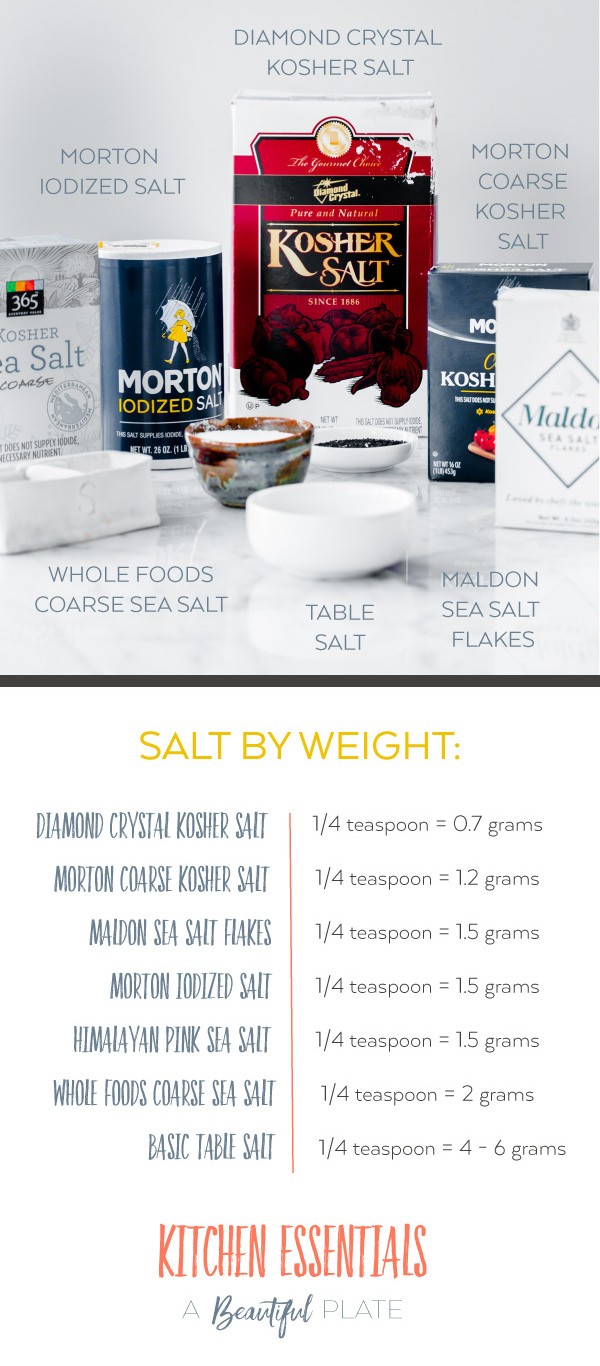 Chances are you've been aware that different types of salts behave or taste more or less 'salty' than others. The obvious enemy of choice is table salt (confession: I hate it).
I think most of us are aware that if a recipe calls for 1/4 teaspoon of sea salt, you can't simply substitute 1/4 teaspoon of kosher salt and expect the same results. It just doesn't work that way. This all comes back to density.
But if you take a closer look at the table above (and I highly recommend doing so), you'll notice something much more note-worthy. The density of the same type of salt varies dramatically by brand.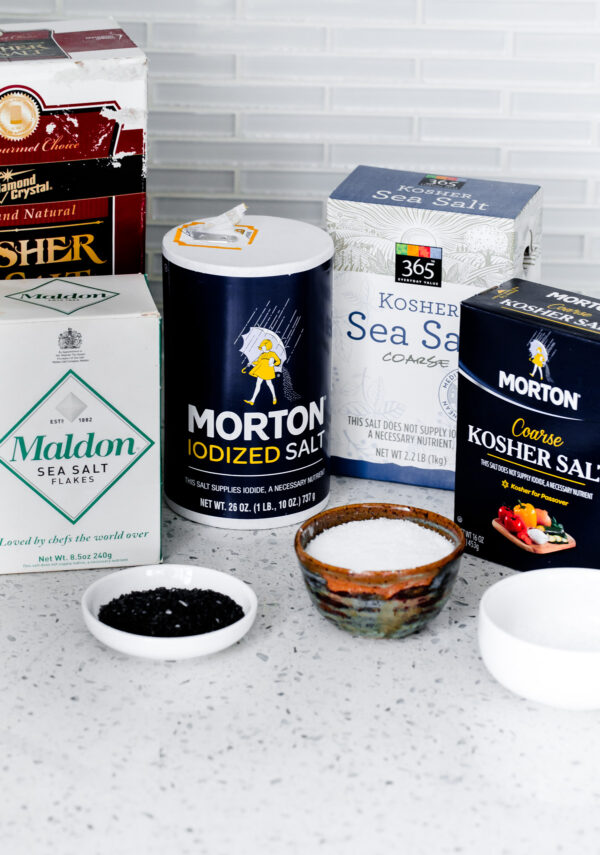 The most glaring example? Kosher salt. One of the most popular types of cooking salts. The two most popular and well-loved brands are Diamond Crystal Kosher Salt and Morton Coarse Kosher Salt.
1/4 teaspoon of Diamond Crystal Kosher Salt weighs approximately 0.7 grams in weight. In comparison, 1/4 teaspoon of Morton Coarse Kosher Salt weighs 1.2 grams. Morton's Coarse Kosher Salt is almost twice as dense as Diamond Crystal kosher salt. To add an even great layer of complexity to the mix, 1/4 teaspoon of Whole Foods Kosher Coarse Sea Salt weighs 2 grams. That is huge!
In other words, if you're following a recipe that calls for kosher salt (and that recipe does not specify a brand or weight – and let's face it, no recipes do), you could end up with a very under-seasoned, or worse, over-seasoned dish.
You may not follow specified salt quantities for this reason. But chances are, you might! If you look at almost any savory recipe on this site, you'll notice that I do not list salt quantities. I will if it's critical to a recipe, but I try my best to avoid it for this very reason. It makes me nervous.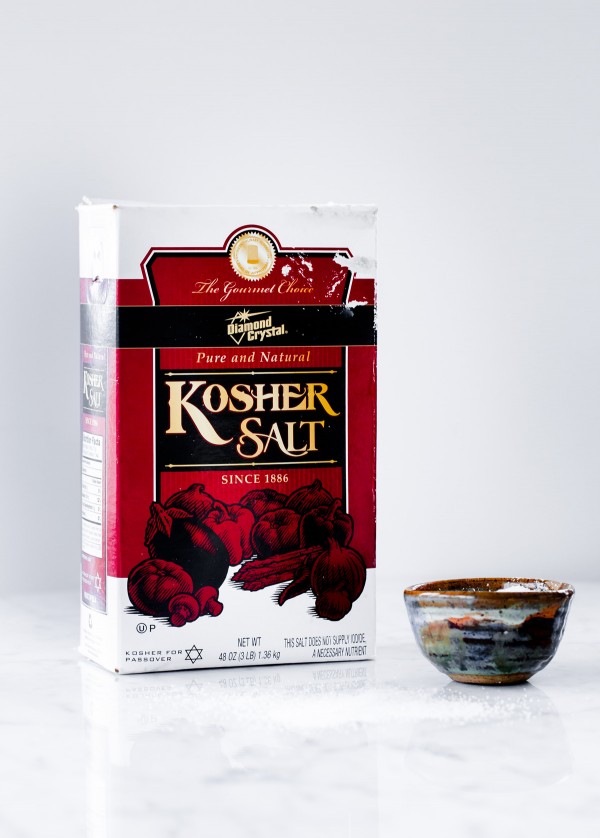 My favorite (highly recommended) cooking salt is Diamond Crystal Kosher Salt. From personal experience, it is the brand of salt used in most professional kitchens and restaurants.
It comes in a 3-lb box and lasts for quite some time. For serving or adding crunch, I turn to popular finishing salts like Maldon or Fleur de Sel.
Why I Love Diamond Crystal Kosher Salt:
It's incredibly easy to pinch! I keep a small bowl of it near my stove and this is the only way that I season anything. I strongly advise getting rid of a salt shaker or grinder, and using your fingers for pinching and seasoning as you go! You'll be able to control and adjust the seasoning of dishes much easier this way.
It dissolves very well, sprinkles evenly, sticks well to foods, and you can physically 'grind' it finer with your fingertips for even faster dissolving. For cooking, you want to use easily dissolvable salts. For finishing, you want to use less easily dissolved salts (Maldon sea salt flakes or Fleur del Sel). But I use Diamond Crystal Kosher Salt for finishing all the time too.
It is natural, there are no additives, and the flavor is pure.
It is the least dense variety of kosher salt available – my preference of choice! You won't over salt a dish with an extra pinch or two.
While this post is my no means an endorsement of one brand or another, I highly recommend seeking and trying out Diamond Crystal Kosher Salt and seeing what you think. If you don't, simply adjust the quantity of salt to compensate for density, or avoid following salt quantities.
Note on Iodine:
Iodine is an important dietary requirement. Most people eat other iodine-rich foods or take multivitamins that contain iodine that they do not need to use iodized salt (please consult your medical professional) for cooking.
Kosher salt does not contain iodine. If you prefer and need to use iodized salt, please be aware that it can have taste differences and you will need to adjust (substantially reduce) the quantities in most recipes to account for its higher density.
I strongly advise using one type of salt consistently for most of your cooking and seasoning needs. If you constantly switch between sea salt or kosher salt or table salt, you will lose the intuition that comes from using one salt over and over again. I'm so familiar with the relative 'saltiness' of Diamond Crystal kosher salt that I know how much I need in order achieve proper seasoning in a dish.
Seasoning is like learning how to ride a bicycle. It can take some practice, but eventually becomes second nature.
This post contains affiliate links, which means that I make a small commission off items you purchase at no additional cost to you. Please read my
privacy policy
for more information.