Spring Asparagus and Goat Cheese Quiche
A delicious elegant spring quiche filled with a creamy custard filling, fresh asparagus, and dollops of fresh goat cheese.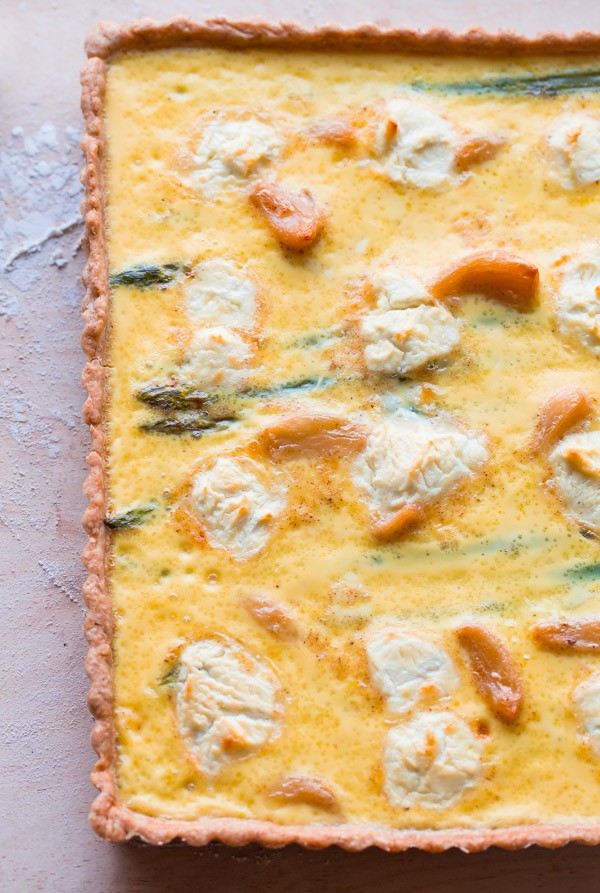 My favorite time of year has arrived. Spring! I have to say, nothing gets me more excited in the kitchen.
Even though I'm running around like a maniac at the moment with last minute wedding distractions, I've already tried to take full advantage of it as much as possible. We've been cooking asparagus several times a week now, and I'm officially in 'asparagus recipe' mode. You've been forewarned.
Last year, I could have shared a million more recipes with you all, but I ended up sticking with this springtime asparagus soup (still one of my favorites!) and an asparagus mimosa, which let's face it, received one of the best reactions on the blog ever, and totally prompted this ridiculous April Fool's joke (which people still believed?!).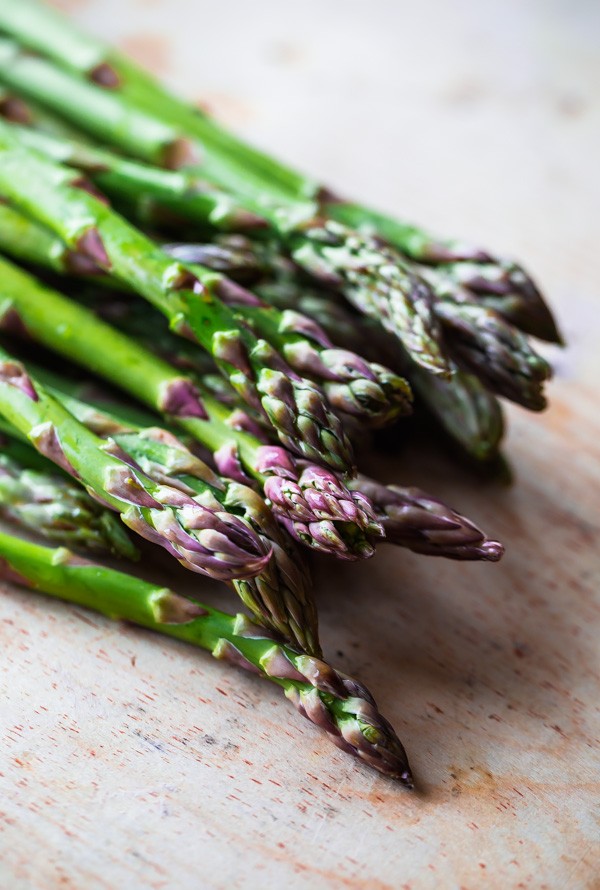 Of course, since my love for asparagus has no bounds, I was torn on what type of recipe I should share first, but ultimately decided on quiche. A fun, seemingly fancy little quiche that can be served for breakfast, brunch, lunch, and dinner. What's more versatile than that? You could even serve it this Easter weekend, if you so desire.
What are your guys' feelings on quiche? Yay? Nay?
I'm personally a huge fan, but have to admit, I tend to forget about quiche. A lot. Confession? This is the first quiche I've made since culinary school. That is ridiculous and embarrassing, and that's pretty much all I have to say about that. I think I overdosed on quiche, and pretty much all traditional French food during those six months, but I really do love the stuff.
It gives you an excuse to bust out the rolling pin, use a fancy rectangular tart pan (I get excited about the most random things), and eat quite a bit of cheese. Oh yes.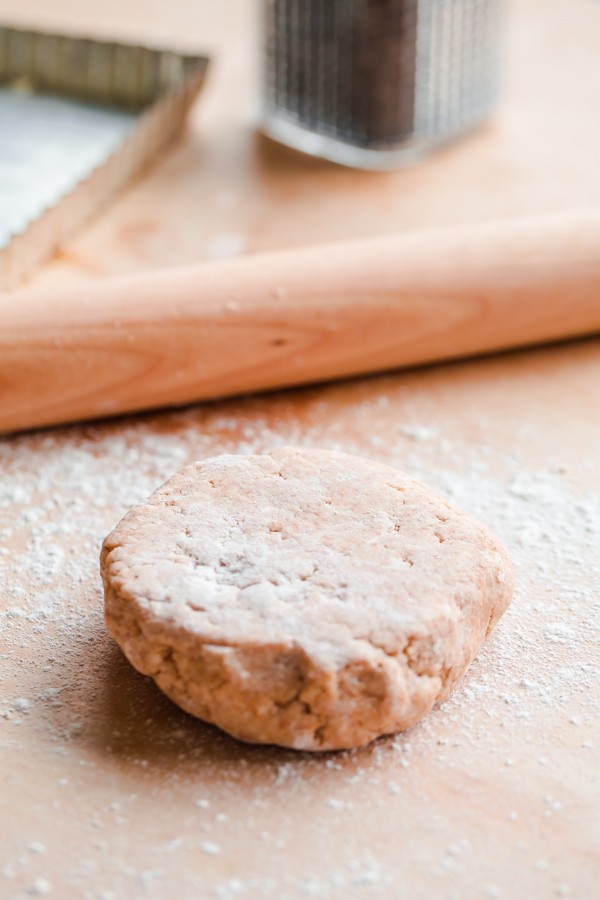 Although traditional quiche is very, very rich, I lightened this one up by using whole milk (as opposed to heavy cream) in the egg custard filling, and preparing my sister's whole wheat dough made with equal parts all-purpose flour and traditional whole wheat flour.
Then I totally contradicted all of that by adding huge chunks of fresh goat cheese…so, there's that.
Let me tell you, this whole wheat dough is just as good as a traditional 100% all-purpose flour quiche dough, and way more flavorful. It's flaky, buttery, and everything a good quiche dough should be. It takes all of five minutes to prepare if you use a food processor, and can be prepared several days in advance and kept in the refrigerator so that you are one step ahead of the game.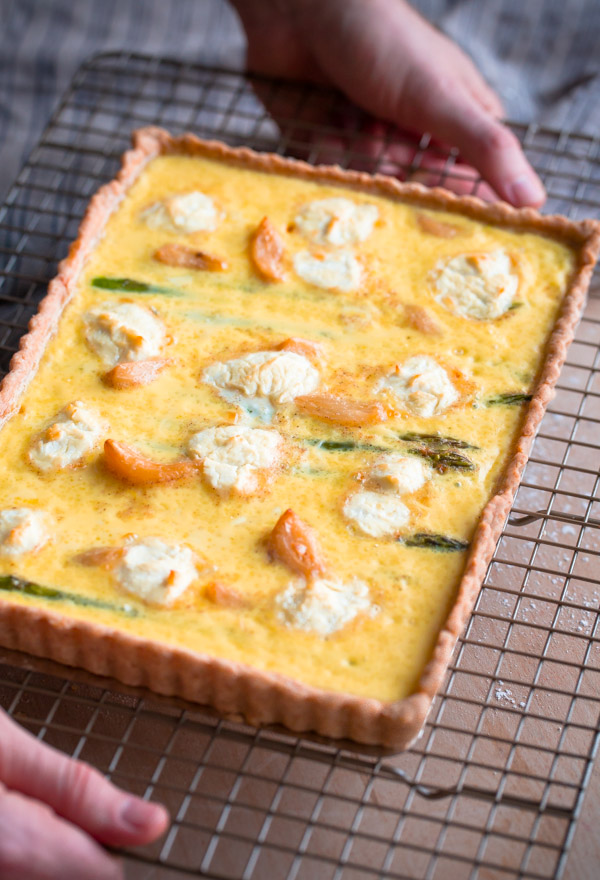 This recipe appears slightly daunting, I know (don't be intimidated by the instruction length!), but when you break down the steps it is quite manageable.
The most time-consuming part of this recipe is preparing and blind-baking the quiche dough. Blind-baking requires baking the quiche dough almost completely prior to adding the filling, and is the number-one rule for all quiches!
My biggest quiche advice is to never skip the blind-baking step, or you will be left with a gummy, uncooked dough–or worse, you will be forced to over-bake the quiche filling to account for the uncooked pastry. There is nothing worse than under-cooked dough or over-cooked custard. Trust me.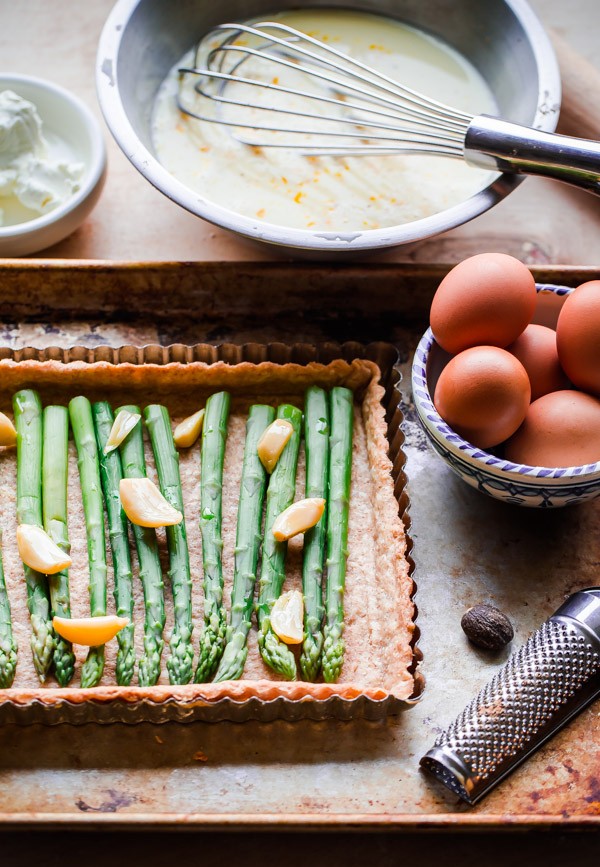 Once you have blind-baked the tart dough, the filling couldn't be easier! To ensure that you don't over-fill the crust, I like to lay down my 'extras' (as I call them) in the tart pan before adding the egg and milk custard.
For this quiche, all you will need is blanched asparagus (boiled for several minutes and then shocked in an ice bath) and my favorite garlic confit, which I told you guys about a few weeks ago. The garlic is definitely optional, but I love the flavor it adds to the quiche. If you have leftover roasted garlic cloves, you could certainly use those too!
Then, I add the custard filling (simply eggs, whole milk, salt, and freshly ground nutmeg!) and top it all off with chunks of fresh goat cheese–and throw it in the oven. Asparagus and goat cheese is one of my favorite combinations in the entire world.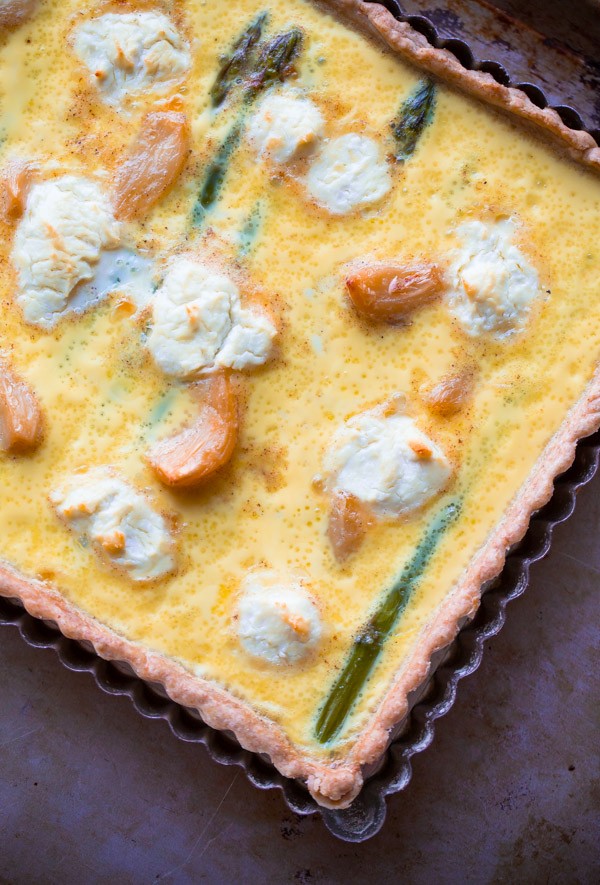 Like any egg-based custard, it is preferable to cook them over low temperatures for long periods of time (as opposed to high temperatures for short periods of time) as it results in a much silkier and smoother texture.
For a quiche of this size, this means that you will need to set aside more than an hour of baking time! But, I promise, you won't regret it the tiniest bit. Enjoy!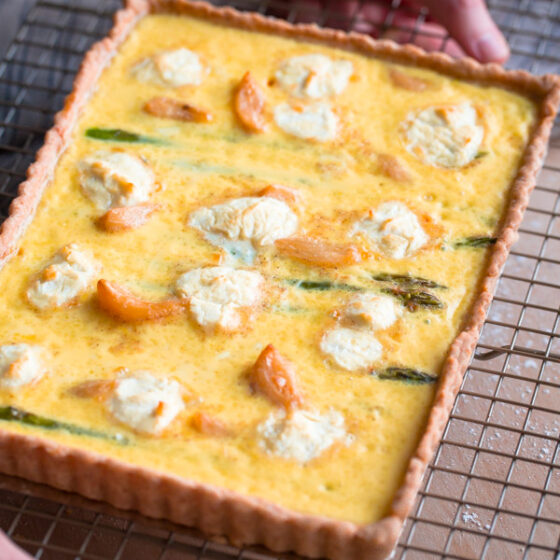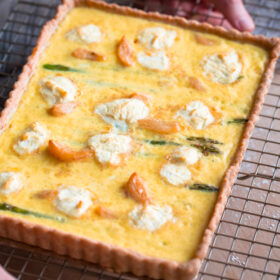 Spring Asparagus and Goat Cheese Quiche
A delicious elegant spring quiche filled with a creamy custard filling, fresh asparagus, and dollops of fresh goat cheese. The most time-consuming part of this recipe is blind-baking the tender, flaky whole wheat pastry crust. Don't be intimidated by the recipe length, this dish can be prepped and broken into several steps!
Ingredients
Whole Wheat Pastry Crust:
¾ cup (90 g) whole wheat flour
¾ cup (90 g) unbleached all-purpose flour
½ teaspoon kosher salt
8 tablespoons (4 oz; 115 g) chilled unsalted butter cut into ½-inch cubes
¼ cup (60 mL) ice water
Filling:
1 small bunch fresh asparagus blanched (see directions below)
garlic confit or roasted garlic cloves optional, but recommended
4 large eggs
2 cups (480 mL) whole milk or 1 cup whole milk, plus 1 cup heavy cream
¾ teaspoon kosher salt
¼ teaspoon freshly grated nutmeg or ground nutmeg
3 ounces soft goat cheese plain or herbed
Instructions
Prepare Quiche Dough: Combine the whole wheat flour, all-purpose flour, and salt in the bowl of a large food processor. Pulse several times to mix thoroughly. Add the cold, cubed butter, and pulse 10 to 12 times until the butter is incorporated and the butter is no smaller than pea-sized. You want the butter pieces to be in varying sizes, some small and others slightly larger. This will result in the flakiest crust.

Add the ice water, and pulse until the dough just begins to clump together loosely. Remove the dough to a clean counter top, shape together with your hands into a square disc, and cover tightly in plastic wrap. Refrigerate the dough for a minimum of 30 minutes, preferably 1 hour. Make Ahead Tip: Dough can be prepared up to two days in advance and kept wrapped tightly in the refrigerator.

Blind-Bake Quiche Dough: Preheat the oven to 400°F (204°C) with a rack in the center position. Grease an 8-inch x 11.5-inch rectangular (1-inch deep) tart pan and set aside. Remove the dough from the fridge, and place on a clean, lightly floured countertop.  Using a lightly floured rolling pin, starting from the center of dough to the outside, roll dough into a large rectangle. It should be ¼-inch thick or slightly thinner. Throughout the process, pick up dough carefully and move regularly on the countertop to ensure it does not stick.

Using the rolling pin, roll and pick up the dough and lay over the greased tart pan, gently guiding it into the sides of the tart (try to avoid stretching the dough), and pressing with your fingers. Make sure to press the dough tightly inside the corners and sides to shape the tart shell. If it rips at all, press the dough back together or use dough scraps–this is very important, otherwise your egg filling will leak. Trim the edges.

Line the tart dough with aluminum foil - shiny side facing up - allowing it to extend past the sides at least an inch or two.  Fill with baking beans or weights, distributing them evenly in the corners of the pan. Blind-bake the dough for 20 minutes; then remove the foil and beans, and bake the dough, uncovered, for an additional 5 to 8 minutes, or until the dough is baked through and appears dry. Set aside on a cooling rack while you prepare the filling. Reduce the oven temperature to 300°F (150°C).

Assemble and Bake: Bring a large pot of very salted water to a boil. Trim any tough ends from the asparagus spears. Set aside a large bowl of ice water. Add the asparagus to the boiling water and blanch the asparagus for 2 to 4 minutes (depending on the size of your asparagus), immediately transfer asparagus to ice water bath. Shocking them will help retain their green color. Once cooled, quickly remove the asparagus from the ice water and place on a larger plate lined with a kitchen linen or paper towels to soak up any excess water.

In a medium bowl, whisk together the eggs, whole milk, salt and freshly grated nutmeg, and set aside. Trim the ends of the blanched asparagus if needed, so they are all similar in length and will fit the width of the tart pan.

Line the blind-baked quiche dough with blanched aparagus–you want roughly ½-inch between each spear (you may have some extra spears that you do not use, be sure to overcrowding the pan, because you'll need space for the custard filling). Distribute several large cloves of garlic confit or roasted garlic cloves among the pan, if using. Carefully pour the egg mixture into the tart shell so that it nearly reaches the top. Distribute the goat cheese, in large clumps, evenly across the top of the filling.

Bake the quiche for roughly 1 hour and 15 minutes. If the filling still jiggles when you move the pan, continue to bake for an additional 5 to 10 minutes. Optional: To brown the goat cheese even more, you can quickly place the tart under a broiler, set at medium heat, for several minutes.

Once the filling is set, remove from the oven and allow to cool on a rack for 20 to 25 minutes before serving. Quiche best served at warm or room temperature. Leftover quiche can be stored in an airtight container in the refrigerator for up 2 to 3 days.
Tips for Success:
If you want to make an extra decadent quiche, substitute half or all of the whole milk with heavy cream. 
Serving: 1serving, Calories: 264kcal, Carbohydrates: 28g, Protein: 13g, Fat: 11g, Saturated Fat: 6g, Polyunsaturated Fat: 4g, Cholesterol: 144mg, Sodium: 591mg, Fiber: 2g, Sugar: 5g
This post contains affiliate links, which means that I make a small commission off items you purchase at no additional cost to you. Please read my
privacy policy
for more information.