Spring Asparagus and Goat Cheese Quiche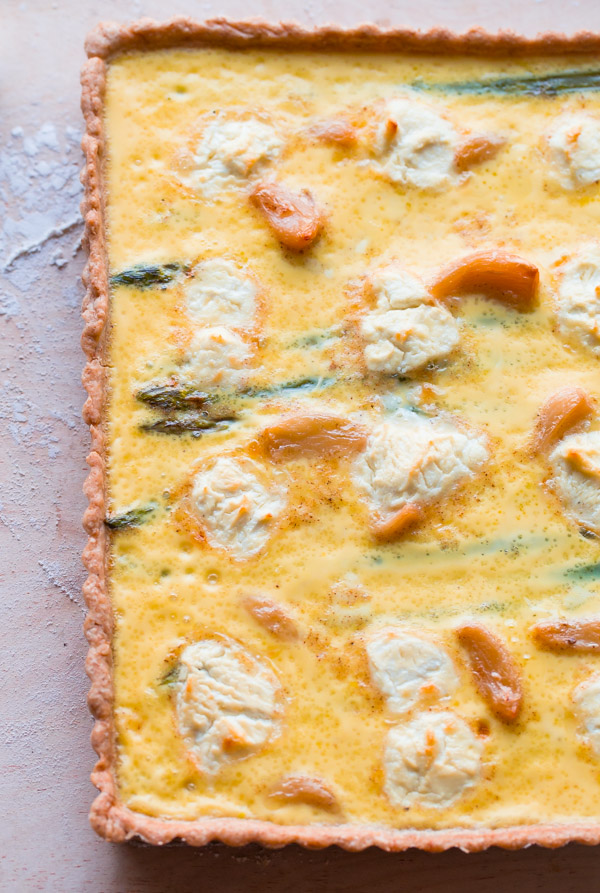 My favorite time of year has arrived. Spring! I have to say, nothing gets me more excited in the kitchen.
Even though I'm running around like a maniac at the moment with last minute wedding distractions, I've already tried to take full advantage of it as much as possible. We've been cooking asparagus several times a week now, and I'm officially in 'asparagus recipe' mode. You've been forewarned.
Last year, I could have shared a million more recipes with you all, but I ended up sticking with this springtime asparagus soup (still one of my favorites!) and an asparagus mimosa, which let's face it, received one of the best reactions on the blog ever, and totally prompted this ridiculous April Fool's joke (which people still believed?!).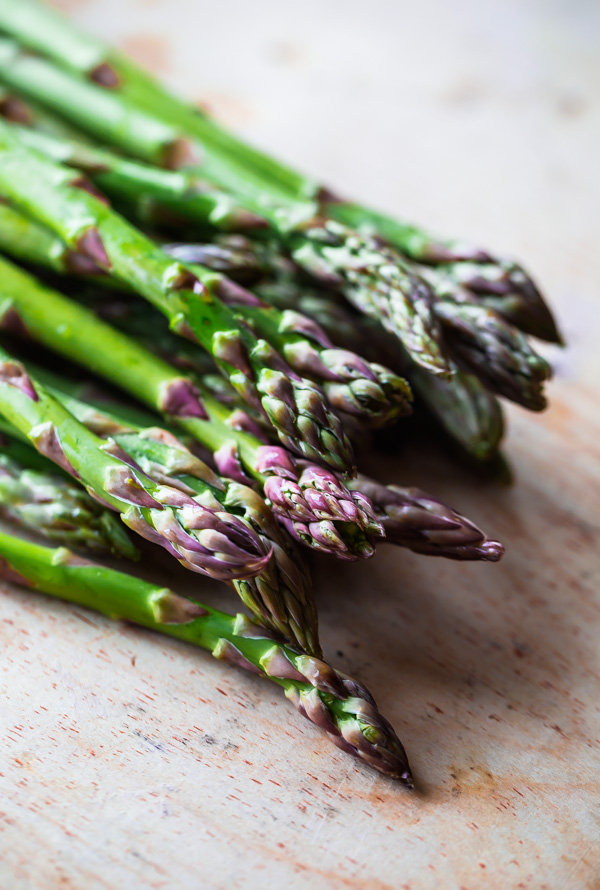 Of course, since my love for asparagus has no bounds, I was torn on what type of recipe I should share first, but ultimately decided on quiche. A fun, seemingly fancy little quiche that can be served for breakfast, brunch, lunch, and dinner. What's more versatile than that? You could even serve it this Easter weekend, if you so desire.
What are your guys' feelings on quiche? Yay? Nay?
I'm personally a huge fan, but have to admit, I tend to forget about quiche. A lot. Confession? This is the first quiche I've made since culinary school. That is ridiculous and embarrassing, and that's pretty much all I have to say about that. I think I overdosed on quiche, and pretty much all traditional French food during those six months, but I really do love the stuff.
It gives you an excuse to bust out the rolling pin, use a fancy rectangular tart pan (I get excited about the most random things), and eat quite a bit of cheese. Oh yes.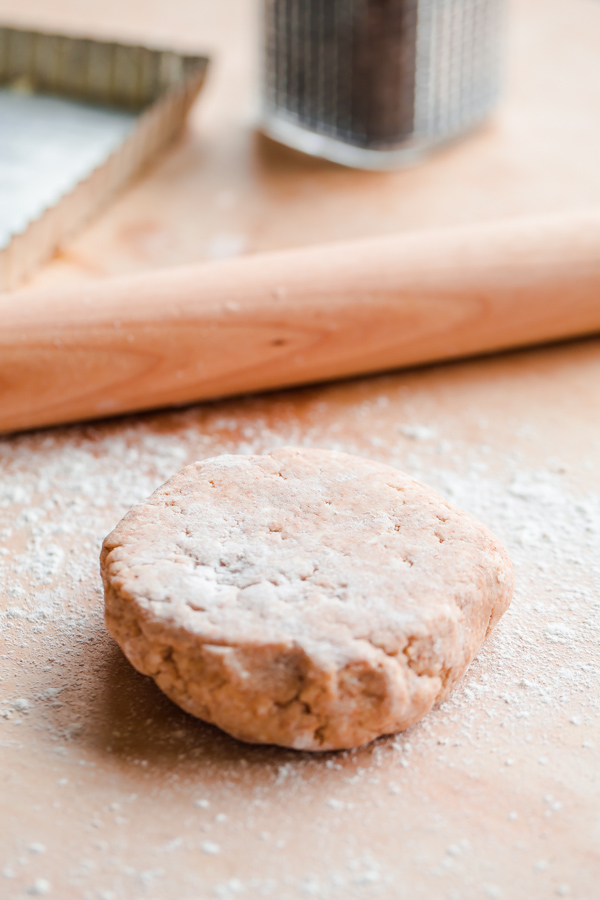 Although traditional quiche is very, very rich, I lightened this one up by using whole milk (as opposed to heavy cream) in the egg custard filling, and preparing my sister's whole wheat dough made with equal parts all-purpose flour and traditional whole wheat flour.
Then I totally contradicted all of that by adding huge chunks of fresh goat cheese…so, there's that.
Let me tell you, this whole wheat dough is just as good as a traditional 100% all-purpose flour quiche dough, and way more flavorful. It's flaky, buttery, and everything a good quiche dough should be. It takes all of five minutes to prepare if you use a food processor, and can be prepared several days in advance and kept in the refrigerator so that you are one step ahead of the game.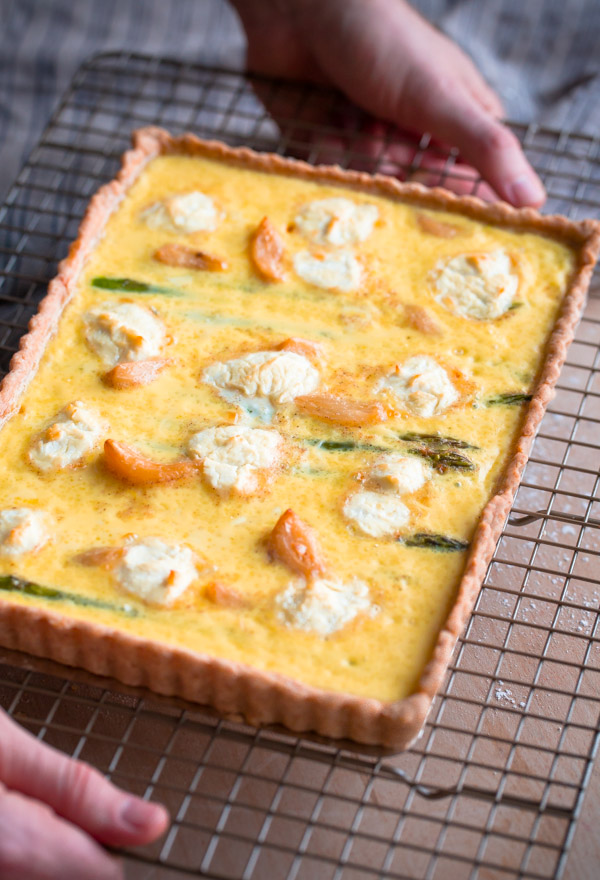 This recipe appears slightly daunting, I know (don't be intimidated by the instruction length!), but when you break down the steps it is quite manageable.
The most time-consuming part of this recipe is preparing and blind-baking the quiche dough. Blind-baking requires baking the quiche dough almost completely prior to adding the filling, and is the number-one rule for all quiches!
My biggest quiche advice is to never skip the blind-baking step, or you will be left with a gummy, uncooked dough–or worse, you will be forced to over-bake the quiche filling to account for the uncooked pastry. There is nothing worse than under-cooked dough or over-cooked custard. Trust me.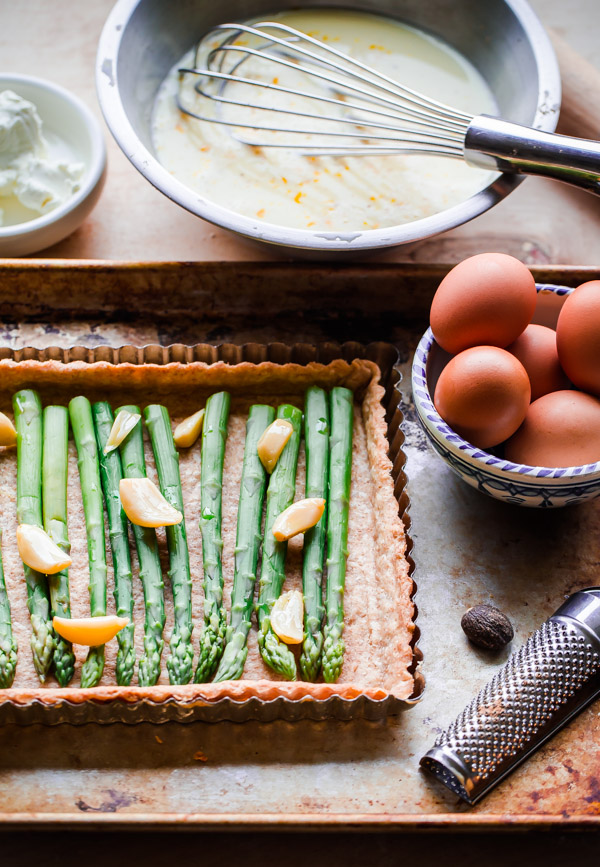 Once you have blind-baked the tart dough, the filling couldn't be easier! To ensure that you don't over-fill the crust, I like to lay down my 'extras' (as I call them) in the tart pan before adding the egg and milk custard.
For this quiche, all you will need is blanched asparagus (boiled for several minutes and then shocked in an ice bath) and my favorite garlic confit, which I told you guys about a few weeks ago. The garlic is definitely optional, but I love the flavor it adds to the quiche. If you have leftover roasted garlic cloves, you could certainly use those too!
Then, I add the custard filling (simply eggs, whole milk, salt, and freshly ground nutmeg!) and top it all off with chunks of fresh goat cheese–and throw it in the oven. Asparagus and goat cheese is one of my favorite combinations in the entire world.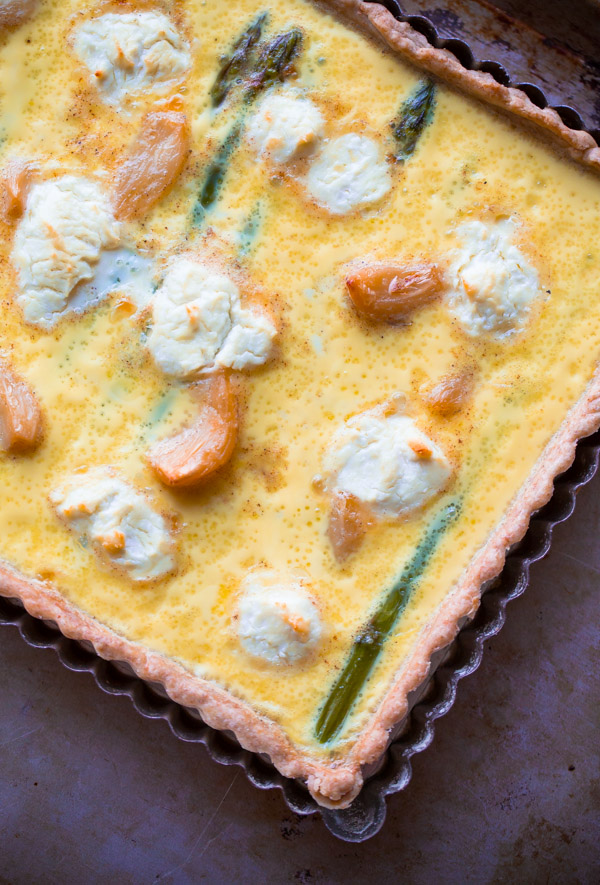 Like any egg-based custard, it is preferable to cook them over low temperatures for long periods of time (as opposed to high temperatures for short periods of time) as it results in a much silkier and smoother texture.
For a quiche of this size, this means that you will need to set aside more than an hour of baking time! But, I promise, you won't regret it the tiniest bit. Enjoy!