Everything Bagel Sandwich
Creamy avocado, homemade scallion black pepper cream cheese, and peppery arugula piled high on an everything bagel. This easy, delicious breakfast sandwich comes together in minutes!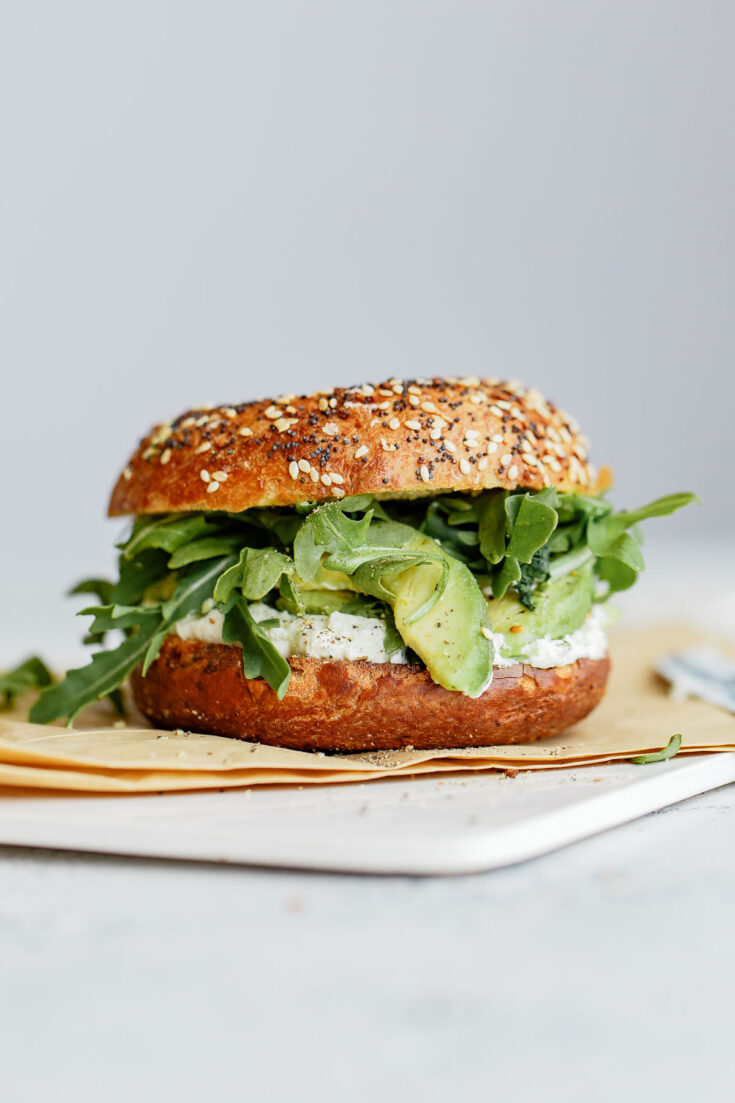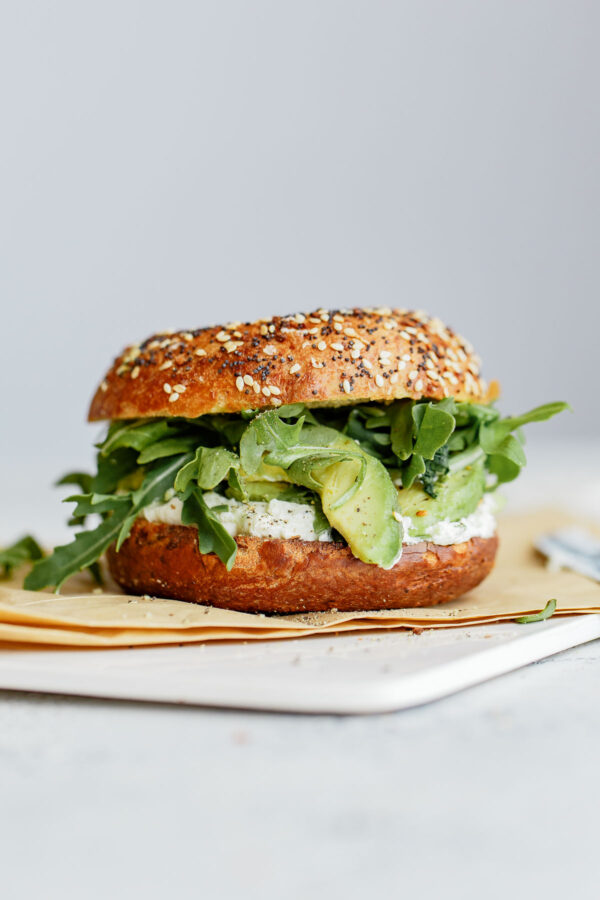 Everything Bagel Sandwich
Hi guys! I know this space has been unusually quiet for the past two weeks or so. I've been traveling a bit, branching out and doing more freelance photography projects, updating the blog to comply with new European Union GDPR regulations, and gearing up for our move in late May. This will be our third apartment in three years. Have we lost our minds? Maybe.
The move was somewhat of a spontaneous decision back in February, but we're both really excited about the new space and location. We'll be staying in the same West Loop neighborhood in Chicago. Unfortunately, I have the hardest time concentrating once a move is on the horizon, so it will be really nice to get it over with.
We also got into a car accident last week. [We didn't get hurt, thank goodness, but our car incurred about $5,000 worth of damage.] Ugh.
Oh, oh! And we're traveling to France tomorrow. We've had this trip planned since early fall, and while the timing isn't ideal with everything else going on, we're really looking forward to it. We'll be spending five days in Provence with Connor's parents and four days in Paris. It has been over 15 years since my last trip to France and I've been dying to go back! Bring on the pastries and escargot.
If you want to follow along with our travels, be sure to follow me on Instagram and Instagram Stories. My posting schedule will be a bit touch and go for the rest of the month, as we move immediately upon our return, but I'll be sharing a few posts between then and now. I'm hoping to get back into a regular posting schedule by early June. Thank you, as always, for your continued readership and support!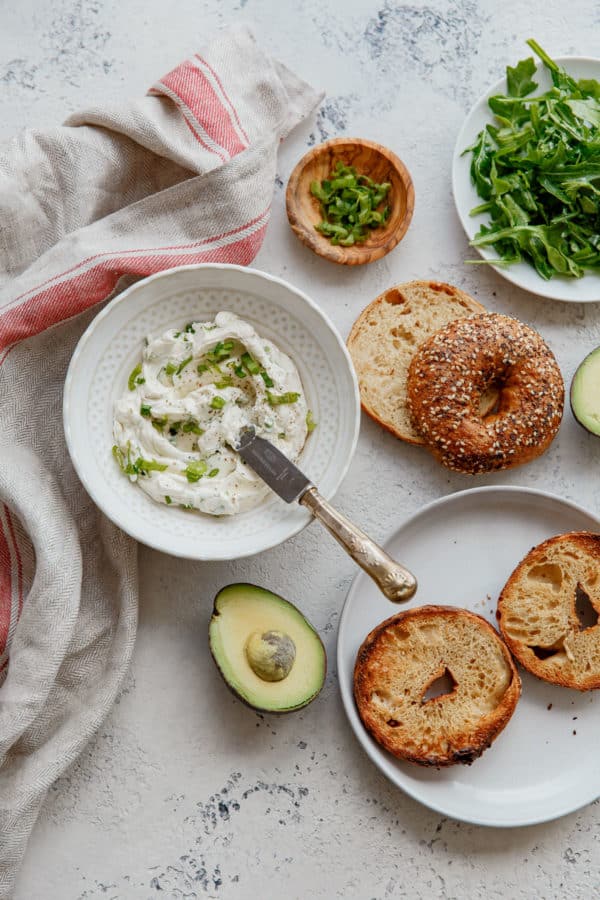 Enough about that. Let's talk about this everything bagel sandwich. It is everything.
So freaking delicious, easy to prepare, and would make a great spread for a Mother's Day brunch this weekend. You can scale it up for a crowd or prepare it for yourself as a mid-week treat.
This recipe (if I can even call it that) was inspired by the breakfast sandwich at Mindy Segal's Hot Chocolate Bakery in Chicago.
I've been dying to find excellent bagels in this city ever since we moved here and I've finally found my source. Mindy's homemade everything bagels are deep golden brown, loaded with everything bagel seasoning, and have the perfect crusty exterior with a soft, chewy inside.
I'm so thankful they sell out quickly and are only available on weekdays, otherwise I would be in major trouble!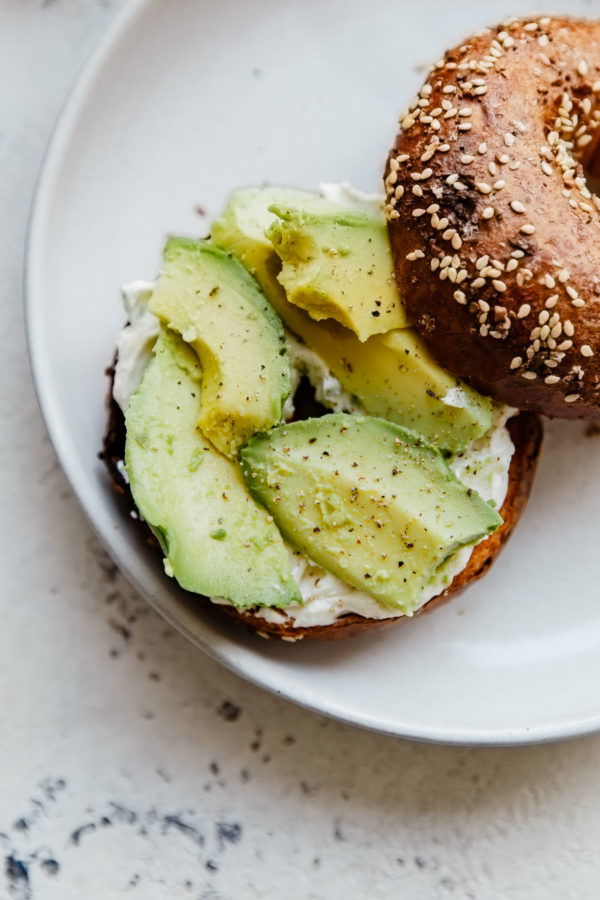 It might seem a little repetitive to pair creamy avocado with cream cheese. Dismiss all of those fears, because it is an amazing combination.
In essence, this everything bagel sandwich is elevated avocado toast with a homemade scallion black pepper cream cheese twist.
Here's the Everything Bagel Sandwich Breakdown:
toasted everything bagel (seek out the best!)
homemade scallion black pepper cream cheese (comes together in minutes)
creamy avocado slices
baby arugula tossed lightly extra virgin olive oil
kosher or Maldon salt
That's it. The combination of everything bagel seasoning, scallion cream cheese, ripe avocado, and peppery arugula (tossed with just a touch of olive oil and pinch of salt!), and crusty bagel is perfection.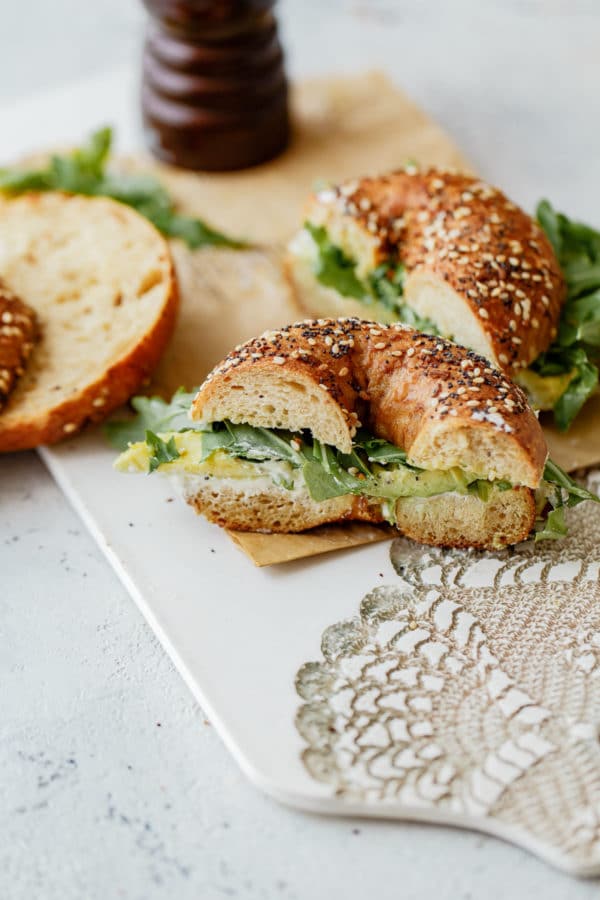 Breakfast has never looked this good. If you're looking for additional Mother's Day recipes ideas, be sure to check out guide.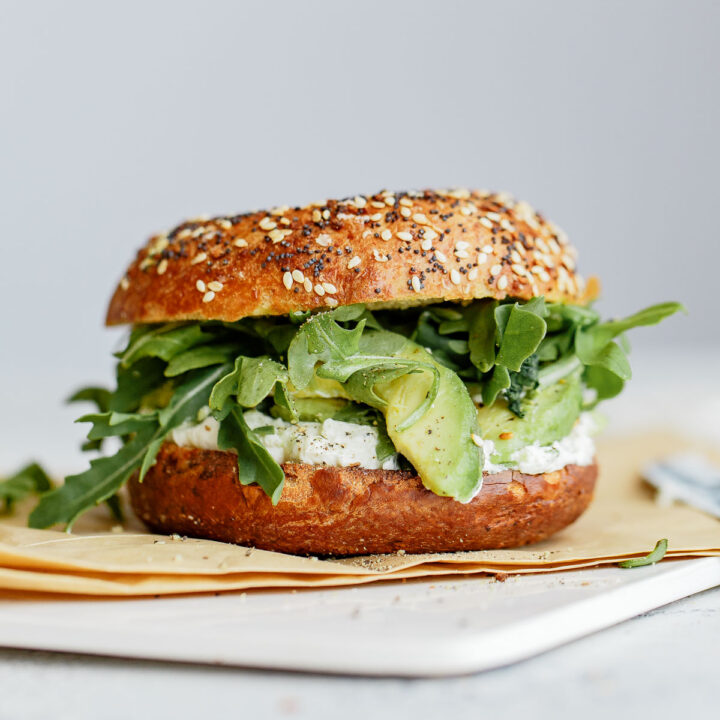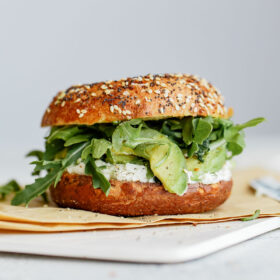 Everything Bagel Sandwich
Creamy avocado, homemade scallion black pepper cream cheese, and peppery arugula piled high on an everything bagel. This easy, delicious breakfast sandwich comes together in minutes! 
Ingredients
Homemade Scallion Black Pepper Cream Cheese:
8 ounces (1 package) cream cheese room temperature
½ teaspoon cracked black pepper
pinch of kosher salt
1 heaping tablespoon finely sliced scallion, green parts only
For the Sandwich Assembly:
1 cup baby arugula loosely packed
extra virgin olive oil for drizzling
1 high-quality Everything seasoning bagel
roughly 2 tablespoons scallion black pepper cream cheese see above
½ ripe avocado sliced
flaky salt for sprinkling
Instructions
For the Cream Cheese:
Place the room temperature cream cheese in a small food processor and pulse until lightly whipped. Transfer to a bowl and fold in the black pepper, salt, and sliced scallion. Season to taste and set aside for assembly.
Sandwich Assembly:
Place the arugula leaves in a small bowl. Drizzle very lightly with olive oil and toss to coat. Season with salt and pepper.

Slice and toast an Everything seasoning bagel. Spread the bottom half with a generous amount (roughly 2 tablespoons) of the scallion black pepper cream cheese spread. Top with sliced avocado and arugula leaves, a sprinkling of flaky salt, and top with remaining bagel half. Slice in half crosswise and serve.
Tips for Success:
This breakfast bagel sandwich is just as much about the bagel as it is anything else, so get your hands on the best ones that you can find!
If you are preparing this for a crowd, I recommend doubling the cream cheese. You can prepare it in advance and store it in a container in the fridge for up to 3 to 4 days.
Inspired by the breakfast sandwich at Mindy Segal's Hot Chocolate Bakeryin Chicago.
Serving: 1serving, Calories: 781kcal, Carbohydrates: 10g, Protein: 14g, Fat: 78g, Saturated Fat: 44g, Polyunsaturated Fat: 3g, Monounsaturated Fat: 20g, Cholesterol: 249mg, Sodium: 815mg, Potassium: 387mg, Fiber: 1g, Sugar: 8g, Vitamin A: 3520IU, Vitamin C: 3mg, Calcium: 254mg, Iron: 1mg
This post contains affiliate links, which means that I make a small commission off items you purchase at no additional cost to you. Please read my
privacy policy
for more information.