18 Mother's Day Brunch Recipes
From a seasonal Asparagus Egg Puff Pastry Tart to a show-stopping Lemon Coconut Cake, these are the recipes that will impress the mother figure in your life.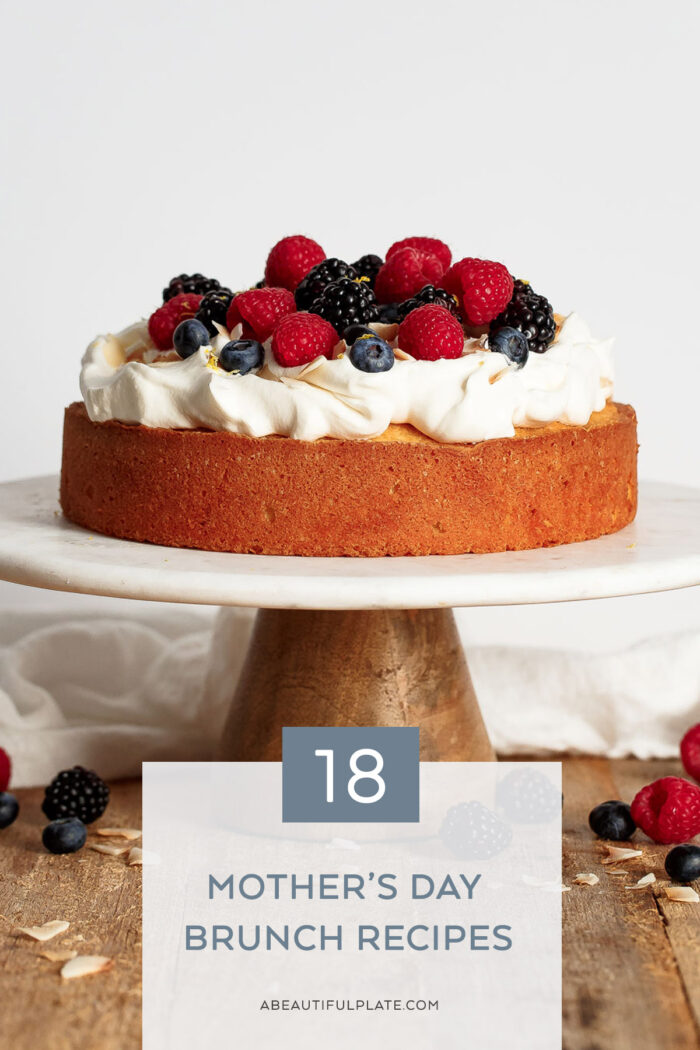 Nothing quite shows your love like a homemade meal. This Mother's Day, what better way to start the day than with a homemade spread?
With spring here, I've rounded up 18 of my favorite Mother's Day brunch recipes. Because treating your mom to a slow indulgent morning is the greatest gift of all.
Here you'll find a little something for everyone. Sweet, savory, and celebratory recipes worthy of the occasion. While I like to share crowd-pleasing dishes that offer a little something for everyone, let's focus on the real star of the day: mom!
Sweet Beginnings:
The month of May isn't just for celebrating Mother's Days, it's also for celebrating rhubarb season! Made with whole grains, Greek yogurt and only lightly sweetened with maple syrup, these wholesome rhubarb muffins are the perfect snack before breaking out the main course.
You simply can't go wrong with this bakery-style banana bread topped with crunchy turbinado sugar. Trust me on this one!
Letting you in on a major secret: Dutch babies are the ultimate party hack. It is essentially a light and airy pancake baked in a preheated skillet. We're taking wholesome to a new level with this allergen-friendly version (prepared entirely with oat flour) served with a homemade maple blueberry syrup.
These fluffy Belgian waffles are perfect for any mom that appreciates a classic. Topped with seasonal fruit and vanilla mascarpone, this is what simple decadence tastes like.
These aren't just any pancakes. They are unbelievably fluffy, studded with juicy blueberries – and we've even snuck in some whole grains for good measure. The perfect vehicle for sopping up an easy molasses maple syrup.
Cookies? For breakfast? Hear me out. Here we have a wholesome breakfast cookie that's naturally sweetened, made with whole grains, and packed with healthy fats and fiber. If you love traditional carrot cake, these cookies are a dream come true.
Main Courses:
While this dish will make you look like a pastry pro, with the help of frozen puff pastry sheets, this bright, savory, and impressive tart comes together quickly. Once assembled, you'll be a brunch hero!
Who doesn't love avocado toast? Take it back to the basics and make something that's sure to please. This avocado toast couldn't be easier. But of course we're elevating it with fresh basil, bright lemon, and chili flakes for a touch of heat. The combination is pure magic.
There's a time and a place for a classic Eggs Benedict, but I've always preferred a more creative spin. Since it is Mother's Day, we're kicking it up a notch. A crispy potato hash, spicy chorizo, and topped with a luscious cilantro hollandaise sauce – this dish has it all!
When you need to break from richer brunch staples, this egg dish with hearty healthy greens is a great choice. It's all about using what's in season. This is a great dish to pair with a crusty loaf of sourdough bread – or if we're being honest here, a sweeter treat.
To me, this elegant quiche is the epitome of spring cooking! Fresh asparagus, a creamy custard base, and flaky buttery crust – I could eat this for each and every meal.
I love this porridge for many reasons, but what I appreciate most is its beautiful simplicity. This isn't your average bowl of steel cut oats. The farro is creamy, comforting, and tastes far more indulgent than you'd expect.
Mother's Day brunch calls for extra special dishes – like this elegant tartine. It's a true labor of love. From the crispy potato base to the tangy herbed goat cheese to the smoky salmon, the flavors sing.
Hosting brunch for a crowd? This cheesy, pillowy breakfast strata, baked in a standard 9 x 13-inch pan, is assembled the day before, allowing you to pop it straight into the oven the next morning. Brunch is served!
Celebratory Cakes:
This buttery loaf cake makes a great gift that can be easily wrapped! Just hold that extra tart lemon glaze for when it's served in person. The cake has such a bright spring vibe, plus it comes together with everyday pantry staples.
This fluffy, light-as-air raspberry cake is one of my favorite cake recipes – it is inspired by a similar roll cake that my own mom made for me countless times growing up.
If your mom loves blueberries and almonds, look no further than this tea cake. Garnished with a light dusting of powdered sugar, this simple cake tastes fabulous slightly warm from the oven!
If you're looking for the ultimate celebration cake, this simple lemon coconut cake topped with lightly sweetened whipped cream is for you. This one-layer cake comes together in a snap. It's light and delicate. An ideal sweet to round out Mother's Day brunch.
Looking for more Mother's Day brunch inspiration! Explore our recipes for eggs, muffins, waffles and pancakes and more! If you have a chance to make any of these recipes, please leave a review, star rating, or tag me on Instagram.
This post contains affiliate links, which means that I make a small commission off items you purchase at no additional cost to you. Please read my
privacy policy
for more information.