Exploring Sorrento
Our first destination on the Amalfi Coast was the town of Sorrento, which is about a 45-minute drive outside of Naples.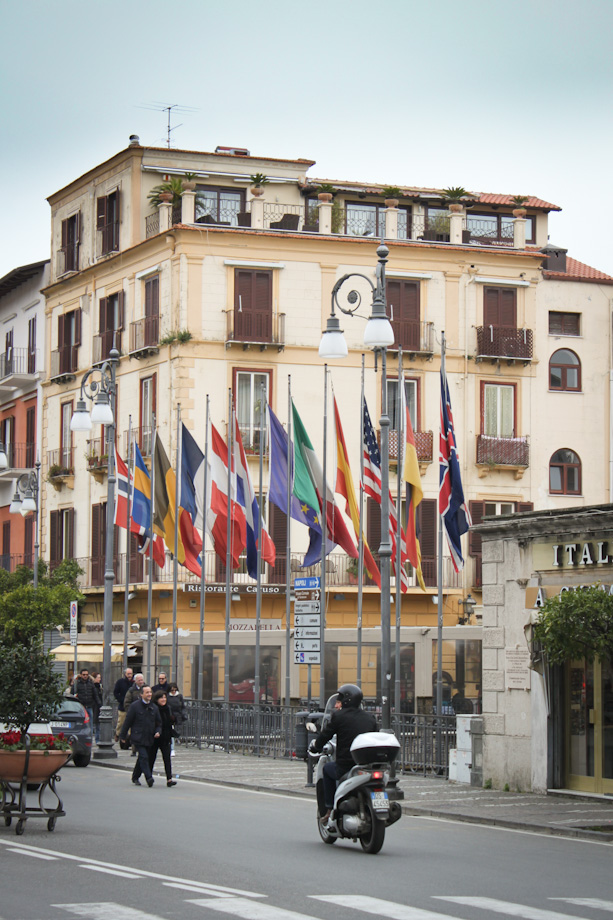 Its close proximity to the city, access to ferries, and larger town make it a pretty popular destination.  Since our trip took place just before the high season, we didn't experience the crowds that generally fill these towns during the more popular months.
We ended up spending our first full day of the trip just walking around and exploring the town.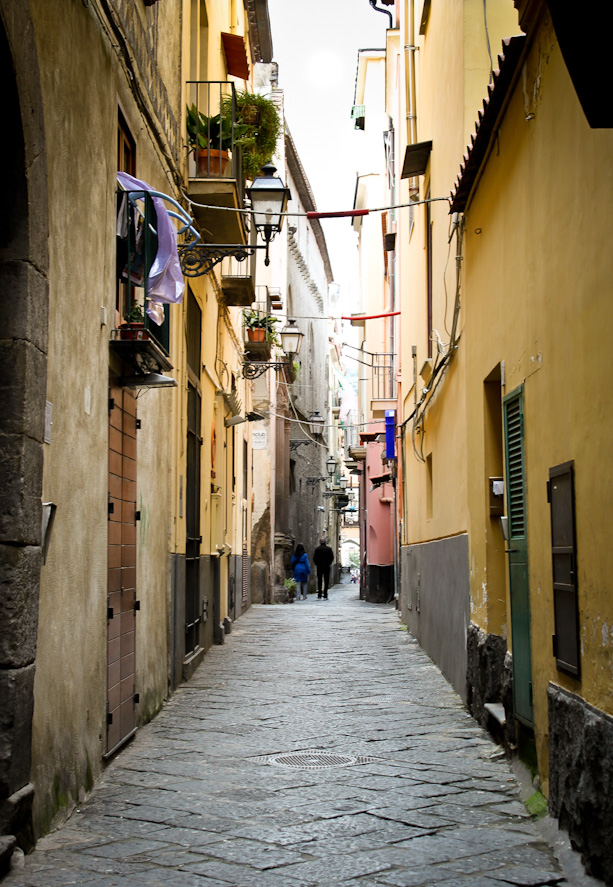 The first order of business was having the first official cappuccinos of the trip.  Due cappocini became a regular part of our vocabulary after that.
The Italians know their coffee.   Sadly, they weren't nearly as cheap as I remember them being from when I went to Italy many, many years ago.  We pretty much had designated cappuccino time twice a day from that point onward.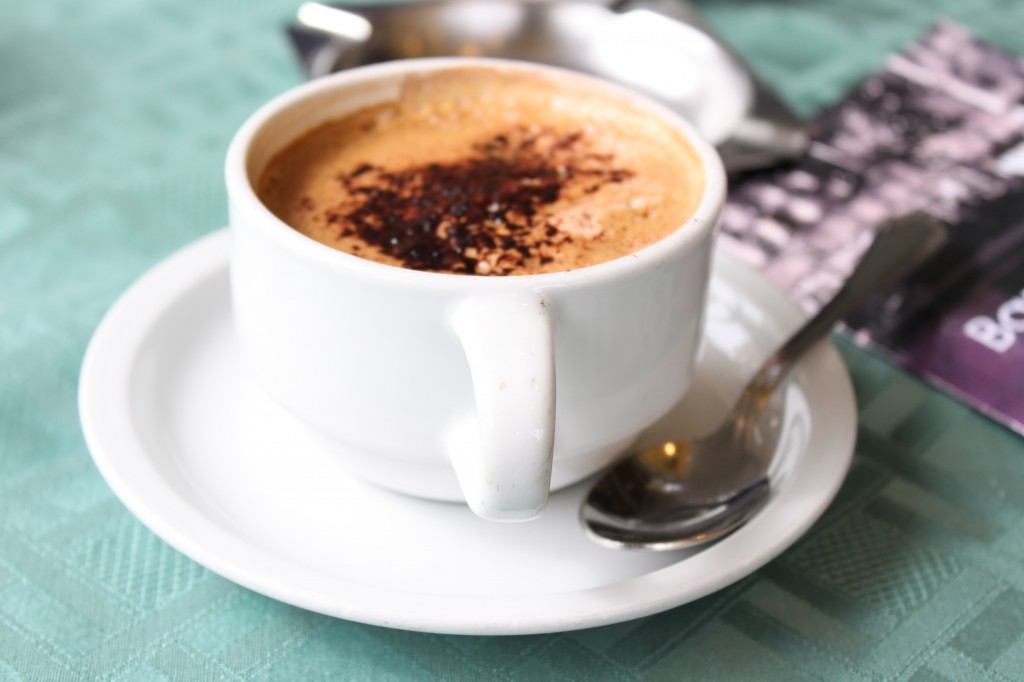 We then took a walk down to the park, which is located right on the cliffs overlooking the coast and Naples.  The weather was a bit gloomy that day, but the views were still pretty incredible!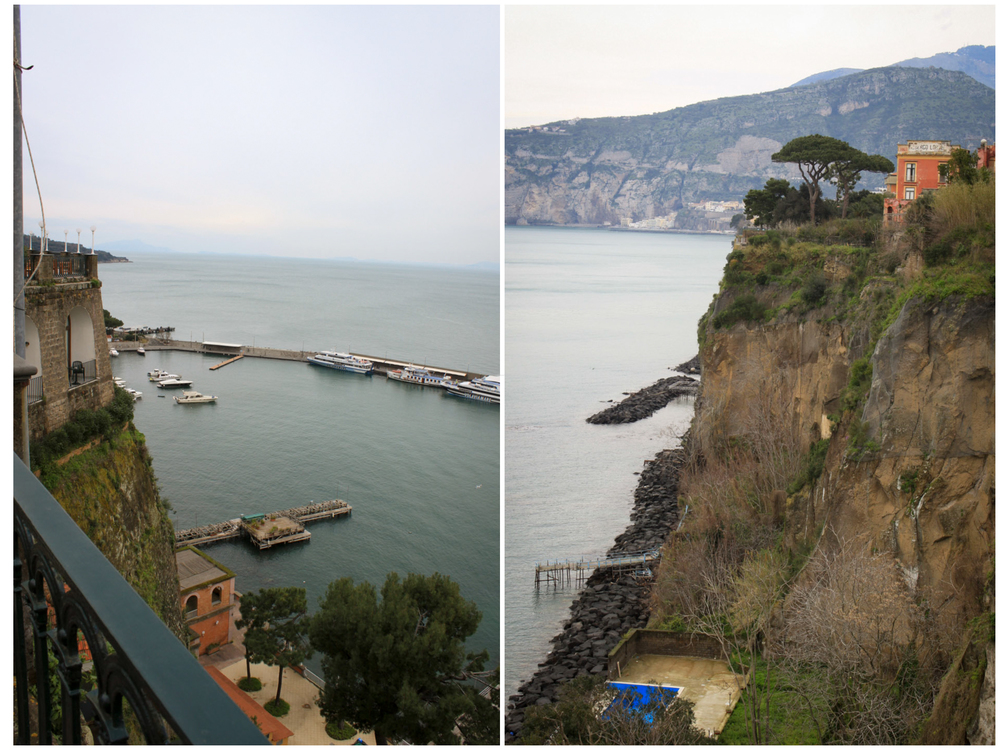 Like almost all the towns on the Amalfi Coast, Sorrento is full of cobblestone alleys, beautiful old churches, and shops–there were a ton of stores devoted simply to, what I deemed, lemon paraphernalia.
Dried lemon pasta, lemon soap and perfume, lemon-themed pottery and kitchen tools, and, of course, Limoncello, which is made in the region.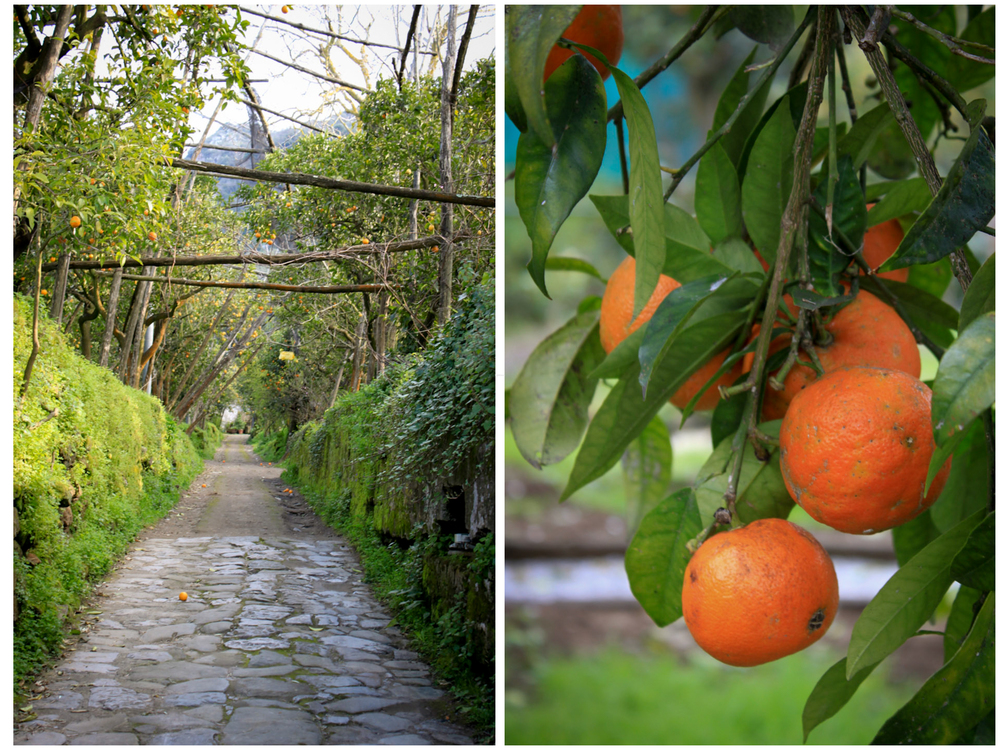 I especially loved that there were orange and lemon trees all over town!
After repeatedly telling Connor to steal a fresh orange for me, we actually found out that most of the orange trees were purely ornamental–and the actual fruit was bitter and sour.  Oops.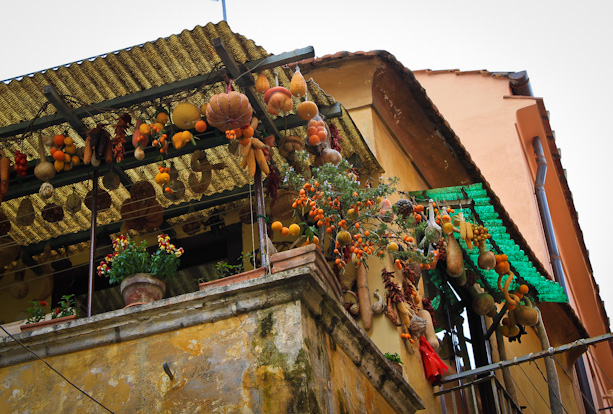 We also walked down and explored the small harbor (marina piccola) on the other end of town, before heading back up and grabbing lunch.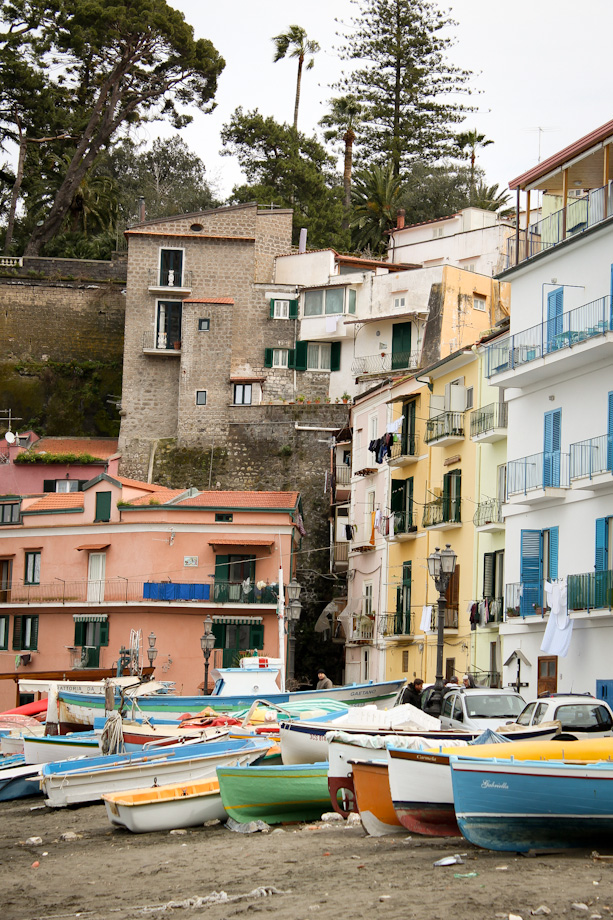 After exploring various options, we decided that the best idea would be to grab a sandwich at a local deli and bring it to some benches at the park.  We struggled a bit to actually know how exactly to order (since the shop owners didn't speak any English), but with a little pointing and gesturing, we ended up getting some mozzarella and prosciutto sandwiches with a side of some grilled eggplant.
Let me tell you…these were the world's biggest sandwiches!   As in, bigger than my head.  Each one was filled with almost an entire ball of mozzarella and enough bread to feed an army.  And yet, we only spent about $12 dollars on everything.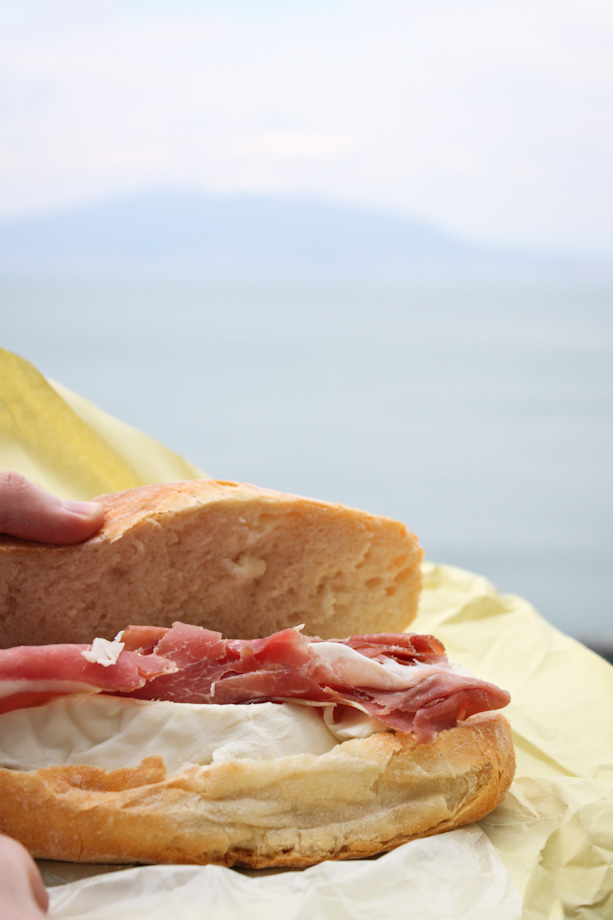 We then headed back to the hotel to relax a bit, take a quick cat nap, before heading out again to take advantage of the afternoon.
After walking down some random roads and alleys, we actually ended up discovering a very cool path up to a teeny, tiny chapel tucked away on a cliff.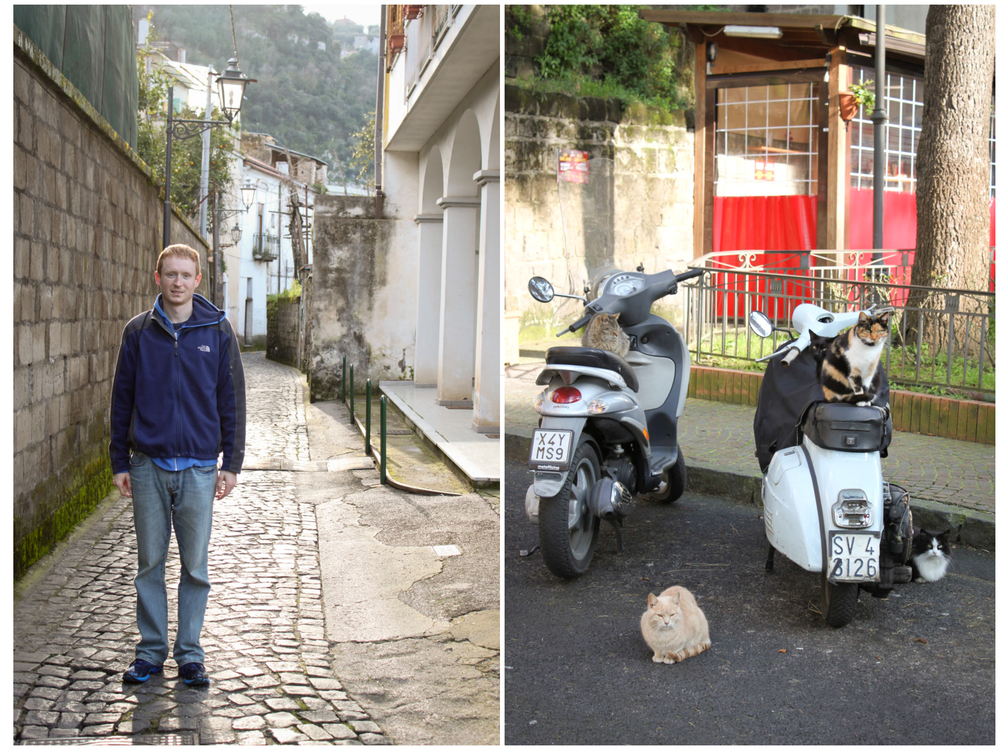 Sometimes getting lost can be a very good thing, because we ended up reaching the top and discovering an incredible view overlooking all of Sorrento.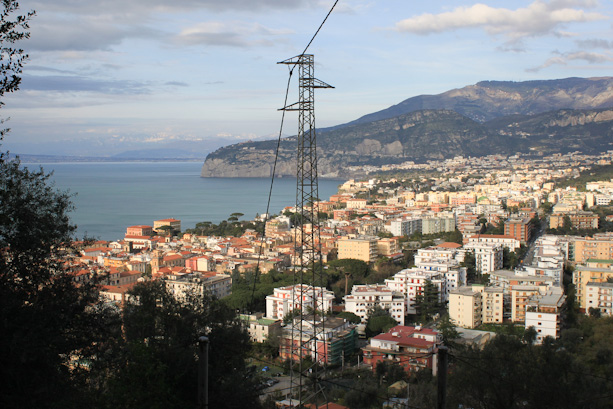 We ended up asking the concierge at the hotel for a recommendation for some casual good pizza–and he ended up suggesting a place down by the harbor called La Kambusa.  His specific words, "You go there…you see too many Italians."  Which sounded pretty perfect to us!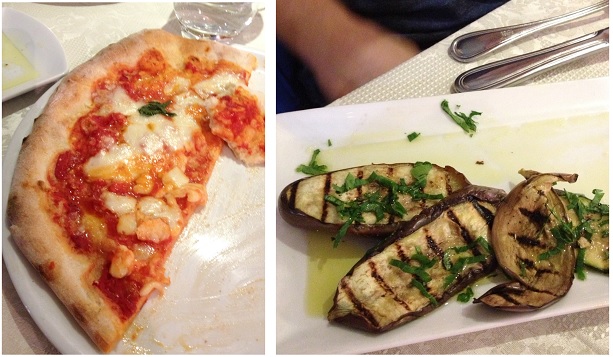 Definitely tasty, but our best pizza was yet to come…
This post contains affiliate links, which means that I make a small commission off items you purchase at no additional cost to you. Please read my
privacy policy
for more information.