Herculaneum
After going in circles and nearly giving up, we finally found ourselves at our destination…Herculaneum.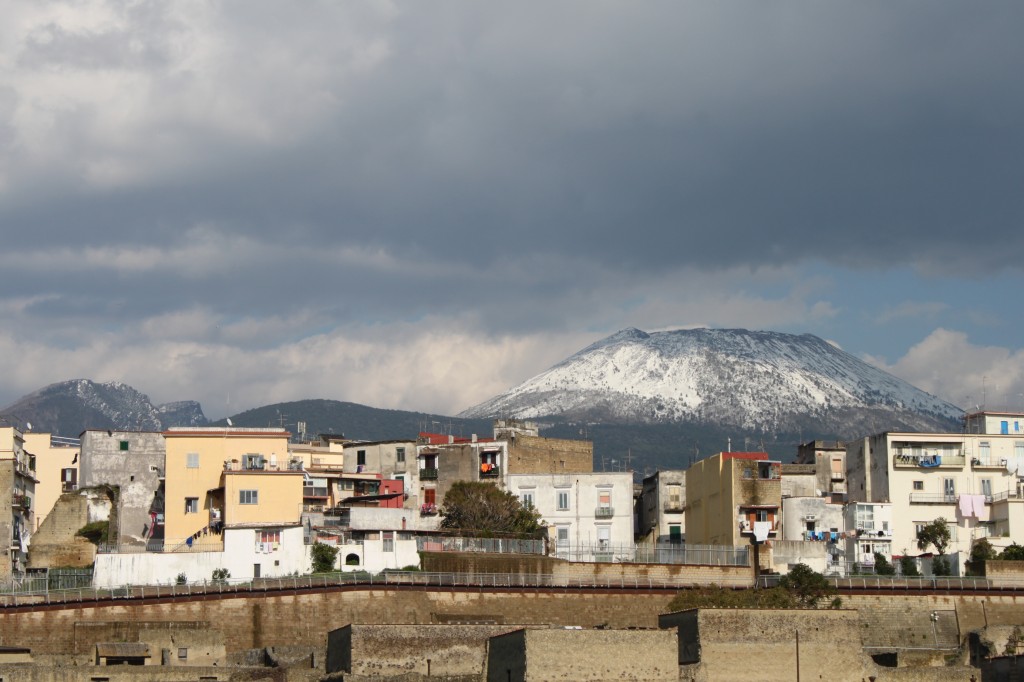 Before embarking on the trip, several family friends had recommended going to Herculaneum, an archaeological site dating back to 79 A.D.  Similar to the more famous and much larger town of Pompeii, this town was also destroyed by the eruption of Mount Vesuvius.
The site is nestled among the outskirts of the city with views of Mount Vesuvius in the background–which to our surprise, was covered in snow.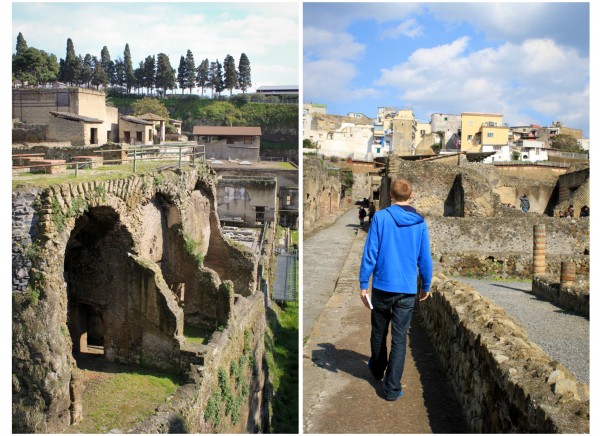 Unlike Pompeii, Herculaneum is largely intact to this day and is much better preserved for a few important reasons.
Hotter ash preserved and carbonized the wooden household and structural components and it was also buried much deeper than Pompeii, which also allowed the multiple stories of the buildings to remain intact.  Excavation of the site began in the mid-18th century and continues to this day.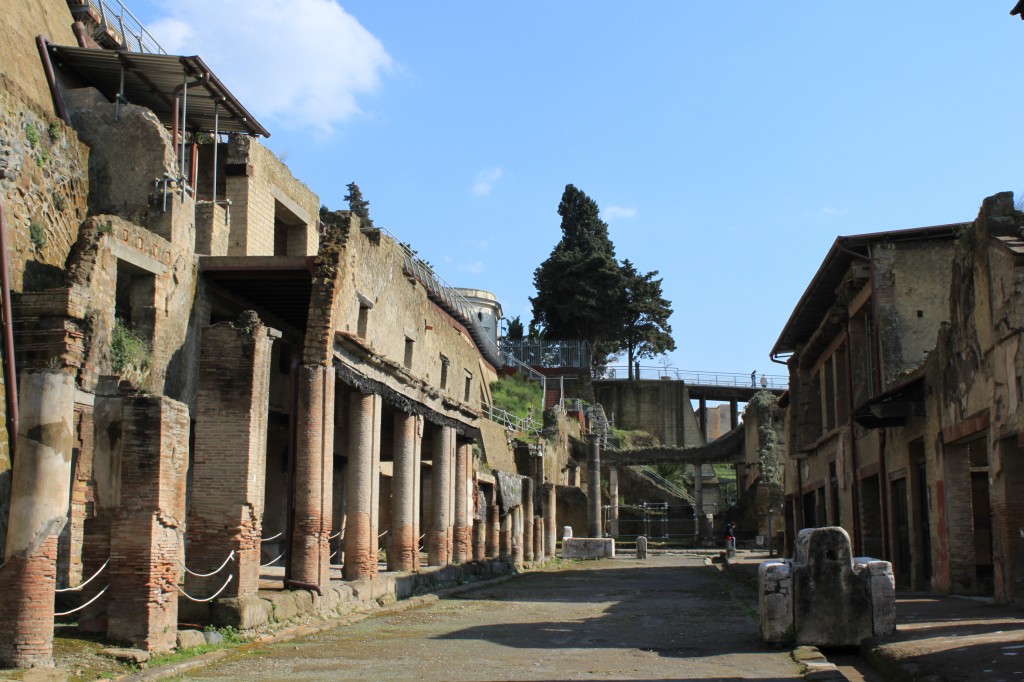 It was pretty amazing how easy it was to imagine the town in all of its glory, despite being nearly two thousand years old.  Many frescoes, murals, and tile work were preserved.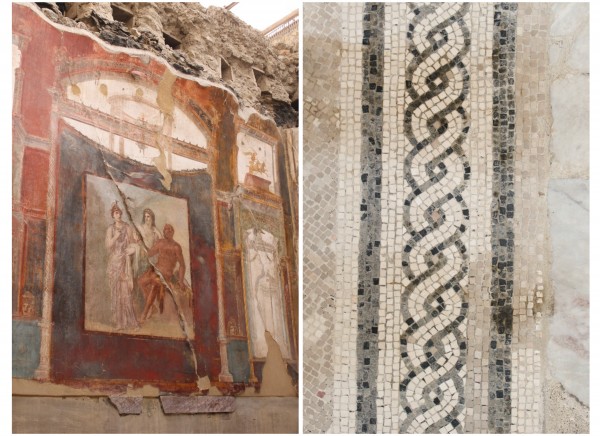 The town itself is relatively small, but visitors are allowed to explore nearly every room and building on the site.  Our favorite spot building was the "College of the Augustales", which was a shrine and meeting place for the Augustales, an order of Roman Priests.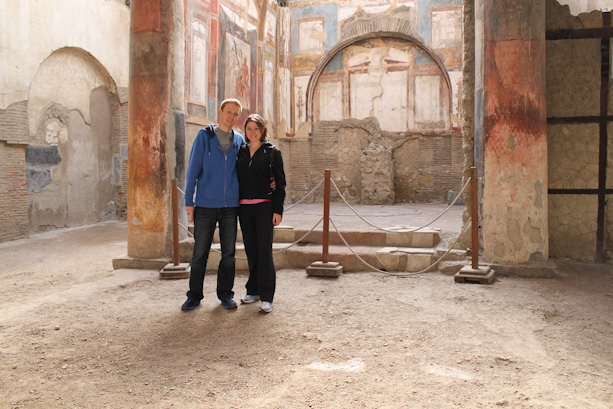 Other favorites included the many "thermopoliums", which were essentially the fast-food joints of the time period.  Embedded in the counters are earthenware pots, which generally stored and held dried foods.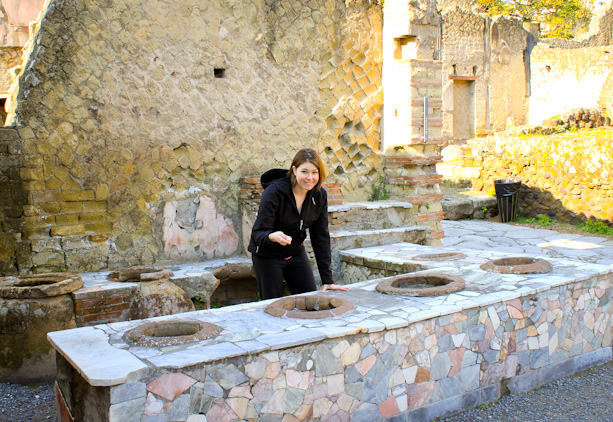 Of course, I had to do the required posing-like-a-dork photo…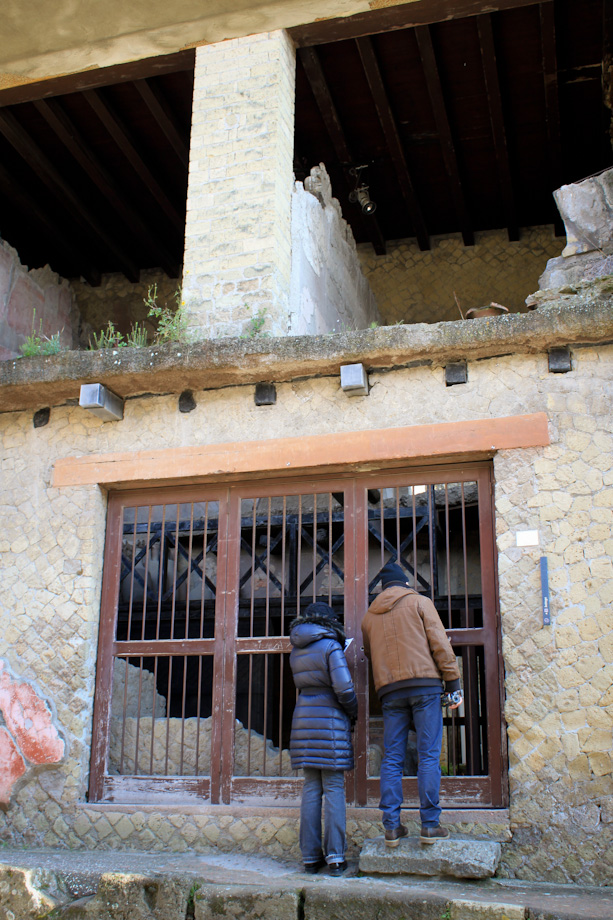 We ended up spending about two hours walking around the entire site, before heading back to the car to drive to Sorrento, the first town we stayed at on the Amalfi Coast.
Once we settled into our hotel, we walked into town, grabbed a quick dinner, and immediately went to bed…
This post contains affiliate links, which means that I make a small commission off items you purchase at no additional cost to you. Please read my
privacy policy
for more information.