Hearty Winter Minestrone Soup
This hearty winter minestrone is packed with vegetables: onions, celery, carrots, zucchini, Yukon gold potatoes, and Savoy cabbage.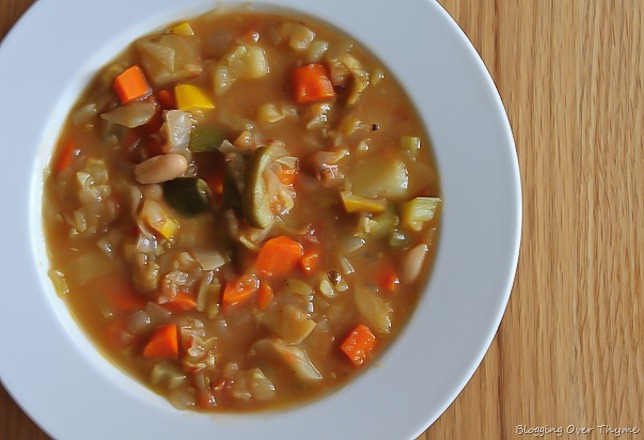 Ever since the weather has gradually become colder and the days have gotten shorter, I've had a hankering for homemade soup.
I love hearty soups for many reasons. They are very satisfying and filling and also happen to make excellent leftovers. In fact, they usually improve in flavor the day after cooking.
This Hearty Winter Minestrone Soup has been a family favorite for years. Unlike traditional Southern Italian minestrones which usually contain pasta or lots of beans, this soup contains mostly vegetables.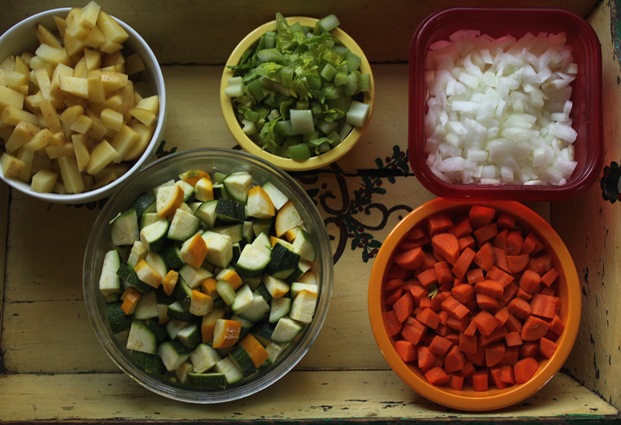 For a bit more heartiness, this version also contains Yukon gold potatoes and canned cannellini beans. The long simmer time is essential for this soup, it really does have a dramatic difference on the flavor.
If you're looking to prep it ahead or save time, I recommend prepping all of the vegetables (excluding potato, which will oxidize) and placing them in separate containers a day ahead. It saves a lot of time!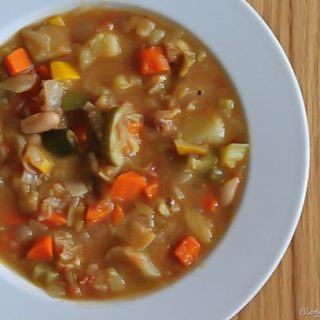 Hearty Winter Minestrone Soup
This hearty winter minestrone is packed with vegetables: onions, celery, carrots, zucchini, Yukon gold potatoes, Savoy cabbage, and is finished with canned cannellini beans.
Ingredients
2 tablespoons extra virgin olive oil
1 tablespoon butter
3 medium yellow onions medium dice
4-5 peeled carrots medium dice
4 celery stalks medium dice
4-5 small Yukon Gold potatoes chopped into ½-inch pieces
4-5 medium zucchini trimmed and chopped into ½-inch pieces
½ head Savoy cabbage cored and thinly sliced into ribbons
6 cups low-sodium chicken broth
1¼ cup (300 mL) canned chopped tomatoes
2 dried bay leaves
1-2 Parmigiano-Reggiano rind optional
1 (15-ounce) can cannellini beans drained and rinsed well
freshly ground black pepper
finely grated parmiginao-reggiano cheese for serving
Instructions
Heat the butter and olive oil in a large soup pot on medium-low heat. Once the butter has melted and is lightly sizzling, add the onions and a generous pinch of kosher salt. Saute for 3 to 5 minutes or until slightly translucent in color. Add the diced carrot and carrots and continue cooking, stirring occasionally, for 2 to 3 minutes.

Follow the same method with the with the addition of each vegetable: potatoes, zucchini (allowing each vegetable to cook and saute for 2 to 3 minutes before adding the next). Add the cabbage and let cook for 6 minutes, until slightly wilted, stirring every few minutes.

Add the broth, canned tomatoes, bay leaves, and parmigiano-reggiano rinds. Season with salt and pepper. Cover and bring to a boil. Reduce heat to low and slowly simmer the soup for 3 hours. Once ready, the vegetables should be very soft and tender and the soup should be considerably thicker.

In the last 10 to 15 minutes of cooking, add the drained and rinsed cannellini beans. Season to taste, adding a touch more salt and pepper as needed. Serve with a generous sprinkling of finely grated parmigiano-reggiano cheese.
Serving: 1serving, Calories: 241kcal, Carbohydrates: 40g, Protein: 9g, Fat: 6g, Saturated Fat: 2g, Polyunsaturated Fat: 4g, Cholesterol: 9mg, Sodium: 1034mg, Fiber: 7g, Sugar: 6g
This post contains affiliate links, which means that I make a small commission off items you purchase at no additional cost to you. Please read my
privacy policy
for more information.