Favorite Everyday Chicken Marinade
My family's favorite everyday chicken marinade recipe. This recipe is foolproof, fast, and ensures flavorful chicken every time.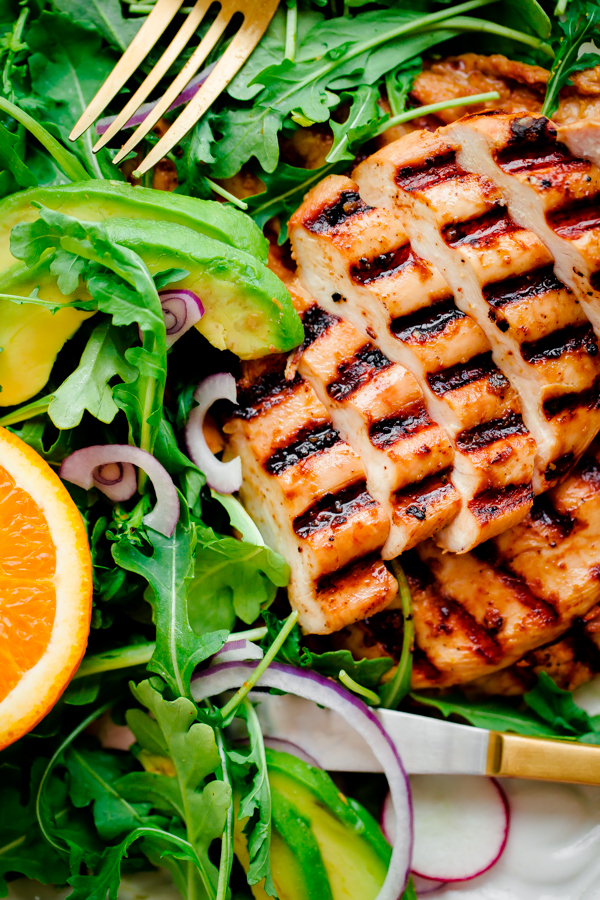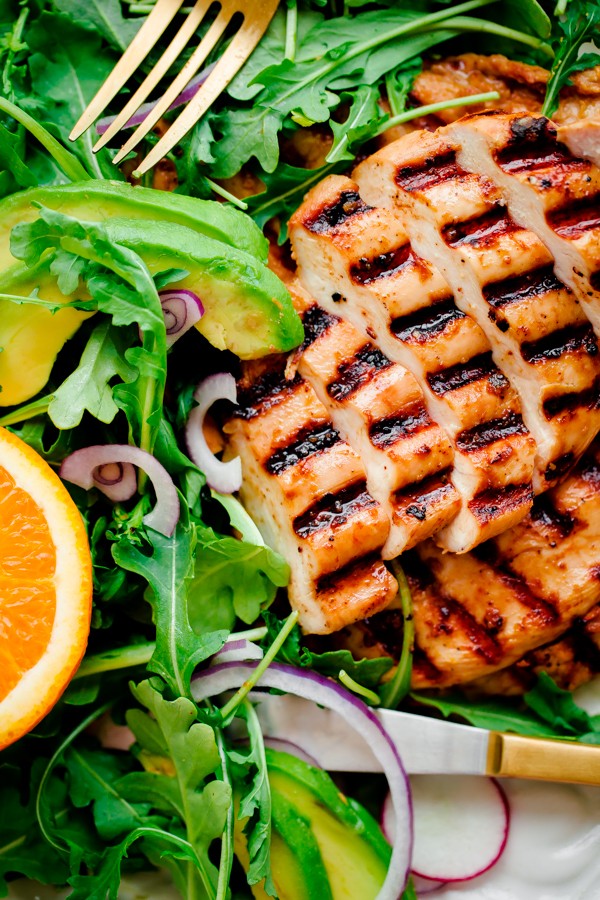 Oh, hey! I meant to share this recipe with you years and years ago! This happens far too often around here. Forgive me.
Today I'm finally sharing my favorite, everyday, fool proof chicken marinade. It is actually a family (aka. my mom's creation) recipe that we've been making for years and years.
Actually, if we're being technical, we've probably been making this for decades now. Maybe multiple decades? That's a long, long time! Trust me, my family wouldn't keep a sub-par chicken marinade around for that long if it wasn't great.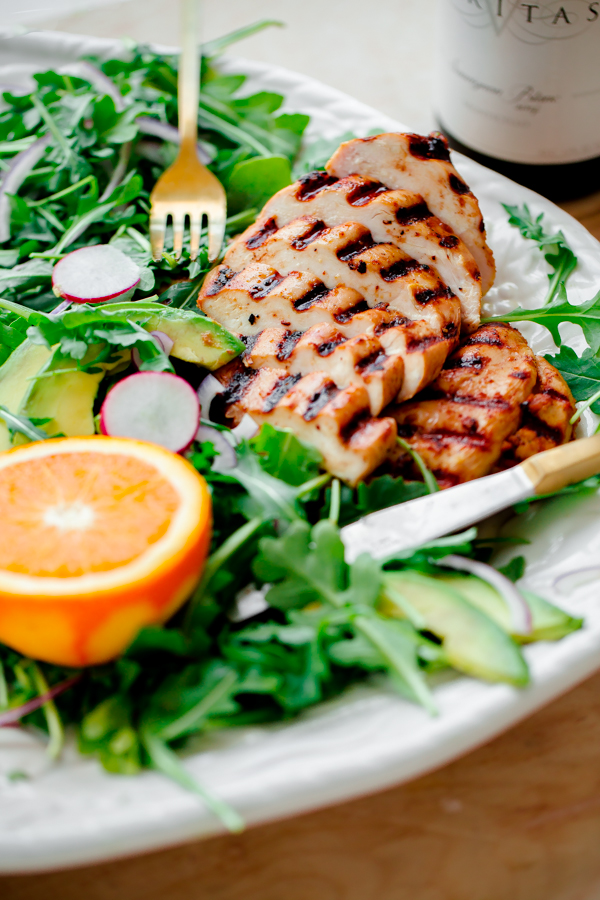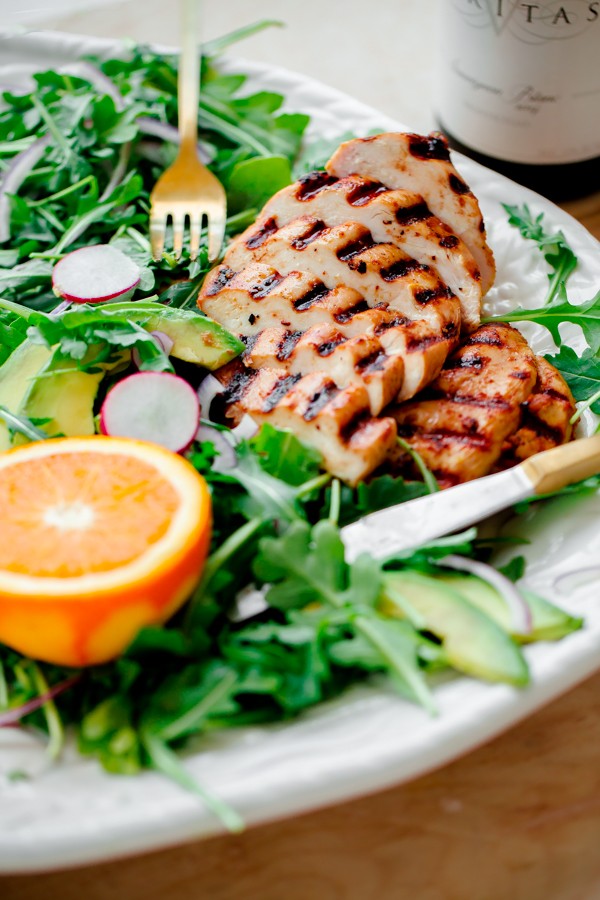 It is our go-to marinade for grilled chicken (in fact, I'm fairly positive we use it for steak as well). It would always taste a tiny bit different every time, as my mom is averse to following all recipes, including her own–but the ingredients have always stayed the same.
Despite having a little bit of an Asian flavor profile (the marinade has lots of fresh ginger and soy sauce in it), this chicken marinade is very versatile.
The marinade only requires 7 ingredients, many of which are basic pantry staples: natural peanut butter, olive oil, Dijon mustard, Worcestershire sauce, fresh garlic, ginger, orange juice, and soy sauce.
This also means you can make this chicken basically at the drop of a hat, which I love. If you throw them all into a Ziplock freezer bag (which I tend to do), clean-up is practically non-existent too.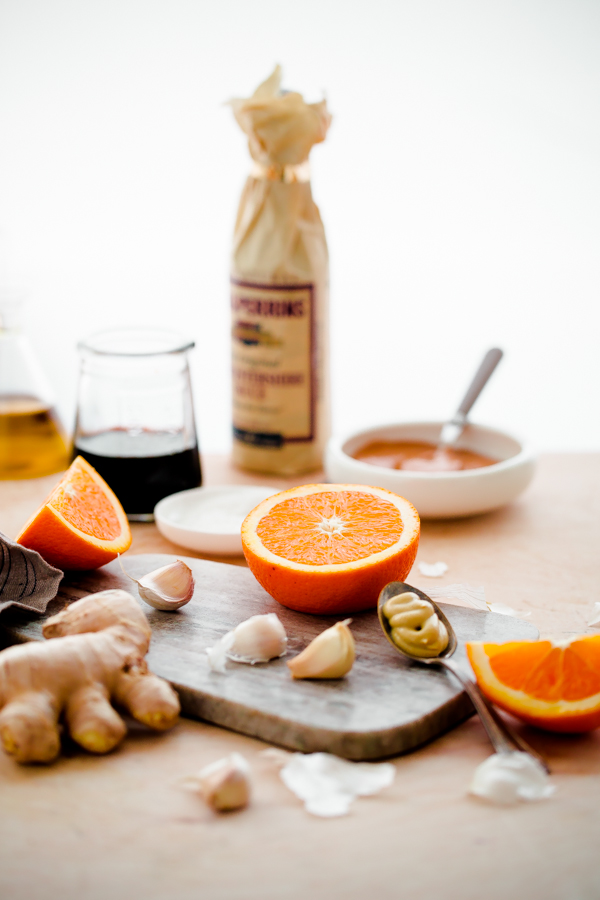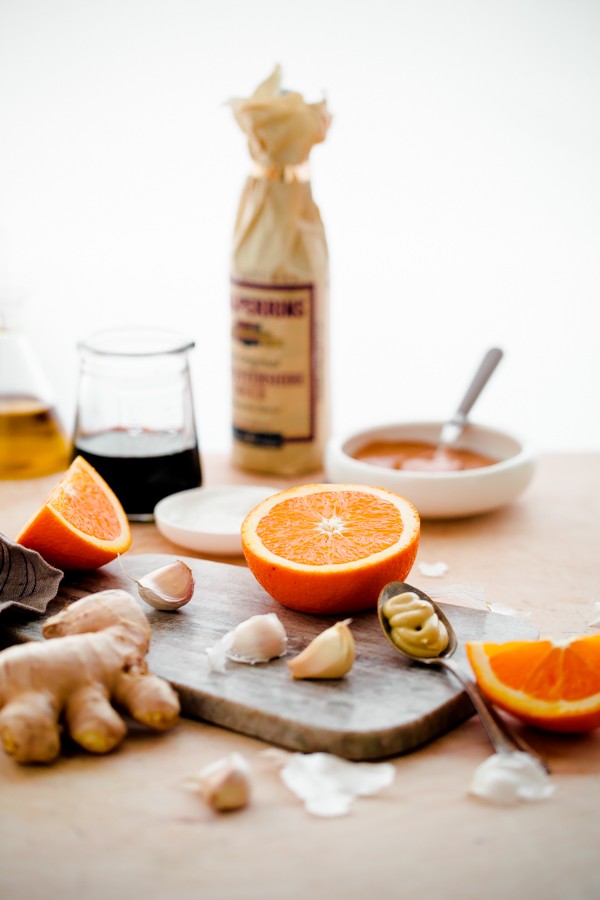 Other bonus points? This chicken marinade is incredibly reliable and everyone always loves it. Once you get the hang of it and get the basic ratios down, you won't even need to measure anything. Aren't those the best types of recipes?
The soy sauce in the marinade ensures that you'll have perfectly seasoned and moist chicken breast each time (in fact, you do not want to season this chicken again before you cook it, as the marinade takes care of this for you).
This chicken goes with practically everything. During the summer months, we would serve it up with a ridiculous quantity of grilled vegetables (zucchini, eggplant, bell peppers, onions, etc.).
It also goes works incredibly well for main-course salads (think of mix-in's like avocado, spring or red onions, radishes, or basically anything), as well as with stir fries. During the fall and winter months, I like to serve it alongside vegetables, such as Roasted Brussels Sprouts and Squash, or Green Beans Almondine.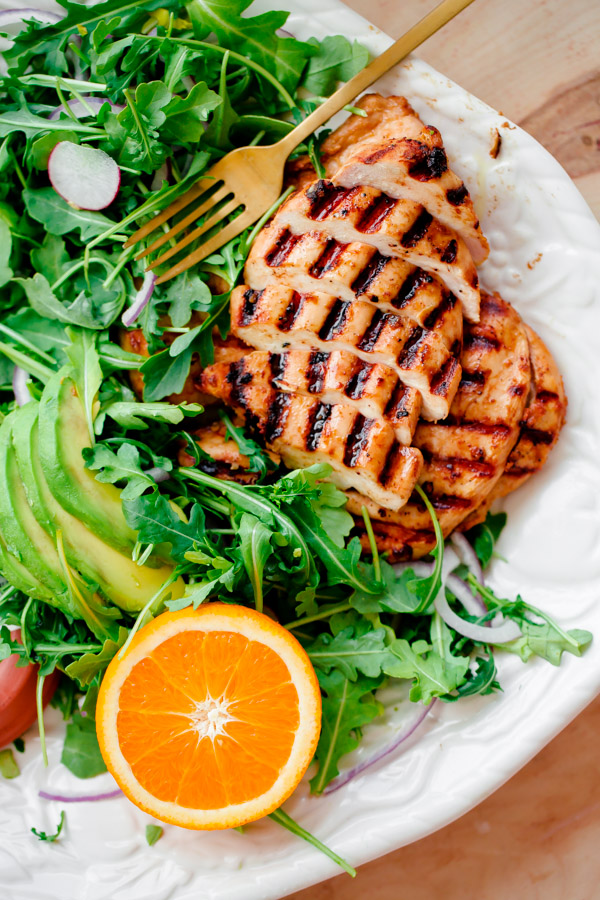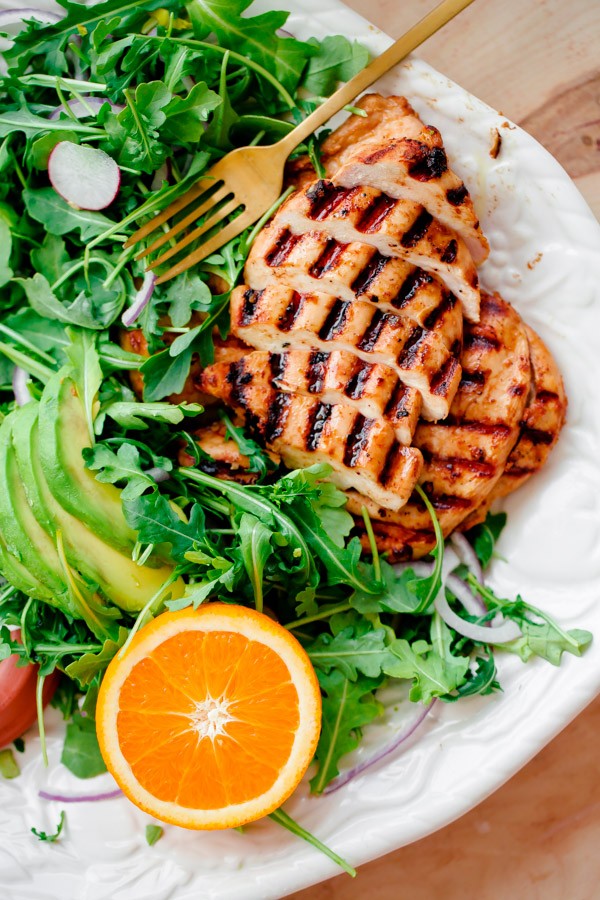 This chicken marinade also works extremely well for indoor grilling (a good cast-iron grill pan is worth the investment) or searing in a hot cast-iron pan. Hope you love this as much as my family does!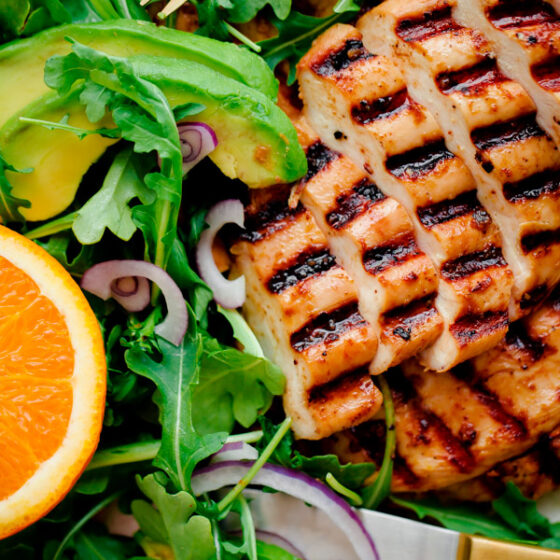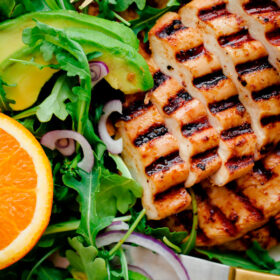 Favorite Everyday Chicken Marinade
My favorite all-purpose, everyday chicken marinade for all occasions. This easy recipe is incredibly versatile and makes moist, flavorful grilled chicken every time. My family loves to serve it with tons of freshly grilled vegetables during the summertime. It is also a great all-purpose marinade for main course salads and tastes fabulous with stir fries and other Asian-inspired meals.
Ingredients
3 tablespoons (45 g) unsalted creamy natural peanut butter
2 tablespoons (30 mL) extra virgin olive oil
1 tablespoon Dijon mustard
1 teaspoon Worcestershire sauce optional
2 inch chunk of fresh ginger peeled and finely diced
4 large garlic cloves finely diced
⅓ cup (80 mL) soy sauce
zest of ½ an orange optional
¼ cup (60 mL) fresh orange juice roughly ½ a juicy orange or substitute 100% pure orange juice
½ teaspoon freshly ground black pepper
4-5 boneless skinless chicken breasts roughly 2 to 2½ lbs
Instructions
Fold over the top half of a large freezer Ziploc bag (or reusable container, such as a Stasher bag) and add all of the marinade ingredients, except the chicken, to the bag. Close the bag (squeeze out any excess air) and combine the ingredients together - you want to make sure the peanut butter is thoroughly incorporated - by squishing the contents of the bag with your hands. Alternatively, you can place all of the marinade ingredients in a small mixing bowl, whisk them together, and then pour the mixture into a Ziploc bag.

Using tongs (or your hands), add the chicken breasts to the bag, squeeze out the excess air from the bag, and reseal. Make sure all of the marinade is evenly coating both sides of the chicken breasts. Place the bag flat on a large plate (I like to place mine on a quarter-size baking sheet, as I can store it easily in the fridge), casserole dish, or mixing bowl and marinate the chicken in the refrigerator for 45 minutes or as long as 2 hours. Avoid marinating the chicken for much longer than 2 hours, as the chicken will start to get mushy. If possible, flip the bag halfway through, but this is not required.

Ideally, remove the chicken from the fridge about 20 minutes prior to cooking, so that it comes slightly closer to room temperature. Heat an outdoor grill over medium-high heat (or alternatively, a large cast-iron grill pan over a stovetop). You do not need to season the chicken prior to cooking, as the soy sauce in the marinade takes care of this for you.

If using an indoor grill pan, grease the pan lightly with cooking spray. Grill the chicken (I prefer to do this in batches, depending on the size of the chicken breasts, so that the grill pan stays hot)for 4 to 5 minutes per side (cooking time is roughly 10 minutes per inch of thickness) - adjusting the heat accordingly.

Transfer the cooked chicken to a clean plate or serving platter and allow it to rest for at least 5 to 10 minutes. Once rested, slice the chicken against the grain and serve.
Tips for Success:
Feel free to swap out skinless boneless chicken breasts with skin-on or bone-in chicken breasts or chicken thighs (which have even more flavor!)–and adjust the cooking time as necessary. For indoor grilling, I find skinless boneless chicken breasts to be the best bet.
Serving: 1serving, Calories: 286kcal, Carbohydrates: 15g, Protein: 34g, Fat: 10g, Saturated Fat: 2g, Polyunsaturated Fat: 7g, Cholesterol: 85mg, Sodium: 928mg, Fiber: 2g, Sugar: 9g
This post contains affiliate links, which means that I make a small commission off items you purchase at no additional cost to you. Please read my
privacy policy
for more information.