Green Beans Almondine
A classic French recipe, green beans almondine, is elevated with sautéed shallots, garlic, freshly grated lemon zest, and lemon juice. An elegant, simple, and delicious side dish that can be prepped ahead and is great for the holidays!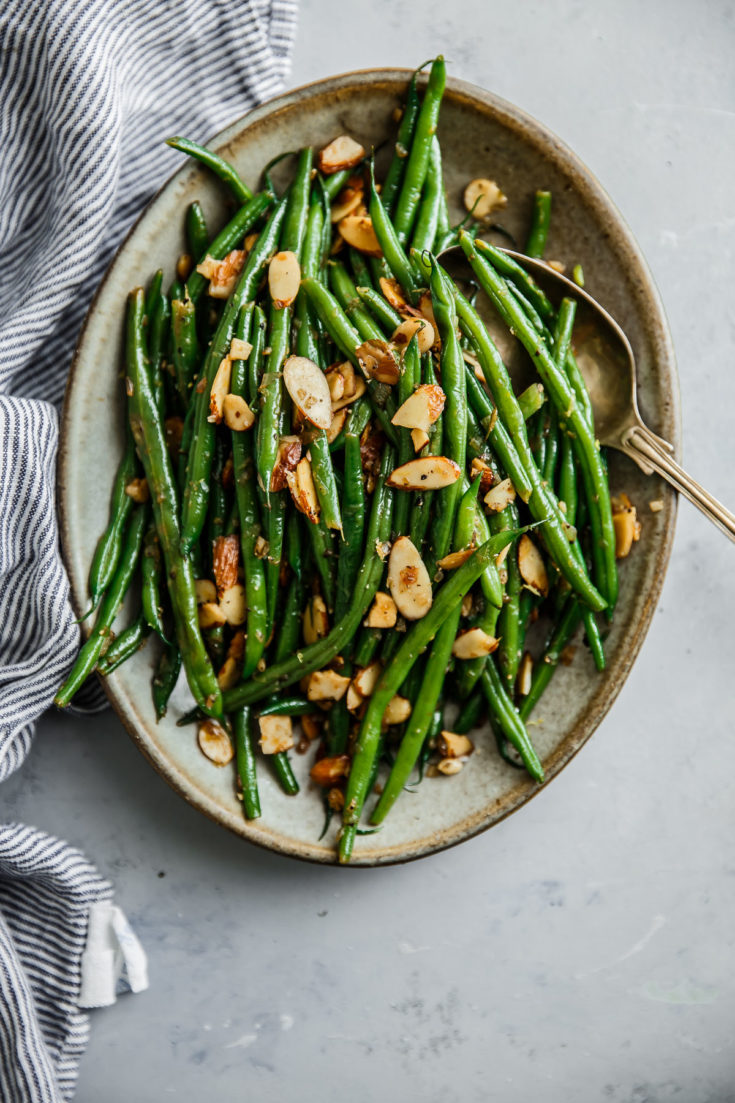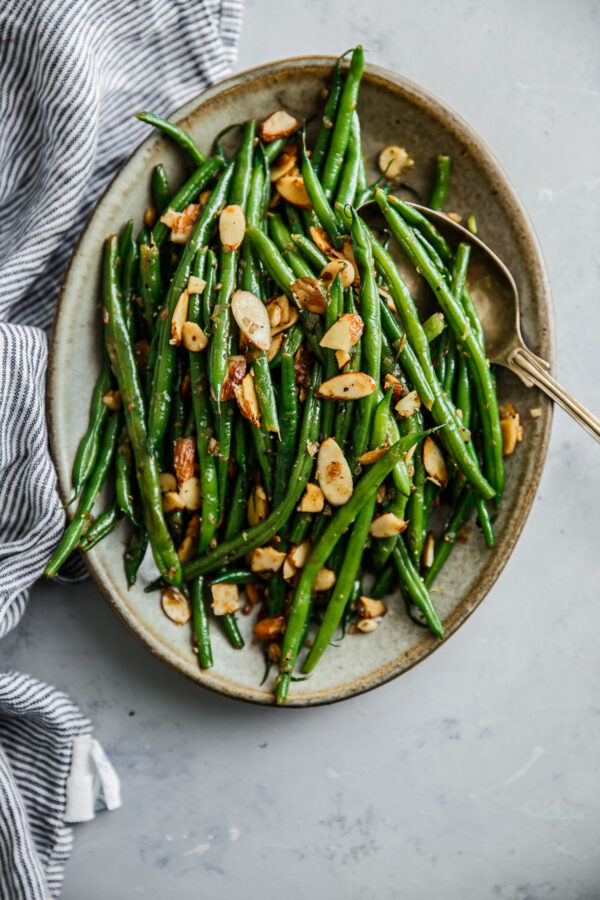 Green Beans Almondine
Meet my new favorite side dish! Green beans almondine. Aka, a fancier way of saying green beans with almonds. Except I didn't stop there. No, no.
Since we've been going full force on the sweets lately, I felt it was high time that I shared a delicious savory recipe with you. I wanted to keep it simple and elegant. But most importantly, I wanted to share a dish that you would turn to in the coming weeks.
When you're hosting a dinner party or contributing to a potluck, it's generally pretty straight-forward to pick the main course. It isn't always easy to come up with vegetable or side dishes to serve alongside it.
On the one hand, you don't want a side dish to be too simple (or, worse, boring). On the other hand, you don't want the flavors to distract from the main attraction. Trust me, we've all been there.


Green beans almondine is an approachable, yet elevated recipe that pairs well with just about everything. It can even be prepped ahead with a few simple steps. It also happens to be delicious.
My hope is that today's recipe will be one that you will turn to time and time again! The type of recipe that you learn how to master with your eyes closed, tweak and adapt, and make your own.
While my version isn't far off from others out there, but I would argue that as far as flavor balance, it is one of the best! It also happens to be more time-friendly, as we'll be skipping the ice bath (read below on why and when you can avoid this step).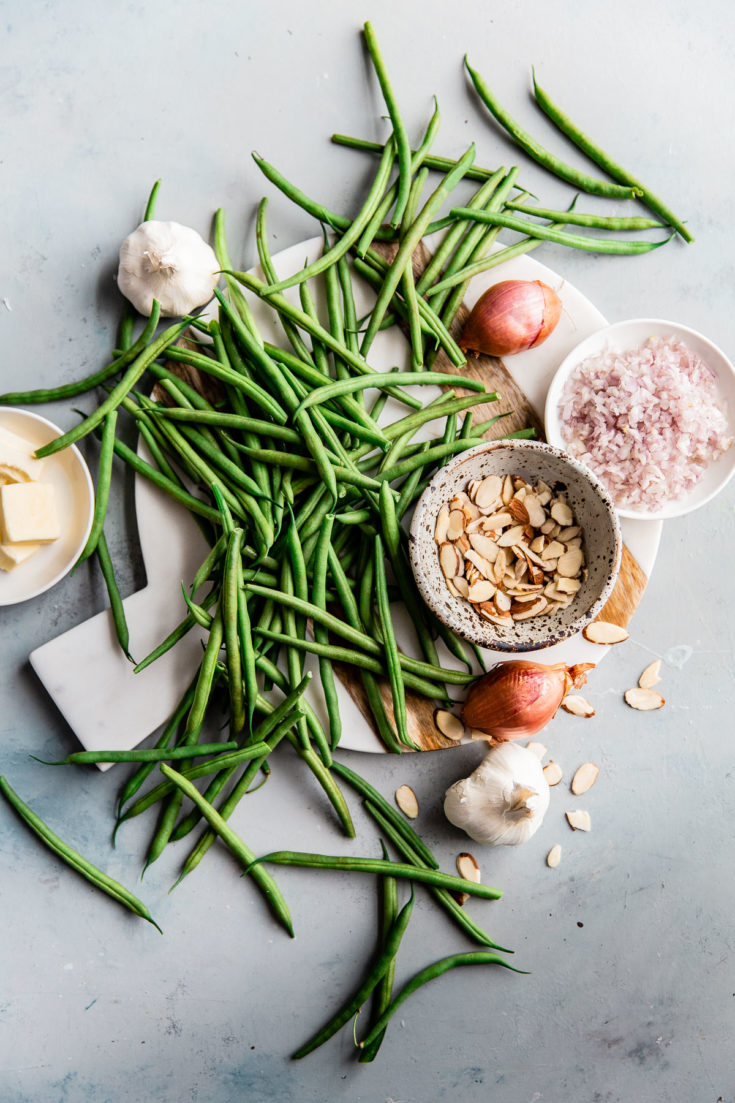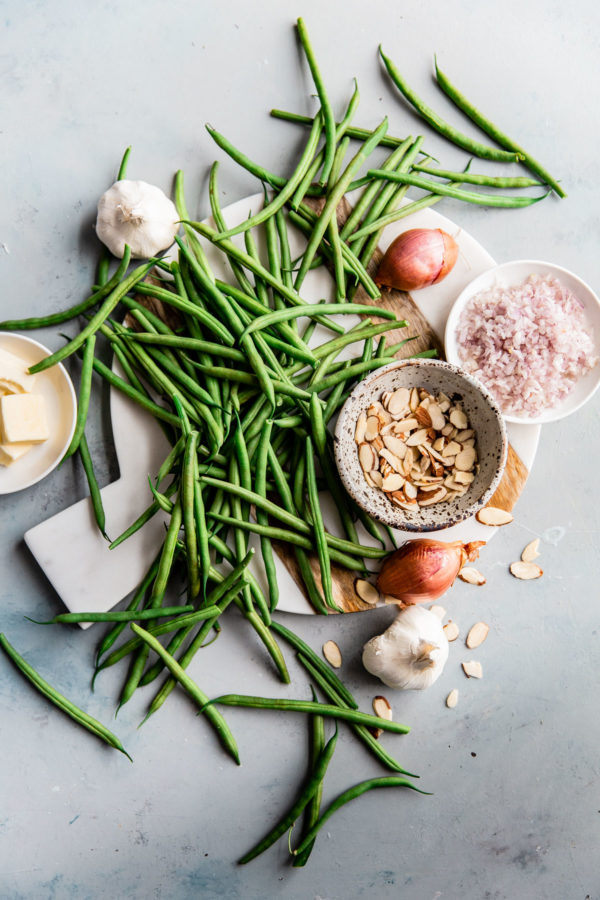 What is Green Beans Almondine?
Green beans almondine is a classic French dish of green beans with almonds. Almondine (or amandine) is a culinary term for an almond garnish.
If there is one thing that I learned while attending a classically French-based culinary school, it is that the French really like their almonds. They add them to many things. You might remember this trout almondine recipe that I shared years and years ago. It happens to be one of my favorites easy main course dinners!
Green beans almondine is simply green beans tossed with toasted sliced almonds (which are usually sautéed in butter) and a variety of other ingredients. My variation includes sautéed shallots, garlic, freshly grated lemon zest, and a touch of lemon juice.
The butter browns in the pan and becomes nutty and fragrant. The toasted almonds contribute texture and a slight touch of bitterness. The sautéed shallots and garlic add natural sweetness. The lemon zest and lemon juice contribute just the right amount of acidity to brighten and balance the dish.
It sort of reminds me of a classier, stove-top version of my favorite roasted broccoli recipe.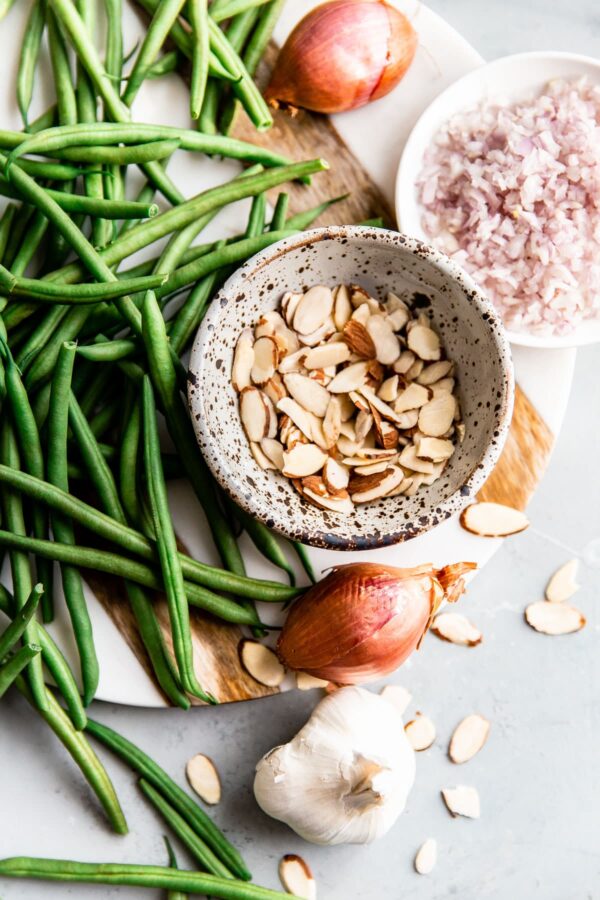 Tips For Success:
Green beans almondine isn't so much about the ingredient list, as it is about the ratio of ingredients and a few simple cooking tips and methods.
Here are my top tips for success:
read the full recipe twice before starting, as this dish comes together quickly
use French green beans (haricot vert); they are more tender, slimmer, and have better flavor than standard green beans. They also come pre-trimmed, which reduces prep time. Trader Joe's, Whole Foods, and Costco regularly sells them.
sautéing the sliced almonds in the butter, as opposed to dry in the skillet, not only adds flavor, but prevents the almonds from toasting too quickly
I prefer to finely dice the shallot, as opposed to thinly slicing it. This not only reduces sauté time, but also helps distributes their flavor better in the final dish.
for this recipe, we'll be par-cooking the green beans in boiling water. It is very important to heavily salt the cooking water. Do not skip this step. Heavily salting the water ensures that the green beans will be seasoned inside and out, and helps the green beans retain their bright green color.
cook the green beans in the boiling water until they are crisp-tender and squeak a bit between your teeth. They should be al dente. If you cook them beyond this point, they can break down in the skillet and become over-cooked. Always err on the side of under-cooking them.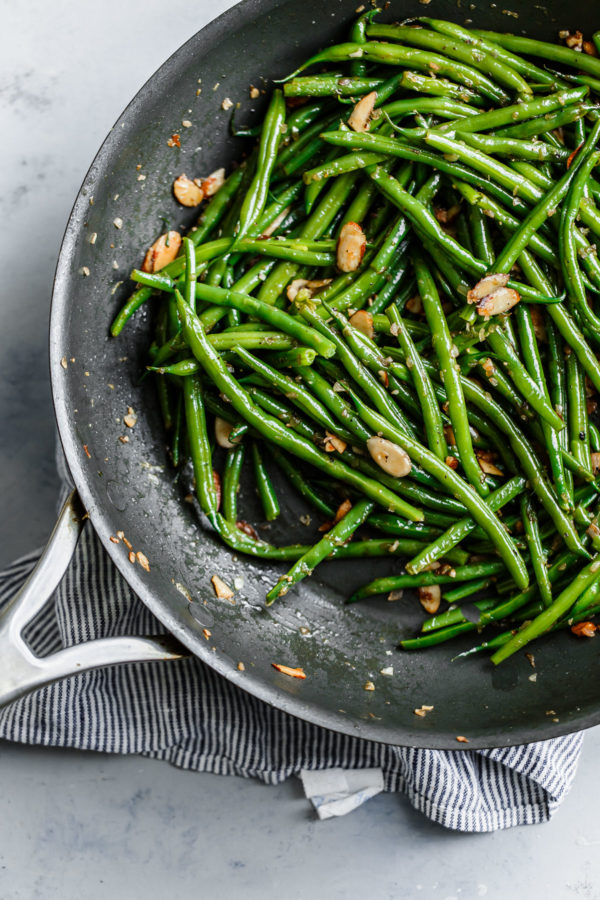 Make Ahead Tips & Instructions:
Many green bean almondine recipes call for blanching the green beans in boiling water and shocking them in an ice bath. This stops the cooking immediately and helps them retain their green color.
This step is very important if you wish to prep or make elements of this recipe ahead (you can find my full instructions for this in the 'tips for success' box at the bottom of the recipe card below). I'm normally a strong proponent of this method, but choose not to follow it for this particular recipe for a few reasons:
it isn't necessary if you're preparing the dish a la minute (at the last minute), as you can transfer the al dente green beans directly to the skillet along with the other ingredients
it avoids one additional step: having to clean extra dishes
if you cook the beans to the proper doneness and heavily salt your boiling water, you will not notice the difference in color or texture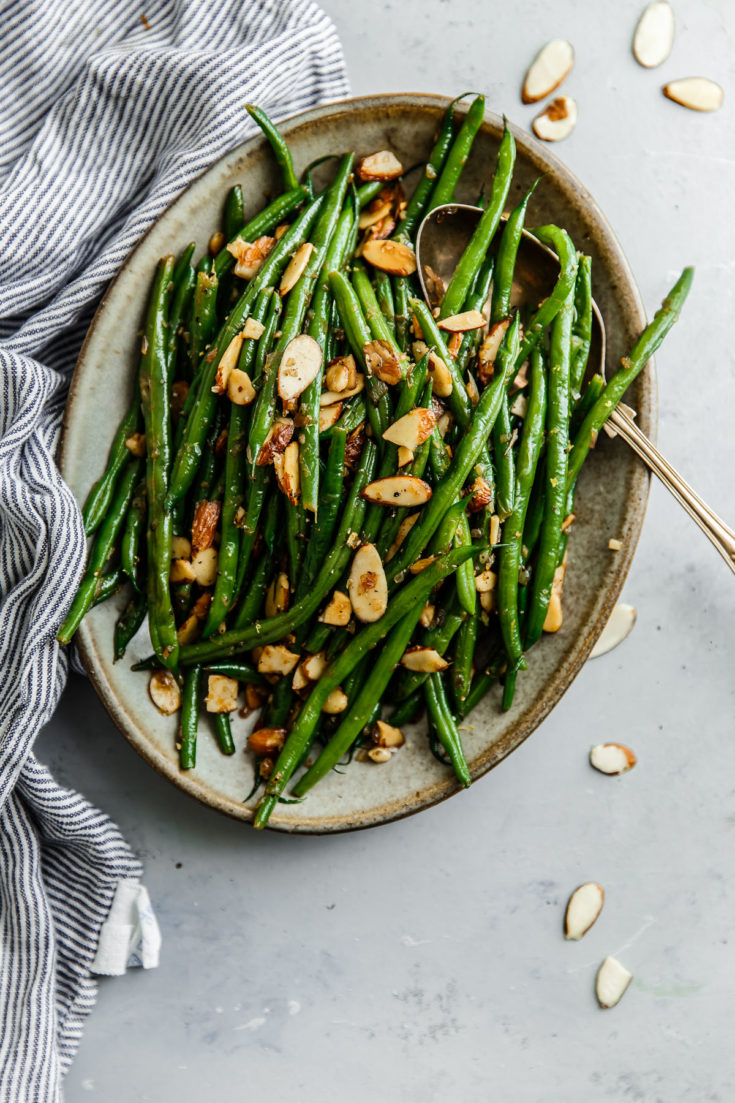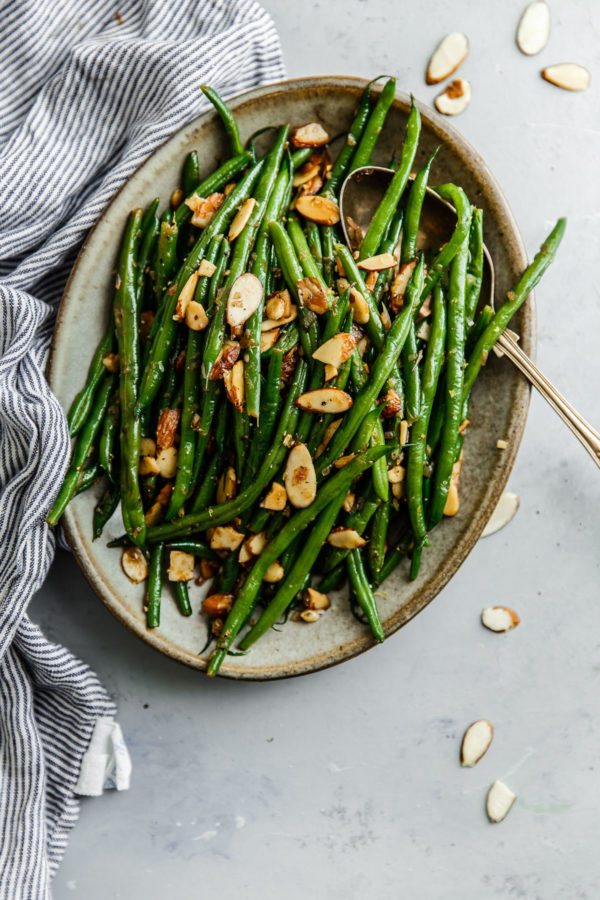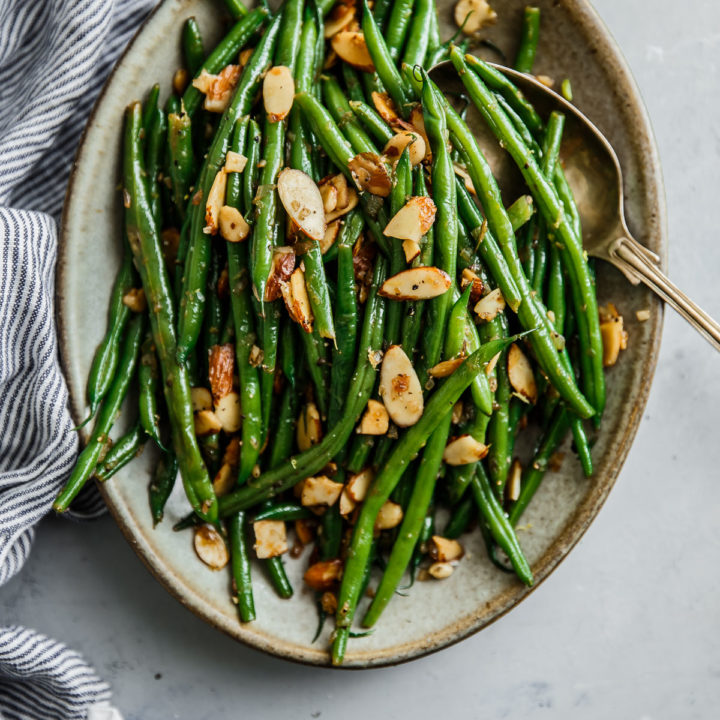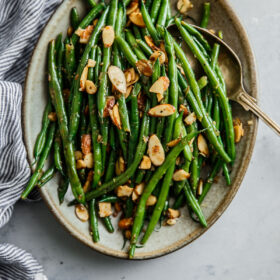 Green Beans Almondine
This classic French recipe of green beans with almonds has been elevated with sautéed shallots, garlic, freshly grated lemon zest, and lemon juice. This elegant, simple, and delicious vegetable side dish comes together quickly and is great for the holidays!
Ingredients
1 lb (16 oz) French green beans haricot verts, trimmed
2 tablespoons unsalted butter
¼ heaping cup raw sliced almonds
2 medium shallots finely diced
2 medium garlic cloves finely minced
zest of one small lemon
2 teaspoons freshly squeezed lemon juice
kosher salt to taste
freshly ground black pepper to taste
Instructions
Please see recipe notes below for make-ahead tips and instructions.

Bring a large pot of water to a boil. Season the water liberally with kosher salt (it should be very salty to taste). Salting the cooking water aggressively accomplishes two tasks: it ensures that the green beans will be seasoned properly inside and out, and also helps them retain their bright green color after cooking. For make ahead tips, please read the notes section at the bottom of this recipe thoroughly.

Blanch the green beans for 4 to 5 minutes, stirring occasionally, or until they are crisp-tender and slightly squeaky between your teeth. It is important that the green beans be slightly undercooked as they will be transferred directly to the skillet and will continue cooking during this time.

Meanwhile in a large skillet, melt the butter over medium-low heat until lightly bubbling. Add the sliced almonds and sauté, stirring frequently, for 2 to 3 minutes or until they are starting to turn golden brown. Reduce the heat to low and add the chopped shallots and garlic. Sauté for an additional 1 to 2 minutes, stirring frequently, until fragrant and lightly caramelized.

Using a large slotted spoon, tongs, or kitchen spider, transfer the blanched green beans from the boiling water directly to the skillet. Sauté briefly, gently tossing the green beans with the almond mixture until evenly combined and the green beans are tender. Add the lemon zest and lemon juice, toss once again, and season to taste with salt and freshly ground pepper. Serve immediately.
Tips for Success:
Make Ahead Tip: If you want to prepare this dish in advance, blanch the green beans as directed (reducing the cook time by an additional minute or so). Transfer the green beans to a large ice bath to shock. Once the beans are cool, drain and transfer them into a thin, even layer on a towel-lined baking sheet to soak up any excess water. Transfer the green beans to an airtight container or large Ziploc bag and refrigerate for up to 2 to 3 days. Just before serving, prepare the almond mixture as directed and add the par-boiled green beans. Continue sautéing over low heat until the beans are heated through completely.
Crockpot or Slow Cooker: While I haven't personally tested this option, I've heard from multiple people over the years that once the green beans are prepared, they can be transferred to a crockpot or slow cooker and kept warm (over the low setting) prior to serving. If you are doing this, be more careful with the cook time for the green beans, as they might be sensitive to becoming over-cooked with this method. In addition, I really only recommend this route if you are using the crockpot to keep them warm for a shorter period, not all day. 
Serving: 1serving, Calories: 156kcal, Carbohydrates: 17g, Protein: 5g, Fat: 10g, Saturated Fat: 4g, Polyunsaturated Fat: 5g, Cholesterol: 15mg, Sodium: 151mg, Fiber: 6g, Sugar: 7g
This post contains affiliate links, which means that I make a small commission off items you purchase at no additional cost to you. Please read my
privacy policy
for more information.