Baked Pumpkin Doughnuts with Cardamom Crumble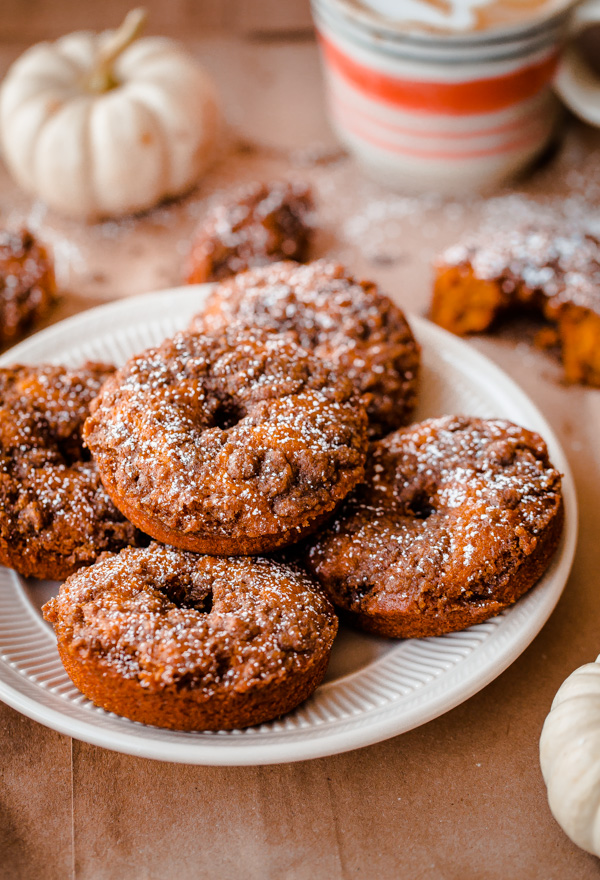 This post is in partnership with Intel Tablets.
Hi! My name is Laura and I have a serious addiction to cardamom.
The addiction tapers slightly in the spring and summer, but gets totally out-of-control during the months of October, November, December, and…well..any month out of the year when I can justify wearing one of those super long, loose sweaters.
Oh wait, I totally added cardamom to that lemon ricotta bundt cake that I shared earlier this summer. Apparently, I have zero self control. I CAN'T HELP MYSELF.
Hence, the need for cardamom crumble. Always and forever.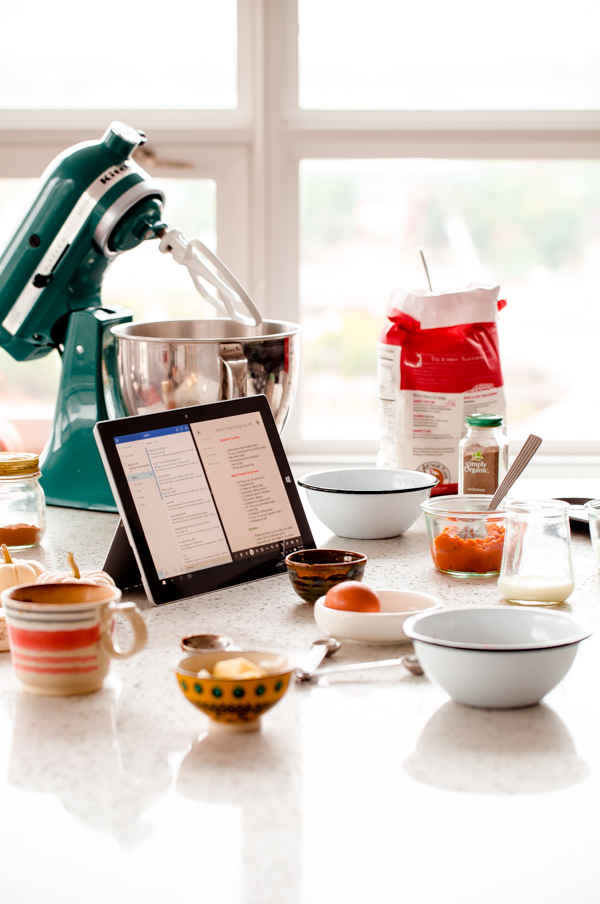 I'm fairly positive a decent chunk of my recipe development brain (are you in there?) is dedicated solely to 'what else can I add cardamom too?' thoughts. I have to literally stop myself from adding it to more things. It's become a running joke with my friends.
Let's face it, this blog isn't called "Cardamom and Other Things I Like to Eat." Although, maybe it should be…
I kid, I kid. Obviously, I'm pretty excited about the pumpkin in these baked pumpkin doughnuts. It took me a few weeks to fully embrace bringing pumpkin back into my kitchen, but if it gives me an excuse to break out all of my favorite fall baking spices (aka. cardamom), I'm all for it.
Hopefully you're into cardamom! If you're not into cardamom, hopefully you're into pumpkin! I'm not sure if anyone is not into doughnuts, so that helps.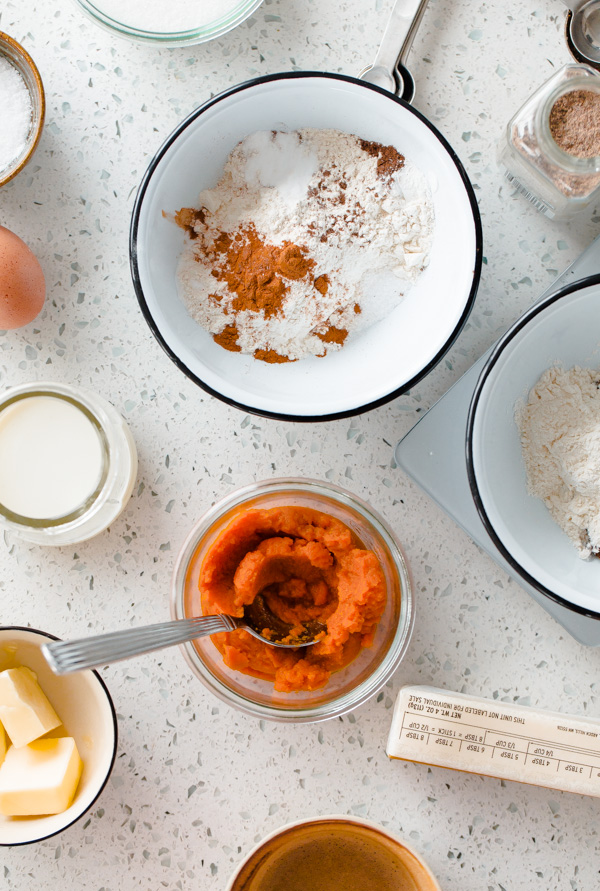 Other things that excite me: being organized and staying connected with all of you! Staying organized is trickier than it sounds, especially if you are juggling lots of tasks and responsibilities.
My days are a happy and chaotic blur of recipe testing, photography, social media, e-mails, writing, cleaning dishes (ok, this part sucks), photo editing, and more e-mails. I've always fancied myself to be a paper and pen gal, but I can't tell you how many times I've developed a recipe, written it in a notebook or on a sheet of paper, and somehow lost it along the way.
Those are never happy days.
So, I was very excited to partner with Intel Tablets for today's recipe and get the opportunity to test out the new Microsoft Surface 3 tablet in the kitchen.
Was I convinced it would replace my favorite notepad and pen? Not necessarily, but it was worth a shot! My current system of organization wasn't exactly doing me any favors.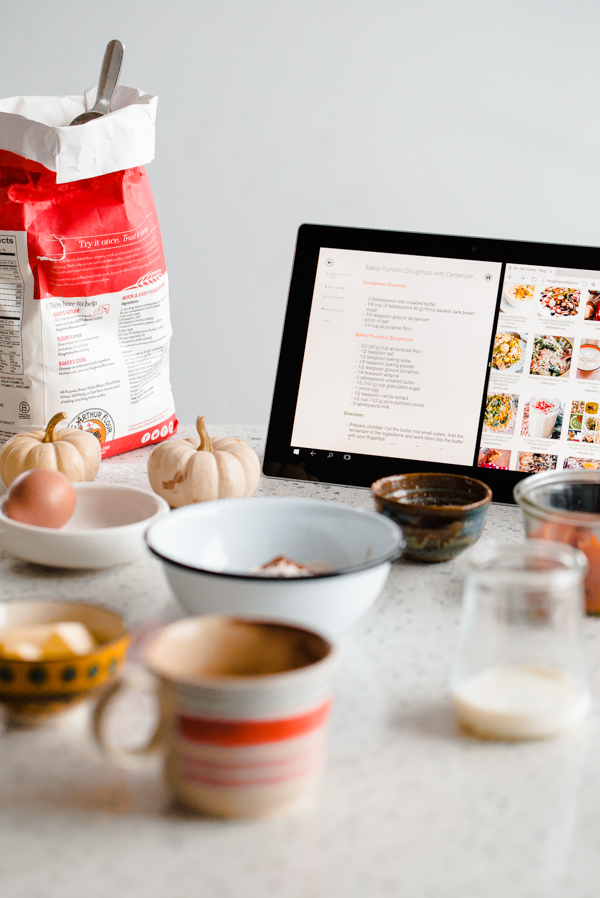 Much to my amazement, using this tablet in the kitchen has made a dramatic difference in my workflow, organization, and well….sanity. I use the Evernote app to type and write up all of my recipes ahead of time, and I'm able to display the recipes in the kitchen while I test them, make any edits or changes, and keep everything in one place.
The sturdy built-in kickstand allows the tablet to be propped up easily on my kitchen counter top (this has always been my number one gripe with other tablets) and it takes up minimal space, which is a must when I'm cooking.
The Microsoft 10 update allows me to easily switch between multiple desktops too. I can also split the display screen, so that it displays both my recipe and/or e-mail and social media at the same time, allowing me to respond to all of your comments or recipe questions in a much more timely manner!
Major bonus points: the tablet has a memory card slot and supports Adobe Lightroom, which is the software that I use to edit all of my blog photographs.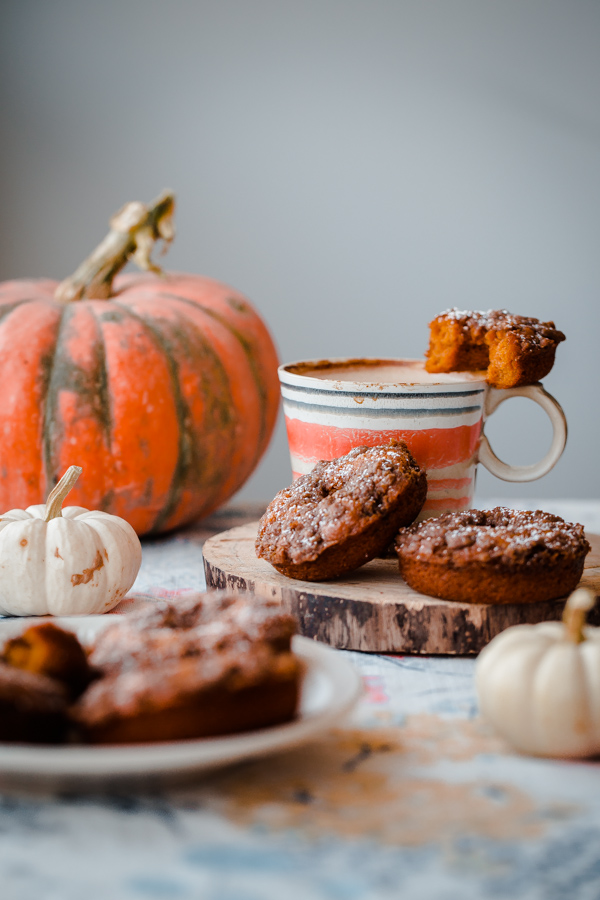 Aaah, memory card slots and baked pumpkin doughnuts. It's the little things that count, right?
P.S. If you're a cardamom freak like me and are craving fried (yet, easy!) doughnuts, try these ricotta beignets with lemon cardamom sugar! If you need me, I'll be in the kitchen adding cardamom to all.the.things.
Oh, so festive and cozy.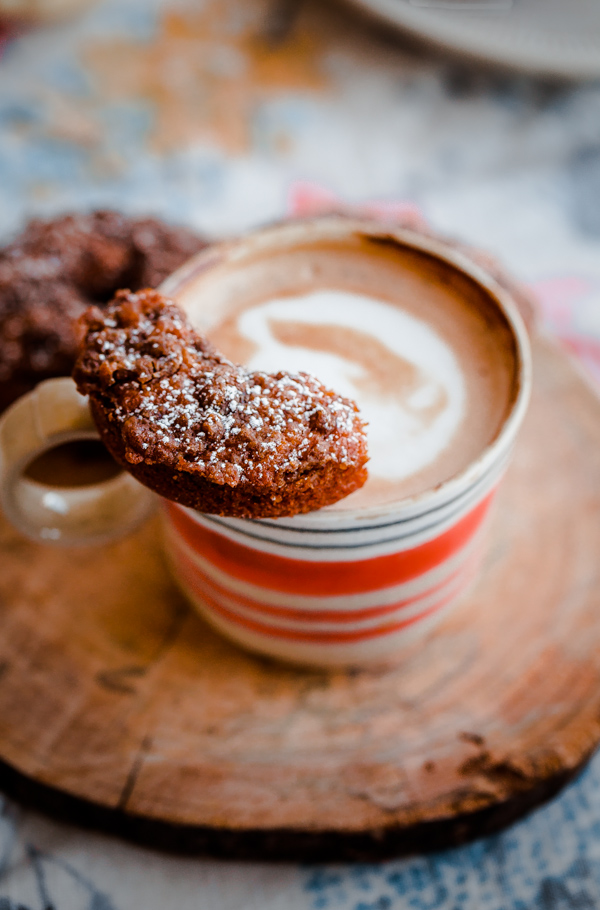 #spon: I'm required to disclose a relationship between our site and Intel. This could include the Intel Corporation providing us w/content, product, access or other forms of payment.
 Thank you for reading and supporting the companies I partner with, which allows me to create unique recipes and content!
This post contains an Amazon affiliate link. Thank you for your support!