Forbidden Rice Risotto with Kale Pesto
A twist on classic Italian risotto prepared with Forbidden rice and topped with a homemade kale pesto.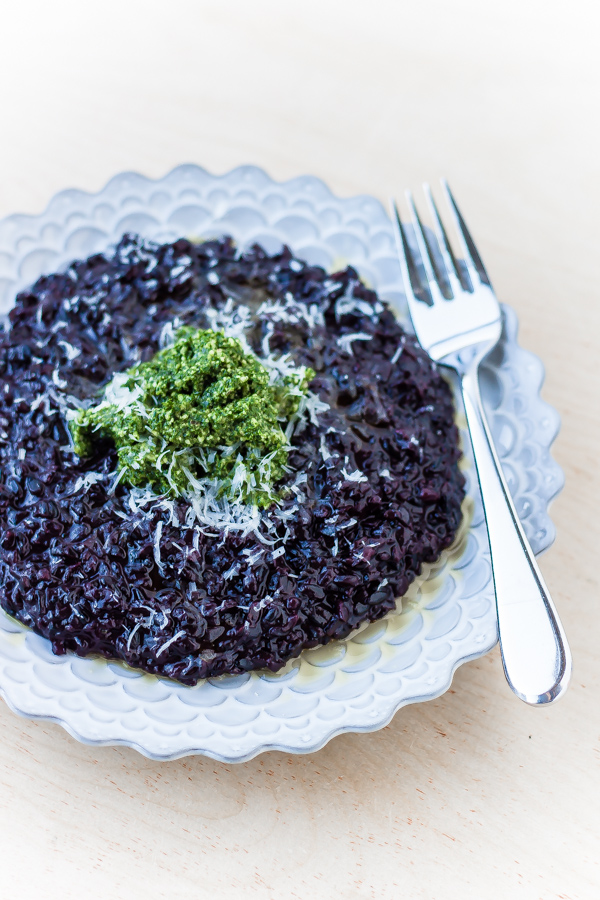 We're doing things a bit differently today! Instead of classic arborio (or carnaroli) rice risotto or even farro risotto, we're making Forbidden rice risotto today! It has a stunningly dark color.
Do not worry, this dish will not stain your teeth.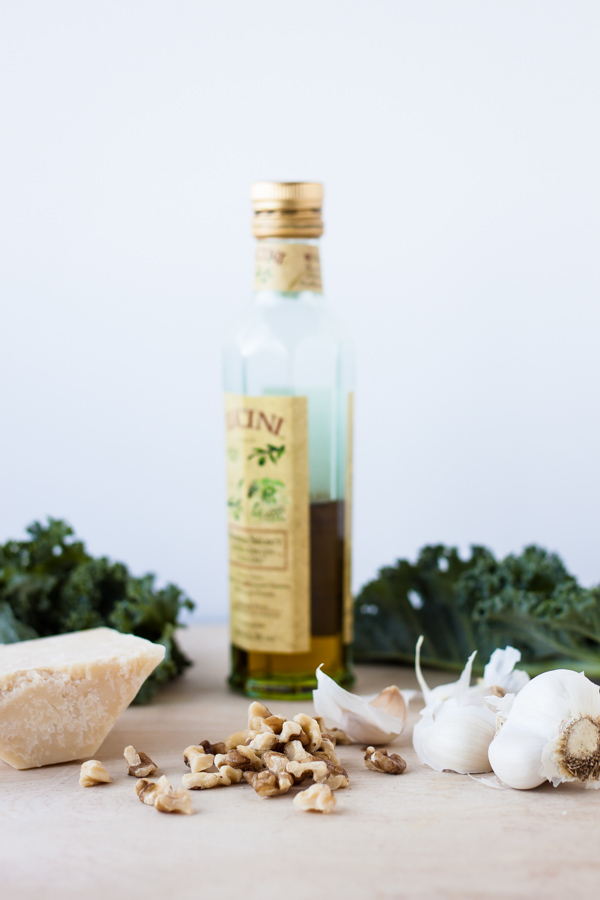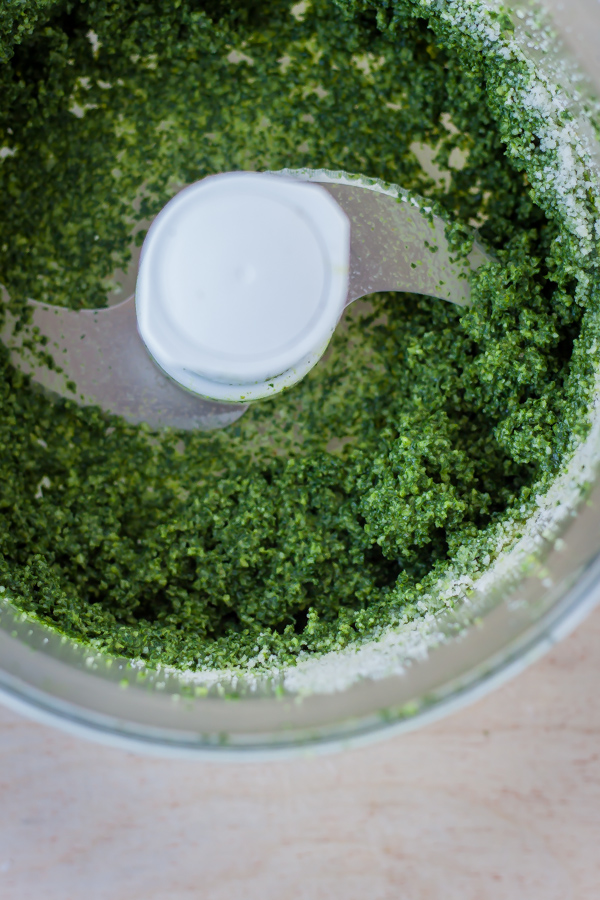 What is Forbidden Rice:
According to legends, Forbidden rice was eaten exclusively by emperors in ancient China. Luckily, it is now grown in areas of China's sub-arctic Northeast provinces and has become increasingly available in most grocery stores.
It is incredibly high in antioxidants (similar to blueberries) and has a slightly nuttier flavor than other rice varieties. The deep, dark purple color is stunning and reminds me in many ways to Italian squid ink risotto.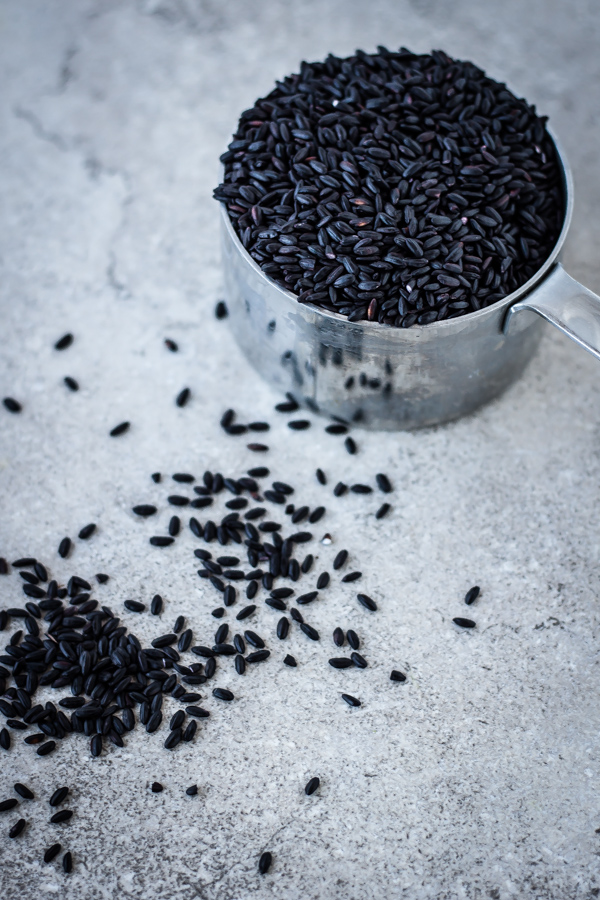 I'm fairly spontaneous when it comes to what recipes I end up cooking or sharing with you guys. I try to avoid over thinking it as much as possible.
This is actually the first homemade risotto that I've made all season. I've had a huge bag of black Forbidden rice sitting in my pantry for an embarrassingly long period of time.
Risotto was the first idea that popped into my head.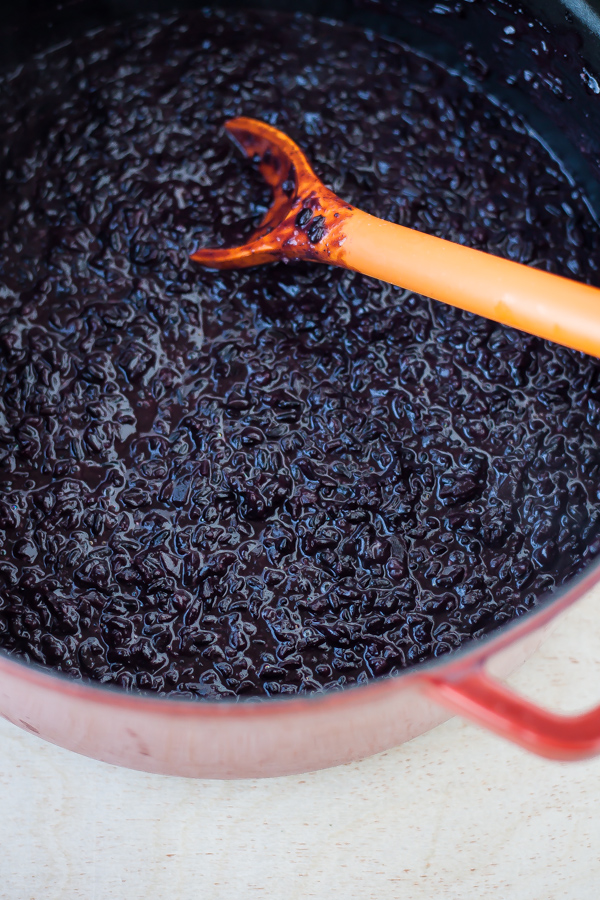 I'm sort of ashamed to admit this since I believe in eating seasonably as much as possible, but I definitely buy fresh basil on occasion in the winter months.
This time I opted to use kale in place of basil leaves. You could also prepare this dish with arugula pesto, which is an easier alternative. To improve the texture and flavor, the kale leaves are blanched slightly.
I loved the pop of color that the kale pesto adds to the dark Forbidden rice risotto!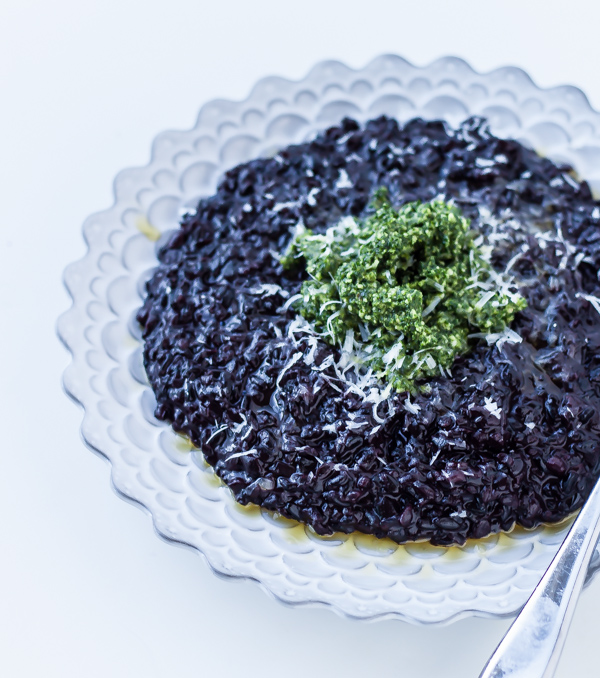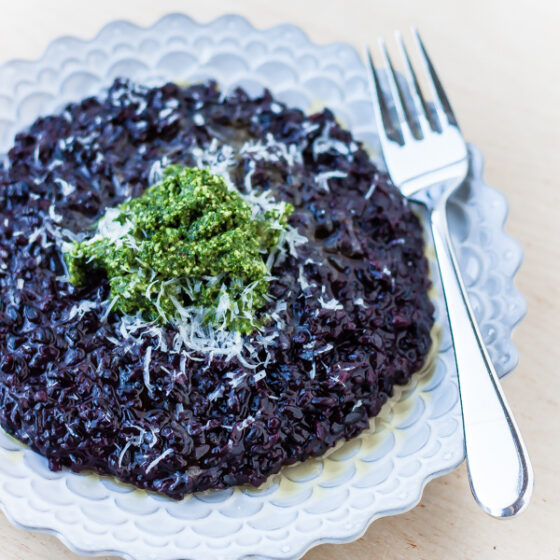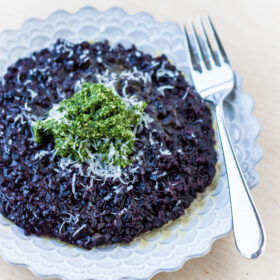 Forbidden Rice Risotto with Kale Pesto
A twist on classic Italian risotto prepared with Forbidden rice (black rice) and topped with a homemade kale pesto. To reduce prep or cook time, feel free to use a high-quality fresh store-bought pesto in place of homemade.
Ingredients
Kale Pesto:
1 large bunch of kale stems stripped and discarded
1 large garlic clove
¼ cup chopped lightly toasted walnuts
¼ - ⅓ cup (60-80 mL) extra virgin olive oil
⅓ cup finely grated Parmigiano-Reggiano cheese
kosher salt + freshly ground black pepper
Forbidden Rice Risotto:
6½-8 cups low-sodium chicken stock total amount needed can vary batch to batch
2½ tablespoons (35g) unsalted butter divided
1 medium yellow onion finely diced
1½ cups Black Forbidden rice
½ cup (120 mL) dry white wine
freshly ground black pepper
¼ - ⅓ cup finely grated Parmigiano-Reggiano cheese plus more for serving
Instructions
Prepare the Pesto: Strip the leaves from the kale stems (discarding the stalks or repurpose for vegetable stock) and place the leaves in a large colander set within your kitchen sink. Boil water in an electric or stove-top kettle.  Pour the boiling water over the kale leaves until they just begin to wilt.  Rinse the leaves with cold water to stop the cooking. Allow the leaves to drain and once cool enough to handle (or using the back of a wooden spoon), squeeze out and discard any excess water.

Place the garlic in the bowl of a food processor and pulse several times until fincely minced. Add the walnuts and blanched, pressed kale leaves. While pulsing, slowly add the olive oil and process until smooth. Stir in the grated parmigiano-reggiano cheese and season to taste with salt and pepper. Set aside.

Prepare Risotto: Place chicken broth in a medium saucepan. Bring to a very low simmer.

Heat 1½ tablespoons (20g) unsalted butter into a separate large, heavy-bottomed saucepan or Dutch oven over medium heat. Add the minced onions and a pinch of salt, stirring constantly, until they are very soft and translucent.

Add the Forbidden rice and stir everything together. Toast the rice for 1 to 2 minutes over medium heat, stirring constantly. Add the white wine and cook until almost completely evaporated and rice kernels are relatively dry.

Add a ladleful - roughly ½ (120mL) to ¾ (180 ML) cup - of the simmering stock, stirring every few minutes, until the stock has been absorbed and rice looks relatively dry. Adjust the heat as needed so that the broth is not evaporating too quickly.

Continue to add broth (using the same method) until the rice is al dente, soft on outside with a slight chewy interior. Total cook time will vary, but be roughly 40 to 60 minutes total, depending on your stove and the heat level. The risotto should be thick, but loose enough to flow on a plate or bowl. If the risotto becomes too thick, add additional stock to loosen it. Once risotto is ready, stir in the remaining butter and grated cheese. Season with salt and pepper to taste.

Top each serving with a spoonful of kale pesto and a drizzle of extra virgin olive oil. Serve immediately with additional grated cheese for serving. 
Serving: 1serving, Calories: 805kcal, Carbohydrates: 69g, Protein: 45g, Fat: 37g, Saturated Fat: 10g, Polyunsaturated Fat: 24g, Cholesterol: 63mg, Sodium: 2403mg, Fiber: 2g, Sugar: 26g
This post contains affiliate links, which means that I make a small commission off items you purchase at no additional cost to you. Please read my
privacy policy
for more information.