Forbidden Rice Risotto with Kale Pesto
A twist on classic Italian risotto made with forbidden (black) rice and topped with kale pesto.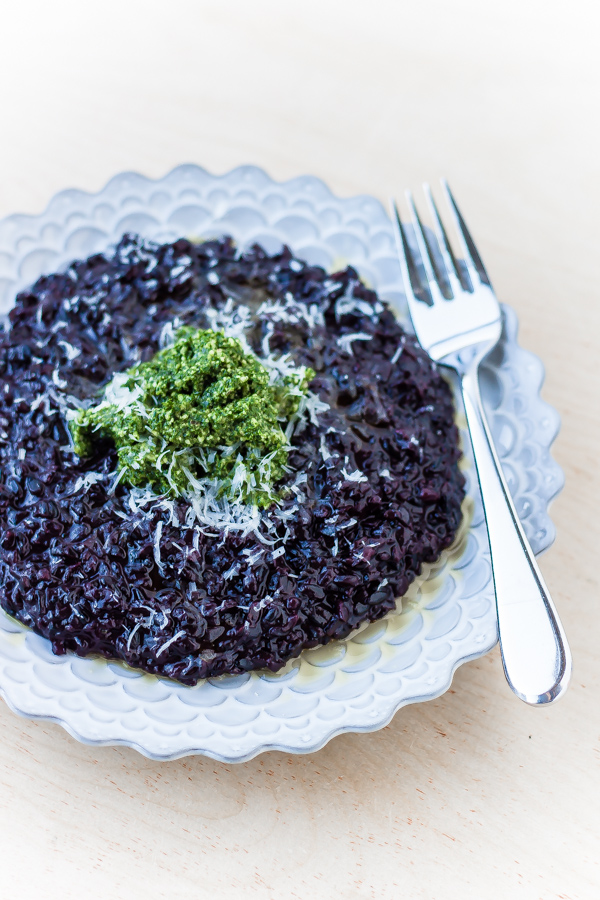 Ok, I have two things that I have to share with you immediately.  The first thing has to do with this forbidden rice risotto recipe.  I know that it looks a little…intense.  I swear that it is relatively normal and will not stain your teeth purple.  Trust me.  I ate a lot of it (you know, for testing purposes).
Also, I ended up taking it to work for lunch.  And yeah, the last thing I wanted to do was walk around like a dope with purple teeth.  Not a great look.  But let's be honest here.  It sounds like something that would happen to me.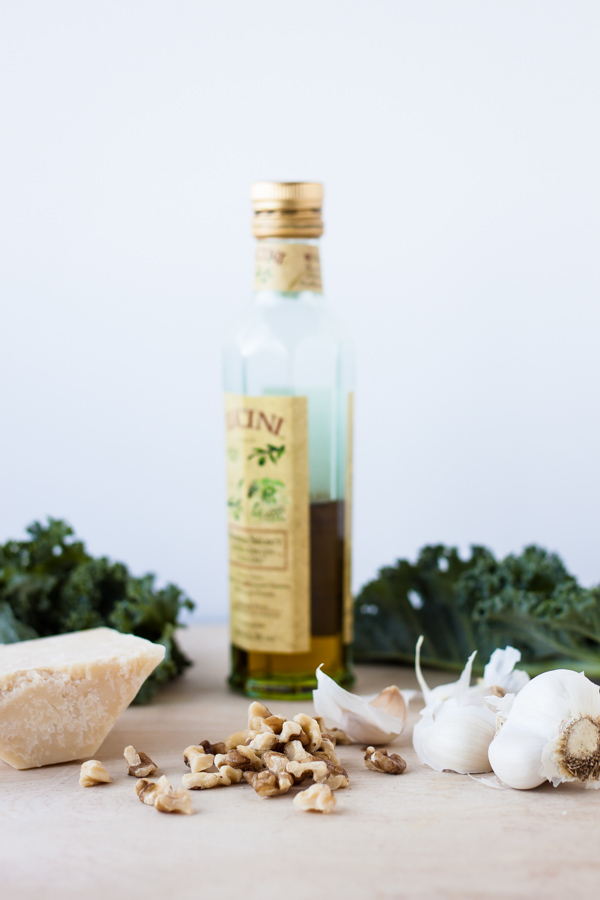 Second piece of news that you might or might not care about at all.  We picked a wedding venue spot yesterday!  And a wedding date (4/11/2015).  Maybe sharing my ineptitude at wedding planning  (or pure laziness) somehow helped make this happen.  Thanks internet.  You come in handy sometimes.
And somehow, despite being an incredibly picky control-freak, I was not involved in the process at ALL.  I literally haven't even seen the place in person.  With my own two eyes.  Connor visited it in person, took some pictures, and it took all of 15 minutes and 20 follow-up questions for me to come to a positive conclusion.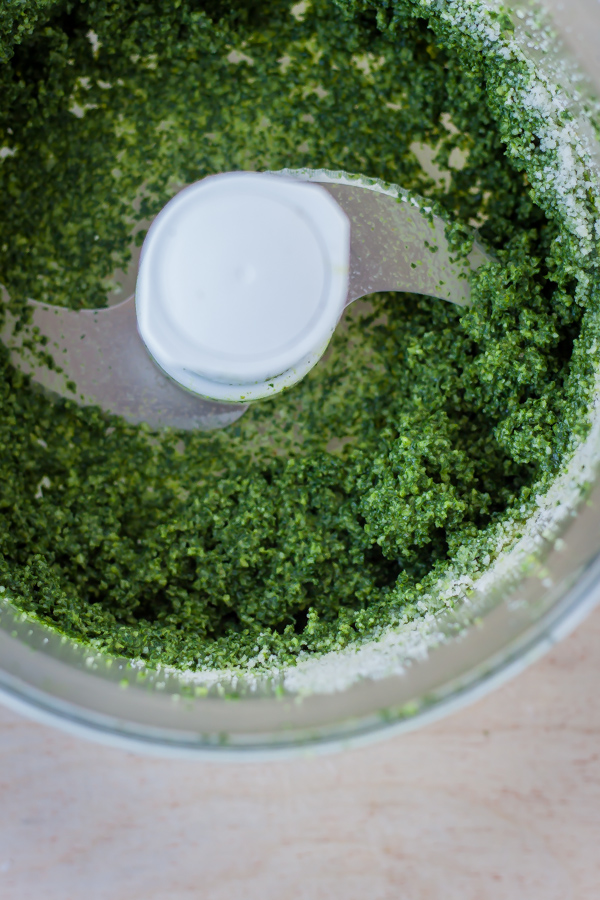 After having visited a bunch of venues this past weekend and nixing our top contender going into the process, I was starting to give up a little.  We decided a long time ago that we wanted the reception and ceremony to be at the same venue–and well, this definitely complicates things.
I also wanted the possibility of having both the ceremony and reception outside–or have an equally nice space to have both of them inside, depending on whatever weather mother nature decides to throw our way.  Basically, I wanted the best of both worlds, which is so very typical of me.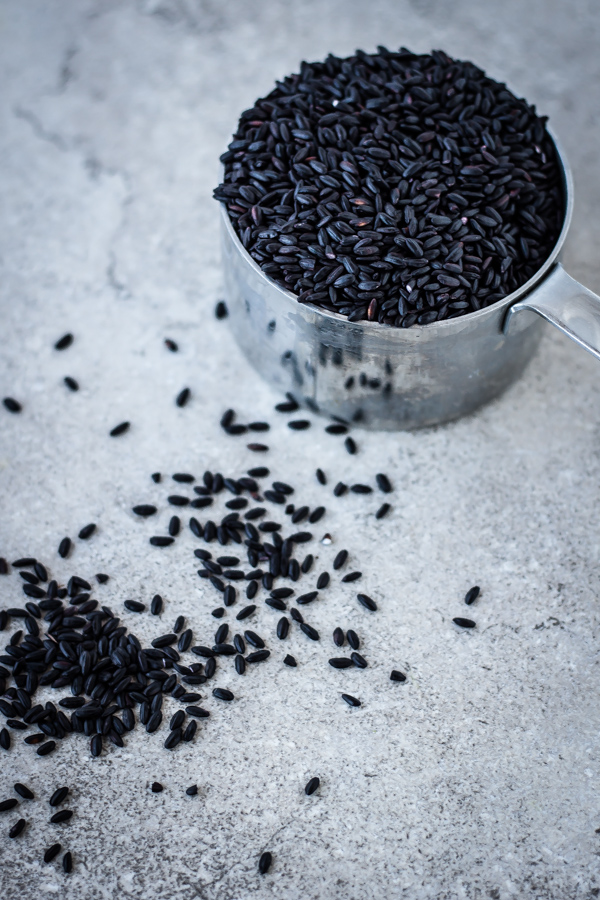 And somehow, we actually found a spot that is both pretty and meets basically every requirement.  And it wasn't booked yet.  So I'm thanking my lucky stars right now.
Whoever said that picking the venue was the most stressful part of wedding planning was absolutely spot on.  Obviously the pressure has exponentially increased now that we actually have a date–um, this is officially happening–but oh my gosh, I feel so relieved!  Maybe I'll actually get into this now?  We'll see.
I'm the type of person that needs to see the end goal and/or deadline to come up with a plan of action.  I have 407 days to do the rest.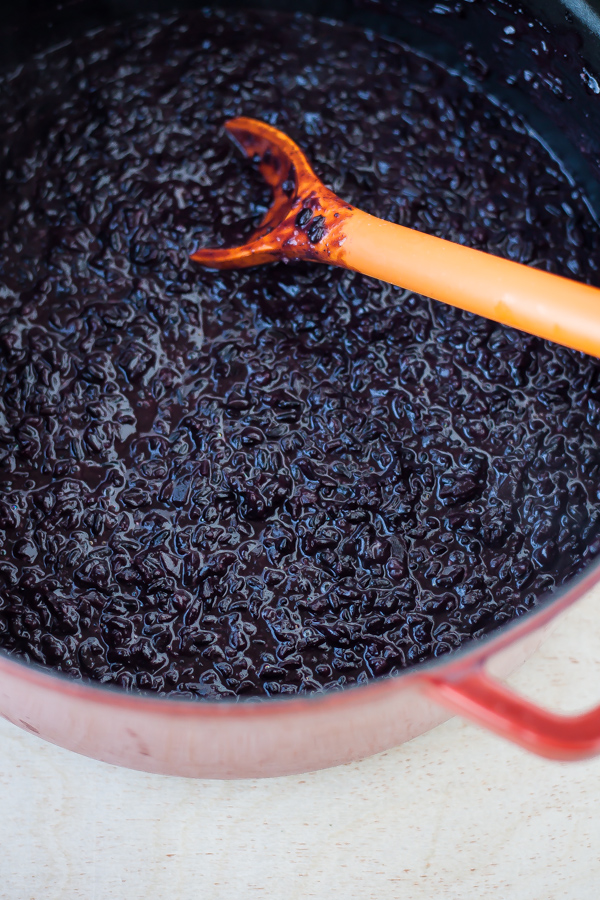 Anyway, I'm all about deadlines.  Except when it comes to food.  I'm fairly spontaneous when it comes to what recipes I end up cooking or sharing with you guys.  I try to avoid over thinking it as much as possible.
This is actually the first "risotto" dish that I've made all season.  I've had a huge bag of black Forbidden rice sitting in my pantry for an embarrassingly long period of time.  It was a spontaneous Costco purchase that I've completely forgotten about.  Risotto was the first idea that popped into my head.
Somewhere along the brainstorming process, my mind got stuck on the idea of topping it with pesto.  I'm incredibly biased towards basil pesto.  I enjoy an arugula pesto every now and then–and have tried all sorts of other variations–but I can never seem to get past the fact the–how shall I say it?–lack of basil.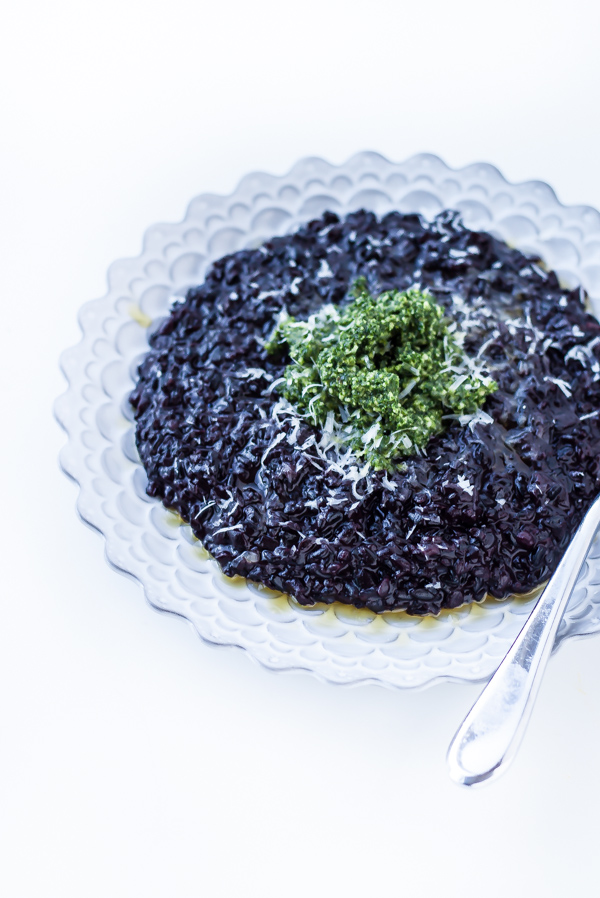 I'm sort of ashamed to admit this (since I try and do believe in eating seasonably as much as possible), but I've definitely bought basil in winter before.  I know!  Cue immense guilt.  I blame Trader Joe's.
But this time, I opted to be good and make a different (and new to me) pesto with kale instead.  Basil still wins–but I was pleasantly surprised by how much I actually liked it?  To improve the texture and flavor, I decided to blanch the kale leaves lightly by pouring boiling water over them in a colander, squeezing the excess water out, and then processing them with garlic, olive oil, walnuts, and parmesan cheese.
I loved the pop of color it added to the dark, purple risotto!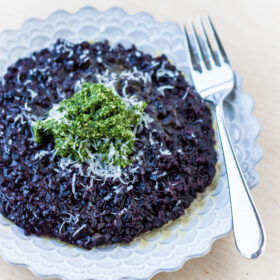 Forbidden Rice Risotto with Kale Pesto
Ingredients:
Kale Pesto:
1 large bunch of kale, stems removed and discarded
1 large garlic clove
1/4 cup + 2 tablespoons extra virgin olive oil
1/4 cup chopped lightly toasted walnuts
1/3 cup grated Parmigiano-Reggiano cheese
Forbidden Rice Risotto:
6.5-8 cups chicken stock (can vary)
1.5 tablespoons butter
1 yellow onion, finely minced
1/2 cup dry white wine
1.5 cups black Forbidden rice
freshly ground pepper
1 tablespoon butter
1/4 cup-1/3 cup grated Parmigiano-Reggiano cheese
Directions:
Prepare the Pesto:
Remove the stems of the kale and place the leaves in a large colander over a sink.  Boil water in an electric or stove-top kettle.  Pour the boiling water over the kale leaves briefly–until they just begin to wilt.  Rinse the leaves with cold water to stop the cooking.  Allow to drain and squeeze out any excess water.
Place the garlic in the bowl of a food processor and pulse several times until fincely minced. Add the blanched (squeezed out) kale and walnuts. While pulsing, slowly add the olive oil and process until smooth.
Add the cheese and pulse one or two to combine.
Remove and set aside in a bowl.  Season with pepper and salt.  Cover with a thin layer of olive oil and set aside.
Make Risotto:
Place chicken broth in a medium saucepan. Bring to a very low simmer.
Heat the butter in a large, heavy-bottomed saucepan or Dutch oven over medium heat.  Add the minced onions, stirring constantly, until they are soft and translucent
Add the black rice rice and stir.  Toast the rice for 1-2 minutes over medium heat.
Add the white wine and cook until almost completely evaporated–and rice is relatively dry.
Add a ladleful (about 1/2-3/4 cup) of simmering stock, stirring every few minutes, until the stock is asborbed and rice is relatively dry. Make sure the heat is the right temperature, so that broth is not evaporating too quickly, but the pot is still active.
Continue to add broth (using the method above) until the rice is al dente (soft on outside with a slight chewy interior).  This will take anywhere between 40 minutes to an hour, depending on your stove and the heat level.  The risotto should be thick, but loose enough to flow on a plate or bowl.  If the risotto becomes too thick, add additional stock to loosen it.
Once risotto is ready, stir in the butter and grated cheese.  Season with salt and pepper to taste.
Serve immediately.  Top with a spoonful of kale pesto, drizzle of olive oil, and additional grated cheese.
All images and text ©
.