Roasted Pineapple with Honey & Pistachios
Simple roasted pineapple, marinated in honey and orange juice, and topped with crushed pistachios and fresh mint. Serve with yogurt for a healthy snack, breakfast, or dessert!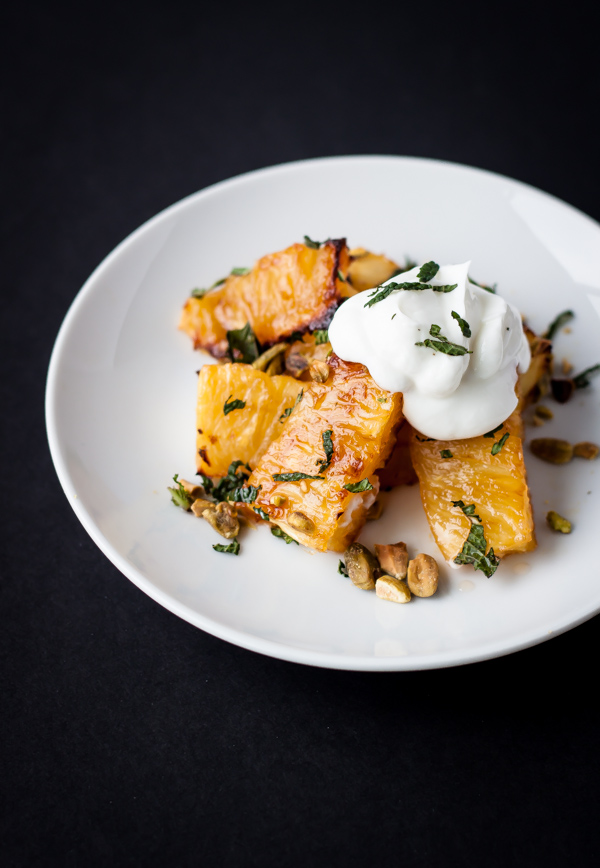 Dessert, breakfast, or snack? I honestly don't know how to classify this roasted pineapple with honey & pistachios–but I'm not sure I mind either way. And I promise that once you taste it, you won't either.
There are some fruits that just blossom with a little bit of caramelization in the oven. It's where the magic happens. Last year, I roasted apricots like it was my job. I ate them for breakfast with greek yogurt almost every day for weeks on end.
Well, I've decided that 2014 is the year of the pineapple.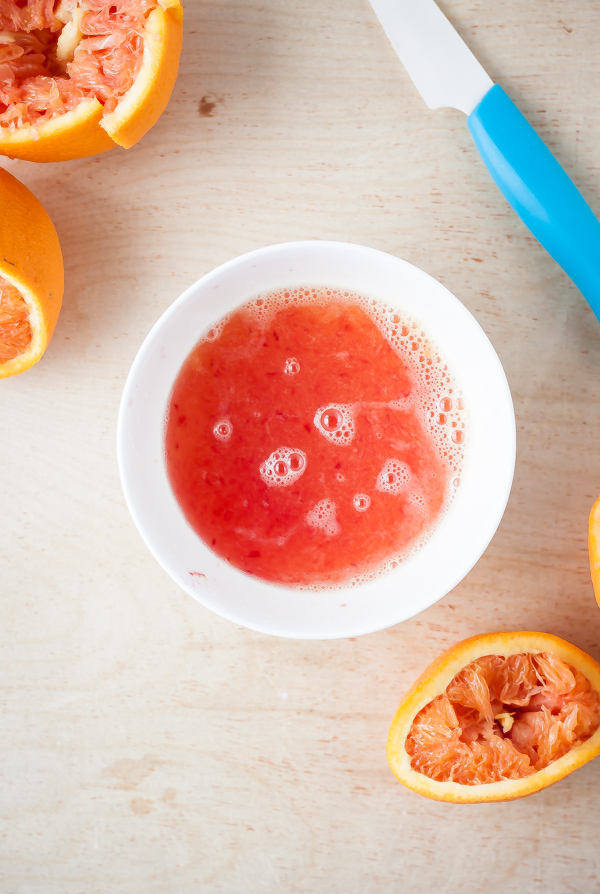 I have to admit, pineapple hasn't gotten a lot of action in my kitchen. Ever, really. It just is one of those fruits that I sort of forget about.
I stare at it longingly in the grocery store, enticed by its tropical aroma, but end up steering myself back to my normal fruit routine at this time of the year, which includes the typical oranges, grapefruits, kiwis, pears, and an occasional pomegranate here and there. But pineapple? Not so much. I think I've been scarred by too many awful pineapple experiences from sad fruit bowls or hotel buffets.
You know the ones I'm talking about, right? Not so great.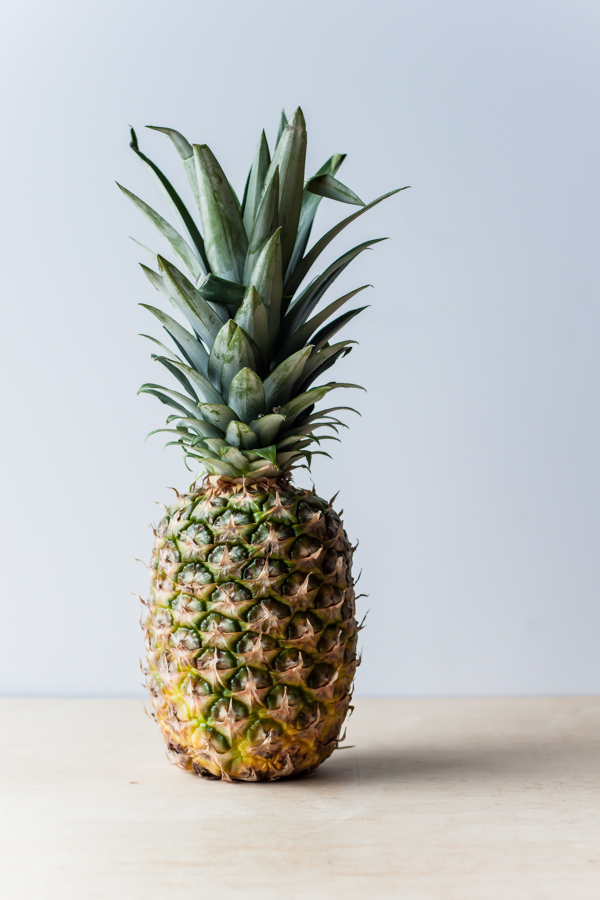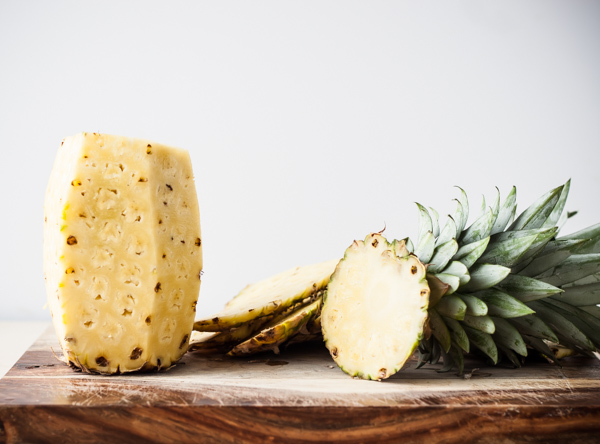 Well, ever since my mom gifted me a random pineapple a few weeks ago (she also sends me the occasional food-related package via snail mail, despite living only 30 minutes away)–I've been thinking about pineapple ever since.
I've been meaning to make some sort of crazy dessert with it. I'm sort of envisioning something with crispy puff pastry and some sort of coconut pastry cream–someone please convince me that needs to happen.
But when I stumbled upon this recipe the other day, I got sidetracked. In the best way possible.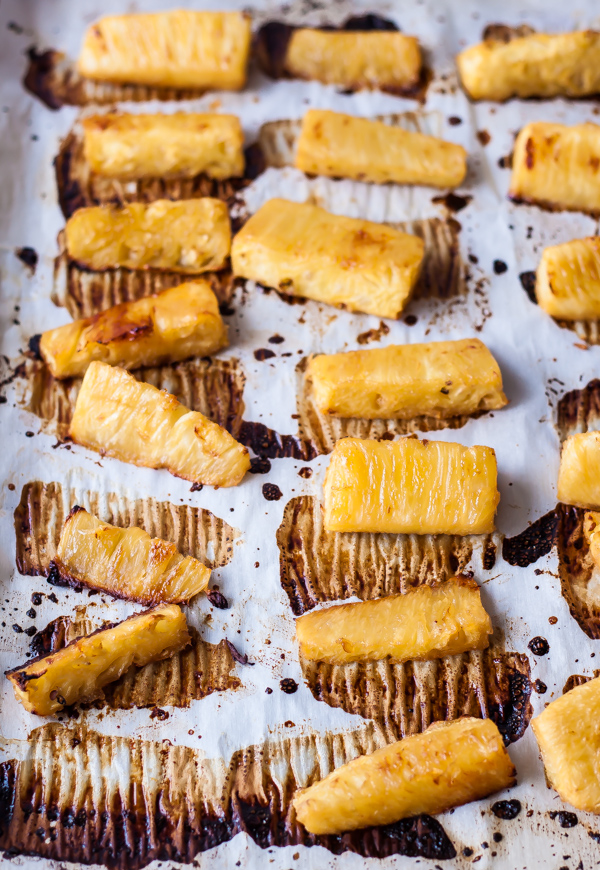 I should also mention that this recipe is really easy and simple. It does take about 30 minutes to roast–but if you prepared this on a weeknight or weekend, you could easily store the roasted fruit in the fridge and have snacks for days.
To help the caramelization process, and add even more flavor, the pineapple wedges are marinated briefly in a mixture of freshly squeezed orange juice (I used Cara Caras, hence the bright pink color above), brown sugar, and honey. It seems like a lot of sugar–but you end up discarding most of it at the end, so this dish is fairly healthy. The marinade also serves as delicious basting liquid throughout the roasting process too.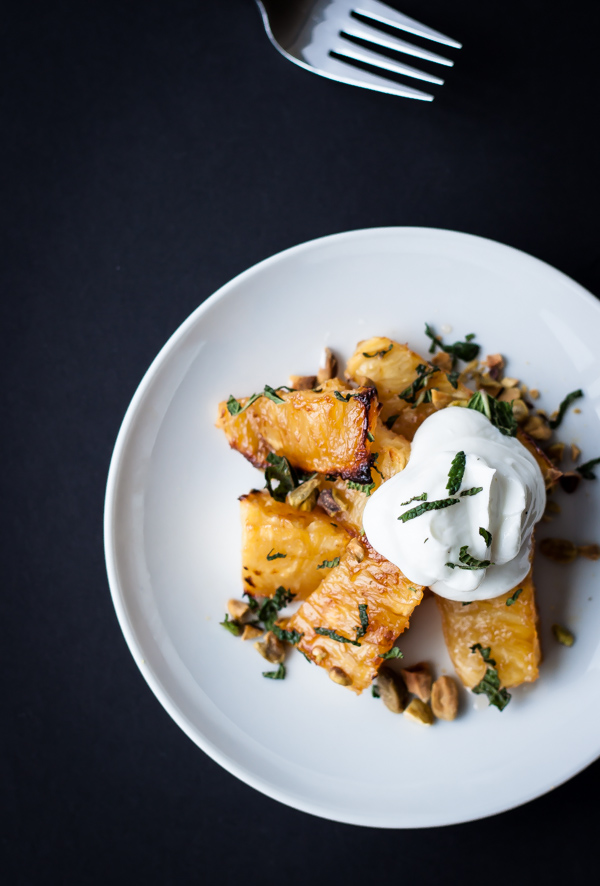 The final addition of chopped pistachios and fresh mint adds such an interesting dimension to the dish. The three ingredients work in perfect harmony with one another.
The mint brightens up the entire plate–and complements the tart sweetness of the pineapple so well–and the pistachios add the perfect crunch and texture. Although the original recipe suggested serving the pineapple with creme fraiche, I preferred a large dollop of low-fat Greek yogurt. I'm also 100% positive this would be amazing with coconut whipped cream or even coconut yogurt. Oh yes.
Definitely, definitely making this again soon.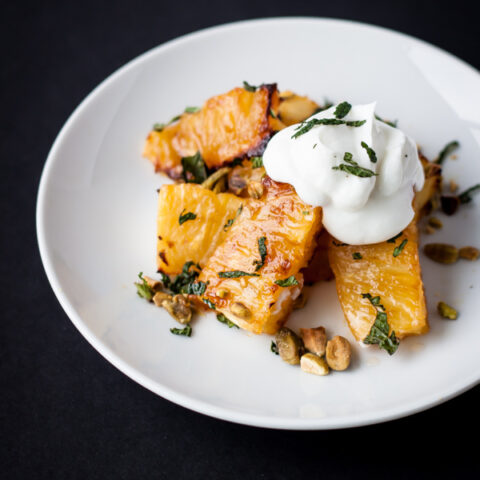 Roasted Pineapple with Honey and Pistachios
Yield: 3-4 Servings
Simple roasted pineapple, marinated in honey and orange juice, and topped with crushed pistachios and fresh mint. Serve with yogurt for a healthy snack, breakfast, or dessert!
Prep Time: 20 minutes
Cook Time: 1 hour
Total Time: 1 hour 20 minutes
Ingredients
1 large pineapple
1/2 cup freshly squeezed Cara Cara (or regular) orange juice
1/3 cup dark brown sugar, lightly packed
3 tablespoons honey
greek yogurt
pistachios, roughly chopped
fresh mint leaves, finely chopped
Instructions
Preheat the oven to 450 degrees Fahrenheit. Line a large baking sheet with parchment paper and set aside.
In a large bowl, whisk together the orange juice, brown sugar, and honey.
Peel and core the pineapple. Slice into 2-3″ long slices, roughly 3/4″ thick. Allow pineapple slices to macerate in the orange juice mixture for 10 minutes.
Remove pineapple from the marinade (reserve the marinade)–and place onto the baking sheet–spacing them apart evenly, so they are not touching. Roast for 15 minutes. Using tongs, turn the pineapple and brush each slice with the marinade. Continue to roast for an additional 15-20 minutes, until pineapple is lightly brown.
Allow pineapple to cool on rack. Remove from pan and toss with 2 tablespoons of reserved marinade.
Serve pineapple with greek yogurt. Garnish with chopped pistachios and fresh mint.
Notes
For a simple dessert, serve the roasted pineapple with coconut whipped cream!
Recipe adapted slightly from Bon Appetit.
Nutrition Information:
Yield: 4
Serving Size: 1
Amount Per Serving:
Calories: 185
Total Fat: 0g
Saturated Fat: 0g
Trans Fat: 0g
Unsaturated Fat: 0g
Cholesterol: 2mg
Sodium: 58mg
Carbohydrates: 43g
Fiber: 1g
Sugar: 40g
Protein: 5g
A Beautiful Plate provides nutritional information, but these figures should be considered estimates, as they are not calculated by a registered dietician.