Grapefruit Mojito Cocktail
A classic mojito cocktail gets a twist with fresh grapefruit juice! This refreshing, tart grapefruit mojito might become your new favorite cocktail.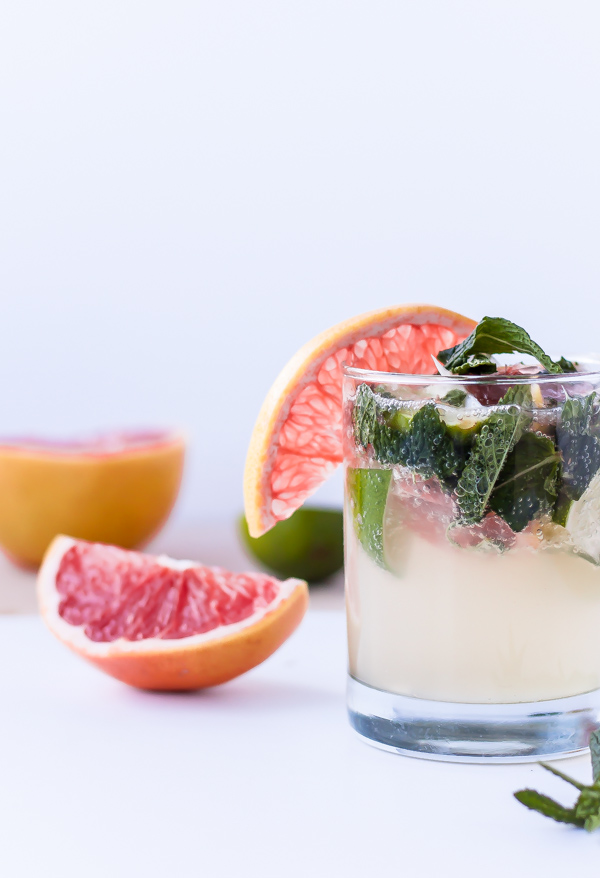 Happy Friday! Let's celebrate by drinking booze in the form of a grapefruit mojito.
I haven't quite hit my grapefruit threshold yet, so hopefully you guys don't mind the grapefruit overload. Also-this is my first cocktail on the blog. What????! It's true. You can go to the archives and check. I did.
Twice.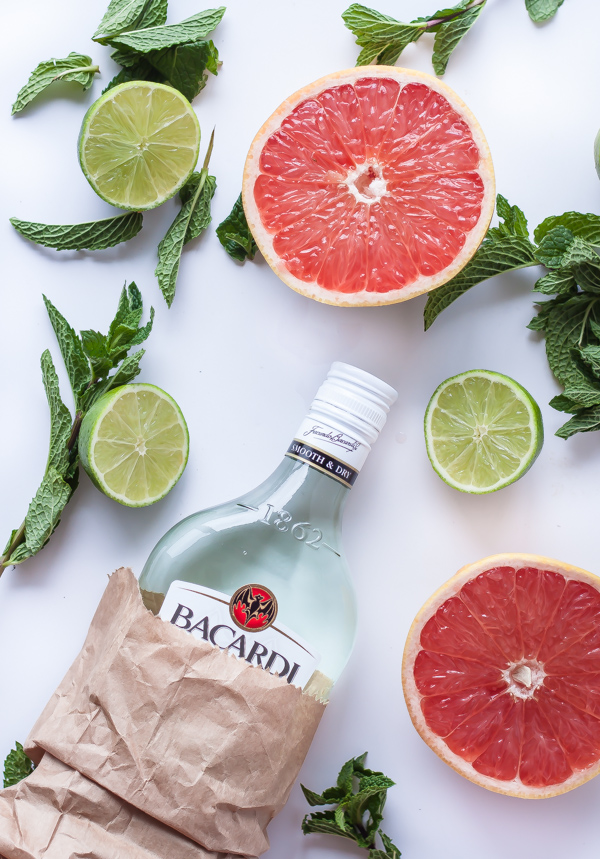 There are two explanations for this. The first is that I am a huge wimp when it comes to cocktails. I've always been a wine and beer gal. Always. I appreciate good cocktails, but I usually just find them way too strong. Again, I am a wimp.
I once tried a cocktail that was infused with jalapeno and I wanted to die (and I like spicy things). Whiskey makes me gag. Gin is my worst nightmare. I just…can't. I'd much rather buy a pint of beer with the guys and call it a day.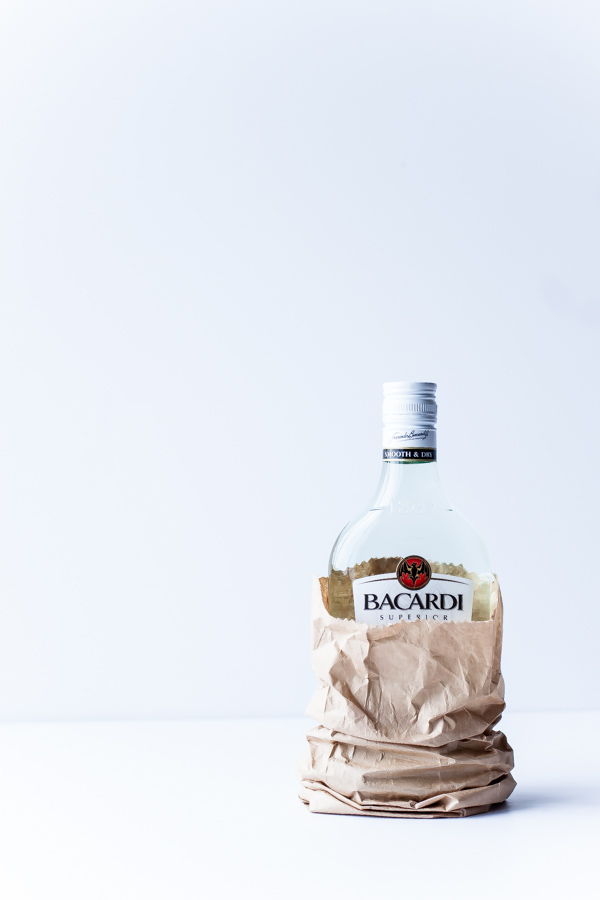 So that and the fact that I know nothing about mixology are probably why you haven't seen many boozy drinks around here.

That being said, there are a few cocktail staples that I can handle. And actually enjoy! Mojitos, magheritas, coronaritas (duh, beer), pina coladas, daiquiris, and anything involving Malibu or Kahlua. Could I be more girly? I doubt it.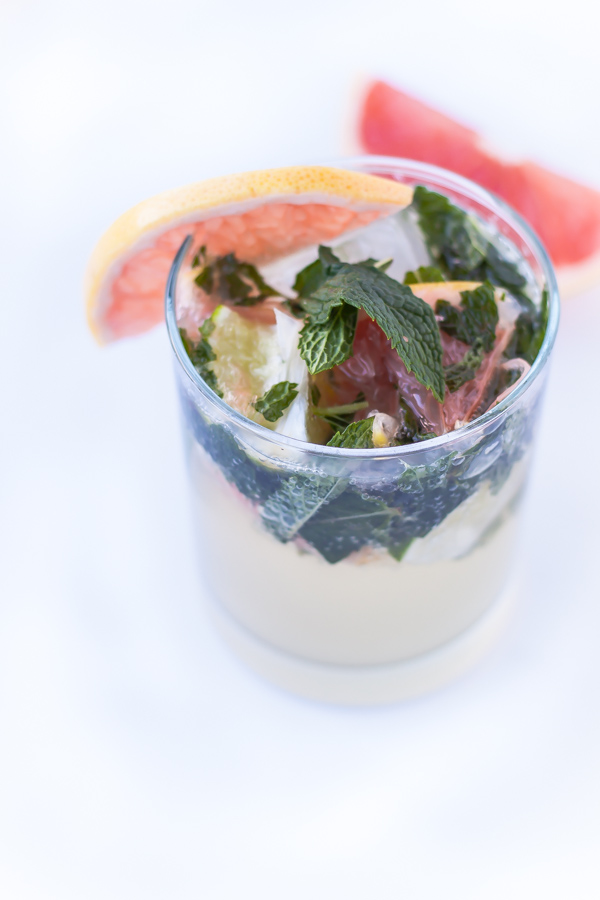 Anyway, I came up with the idea for a grapefruit mojito the other day, and it just stuck. Honestly, I'm pretty sure I could get on board with any cocktail that involves grapefruit–because I happen to love it that much–but the combination of the grapefruit, lime, and fresh mint goes so well together.
I chose to use ruby grapefruits for this drink and added both fresh juice (one ounce) and a chopped slice (to muddle with the lime and mint). It had the added bonus of giving the cocktail the prettiest pale pink hue!
Pretty cocktails win. Hope everyone has a great weekend!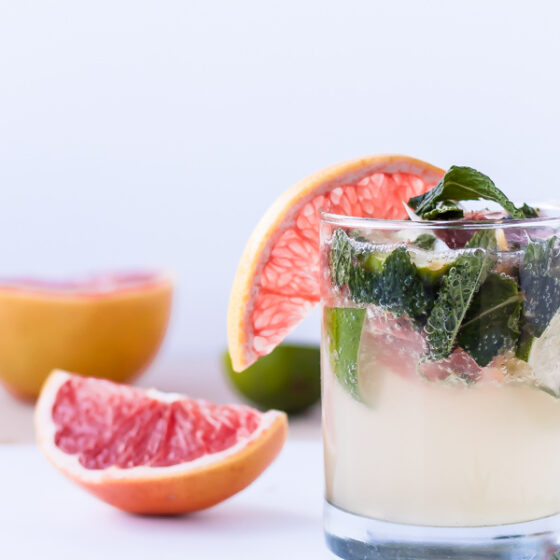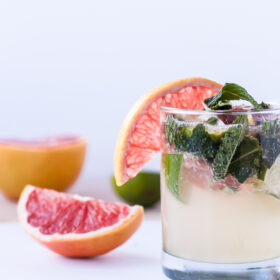 Grapefruit Mojitos
A classic mojito cocktail gets a twist with fresh grapefruit juice! This grapefruit mojito might become your new favorite cocktail.
Ingredients
½ lime quartered
1 thin slice of fresh grapefruit
8-10 mint leaves
1 tablespoon (12 g) sugar
2 ounces white rum
1 ounce fresh grapefruit juice ruby or white
1 teaspoon fresh lime juice
2 ounces soda water
ice cubes for serving
Instructions
Combine the lime quarters, grapefruit slice, mint leaves, and sugar in a cocktail shaker and muddle.

Add the rum, grapefruit, and lime juice, and stir together until the sugar has dissolved. Shake. Pour over ice and finish with soda water.
Serving: 1serving, Calories: 302kcal, Carbohydrates: 42g, Protein: 5g, Fat: 1g, Polyunsaturated Fat: 1g, Sodium: 44mg, Fiber: 11g, Sugar: 22g
This post contains affiliate links, which means that I make a small commission off items you purchase at no additional cost to you. Please read my
privacy policy
for more information.