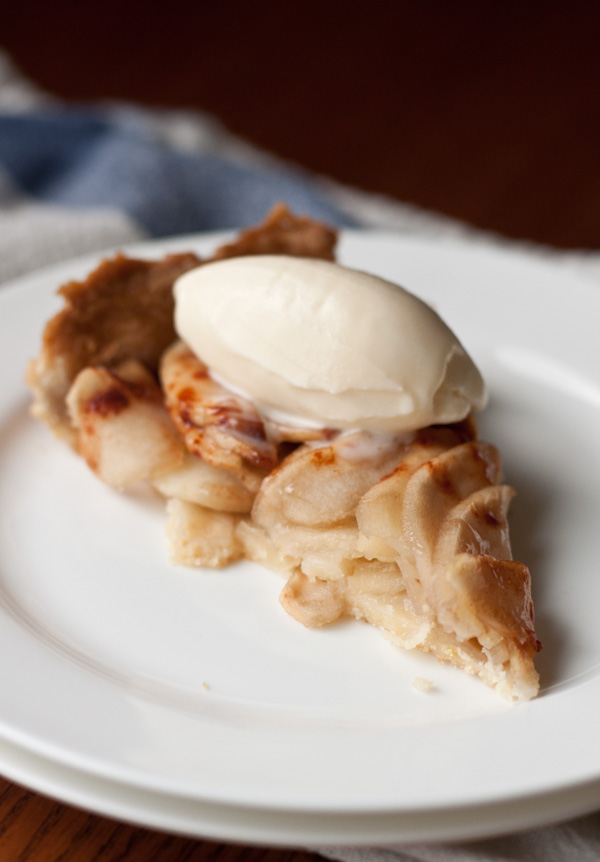 These are my favorite types of desserts.  Rustic, fruit-filled, not too sweet, and perfect with a scoop of ice cream.  But still a little special…
In the past three years since working in the food industry, I've learned that pastry and savory (cooking) are two very different worlds.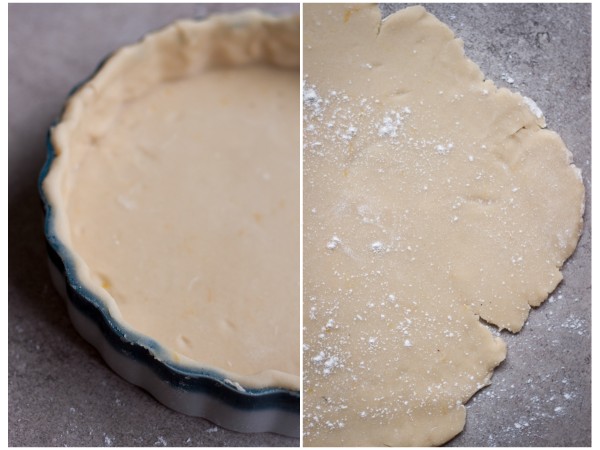 Pastry is extremely scientific, precise, and for the most part, pretty unforgiving–while the savory side of things allows more of a "wing-it" approach.  It is hard to quantify, replicate, and involves a lot adding a bit of this or that, until you reach the right balance of flavors.  They are both challenging in very different ways.
Most people love one and don't really bother with the other.  Of course, there is an appreciation of both, but that seems to be the gist of it in my experience.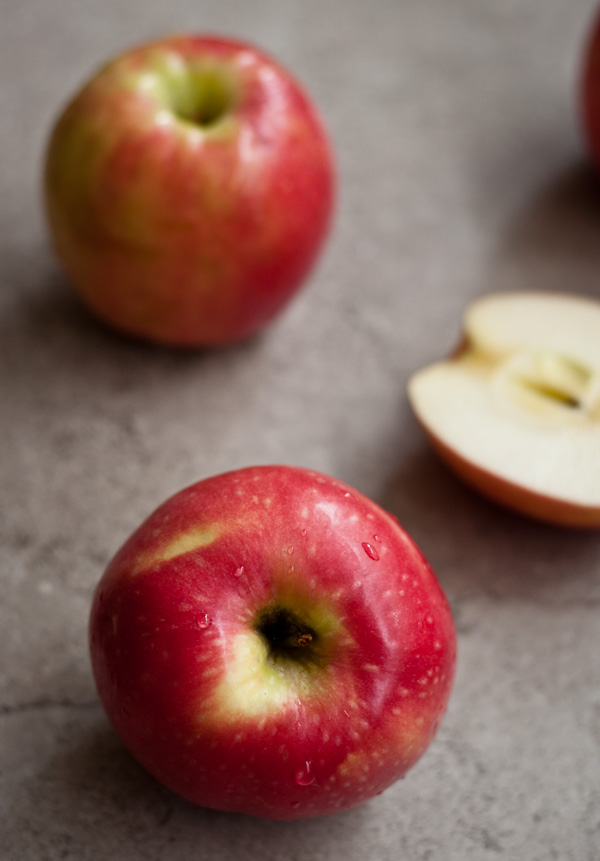 I fit into this weird camp in between, where I can honestly say that I love both equally.  There are times when I happily reach for the scale and enjoy weighing out ingredients to the gram, while at other times, I just like to look around in my fridge, chop up some ingredients, and figure it out along the way.
In my mind, tarts represent the perfect balance of both–which is probably why they are one of my favorite things to make in my own kitchen.  The crust is fairly scientific and technique-driven, while the filling can be adapted in so many different ways and rarely follows a specific formula.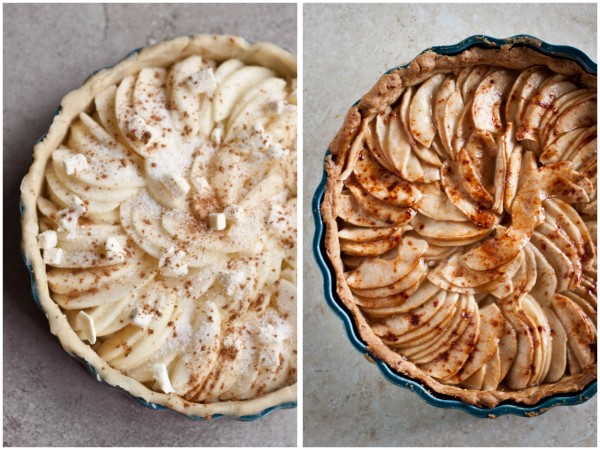 Need more apples, just add them.  Have extra tart apples?  Sprinkle on more sugar.  Prefer different spices and fruits?  Sure, why not!
This rustic French apple tart is perfect for those of you who have been hesitant to delve into tart-making.  The pate sucree crust is simple to make, very forgiving, and in this case, doesn't require the extra step of blind-baking.
In this case, the tart is actually baked for quite a long time–on a preheated pizza stone in the oven, which allows the bottom crust to cook at the same speed as the sides.  For some extra shine, be sure to brush with it with a simple glaze upon finishing.  Enjoy!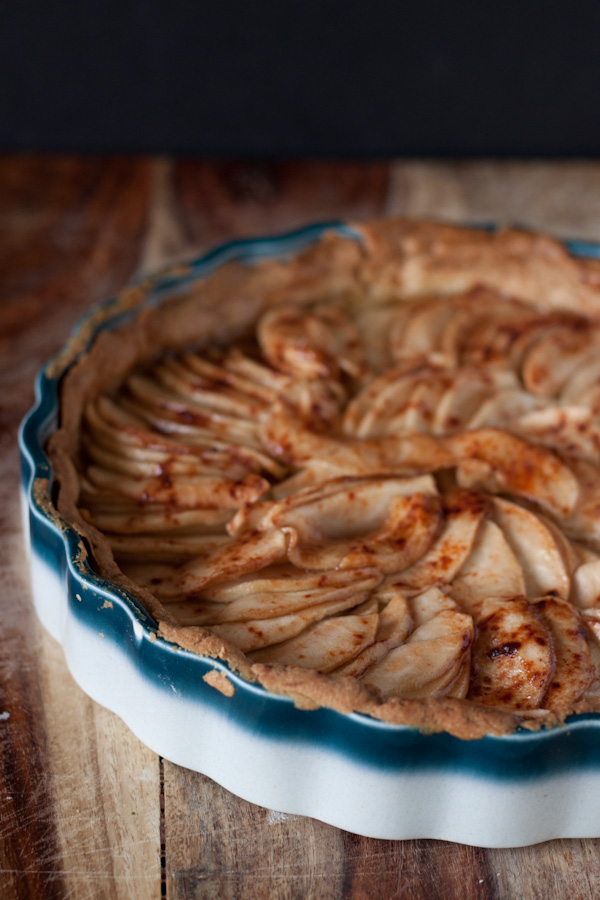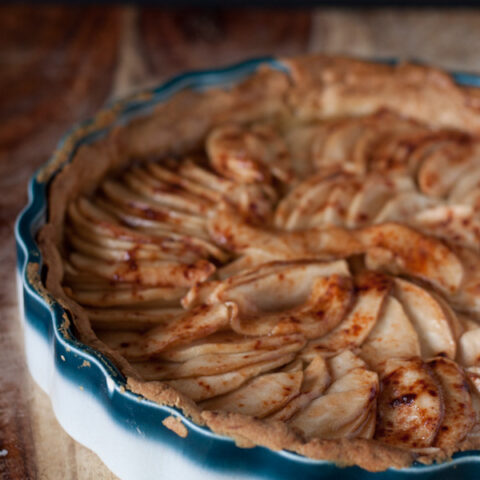 Rustic French Apple Tart
Yield: 1 (9-Inch) Tart
Prep Time: 45 minutes
Cook Time: 1 hour 30 minutes
Additional Time: 15 minutes
Total Time: 2 hours 30 minutes
Ingredients
Pate Sucree Crust (for two 9-inch tart shells):
8 ounces unsalted butter, softened (2 sticks)
4 ounces granulated sugar
1 teaspoon
1/2 teaspoon fresh lemon zest (roughly 1 lemon)
1/4 teaspoon kosher salt
1 large egg
12 ounces all-purpose flour
Filling:
1/2 lemon
4-5 pink lady apples, peeled and cored
1/8 cup granulated sugar
1 1/2 tablespoons cold unsalted butter, cut into very small pieces
1 teaspoon ground cinnamon
Glaze:
1/3-1/2 cup apricot jelly (or substitute another variety)
water
Instructions
Make Tart Dough: Add the butter and sugar to a mixing bowl and using the paddle attachment, cream together over medium speed for roughly one minute.
Add zest, salt, vanilla, and egg, and mix over low speed until well incorporated, scraping down the bowl occasionally with a spatula as necessary.
Add flour all at once, turn mixer on low speed and mix until dough begins to come together. Using the "fraisage" technique, use the heel of your hand to press down and smear the dough onto a clean countertop. Push back together and repeat until smooth and all ingredients are well incorporated—the dough will have a slight shine.
Divide the dough equally in half (using scale), pat into a disk, cover with plastic wrap and refrigerate for a least one hour.
Assemble Tart: Preheat a pizza stone in the oven to 350 degrees Fahrenheit for at least 25 minutes.
Remove one disk of cooled dough from refrigerator (you can freeze remaining dough for several weeks and save for a later date). Throughout the process, dust rolling pin, dough, and surface lightly with flour to prevent sticking. Using the rolling pin (starting from the center of dough to the outside), roll out into a rough circle to a little less than 1/4″ thickness. Throughout the process, pick up dough carefully and move around ensuring it does not stick. **If dough cracks, gently press back together with hand and continue to roll.
Using the rolling pin, pick up the dough and lay over a 9″ (about 1 inch deep) tart pan, gently guiding it into the sides of the tart (try to avoid stretching the dough), pressing with your fingers. Make sure to press the dough tightly inside the corners and sides to shape the tart shell.
Roll your rolling pin over top of pan to get rid of excess pastry. Scraps of dough can be pressed together, frozen, and reused.
Cover with plastic wrap and place the tart shell back in the refrigerator, while you assemble the filling.
Assemble Filling: Peel one apple at a time, rubbing the outside of the apple pieces with the lemon half to reduce browning and oxidation. Slice in half, core and slice very thinly–and set aside in a medium-sized bowl, sprinkling on lemon juice as you go. Repeat with remaining apples. Roughly chop any trimmings and set those aside.
Remove the tart shell from the fridge, spread out any extra apple trimmings on the bottom of the shell and arrange the slices (overlapping) in a circular pattern, starting with the outside of the tart and working your way into the center. Don't worry if it's not completely perfect!
Sprinkle the apples evenly with the granulated sugar and add the tabs of butter directly on top. Using a spoon or your fingers, sprinkle on the cinnamon.
Bake at 350 degrees (directly on the pizza stone) for an hour and a half, or until the edges of the tart are golden brown and the apples are tender.
Allow to cool on a rack for 15-20 minutes.
Once the tart has cooled slightly, heat the jelly and water (almost equal parts) over medium heat until bubbling slightly, whisking frequently until smooth, thin, and consistent. Add more water or reduce if necessary to achieve the proper consistency.
Brush the top of the tart to finish. Best served slightly warm with a side of vanilla ice cream!
Notes
Tart can be stored at room temperature, covered with plastic wrap, for 3-4 days.
Nutrition Information:
Yield: 8
Serving Size: 1
Amount Per Serving:
Calories: 461
Total Fat: 21g
Saturated Fat: 13g
Trans Fat: 0g
Unsaturated Fat: 7g
Cholesterol: 72mg
Sodium: 71mg
Carbohydrates: 66g
Fiber: 4g
Sugar: 33g
Protein: 5g
A Beautiful Plate provides nutritional information, but these figures should be considered estimates, as they are not calculated by a registered dietician.