Shoestring Zucchini Fries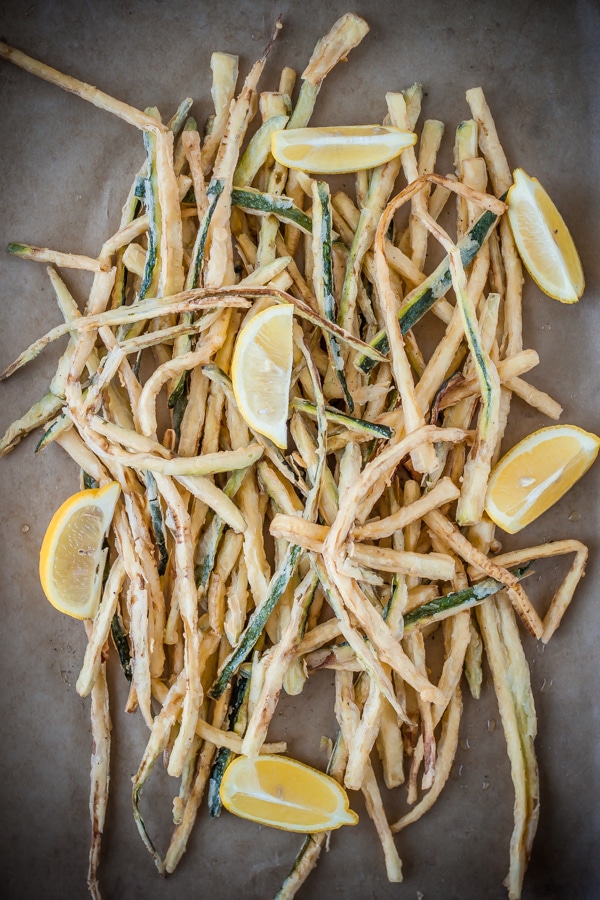 It's Monday. Let's eat all the fried foods.
I think we deserve it. Plus, I fried a green vegetable so I'm fairly positive this doesn't even count. That's how calories work, right?
Glad we sorted that out.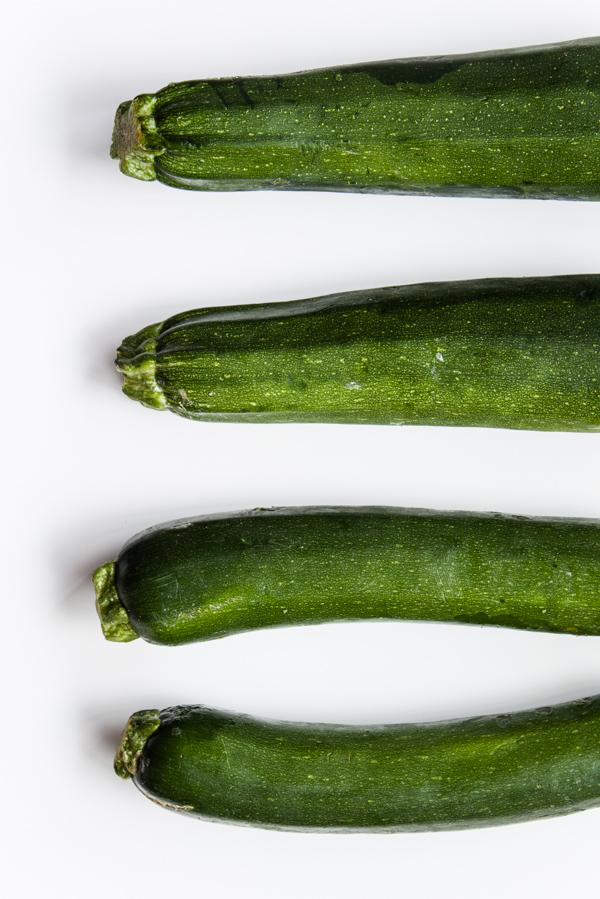 But seriously…fried zucchini, or zucchini frites, is probably one of my most favorite appetizers ever. Ever, ever, ever!
I can't get enough of it. Whenever my family goes to a restaurant that offers fried zucchini (which sadly is not too many restaurants), we can't help but order it. It is in our Italian blood.
The only problem is that we are extremely picky fried zucchini lovers. We're picky about a lot of things (oh, the joys of growing up in a food-obsessed family!), but we are very picky about fried zucchini.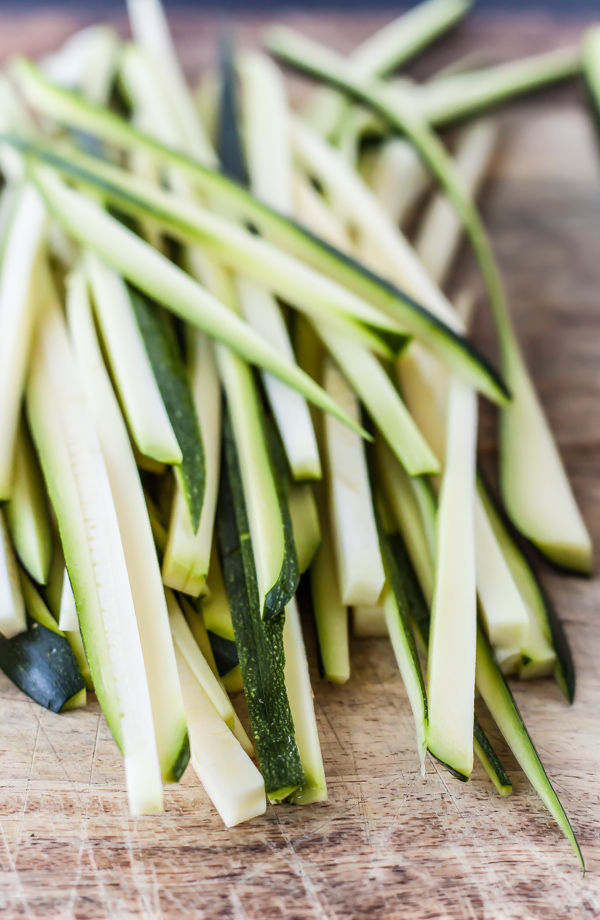 In my mind, zucchini fries have to meet a few key requirements.
They have be served piping hot out of the fryer (like burn-your-mouth-hot). They have to have a very, very thin batter coating (no thick breadcrumbs, please). And they always, always, ALWAYS have to be served with fresh lemon wedges.
And no, you can never have enough lemon.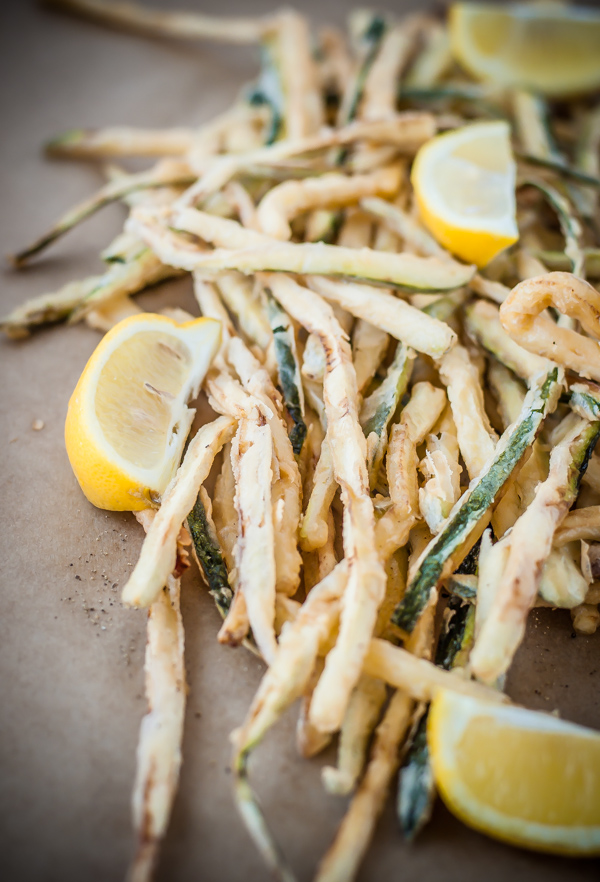 These shoestring zucchini fries meet all of these requirements, and then some. To achieve the light and crisp texture, the zucchini slices are dipped in milk and then tossed gently in seasoned flour before going into the fryer.
I know that deep frying can be a pain sometimes, but guys, I promise these fries are worth the hassle. I made the mistake of testing these when no one was home, and I pretty much had to force myself from eating the entire batch <– Truth.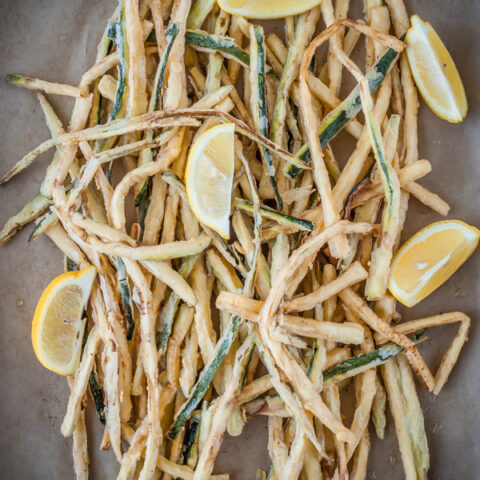 Shoestring Zucchini Fries
Yield: 4-5 Servings

These shoestring zucchini fries are light, crisp, and imposssibl to resist! To achieve the light and crisp texture, the zucchini slices are dipped in milk and then tossed gently in seasoned flour before going into the fryer.

Prep Time: 15 minutes

Cook Time: 20 minutes

Total Time: 35 minutes
Ingredients
3 medium zucchini
6 cups safflower oil
1 cup milk
1 cup all-purpose flour, seasoned light with salt and pepper
kosher salt
freshly ground black pepper
lemon wedges, for garnish
Instructions
Trim both ends of the zucchini. Using a sharp knife, carefully slice the zucchini lengthwise into 1/4″ slices. Cut each slice lengthwise into 1/4″ shoestring fries (discard any inner pieces that are very seedy, as they won't fry as well). Set aside.Alternatively, you could julienne the zucchini with a mandolin.
Heat the oil in a large, heavy-bottomed pot to 365 degrees Fahrenheit.
Place the milk in a small, shallow container–or Pyrex dish–(wide enough to accommodate the zucchini pieces when dipping). Place the flour on a large sheet of wax paper.
Line a baking sheet with paper towels and set close to the frying area.
Gently dip a small handful of zucchini pieces into the milk. Toss the pieces into the flour until they are lightly coated. Drop the pieces gently into the frying oil, and using a spider or spoon, gently stir the pieces in the oil so they brown evenly. Fry the zucchini for roughly 2-3 minutes per batch. Transfer the zucchini fries to the paper towel lined baking sheet. Season immediately with salt and pepper.
Continue to fry the zucchini in batches until complete. Serve the hot zucchini fries with wedges of fresh lemon.
Nutrition Information:
Yield: 5 Serving Size: 1
Amount Per Serving: Calories: 273Total Fat: 29gSaturated Fat: 2gTrans Fat: 0gUnsaturated Fat: 26gCholesterol: 0mgSodium: 23mgCarbohydrates: 3gFiber: 0gSugar: 0gProtein: 1g