Fried Cauliflower Steaks with Honey and Hot Sauce
Fried cauliflower steaks with honey and hot sauce. A vegetarian take on fried chicken!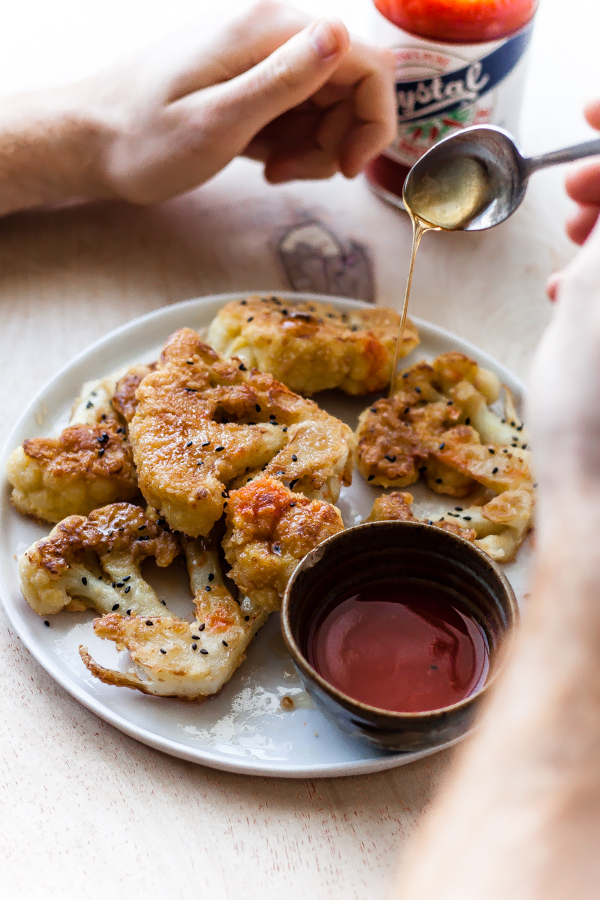 I'm going to keep today's post short and sweet. Actually, in this specific case…spicy and sweet.
This is mainly due to the fact that I stayed up way too late last night discussing wedding tents and wedding room capacities. And, as a result, I feel like eating all.the.fried.foods.
Today's dish is a vegetarian play on fried chicken with honey and hot sauce. Wait, hear me out! Because I can already feel the eyes starting to roll…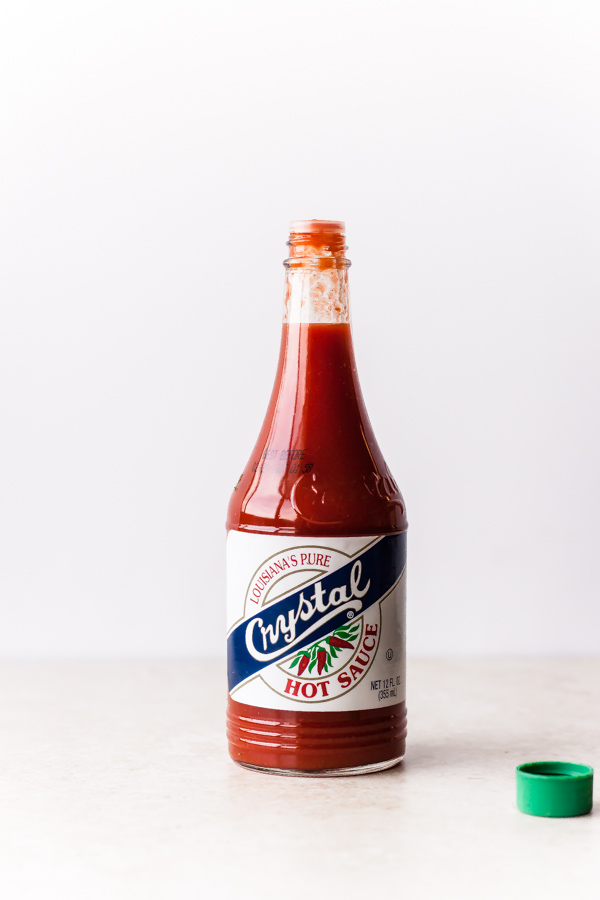 A few short months ago, Connor and I visited an amazing new restaurant in DC (Rose's Luxury), and I encountered the best fried chicken of my life. And yes, I could probably count the number of times I've consumed true fried chicken in my life on one hand…but trust me, this was the real deal.
The dish was pickle-brined fried chicken and it was lightly tossed with honey, benne seeds (sesame), and came with a side of Louisiana's pure crystal hot sauce. It was crispy, a little bit sweet, salty, and perfectly cut by the spiciness of the hot vinegar sauce.
If I didn't happen to have been surrounded by strangers at the time, I probably would have licked the bowl clean. That is how good it was. I was sort of blown away.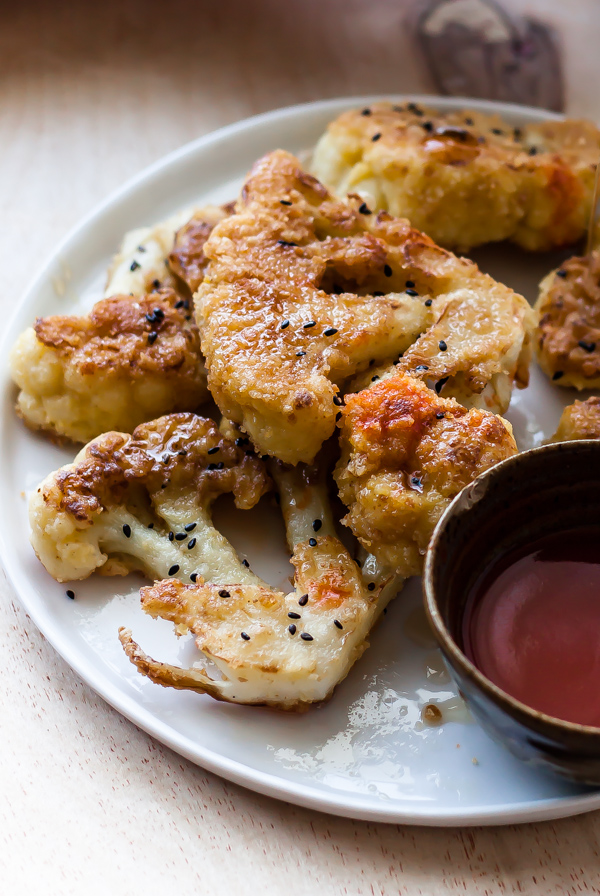 It's been a dish I've been wanting to recreate in a new, funky way for a long time! And somewhere along the brainstorming process, I came up with the idea of making it vegetarian and using cauliflower instead. Obviously (and this is where the eye rolls come in), and this goes without being said, fried cauliflower does not taste like fried chicken. The taste is not replicable, nor was that the intention behind this version.
But the combination of cutting the cauliflower into 'steaks', coating them in a simple breadcrumb and flour coating, and then pan frying them gives it a similarly satisfying crispiness. The addition of black sesame seeds adds just enough contrast and texture! Since the cauliflower is relatively delicate, I chose to simply drizzle the pieces with honey (rather than toss them in a bowl) right before serving.
This dish is definitely different, but just similar enough in flavor that it brought me back to that restaurant meal! It is playful, not meant to be taken too seriously, and would best be served as a fun appetizer for a crowd!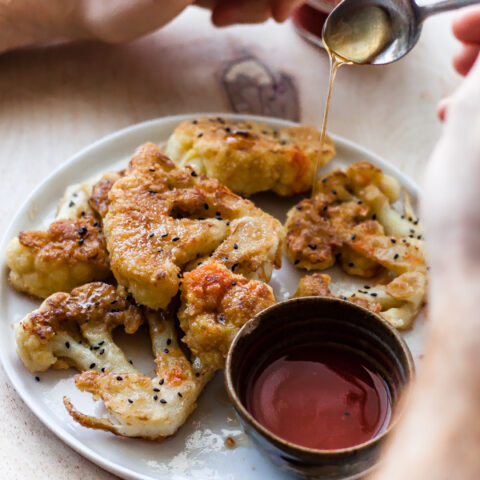 Fried Cauliflower Steaks with Honey and Hot Sauce
Yield: 3-4 Servings
Fried cauliflower steaks with honey and hot sauce. A vegetarian take on fried chicken!
Prep Time: 20 minutes
Cook Time: 10 minutes
Total Time: 30 minutes
Ingredients
1 small head of cauliflower
2 eggs
1 cup all-purpose flour
2/3 cup toasted breadcrumbs
1/4 teaspoon paprika
kosher salt
freshly ground black pepper
canola/safflower oil (for frying)
toasted sesame seeds
honey
hot sauce
Instructions
Slice the cauliflower into 3/4 inch to 1 inch thick steaks (see this post for step by step photos). Some slices might need to be halved if they are too large. The most important step in this process is creating flat surface on the cauliflower so that it will fry evenly (don't worry if some of the pieces or florets break off).
Set the slices (and any leftover trimmed pieces)–don't crowd the pan, this step might need to be done in stages– in a large (10 to 12 inch) skillet over medium heat and pour in 1/4 inch of water.
Bring the water to a simmer, reduce the heat, cover the pot, and allow the cauliflower to steam until it is barely fork tender, roughly 4-6 minutes. Be careful not to over-cook the cauliflower. Repeat until all of the cauliflower has been steamed.
Use a spatula to carefully transfer the cauliflower steaks and pieces to a plate. Allow them to cool completely, then season them with salt and pepper.
Whisk together the eggs and set aside. Combine the flour, breadcrumbs, and paprika on a seperate shallow plate or bowl for breading. Season flour mixture with salt and pepper.
Dip the cauliflower steaks in egg on both sides, then coat in the flour mixture. Be sure to cover the cauliflower as completely as possible. (If the cauliflower steaks break up, just coat and fry the pieces.)
Set aside a large baking sheet lined with wire rack for frying.
Dry the same skillet, and return it to medium-high heat and pour in 1/4-1/2 inch of oil. Once the oil starts to shimmer, gently add the breaded cauliflower steaks. Fry until they are golden brown and crisp, roughly 2 minutes. Flip and repeat. Transfer them to the rack, and sprinkle immediately with salt and toasted sesame seeds.
Since you will have to do the frying in batches, drain and replace the frying oil as necessary.
Serve the fried cauliflower on a large platter. Just before serving, drizzle the cauliflower lightly (using a spoon) with honey. Serve with a side of hot sauce for dipping.
Notes
Inspired by the fried chicken dish at Rose's Luxury.
Nutrition Information:
Yield: 4
Serving Size: 1
Amount Per Serving:
Calories: 325
Total Fat: 11g
Saturated Fat: 2g
Trans Fat: 0g
Unsaturated Fat: 8g
Cholesterol: 93mg
Sodium: 356mg
Carbohydrates: 46g
Fiber: 4g
Sugar: 7g
Protein: 11g
A Beautiful Plate provides nutritional information, but these figures should be considered estimates, as they are not calculated by a registered dietician.