Grand Marnier Orange Bundt Cake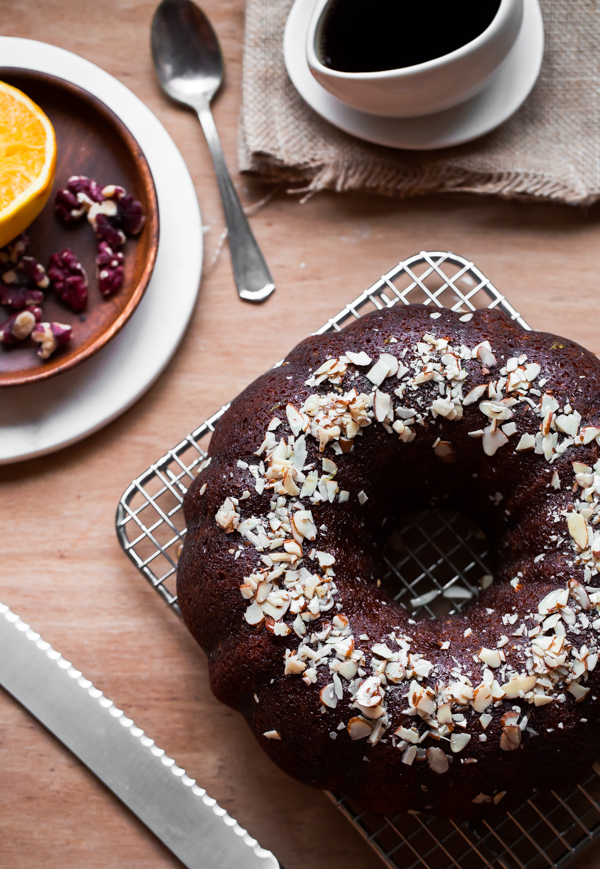 I bring you some of my favorite things in the entire world. Bundt cakes, cookbooks, prizes, and booze (kidding). And not just any booze. Grand Marnier, which is quite possibly the best type of booze (particularly for baked goods or desserts) in existence!
But really, this Grand Marnier orange bundt cake is all about the booze. It has the simplest, most delectable of simple syrup glazes made with just three ingredients: Grand Marnier, fresh orange juice, and sugar.
Plus, this bundt cake has greek yogurt, walnuts, and orange zest in it, so that practically makes it a health food. That's my logic and I'm sticking with it.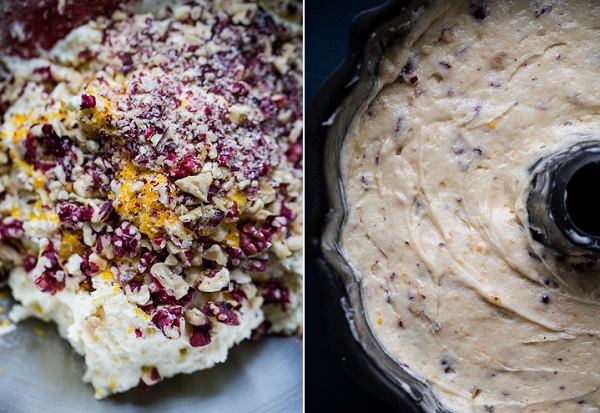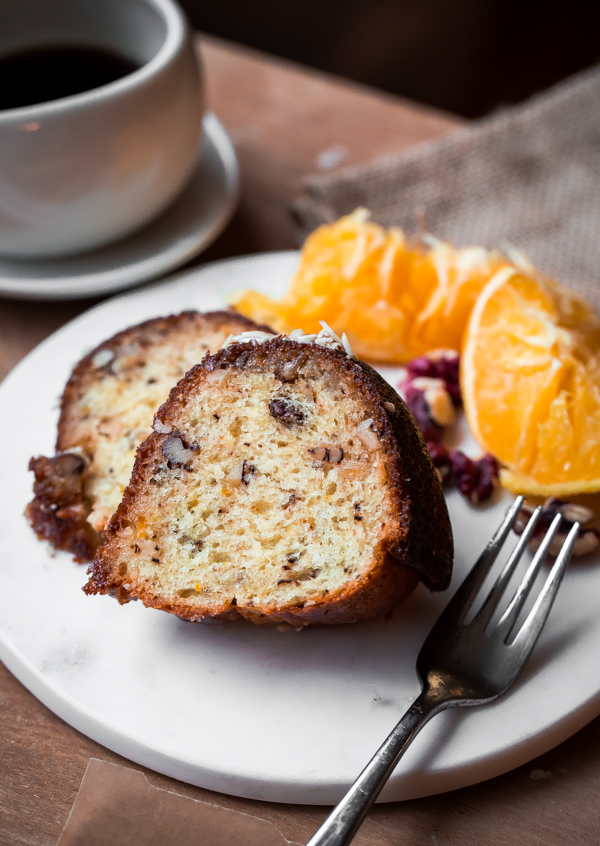 This bundt cake recipe is courtesy of the newly released cookbook, The Pollan Family Table by Corky, Lori, Dana, & Tracy Pollan.  As in, the women of the Pollan family. If you're familiar with Michael Pollan's work or writing, that name might ring a very familiar bell!
I have been a huge fan of Michael Pollan's writing for years (The Omnivore's Dilemna is one of my favorite books regarding the food industry), so I was incredibly excited and honored to have a chance to review this cookbook.
And, I can say, it did not disappoint. The book contains more than 100 of the Pollan's family collection of recipes. They are fresh, healthy, and family-friendly dishes that are not only seasonal and approachable, but realistic.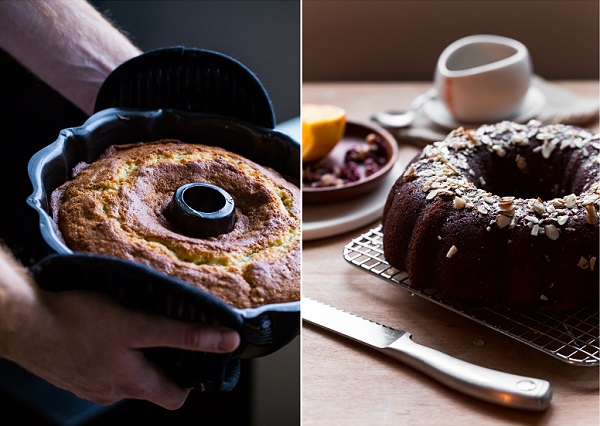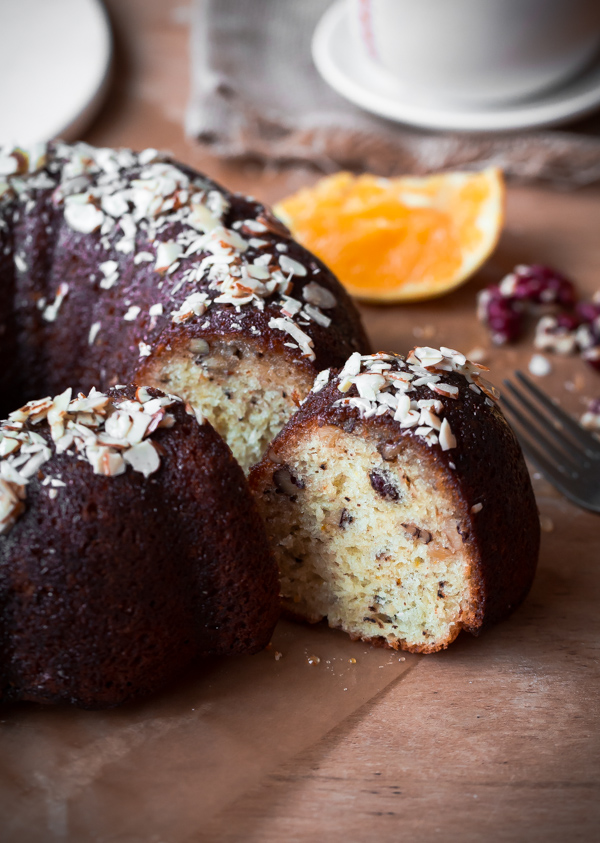 Most of the recipes can be made in less than an hour, and almost all of the ingredients can be found at the most basic of grocery stores. Yet, they still have just enough of a twist to distinguish them from my ridiculously-over-the-top collection of cookbooks.
Dishes that include panfried tofu with chimichurri sauce, pan-roasted cod in spicy thai broth, creamless broccoli soup with roasted garlic and frizzled leeks (on my list of things to make!), parmesan-crusted chicken fontina, and the Pollan signature salad. The cookbook is a great balance of both classic and contemporary meals.
One of my absolute favorite things about this cookbook is that each recipe is accompanied with a "market" and "pantry" list, in which every ingredient in the recipe is listed and grouped according to how you will find them at the store or market.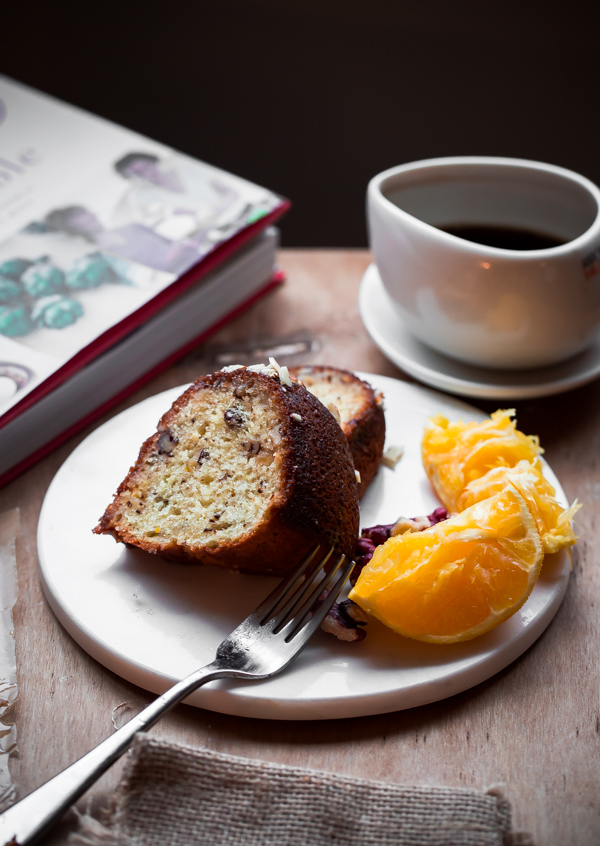 It was hard to choose a dish to share with you, but I ended up coming back to this Grand Marnier orange bundt cake over an over again. It is actually their Grandma Mary's interpretation of a traditional Jewish nut cake.
I was a huge fan of this cake! It is incredibly moist, full of fresh orange flavor, and has great texture from the addition of chopped walnuts and sliced almonds. Plus, it couldn't be easier to throw together and makes a wonderful tea cake or all-occasion cake (that isn't overly sweet) for the holiday season.
But here's the really fun part! The cookbook's publisher has generously offered to give away three copies of The Pollan Family Table cookbook! Yep, there will be three giveaway winners, so your odds are pretty good. This would make a great gift for friends or family over the holiday–or you could keep it for yourself! See below for the official rules and how to enter–the giveaway will be open through this coming Sunday (December 14th at midnight).
[Disclosure: This cookbook giveaway is sponsored by the publisher of this cookbook, Scribner Books, a division of Simon & Schuster. A review copy was provided to me, but all opinions are my own.]
Please note that this giveaway is open to US residents only–the winner will be randomly selected and contacted via the email address left in the entry form. This giveaway is now closed.