Endive Spears with Smoked Trout
This post contains affiliate links.
Crispy endive spears served with a simple smoked trout dip. An elegant, easy appetizer for any time of year.
Most people get excited about the holiday season because of all the wonderful baked goods and sweets they get to consume. Me? I get excited about the appetizers. I can't get enough of them!
Appetizers are my most favorite part of a meal. I take them pretty seriously, and many times at restaurants, I'll opt for ordering two appetizers over a main course any day of the week.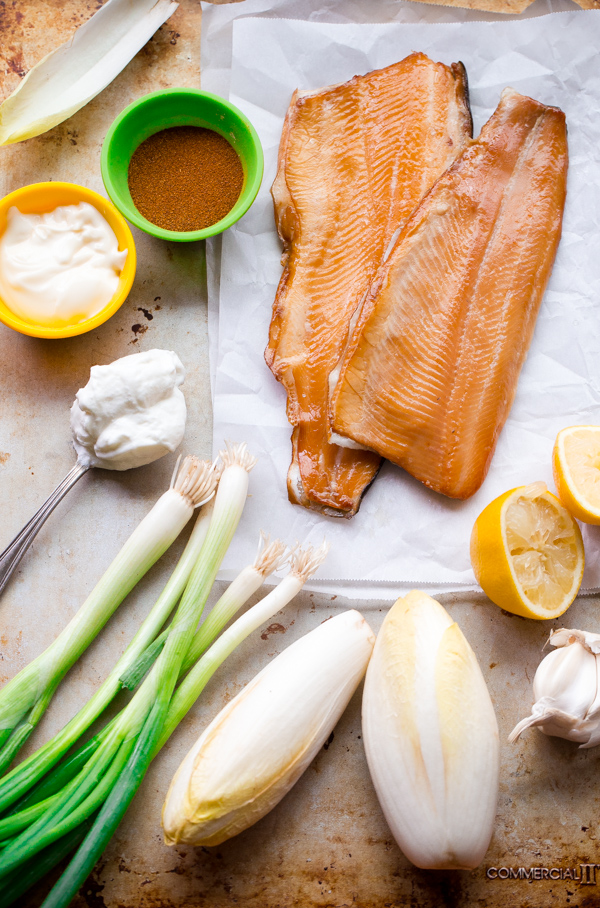 My family tends to stick to pretty simple appetizers over the holidays (specifically, Christmas). Some easy dips and spreads, such as this herbed goat cheese, and other dishes that we can put together very quickly and painlessly.
Appetizers don't need to be hard or complicated. These endive spears with smoked trout have been in our family's appetizers recipe arsenal for at least five years now, but I always forget how good (and EASY) they are. This dish can be thrown together in less than 15 minutes.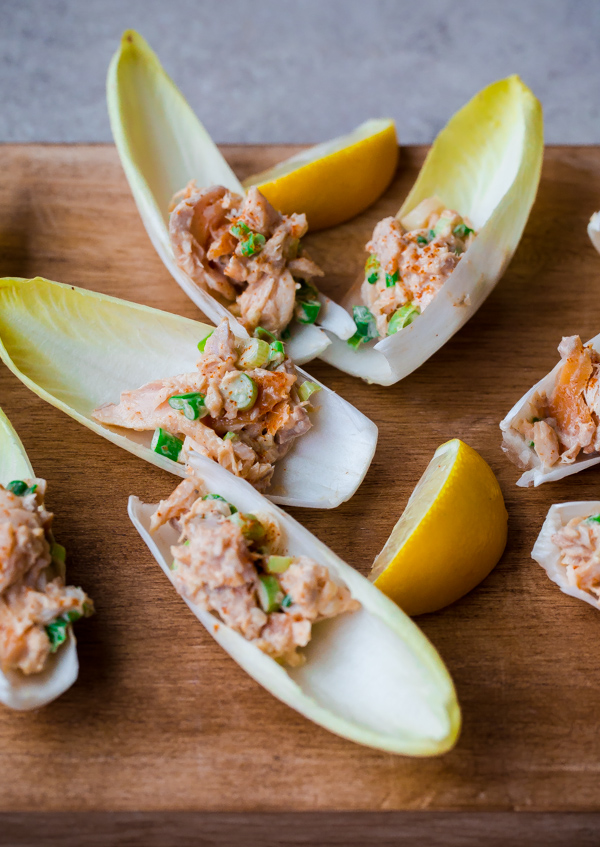 Smoked fish is one of my absolute favorite things on earth. I can barely control myself around smoked salmon! Smoked trout is my second favorite and is much more affordable to boot and is very easy to find.
In fact, all of the ingredients used in this dish are straight-forward and can be found at any basic supermarket. The smoked trout fillets are broken up in a large flakes with a fork, and mixed with a combination of Greek yogurt, a touch of mayonnaise, freshly squeezed lemon juice, sliced green onions, sweet paprika, and fresh garlic.
Confession? I despise mayonnaise in almost every other instance, but love these. So if you're a mayonnaise hater, don't fret!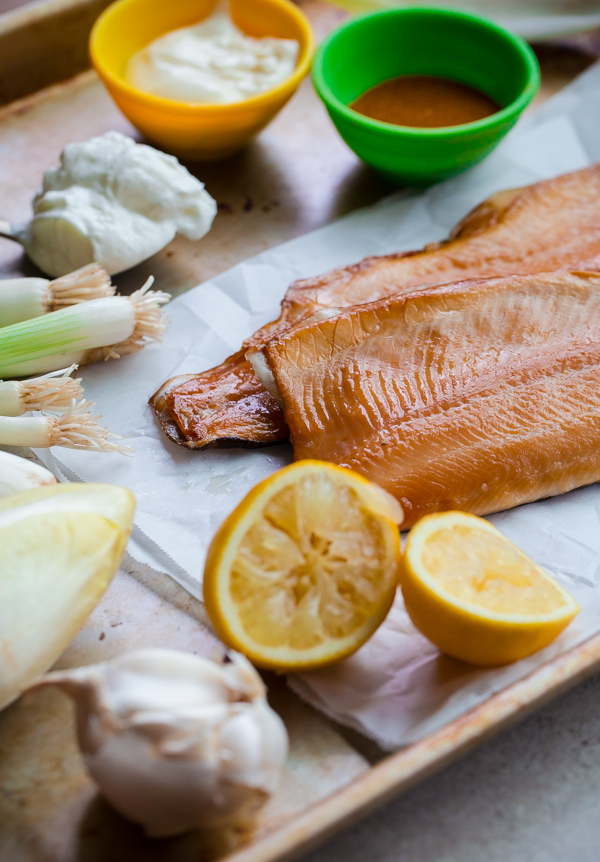 The trout is then spooned into crisp and bitter endive leafs, which make this dish great for passing. One of my least favorite things about passed appetizers (particularly in a standing situation) is that you are often forced to balance a plate, drink, and carry on a conversation at the same time.
These guys can be grabbed and in their own little edible container. It is basically an elegant, slightly more upscale version of a lettuce cup! Eat up!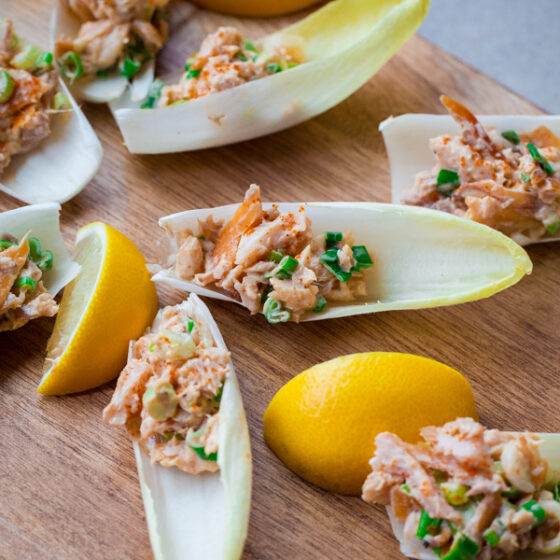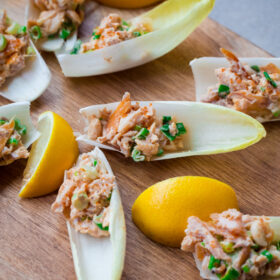 Endive Spears with Smoked Trout
Crispy endive spears served with a simple smoked trout dip. An elegant, easy appetizer for any time of year. This dish can be thrown together in less than 15 minutes!
Ingredients
2 tablespoons mayonnaise
2 tablespoons whole fat or low-fat Greek yogurt
4 green onions thinly sliced
1 small garlic clove grated with a microplane
2 teaspoons fresh lemon juice
½ teaspoon ground sweet paprika
⅛ teaspoon ground cayenne pepper
kosher salt
freshly ground black pepper
8 ounces flaked smoked trout fillet
Assembly:
4 heads Belgian endive
lemon wedges for serving
Instructions
Prepare the Dip: In a bowl, mix the mayonnaise, Greek yogurt, sliced green onions, grated garlic, lemon juice, sweet paprika, and cayenne until well combnined. Add the flaked trout fillet (leave it in relatively large chunks, as it will have a nicer texture) and stir gently to combine. Season to taste with salt and pepper, and additional lemon juice if desired.

Assemble: Trim the ends of the endive spears to separate the leaves (you will want to reserve the inner, tiny endive leaves for another use, such as a salad). Spoon a tablespoon or so of the trout mixture into the large endive spears. Serve on a platter with extra lemon wedges for squeezing.
Serving: 1serving, Calories: 115kcal, Carbohydrates: 4g, Protein: 13g, Fat: 5g, Saturated Fat: 1g, Polyunsaturated Fat: 4g, Cholesterol: 32mg, Sodium: 412mg, Fiber: 2g, Sugar: 1g
This post contains some affiliate links, which means that I make a small commission off items you purchase at no additional cost to you. Please read my
disclosure policy
for more information.