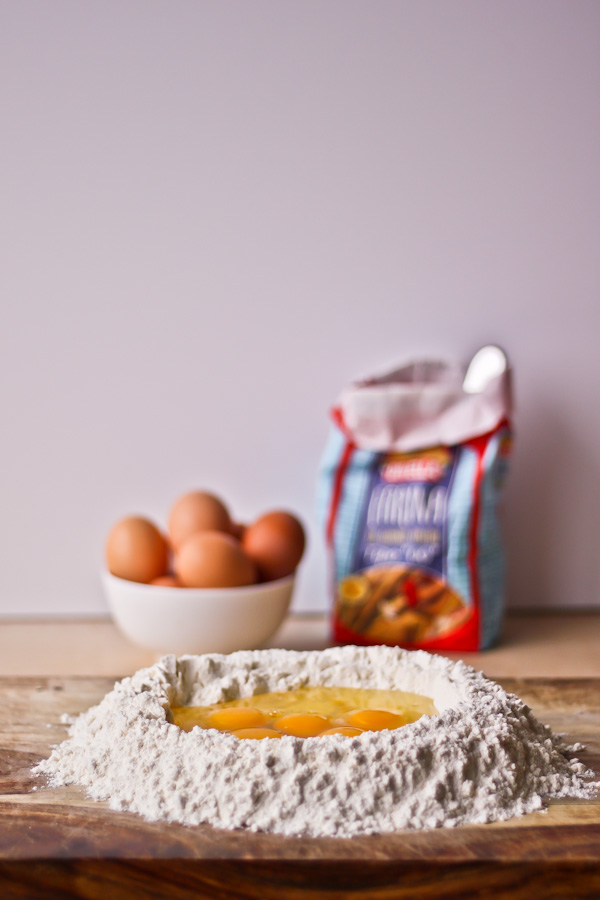 We're getting fancy today!  I'm pretty sure I've mentioned my love of pasta about three million times on the blog thus far, so I'll refrain from doing it again.
[But with that said, I really, really love it.]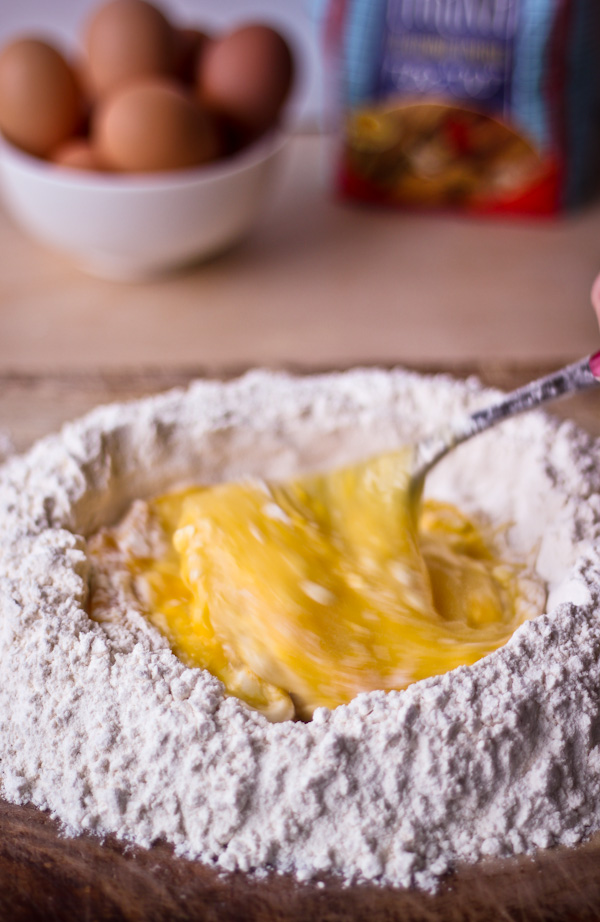 This is definitely not an easy recipe–it takes a little bit of practice and finesse, but if you're looking for a fun project over a long weekend, this is the perfect thing to make.  Don't be intimidated.
There's something about kneading pasta dough dough (bread, pizza dough, etc.) that is very therapeutic.  It is very mindless and repetitive, which is sometimes a welcome change compared to other recipes that require a lot of concentration.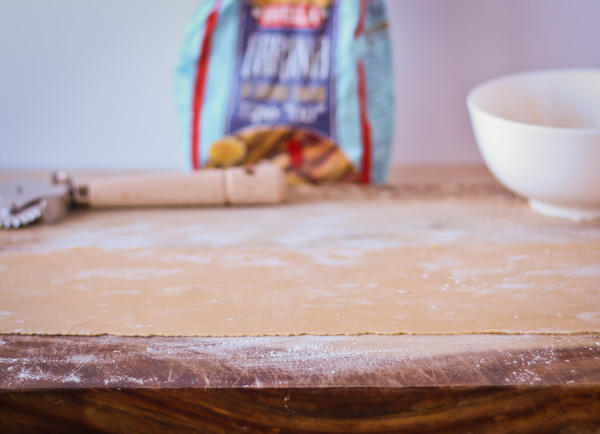 I've been wanting to write a post on homemade agnolotti pasta for the longest time–but time has escaped me and I've only just come around to it.  Forgive me.
Agnolotti is a stuffed pasta, very similar to ravioli, but with a slightly different shape.  In Italian, it translates to "priest's hat", a play off of the shape that it most resembles.
And if there is anything better than pasta, it is stuffed pasta.  Am I right?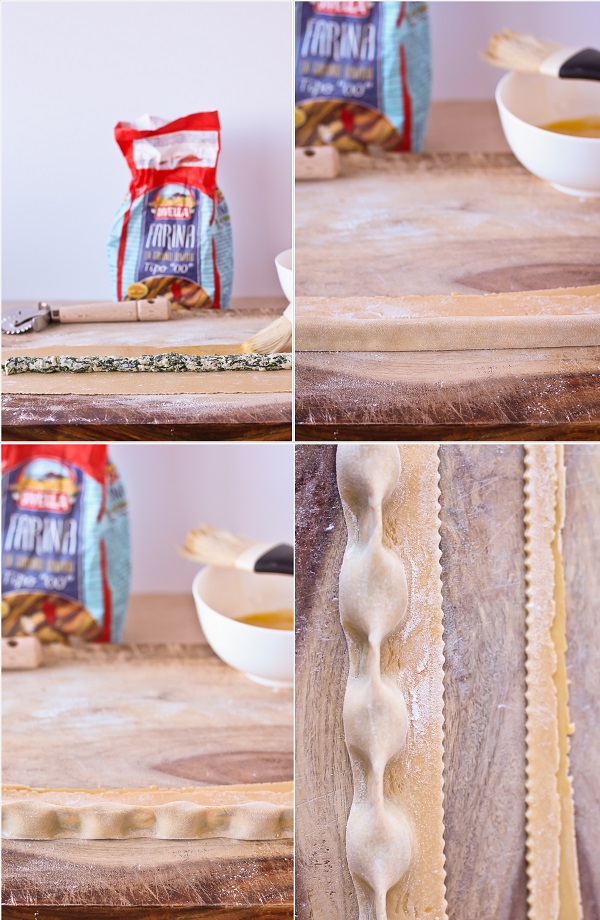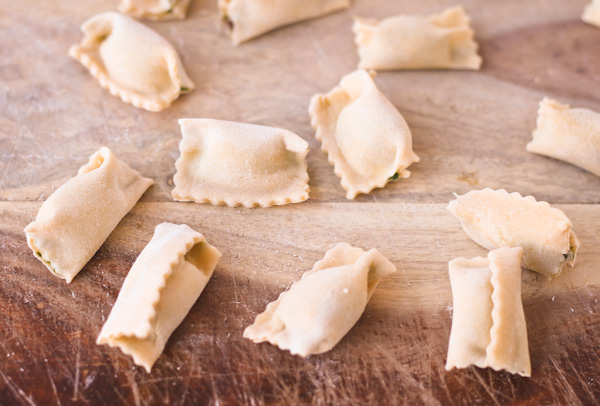 I first learned how to make these while I was working in the restaurant kitchen.
I spent some time on the pasta station (which essentially involved making any pasta dish that went out of the kitchen)– and even though it was terrifying at times– um, all of the time (SO.MUCH.PRESSURE)–I was very happy to work so closely with one of my favorite foods.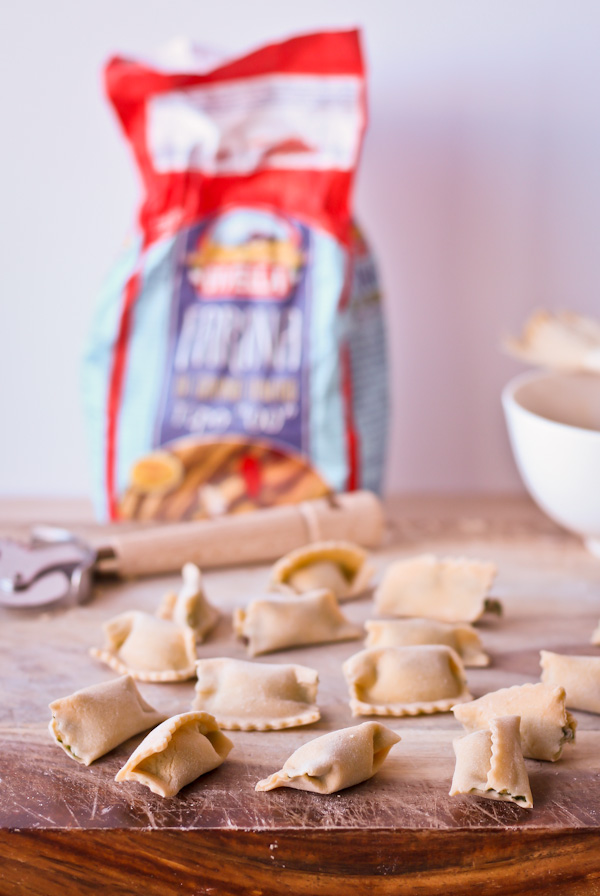 And one of my favorite, favorite things about stuffed pasta is that the fillings are endless.  I happened to stuff these babies with a swiss chard, ricotta, and prosciutto mixture (adapted lightly from Marcella Hazan)–and have included that delicious recipe below, but feel free to use another recipe or make your own creation!
It's all about the process.  Have fun!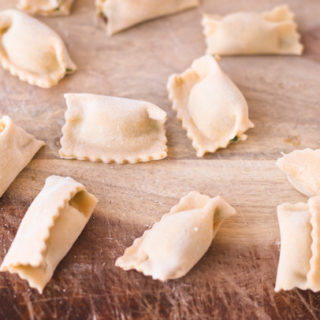 Homemade Agnolotti Pasta
Yield: 4 Servings
A recipe for homemade agnolotti pasta! This stuffed pasta recipe is filled with a swiss chard, ricotta, and prosciutto mixture, adapted lightly from Marcella Hazan.
Prep Time: 1 hour
Cook Time: 20 minutes
Total Time: 1 hour 20 minutes
Ingredients
Pasta Dough:
3.5 cups "00" flour or all-purpose flour
5 whole eggs
Swiss Chard, Ricotta, & Prosciutto Filling:
1 lb swiss chard, stems removed and torn
1.5 tablespoons unsalted butter
1/4 cup finely chopped shallot ((1 medium shallot)
3 tablespoons finely chopped prosciutto (2-3 slices)
1 whole egg yolk
1 cup whole-fat ricotta
1/4 cup grated parmigiano-reggiano cheese
1/4 teaspoon freshly grated nutmeg
freshly ground black pepper
kosher salt
Assembly:
coarse cornmeal or semolina (for storing)
1 whole egg, beaten (egg wash)
pastry brush
fluted wheel pastry cutter
Instructions
Prepare Pasta Dough: Sift flour onto clean counter top or large cutting board. Using fingertips, create large well in center of flour, so that counter top is visible.
Crack eggs into the well. Using fork, slowly begin adding flour from sides of well into egg mixture, whisking as you go, until egg mixture is no longer runny.
Using floured hands (or bench scraper), continue to incorporate flour into dough, just until you can squeeze the dough with your hand without it sticking. Knead the dough for 10 minutes until it is very smooth and elastic.
Divide dough in half, flatten into a disk using your palm, wrap them tightly in plastic wrap, and allow them to rest at room temperature for 30 minutes.
Prepare Filling: Rinse torn swiss chard in a colander until all grit has been removed–don't dry. Place rinsed swiss chard (along with whatever water is clinging to the leaves) in a large pot. Cover and bring to a light boil and along to steam until tender–5-6 minutes. Drain and allow to cool until it can be handled comfortably. Place the swiss chard in a clean kitchen towel or thick paper towels, and wring out any excess liquid. Chop finely. Set aside.
Using a medium saucepan, heat the butter over medium heat. Add the finely chopped shallots and allow to cook until soft and translucent–roughly 3-4 minutes.
Add the proscuitto and continue to cook for an additional 2-3 minutes, before adding the chopped swiss chard. Saute for an additional 3-4 minutes, before removing from heat and allow to cool until lukewarm.
In separate bowl, stir together the ricotta, egg yolk, swiss chard mixture, nutmeg, and cheese. Season with salt and pepper. Place in a large piping bag fitted with a small round tip.
Assemble Agnolotti: Once dough has rested, add more flour if necessary (flour will absorb during resting). Divide each dough ball in half again and roll (at largest-width setting) each using an electric or manual pasta machine.
Fold into an envelope (bring side into center, repeat with other side—open seams facing vertically into machine) and repeat at least five times until dough is very smooth and rolls evenly.
Roll pasta dough to setting "5" on your pasta machine. Cut into 12″ sheets. Allow rolled dough to dry slightly at room temperature (hanging on a rack) until no longer tacky. Since you will need to assemble the agnolotti, avoid rolling too much pasta at once, as it may get too dry.
Take one sheet at a time and place on a large clean counter top, dusted lightly with flour. Pipe a straight line (1/2″ in diameter), horizontally along the sheet of pasta. Brush the dough adjacent to the filling (on both sides) lightly with egg wash. Fold the pasta over the filling–removing any air bubbles. Press firmly to seal.
Using a fluted wheel pasty cutter, cut the filled tube of pasta away from the rest of the sheet.
Using your fingertips, press the pasta into equal-sized sections (roughly 1 inch wide), creating a firm seal between each piece. Using your finger, roll each piece away from your slightly and using the pastry cutter, quickly cut between the seals to form each agnolotti (do this step quickly, as it will help create a firm seal).
Place the assembled agnolotti on a large baking sheet dusted lightly with coarse cornmeal or semolina.
Repeat with remaining pasta sheets, until all agnolotti have been assembled. Pasta can be stored in the fridge overnight, cooked immediately, or frozen on the sheet tray until solid (before being transferred to a ziploc bag).
Cook the agnolotti in boiling, salted water until al-dente.
Nutrition Information:
Yield: 4
Serving Size: 1
Amount Per Serving:
Calories: 864
Total Fat: 31g
Saturated Fat: 15g
Trans Fat: 0g
Unsaturated Fat: 13g
Cholesterol: 436mg
Sodium: 1093mg
Carbohydrates: 106g
Fiber: 9g
Sugar: 9g
Protein: 40g