Rhubarb Meringue Cups
Homemade crisp meringue cups filled with vanilla bean whipped cream and roasted rhubarb! An elegant, yet surprisingly simple springtime dessert.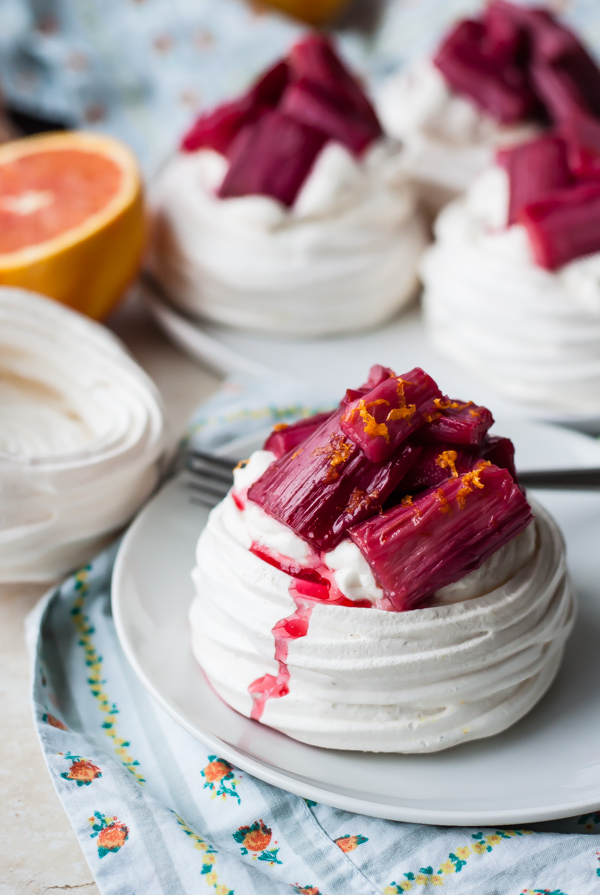 Are you currently in a post-Oscars haze? I know I am. Not a year goes by where I don't end up watching the entire thing start to finish.
The pre-carpet countdown (do they literally add another countdown every year? this is getting absurd), Red Carpet countdown, obviously the show itself, and the E! Fashion Police show the night after. It is essentially a 24-hour TV marathon.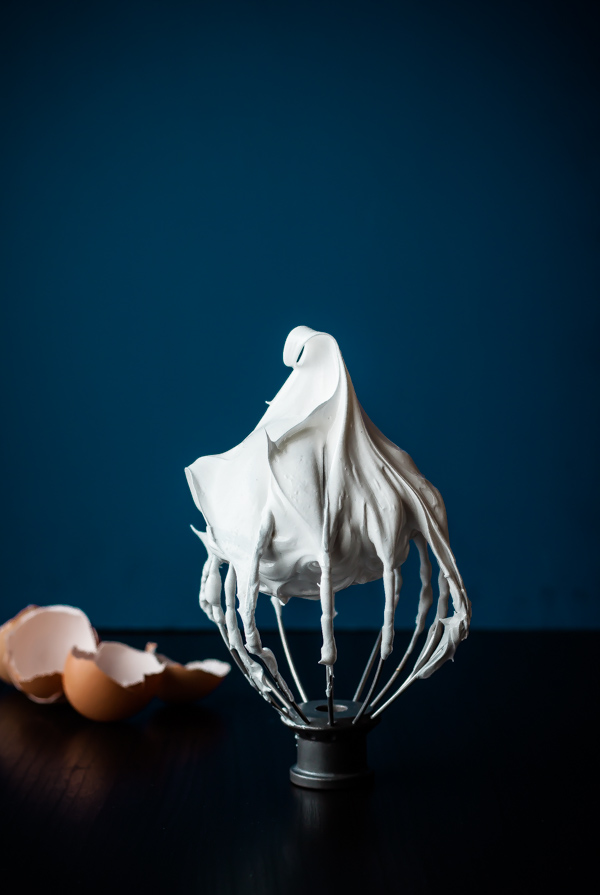 Rhubarb is the fruit equivalent of the Oscars for me.
It's fleeting, only comes around once a year, and it totally sucks me in every time. The minute it appears at the farmer's markets or in the grocery stores, I cannot resist it. Even if it does occasionally cost a small fortune.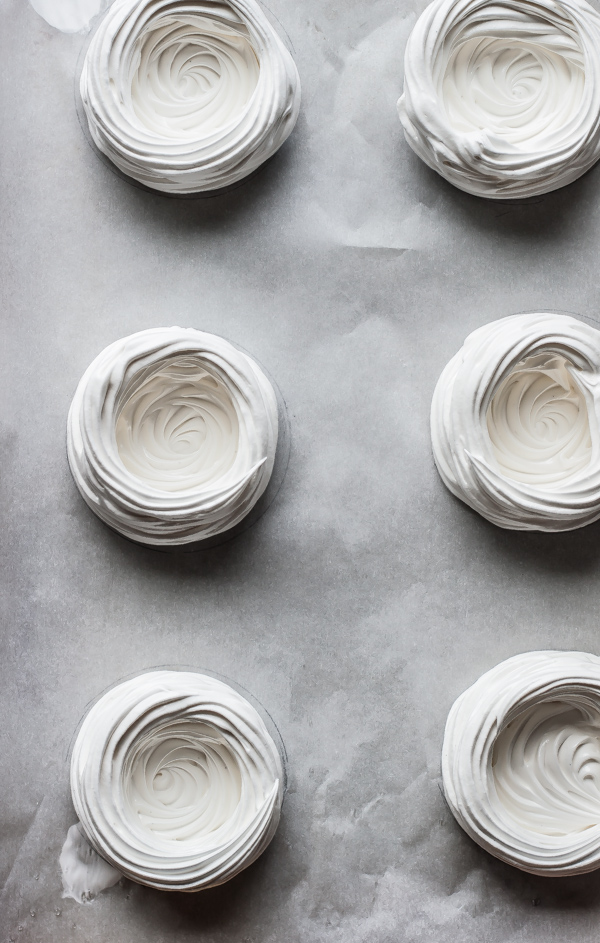 It is essentially the only spring fruit (fruit vegetable?)–and it serves as a reminder that summer isn't too far away. Although, even mentioning the word summer sounds crazy since we are currently in the thick of a massive winter snow storm at this very moment.
While I was growing up, my mom would always buy rhubarb and cook a simple rhubarb compote. We would eat it plain, on top of yogurt, or transform it into crisp, muffins, or other desserts.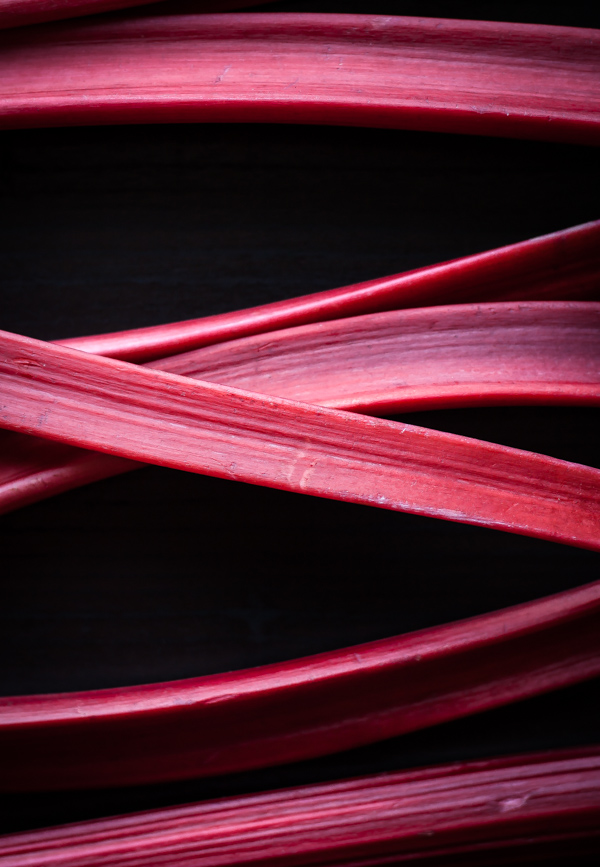 I can honestly say that there was a decent chunk of time, at least when I was very young, where I just didn't get rhubarb at all.
Now I love it. If I could eat rhubarb every day, I probably would. For some reason, the texture really appeals to me (it sort of melts in your mouth) and it is just so tart. Give me all of the tart foods.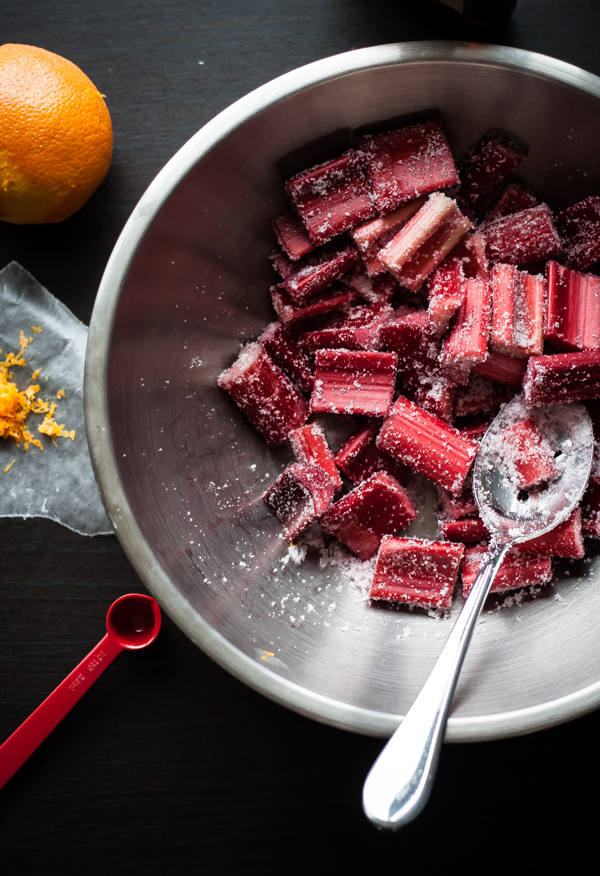 So when I saw rhubarb at the grocery store the other day, I had to have it (see above). The next step was coming up with a recipe idea.
I've been dying to create a dessert that incorporates meringue, some sort of flavored whipped cream, and fresh fruit for months and months. Please don't ask why it has taken this long–I have no idea.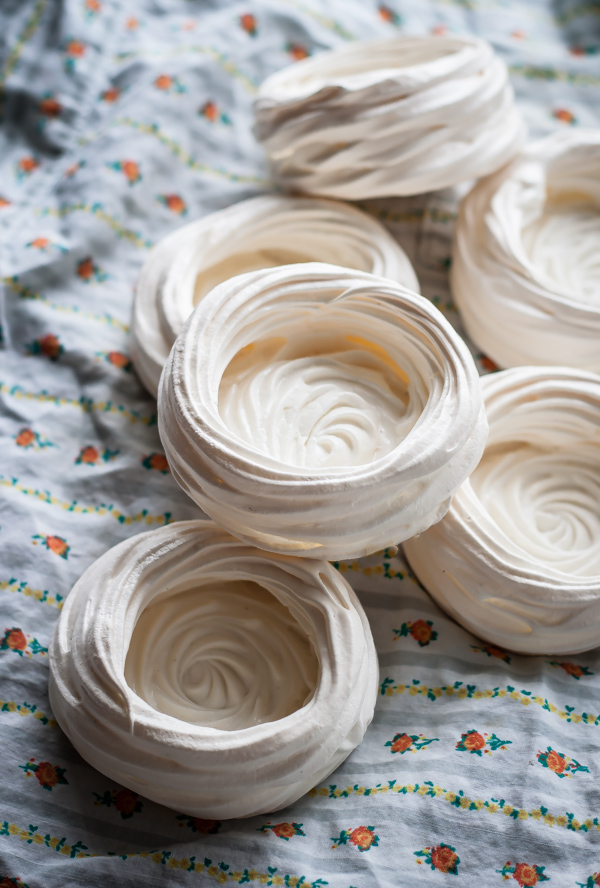 These rhubarb meringue cups were the result! Did you know that you can make (edible) meringue cups and fill them with all sorts of things? It's an amazing thing.
I love rhubarb, but these meringue cups stole the show for me. They're just so…dainty and cute.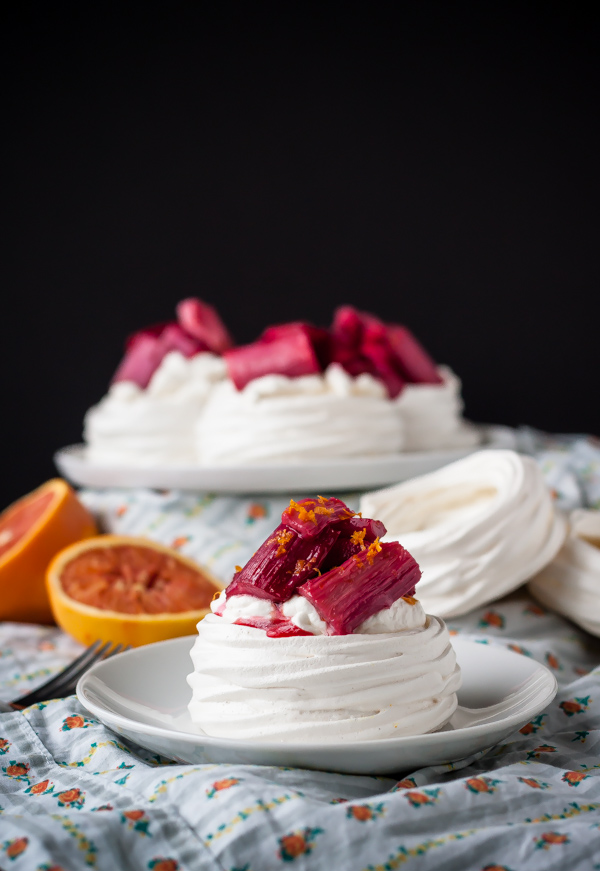 I know these meringue cups look finicky, but they are not. It simply requires piping meringue in concentric circles (and building up the sides to form a shell). The one caveat is that they do require a long baking time at a very low temperature. The long and low temperature cook time ensures that they will dry out thoroughly and become the true, light and crisp meringues that we all know and love.
I ended up filling the meringue cups with simple roasted rhubarb (roasting helps retain the rhubarb's shape) and a simple vanilla bean whipped cream that was infused with the teeniest amount of Grand Marnier.
Can we make it a rule to always start Mondays off with meringue cups?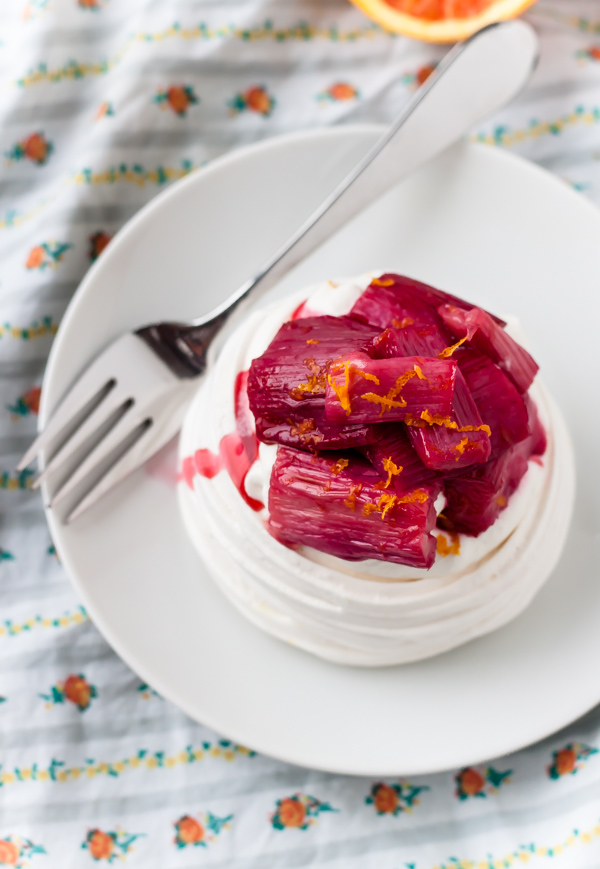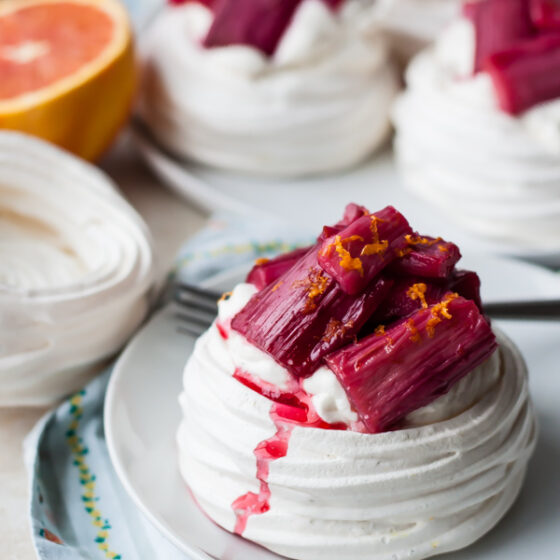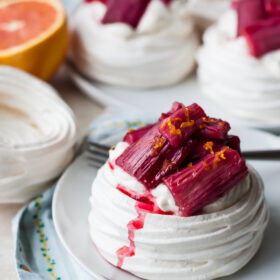 Rhubarb Meringue Cups
Homemade crispy, crunchy meringue cups filled with vanilla bean whipped cream and roasted rhubarb! An elegant, yet surprisingly easy springtime dessert.
Ingredients
Meringue Cups:
4 egg whites room temperature
1 cup (200 g) granulated sugar
½ teaspoon vanilla bean paste
Roasted Rhubarb:
1 lb (16 oz) rhubarb cut into 1 inch pieces.
½ cup (100 g) granulated sugar
1 tablespoon fresh orange juice
½ teaspoon orange zest
Vanilla Bean Whipped Cream:
1 cup (240 mL) heavy cream
1 teaspoon powdered sugar
¾ teaspoon vanilla bean paste
½ teaspoon Grand Marnier liquor optional
Instructions
Prepare Meringue Cups: Preheat the oven to 225°F (108°C). Using a large glass, trace six large circles (roughly 3 inches in diameter) on a large sheet of parchment paper. Place parchment paper on a large baking sheet–pencil side facing down.

Place the egg whites in the bowl (clean and free of any grease) of stand mixer, fitted with a whisk attachment. Whisk over low speed for 1 to 2 minutes, or until egg whites are foamy.  Increase speed to medium and continue to whisk for an additional 1 to 2 minutes. Slowly start sprinkling in the granulated sugar, while continuing to whisk at medium speed.  Increase speed to high and whisk until meringue reaches a stiff peak.

Whisk in the vanilla bean paste. Place the meringue in a pastry bag fitted with a star tip. Starting in the center of the circle, pipe a layer (roughly ½-inch thick) of meringue. Trace the edges of the circle four times to form the sides of the meringue cups. Repeat until all meringue cups are formed.

Immediately (and carefully) place the meringue in the oven and bake for 1 hour and 30 minutes. Once baked, turn off the oven and allow meringues to dry in the warm oven for an additional 20 to 30 minutes. Meringue should be crispy, hard, and not sticky. If the meringue is wet or sticky (which can depend on humidity levels), allow them to bake for an additional 10 to 15 minutes. Remove the meringue cups from the parchment paper and set aside.

Roast Rhubarb: Preheat the oven to 400°F (204°C).  Line a large baking sheet with parchment paper or foil. Toss the rhubarb with the sugar, orange juice, and zest. Allow mixture to sit for 10 to 15 minutes to macerate. Roast the rhubarb for 15 to 20 minutes, or until it is cooked through, but can still retain its shape. Remove and allow to cool completely.

Vanilla Bean Whipped Cream: Combine the heavy cream, powdered sugar, Grand Marnier, and vanilla bean paste. Whip to soft peaks.

Assembly: Right before serving, fill the meringue cups with whipped cream and top with roasted rhubarb pieces. Garnish with orange zest. Serve immediately.
Tips for Success:
Meringue shells can be prepared up to a day or two in advance and kept in an airtight container at room temperature (preferably with a silica gel pack to keep moisture out).
Roasted rhubarb inspired by
Dorie Greenspan
.
Serving: 1serving, Calories: 362kcal, Carbohydrates: 55g, Protein: 4g, Fat: 15g, Saturated Fat: 9g, Polyunsaturated Fat: 4g, Cholesterol: 45mg, Sodium: 51mg, Fiber: 1g, Sugar: 53g
This post contains affiliate links, which means that I make a small commission off items you purchase at no additional cost to you. Please read my
privacy policy
for more information.