Green Lentil Soup with Coconut Milk and Indian Spices
Green Lentil Soup with Coconut Milk and Indian Spices. A flavor-packed comforting lentil soup recipe!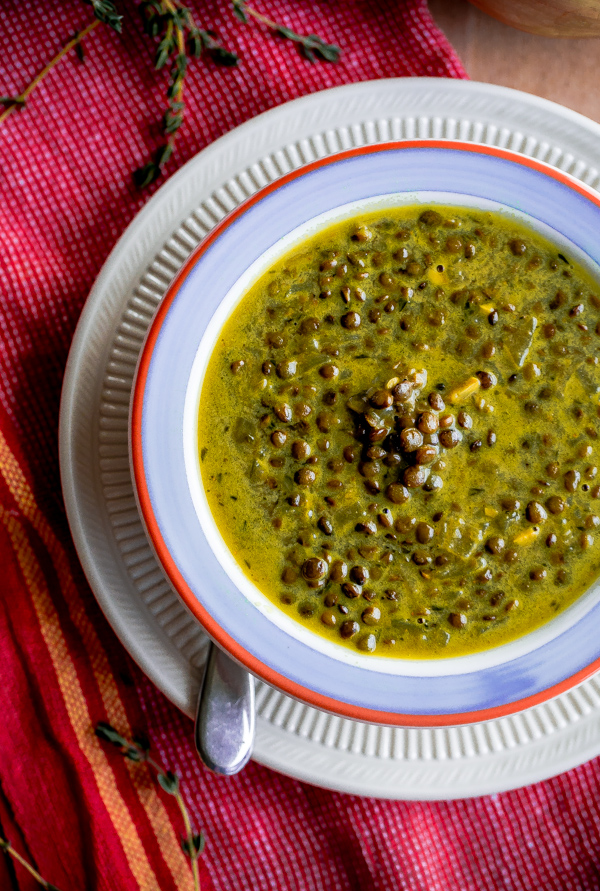 Oh, lentil soup! One of my absolute favorites. All I need in the world is a good bowl of soup, and a crusty piece of bread. I could live on the stuff.
I've talked about my love of lentil soup (and side of grilled cheese) before. My mom makes one of my favorite lentil soups ever. It is Italian-icized (as is the case with most of my family's dishes) with the addition of leftover parmigiano-reggiano rinds in the broth and good-quality canned tomatoes. It was one of my favorite dinners growing up.
Today's green lentil soup with coconut milk and Indian spices is the polar opposite of that version. It is a little exotic and mysterious, but just as addicting and comforting.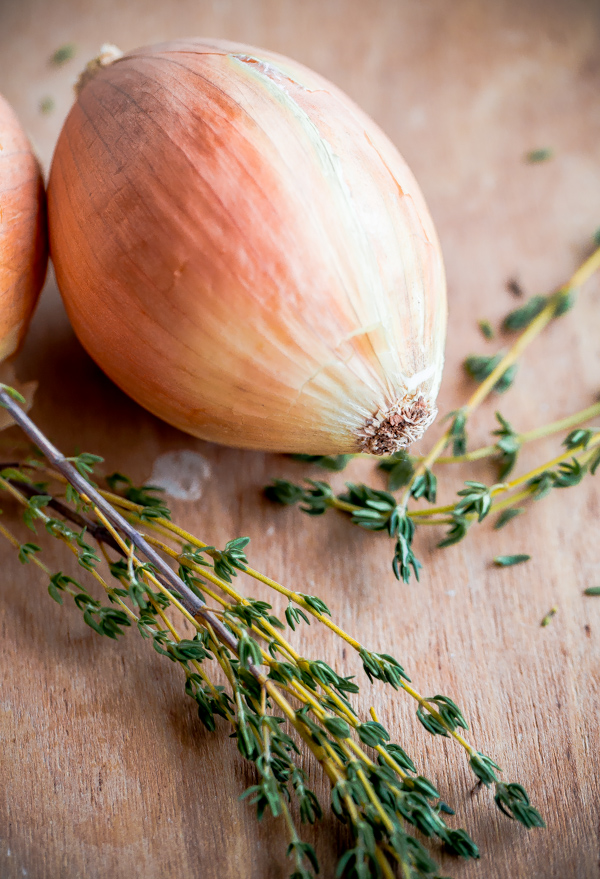 Every now and then, I have to remind myself to break out of my soup routine and make something really unique and different. This green-lentil soup is that and more. The recipe is barely adapted from one of my older (yet well-loved) cookbooks, Once Upon a Tart.
The cookbook, based on the two authors' cafe in New York City, is chock full of satisfying and comforting soup, tart, pastry, and sandwich recipes.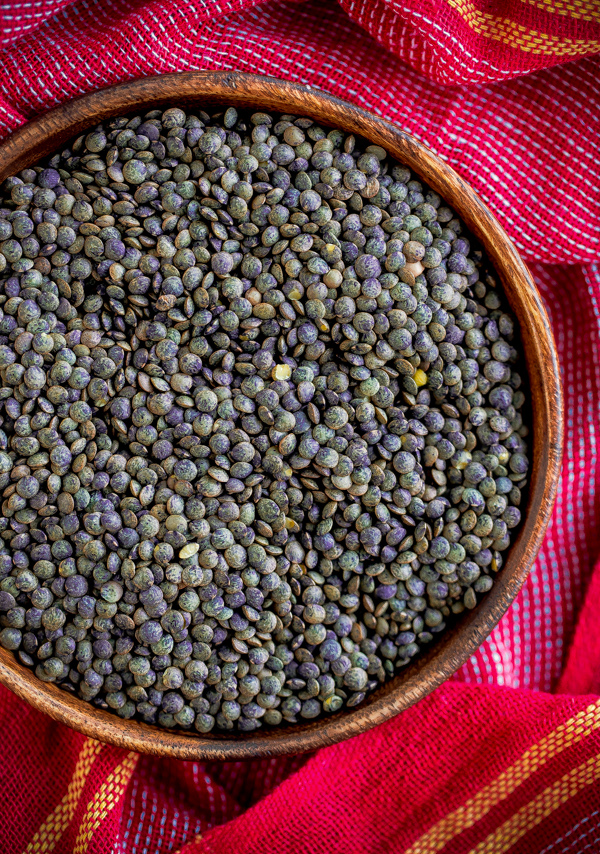 This lentil soup is rich and creamy, yet still manages to be light and delicate, if that makes any sense at all. It also uses my favorite type of lentil: lentilles de puy, more commonly known as a French green lentils. They become tender in a relatively short amount of time (20 to 25 minutes), but don't lose their shape, unlike most other lentil varieties.
The soup gets its creaminess from the addition of full-fat coconut milk and, wait for it…GHEE!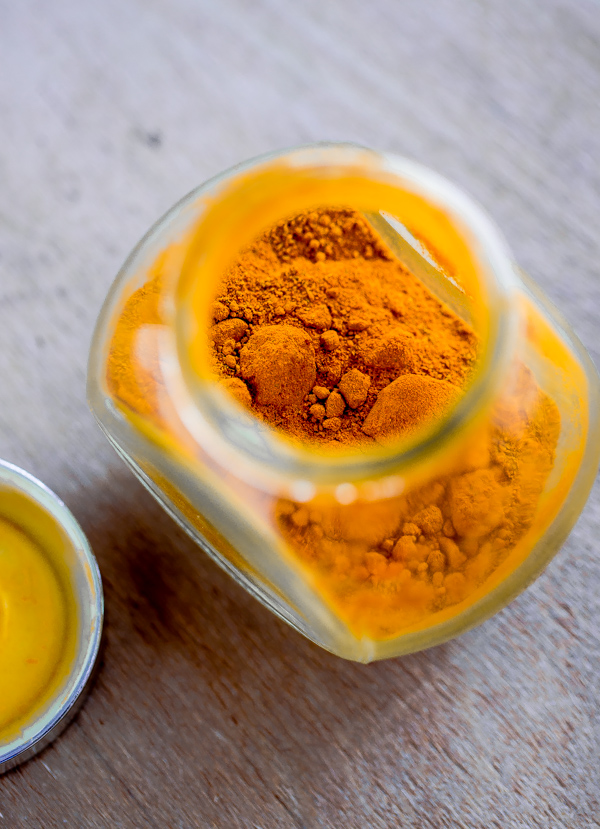 Is yesterday's crazy-long butter post starting to make sense now? I've actually been wanting to do that for a while. I mean, why wouldn't I want to talk about butter for paragraphs and paragraphs on end?
Exactly. But really, there was a reason behind the madness, and it was in preparation for today's recipe.
What's the fun in posting a recipe that calls for ghee (or at least recommends it, don't worry, it can easily b e substituted with regular butter), if–and I'm not making any assumptions–you don't know what it is, how to make your own, or have never even heard of the stuff. That is not helpful in the slightest.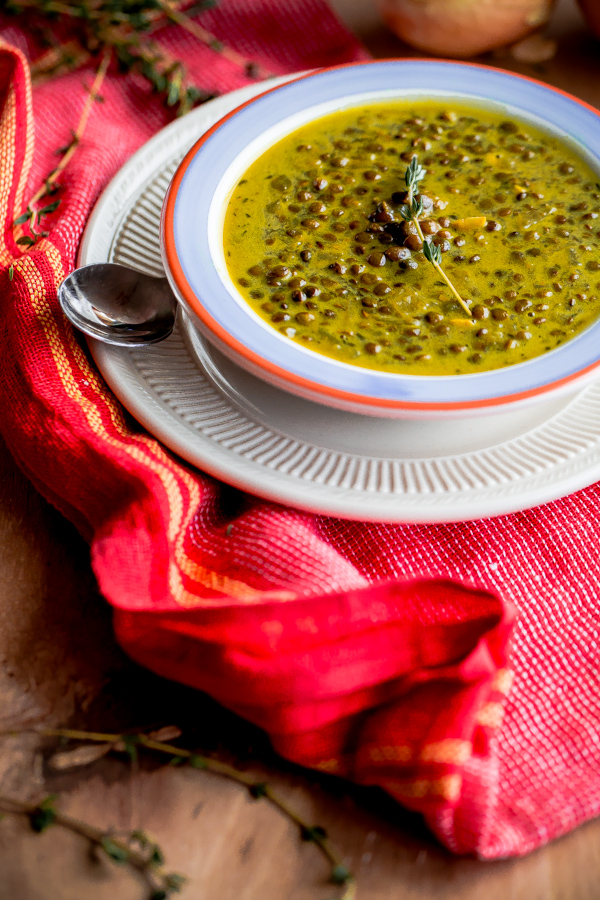 Now that you know how to make ghee, you're probably wondering how it is incorporated into this recipe?
Well, warm and cozy fall spices, including cardamom, cinnamon, and nutmeg, are toasted and warmed with a touch of melted ghee and stirred into the soup just before it is finished cooking. I kind of love it.
It makes the spices stand out more (maybe I'm imagining it, but it at least seemed that way!) and makes for a very fragrant and intoxicating soup! The combination of the ghee, spices, and coconut milk are the perfect trifecta.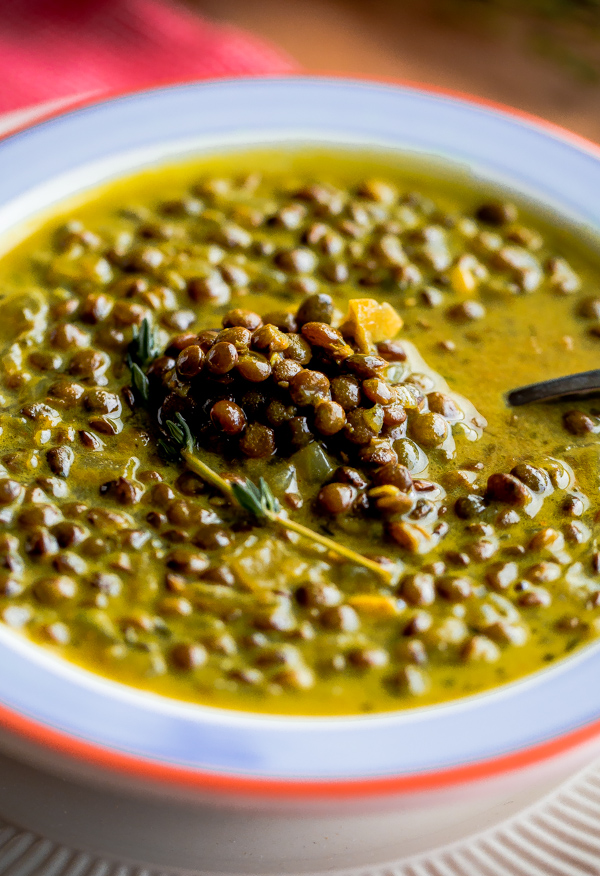 Make this soup for a crowd and I guarantee you everyone will be scratching their heads, wondering what is in it that makes it taste so darn special, and even better…coming back to you to ask for a copy of the recipe.
Also, as is the case with practically all soups, this one tastes even better on day two or three!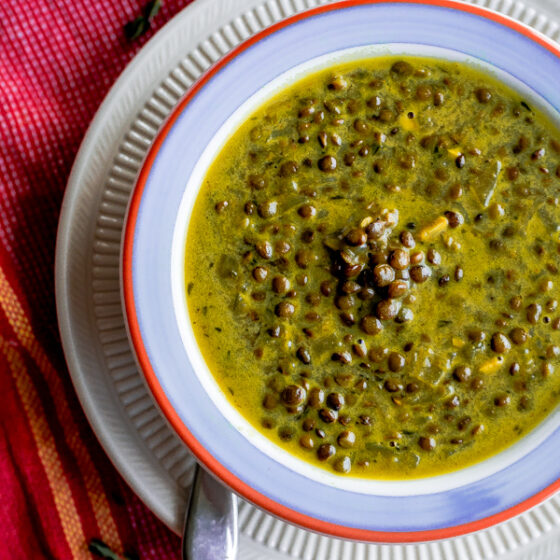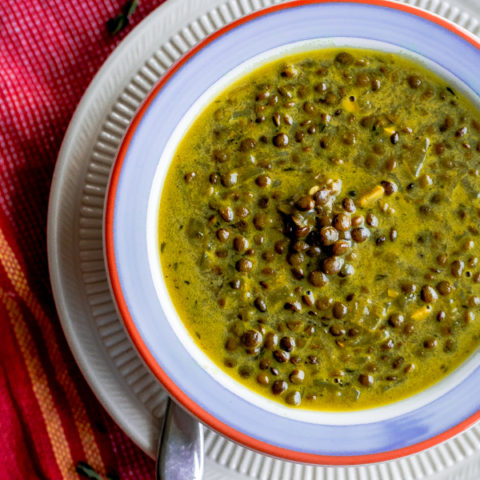 Green Lentil Soup with Coconut Milk and Indian Spices
Yield: 4-6 Servings
This Green Lentil Soup with Coconut Milk and Indian Spices is bursting with flavor from coconut milk, toasted spices, and ghee. It also uses my favorite lentils: lentilles de puy, more commonly known as a French green lentils, which hold their shape once cooked and become tender in just 20 to 25 minutes. This green lentil soup is exotic and mysterious in flavor, you won't be able to stop eating it!
Prep Time: 15 minutes
Cook Time: 40 minutes
Additional Time: 5 minutes
Total Time: 1 hour
Ingredients
3 tablespoons unsalted butter
1 large onion, finely diced
2 garlic cloves, finely minced
1 tablespoon fresh thyme, finely chopped
1 and 1/2 teaspoons ground turmeric
1 and 1/2 quarts (6 cups) low-sodium chicken (or vegetable) broth
1 and 1/2 cups Lentilles de Puy (French green lentils), rinsed and picked over
2 tablespoons ghee, clarified, or unsalted butter
1/2 teaspoon ground cardamom
1/4 teaspoon ground cinnamon
1/4 teaspoon ground cloves
pinch of ground nutmeg
fresh black pepper
1 cup full-fat canned coconut milk
salt
Instructions
Heat the unsalted butter in a large soup pot. Add the diced onion and garlic, and saute over medium-high heat for 8-10 minutes, stirring frequently, until the onions are very soft and translucent. They will reduce in volume significantly.
Add the fresh thyme and turmeric, and continue to saute for an additional 7-8 minutes, until the mixture is very soft and fragrant.
Add the stock and the lentils and bring to a boil. Immediately reduce the heat to low, and simmer for 25-30 minutes, or until the lentils are tender (yet still hold their shape).
In a small saucepan, heat the ghee (or clarified butter or unsalted butter) over low heat. Add the spices and fresh black pepper, and saute, stirring constantly for 2 minutes or so, until the butter is fragrant. Watch the pan carefully, as it can easily go from fragrant to burned quite quickly.
Add the butter-spice mixture to the soup. Pour in the coconut milk, and heat soup over medium heat for 15 minutes. Season soup with salt and pepper to taste. Serve hot.
Notes
Leftover soup can be stored in a container and kept in the fridge, and reheated before serving, for up to 3 to 4 additional days.
Barely adapted from Once Upon a Tart by Frank Mentesana and Jerome Audureau
Nutrition Information:
Yield: 5
Serving Size: 1
Amount Per Serving:
Calories: 285
Total Fat: 25g
Saturated Fat: 18g
Trans Fat: 0g
Unsaturated Fat: 6g
Cholesterol: 53mg
Sodium: 444mg
Carbohydrates: 8g
Fiber: 1g
Sugar: 3g
Protein: 10g