Grilled Cheese Sandwiches with Broccolini, Sautéed Red Onions, & Red Pepper Flakes
This post contains affiliate links.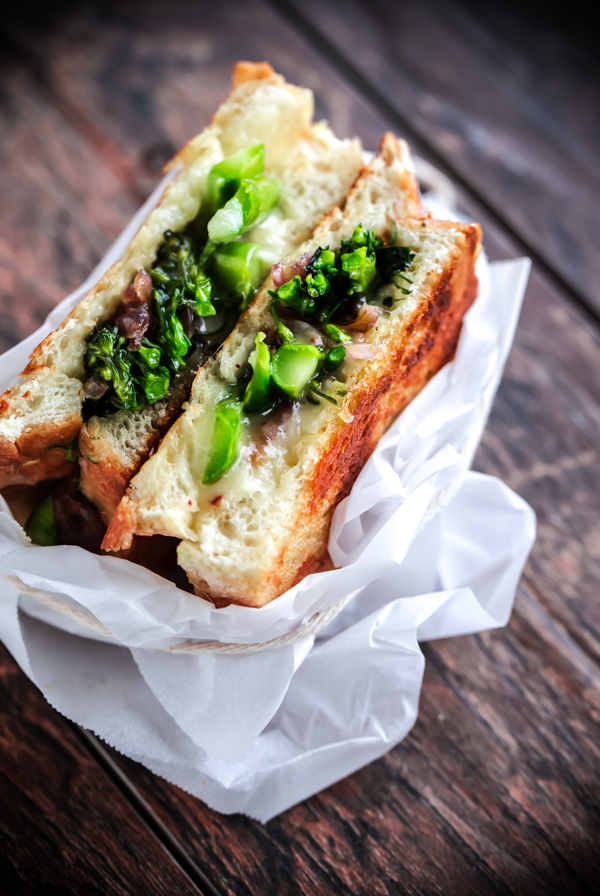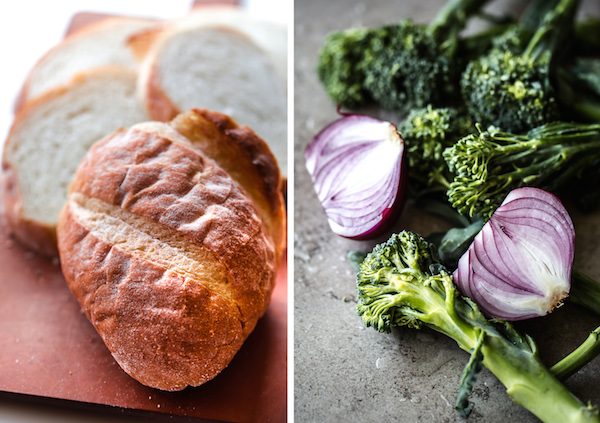 I can't think of a better way to start the week than with gooey grilled cheese sandwiches, can you? These ones are loaded with gooey fontina, sharp cheddar, and lots of veggies (you know, for balance).
I also added in a hefty sprinkling of red pepper flakes, because they are so, so good and make everything better.  I add them to practically everything I eat–especially if cheese is involved.
Don't worry, my taste buds are not completely destroyed yet. I'll let you know when they are.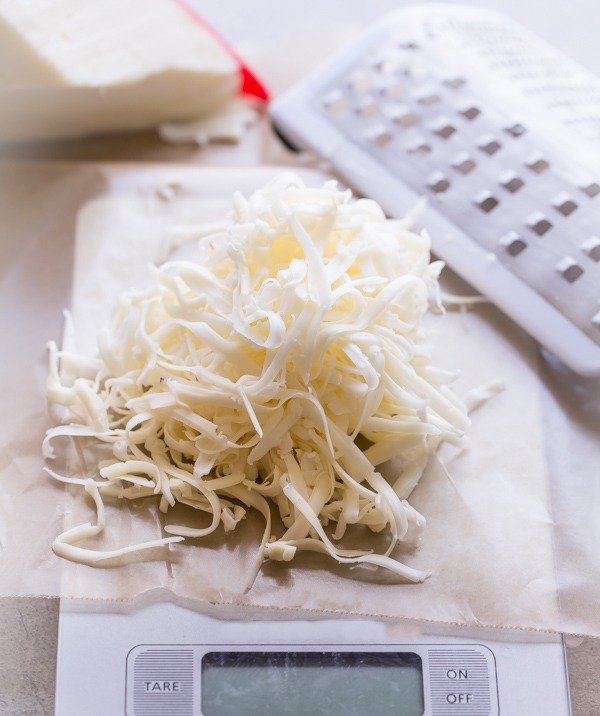 Grilled cheese sandwiches are near and dear to my heart. Growing up, my best friend, Caroline, and I would always, always, always make them for lunch whenever we had play dates or sleepovers. It was our thing. Actually, she only just ate them–I always did the making part, but that is neither here nor there.
I refused to use anything but the sharpest cheddar–don't even mention those things that start with 'k' and end with 'raft singles' around me–and we would always pair them (and subsequently dunk them) with a big bowlful of Progresso lentil soup.
Apparently, my food snobbery didn't impact my soup or bread choices. Aaaah, yes, it was a simpler time. We must have literally made that meal hundreds of times over the years.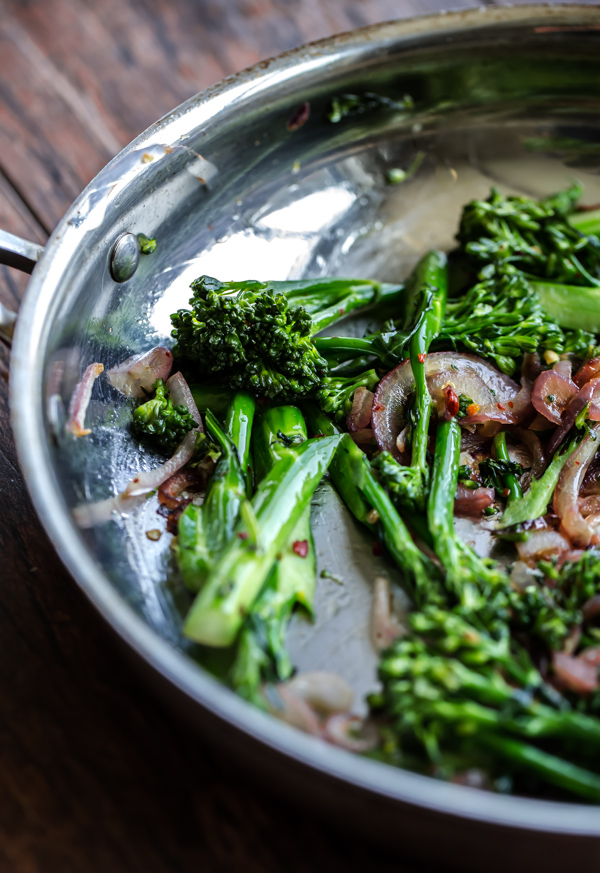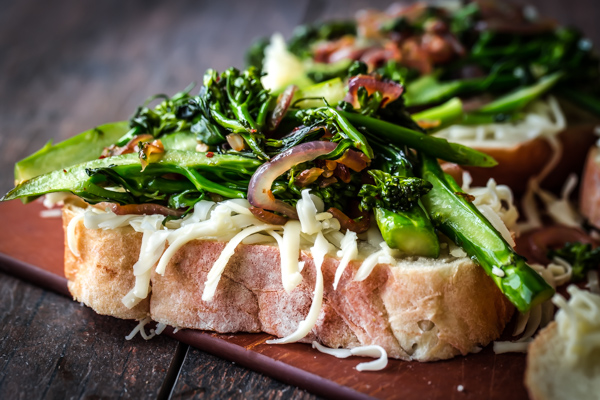 Thankfully my grilled cheese repertoire has expanded a bit, and now I use all sorts of cheeses and add-in's, like sauteed red onions and broccolini. I also only use freshly grated cheese because this step is absolutely essential to any good grilled cheese.
Ok, that's a lie. Occasionally I'm lazy and slice  the cheese, but it is NEVER the same! Don't follow my example. Although I'm still a sucker for a classic grilled cheese (with only sharp cheddar), I really love the addition of grated fontina because it melts so beautifully.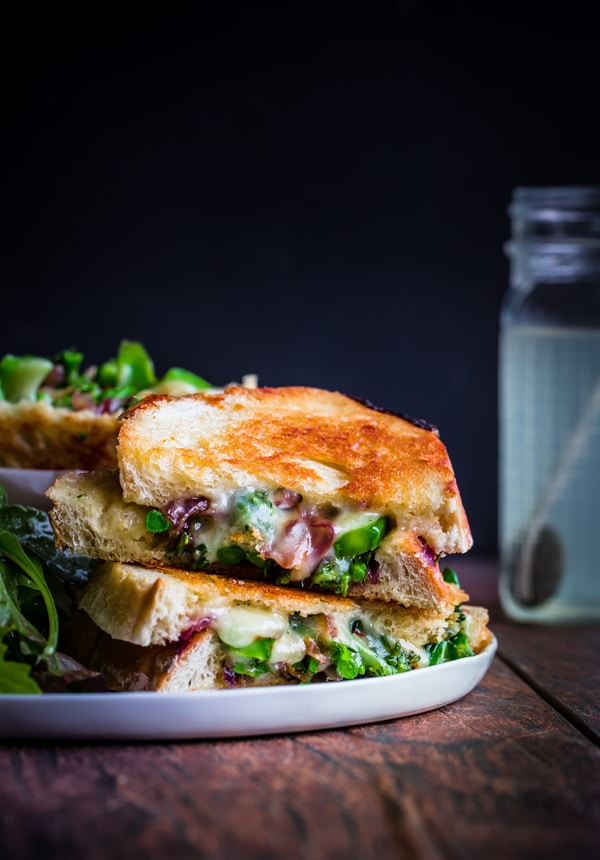 This time I decided to bulk things up by adding sauteed red onions and broccolini (you could easily swap in broccoli rabe for this!). The vegetables are placed between two layers of grated cheese so that the sandwich holds together and melts evenly. The veggies gave this grilled cheese the best texture, and helped make it extra hearty and filling. The red pepper flakes pulled it all together, as they always do.
Dinner anyone?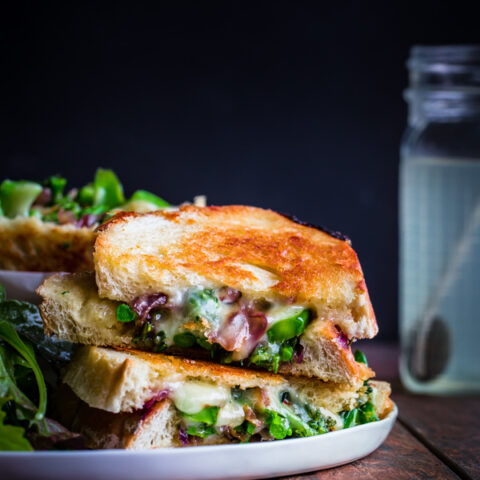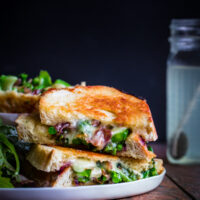 Grilled Cheese Sandwiches with Broccolini, Sautéed Red Onions, & Red Pepper Flakes
Yield: 2 Servings

Prep Time: 10 minutes

Cook Time: 15 minutes

Total Time: 25 minutes
Ingredients
1 tablespoon extra virgin olive oil
1 small red onion, thinly sliced
4 ounces broccolini (or substitute with broccoli rabe), sliced lengthwise (trim the ends of the stalks)
1/2 teaspoon crushed red pepper flakes
kosher salt
2 ounces grated fontina cheese
2 ounces grated sharp cheddar cheese
~2 tablespoons unsalted butter, room temperature
4 large thick slices of sourdough or whole-grain bread
Instructions
Heat the oil in a large skillet over medium heat. Add the sliced red onion and saute for 3 to 4 minutes, stirring frequently. The onions should be soft and lightly caramelized–if they start to crisp too quickly, add a tablespoon of water to deglaze the pan and add moisture.
Add the sliced broccolini to the skillet and continue to saute over medium heat for an additional 3-4 minutes, or until the broccolini is fork tender. Add the red pepper flakes and stir to combine. Season to taste with salt, and place mixture in a heatproof bowl and set aside. Clean and dry the skillet.
Combine the grated cheeses together in a separate bowl. To assemble the sandwiches, spread butter (roughly 1/2 tablespoon) evenly onto the outside of each bread slice. Add a layer of cheese onto the bottom piece of bottom. Top with a layer of the vegetable mixture, and then add another handful of cheese. Add the top layer of bread.
Heat the same skillet to medium-low heat. Cook the sandwiches until golden brown on each side, adjusting the heat as necessary. Slice sandwiches in half and serve immediately.
Nutrition Information:
Yield: 2 Serving Size: 1
Amount Per Serving: Calories: 496Total Fat: 33gSaturated Fat: 16gTrans Fat: 0gUnsaturated Fat: 14gCholesterol: 76mgSodium: 984mgCarbohydrates: 31gFiber: 4gSugar: 5gProtein: 21g

A Beautiful Plate provides nutritional information, but these figures should be considered estimates, as they are not calculated by a registered dietician.
This post contains some affiliate links, which means that I make a small commission off items you purchase at no additional cost to you. Please read my
disclosure policy
for more information.