Salt and Vinegar Roasted Chickpeas
Salt and Vinegar Roasted Chickpeas. An easy, protein and fiber-packed healthy snack that you won't be able put down!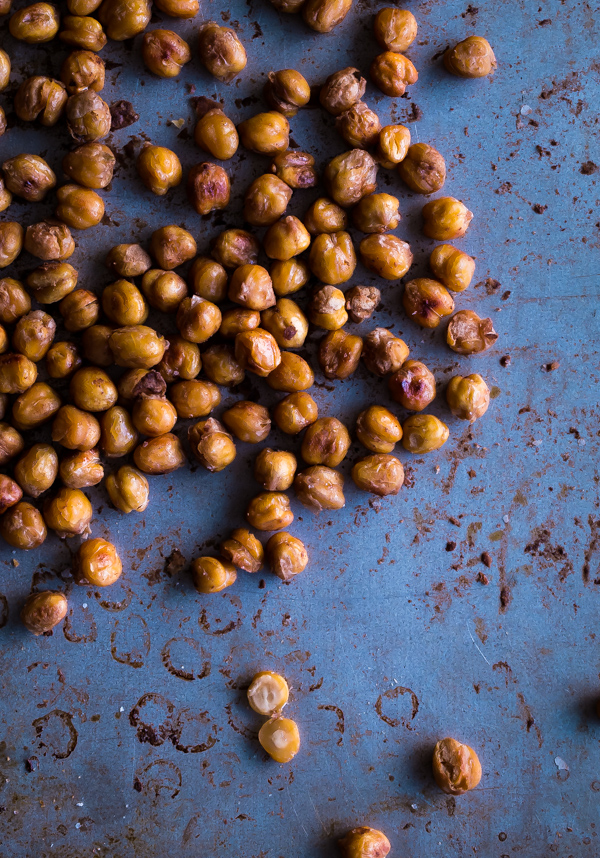 So, I'm just going to cut to the chase with this post. These salt and vinegar chickpeas were totally inspired by Jessica's BBQ roasted chickpeas in her new cookbook. Have you roasted chickpeas before? I totally hadn't up until a week or so ago.
I'm officially a changed woman.
In the past, chickpeas haven't really been my thing. Give me all the homemade hummus in the world, but whole cooked chickpeas? Eh. I'll eat them, but I'd prefer other beans any day of the week. But man, these are good! And totally snack worthy.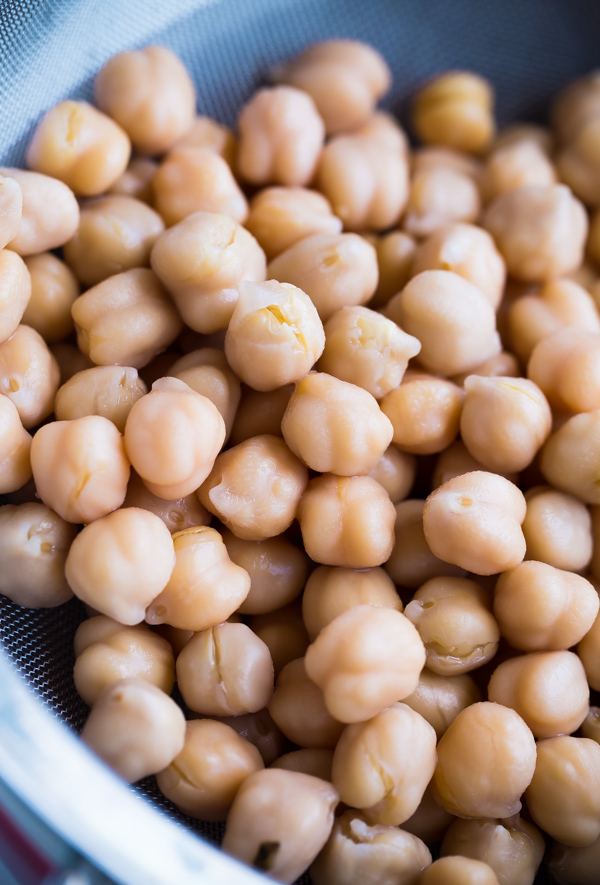 Like, I-could-eat-an-entire-can-of-chickpeas-in-one-sitting snack worthy. It sounds bizarre to admit that I could happily toss back that many chickpeas (seriously, I wouldn't even believe me!), but they are oddly addictive.
They are best right out of the oven when they are all crispy and crunchy, but I was snacking on these even hours later. Like, past their prime. I literally cannot even explain it!
Plus, they are ridiculously healthy (and wedding dress friendly, blah). Protein and fiber for days.
Anyway, in Jessica's recipe intro, she essentially promises that you can turn your favorite flavor into a roasted chickpea, and the idea totally stuck with me. SALT AND VINEGAR! Yes, yes, yes.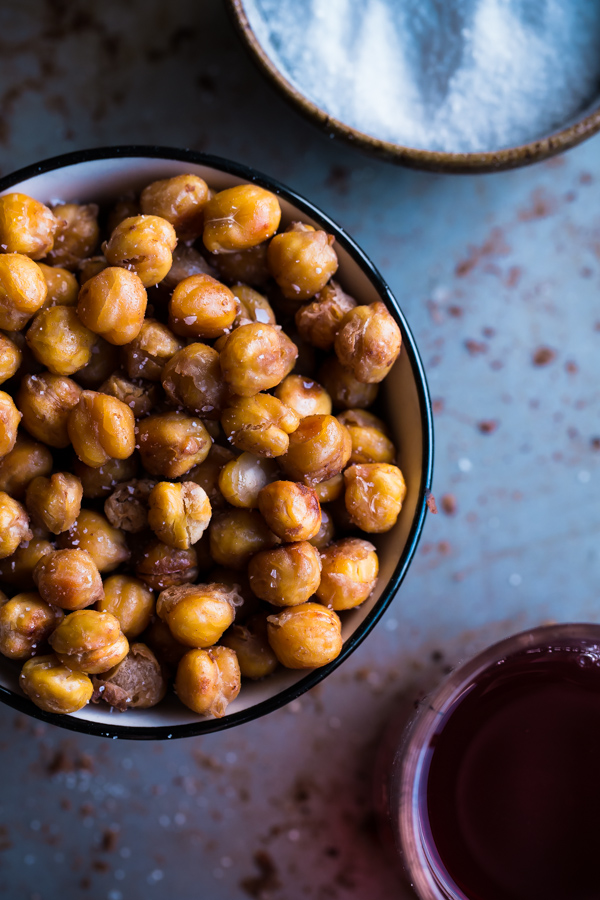 Five minutes later I was in the kitchen opening a can of chickpeas and preheating the oven.
Now, I must admit, I feel a little silly posting this recipe because there are practically no ingredients involved, and the title practically speaks for itself….but then, I just kept on munching. So, I eventually reconsidered.
I mean, we could all use more easy, healthy snacks like these in our lives, right? Right.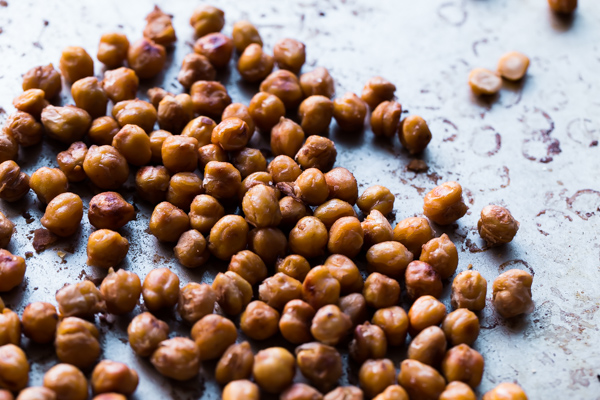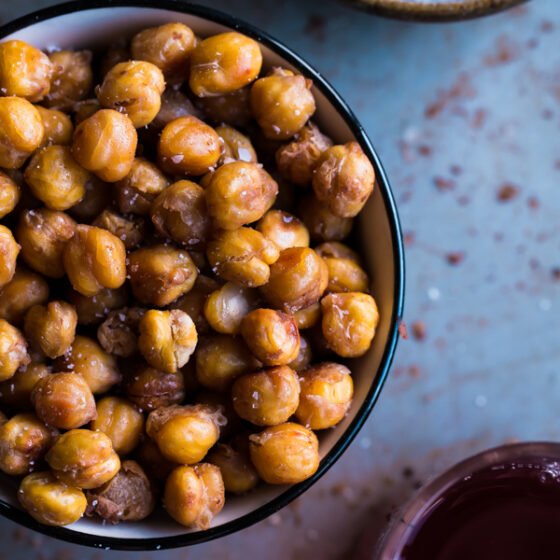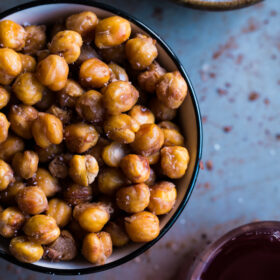 Salt and Vinegar Roasted Chickpeas
Salt and Vinegar Roasted Chickpeas. A easy, protein and fiber-packed healthy snack that you won't be able to stop eating!
Ingredients
1 (15-ounce) can chickpeas drained and rinsed thoroughly
1 tablespoon extra virgin olive oil
½ teaspoon kosher salt or more to taste
freshly ground black pepper
1 tablespoon red wine vinegar
Instructions
Preheat the oven to 425°F (218°C) Place the drained and rinsed chickpeas on a clean kitchen towel (or paper towels) and pat dry. It is very important for the chickpeas to be as dry as possible before they hit the oven, otherwise they won't crisp up properly.

Place the chickpeas on a half sheet pan and drizzle them with the olive oil. Add the salt and freshly ground pepper, and toss until evenly distributed.

Roast for 15 minutes. Remove from the oven, and toss the chickpeas with a spatula or wooden spoon. Roast the chickpeas for an additional 10 minutes or until they are golden brown and crispy (but not too dry).

Drizzle the chickpeas with the vinegar, toss, and pop them back into the oven for another 30 seconds or so. Remove from the oven and allow to cool slightly before eating (the salt and vinegar flavor will be more pronounced when they are lukewarm, rather than piping hot out of the oven).
Best served within a few hours of roasting (preferably right after); they can also be stored in an airtight container for 1 to 2 days.
Serving: 1serving, Calories: 198kcal, Carbohydrates: 27g, Protein: 9g, Fat: 7g, Saturated Fat: 1g, Polyunsaturated Fat: 5g, Sodium: 755mg, Fiber: 7g, Sugar: 5g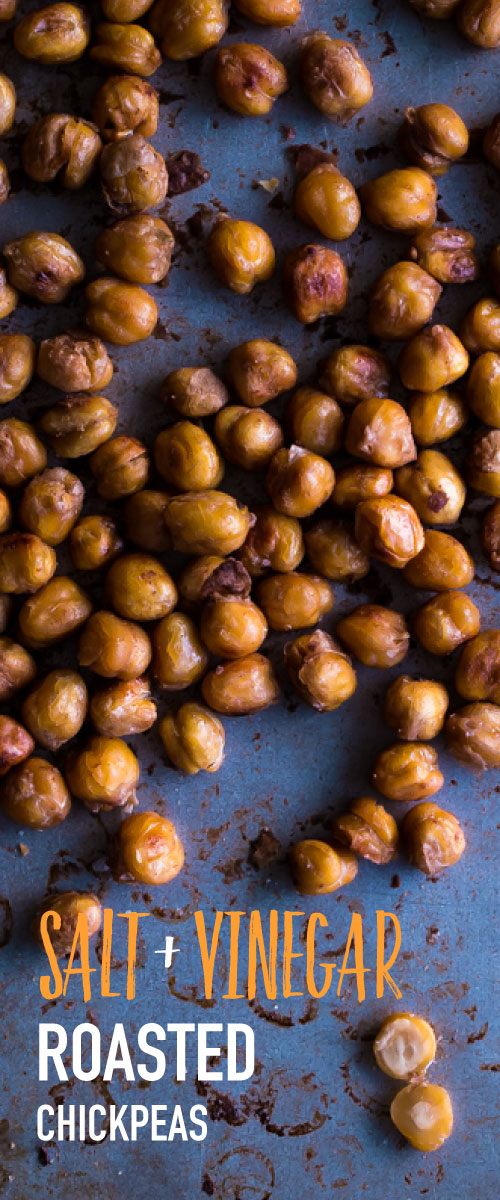 This post contains affiliate links, which means that I make a small commission off items you purchase at no additional cost to you. Please read my
privacy policy
for more information.