Grilled Radicchio with Fig Balsamic Syrup, Parmigiano, and Honey-Roasted Almonds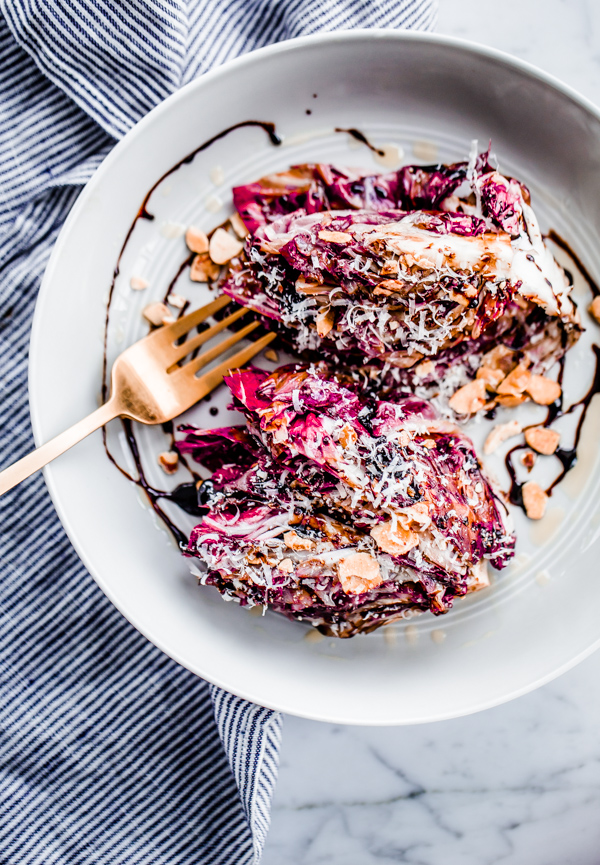 I bring you parmigiano-reggiano cheese with a side of grilled vegetables.
Just kidding! There are actually quite a few vegetables underneath all of that glorious cheese. I'm all for simple side dishes at the moment (particularly vegetable-heavy ones at that) and this dish totally fits into that category.
This one requires less than five ingredients, can be made in about 30 minutes or less, and couldn't be easier to prepare.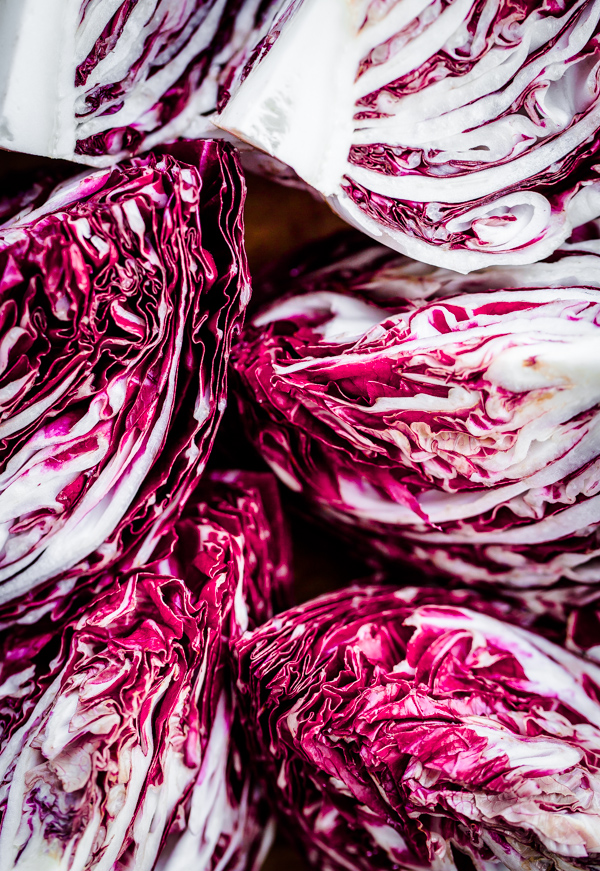 Are you a radicchio fan? Besides this fall salad from last year, it hasn't made many appearances in my recipe archive. Technically, it's a winter vegetable (actually a chicory, if we're being really technical), so this recipe is a little out of season. Please forgive me.
But grilled vegetables scream summer in my humble opinion, so I took some liberties this time.
I'm going to be totally straight with you and say that if you're not a fan of bitter foods, you probably won't be radicchio's biggest fan. The good news? The bitterness of radicchio gets tempered a bit once grilled or cooked!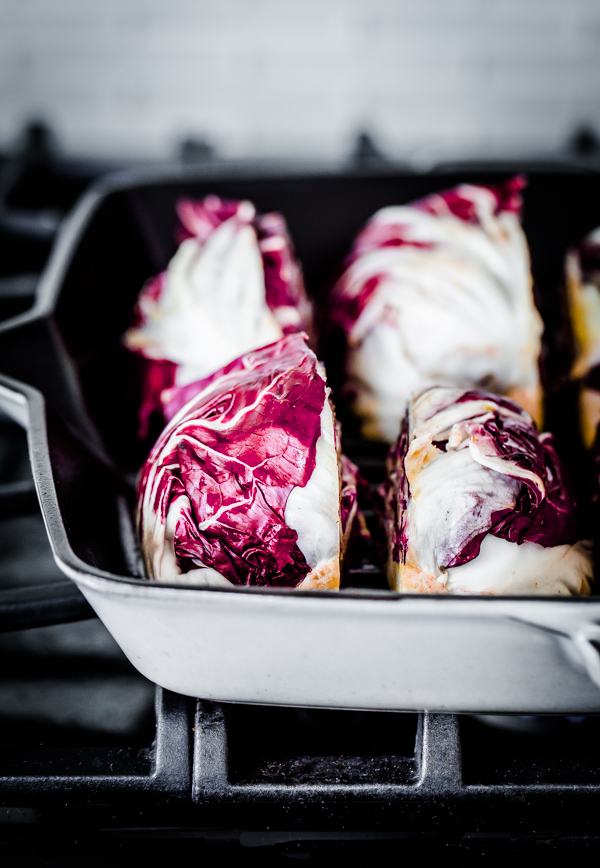 Although I grilled the radicchio in a cast-iron grill pan (it takes only a few minutes per side), you can also grill these radicchio heads on an outdoor gas or charcoal grill. Just make sure to always slice the radicchio heads lengthwise, while keeping the core intact, to ensure that they stay nice and compact.
To temper the bitterness even further, the grilled radicchio is drizzled with sweet, tangy fig balsamic syrup. I happen to love fig balsamic vinegar (more than traditional balsamic), but if you only have balsamic vinegar on hand, use that!
If you've never had it before, balsamic syrup is essentially heavily reduced balsamic vinegar. It gets thick, the sugars concentrate and become more pronounced, and you'll quickly find yourself wanting to drizzle it on all.the.things.
If you've never made homemade balsamic syrup, don't stress. It's very, very easy. Essentially it involves two things: balsamic vinegar, a touch of sugar, and a small saucepan. Heat, reduce, and you've got yourself some tasty syrup. Many grocery stores now sell bottled balsamic syrup (sometimes called 'glaze'), but I prefer to make my own as it allows me to control the quality of the balsamic syrup.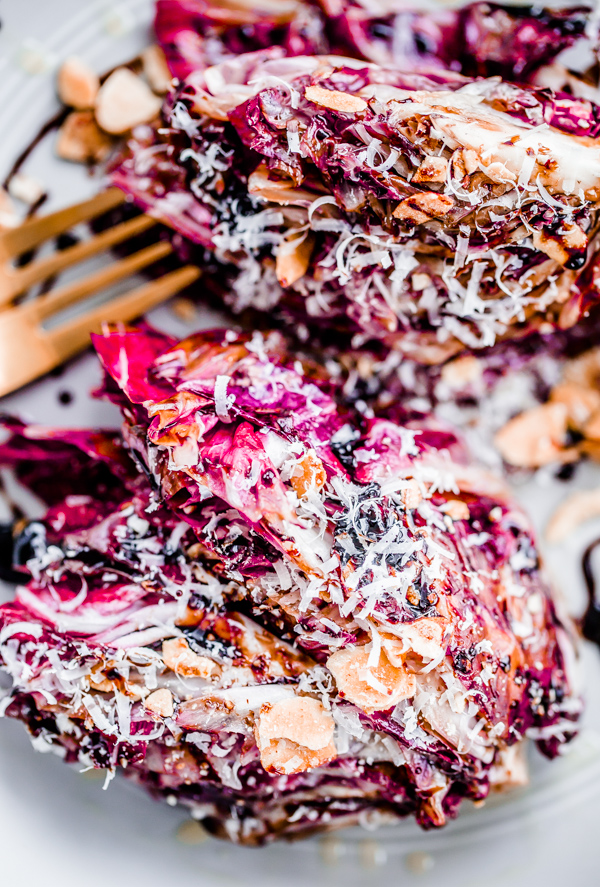 Add salty, nutty parmigiano-reggiano cheese and toasted almonds slices for crunch (this recipe uses Trader Joe's honey-roasted almond slices, which are great and add a touch more sweetness to the dish!), and you've got everything in one dish: bitter, sour, sweet, and salty.
This side dish would be great with grilled seafood, chicken, or lamb! As always, let me know what you think if you try it!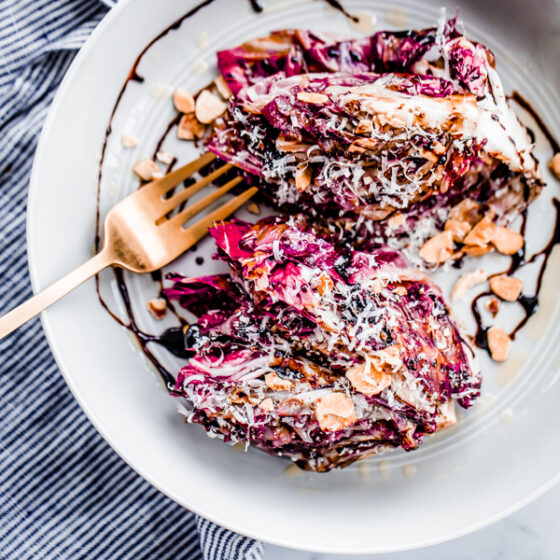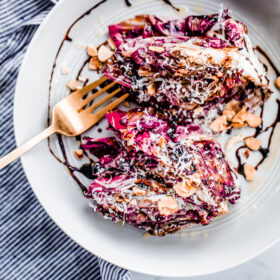 Grilled Radicchio with Balsamic Syrup, Parmigiano, and Honey-Roasted Almonds
Naturally bitter raddichio is grilled until tender and tempered with balsamic syrup, dusted with grated parmigiano-reggiano cheese, and garnished with honey roasted almonds.
Ingredients
Homemade Balsamic Syrup:
½ cup (120 mL) good-quality fig balsamic or balsamic vinegar
1 tablespoon (12 g) granulated sugar
Grilled Radicchio:
3 firm heads radicchio see recipe notes
extra virgin olive oil for brushing
freshly ground black pepper
For Assembly:
3-4 tablespoons honey-roasted almond slices, chopped I use the Trader Joe's brand for ease, but you can also make your own from scratch if you prefer
1-2 ounces parmigiano-reggiano cheese
Instructions
Prepare Balsamic Syrup: Place fig balsamic vinegar and sugar in a small saucepan, and stir together. Heat over medium-high heat and simmer until the vinegar has reduced, uncovered, by more than half (roughly ¼ cup), or until the vinegar has thickened considerably. Remove from heat and allow to cool completely before using.

Grill Raddichio: Slice each radicchio head lengthwise into four wedges (leaving the core intact). Radicchio will oxidize and bruise, so be sure to wait to slice the raddichio until just before grilling (or soaking, see note section below). Brush the wedges with olive oil, season with salt and pepper. Heat a cast-iron grill pan over medium-high heat until very hot, or alternatively an outdoor gas grill over medium-high heat. Add the raddichio, cut-side down), and grill for 2 to 3 minutes per side, or until the leaves have browned slightly. Turn and repeat on the other side. Transfer to a large platter, press the wedges to open the leaves, and allow to cool to lukewarm or room temperature.

Before serving, drizzle the radicchio with the thickened balsamic syrup. Sprinkle with chopped almond slices, and using a microplane, garnish with parmigiano-reggiano cheese as desired. Serve.
Tips for Success:
To remove additional bitterness from the radicchio, slice the radicchio into wedges and allow to sit in an ice water bath for 1 to 2 hours in the fridge. Before grilling, pat the radicchio completely dry.
Serving: 1serving, Calories: 143kcal, Carbohydrates: 12g, Protein: 5g, Fat: 9g, Saturated Fat: 2g, Polyunsaturated Fat: 6g, Cholesterol: 10mg, Sodium: 343mg, Fiber: 2g, Sugar: 8g
This post contains affiliate links, which means that I make a small commission off items you purchase at no additional cost to you. Please read my
privacy policy
for more information.