Radicchio, Pear, Gorgonzola, Pomegranate, and Walnut Salad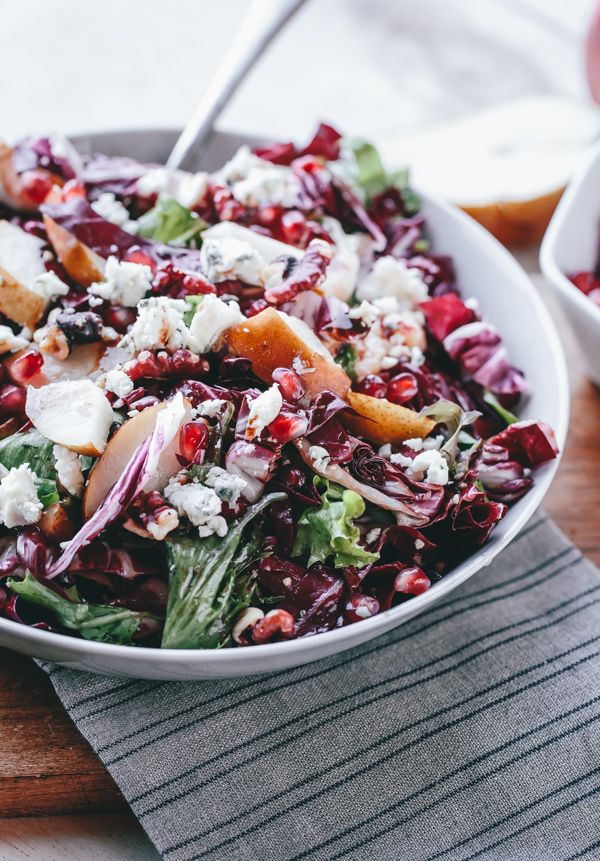 Whew. That was a mouthful. Literally and figuratively. I contemplated leaving out an ingredient or two in the title, but they all deserve their own little spotlight.
Believe it or not, this salad was never meant for the blog. Nuts, right? That is a very odd thing in and of itself, because let's face it, most of the 'creative' or 'new' dishes that come out of my kitchen are designed to be shared with all of you.
As wacky as it sounds, it feels a bit…crazy (odd choice of words, I know)…to make something and just…eat it.
You know, like a normal person. That's what normal people do, right?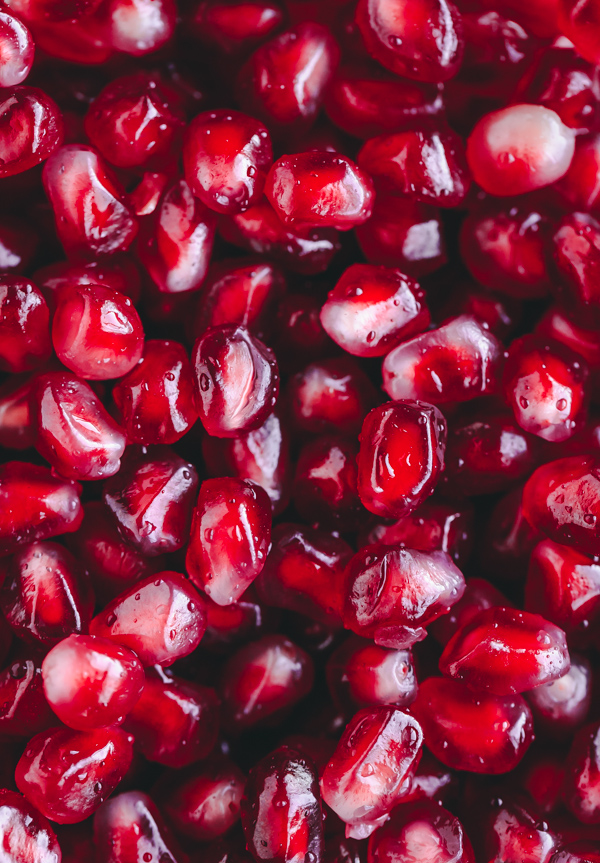 No pressure to take pictures (or chase down daylight) or interrogate Connor with questions like, "OK, but seriously, what do you actually think?" over and over again.
Actually, let's be honest, I would probably do both of those things even if I didn't have this food blog. Hello, instagram!
My point is…this salad recipe evolved out of brainstorming for last week's Thanksgiving Day feast. I offered to contribute a bunch of dishes for that day, and knew that I wanted to bring along a colorful salad. After all, if you are going to get away with serving a salad at Thanksgiving (most people would disapprove of this entire concept altogether), it better be interesting.
You get extra points if you serve a salad that involves cheese, because let's face it, those are–without a doubt–the best kinds of salads.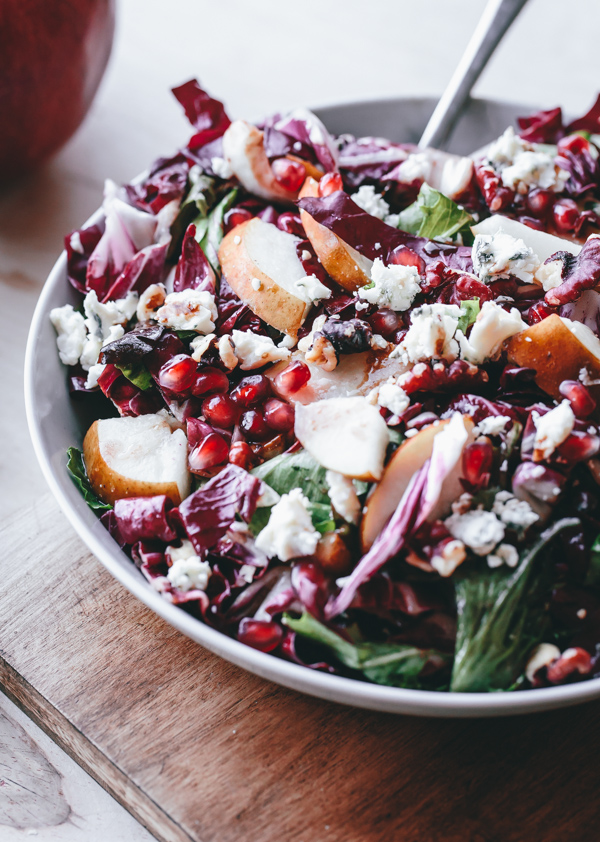 Even though Thanksgiving has come and gone, this salad deserves a little bit more attention–so part of me knew that I needed to recreate it to share it with all of you.
Obviously, the Gorgonzola cheese is crucial to this salad. It contributes saltiness and a little bit of funkiness to every bite–but the pomegranates and pear are equally as special. I'm officially a fruit-in-my-salad person now.
The sweetness of the fruit and vinaigrette pair perfectly with the bitterness of the radicchio, which makes up a hefty portion of the salad. Although I made the vinaigrette with fig balsamic vinegar (which I noted in the recipe), feel free to substitute this with a high-quality balsamic vinegar.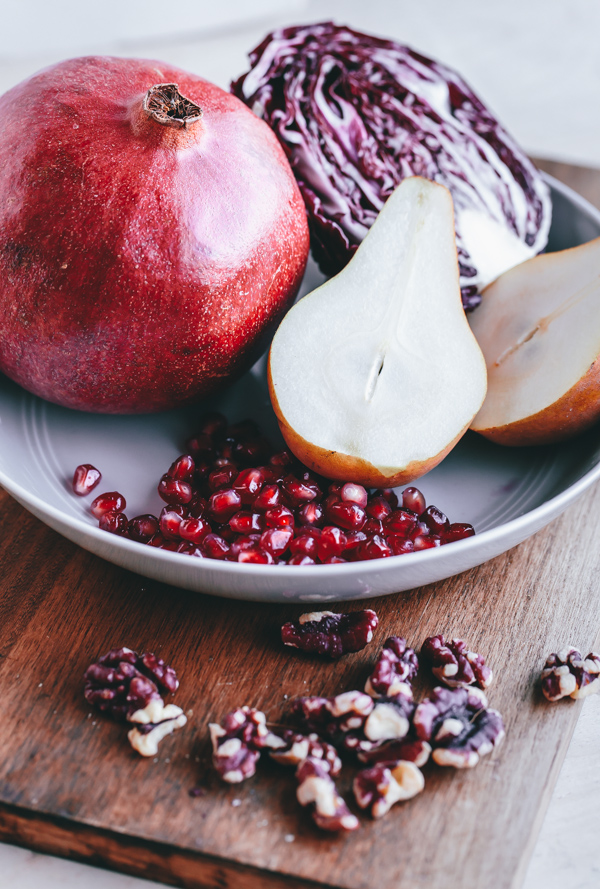 This salad is super festive, colorful, and perfect for the holiday season ahead!
This recipe serves a decent crowd (4 to 6 people roughly), but can easily scale up or down, and would make a great first course or side dish for all of those wonderful holiday dinners ahead of us.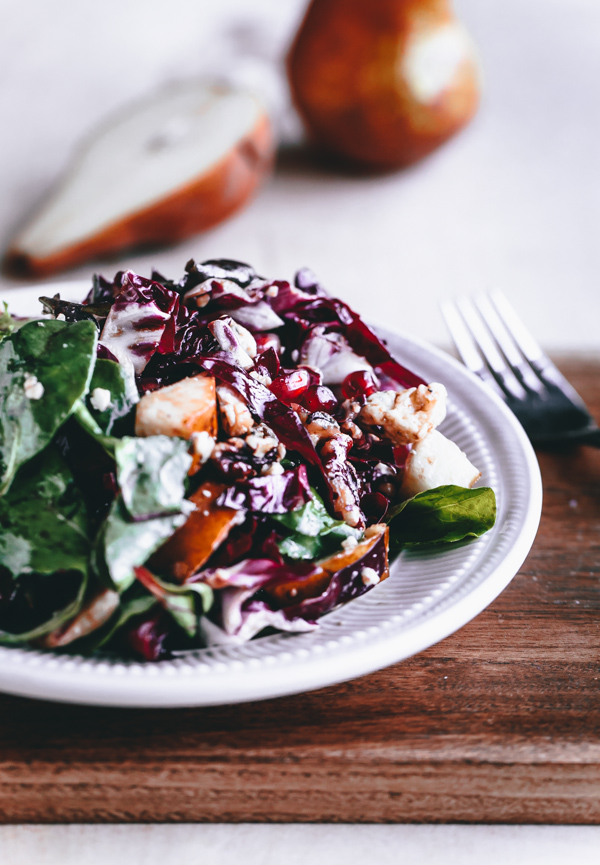 Could pomegranates be more festive? I mean, really.
My love for that fruit has no bounds.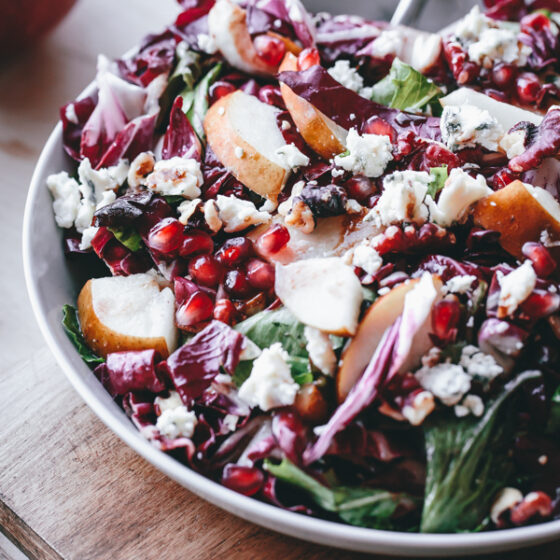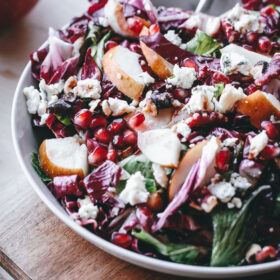 Radicchio, Pear, Gorgonzola, Pomegranate, and Walnut Salad
This salad is super festive, colorful, and perfect for the holiday season! Sweet pears are combined with bitter radicchio, and balanced with gorgonzola cheese, fresh pomegranite arils, walnuts, and tossed with a homemade fig balsamic vinaigrette.
Ingredients
Fig Balsamic Vinaigrette:
2 tablespoons fig balsamic vinegar or high-quality balsamic vinegar
2 teaspoons fresh lemon juice
¾ teaspoon Dijon mustard
2 tablespoons toasted walnut oil
2 tablespoon extra virgin olive oil
1 garlic clove smashed with the side of a knife
3 pinches Diamond Crystal kosher salt
freshly ground black pepper
Salad:
1 head of radicchio
2½ ounces mixed baby greens
2 Bosc pears cored, quartered, and sliced into ½-inch chunks
¾ cup toasted walnuts roughly chopped
½ cup fresh pomegranate arils
3 ounces gorgonzola cheese crumbled
Instructions
Prepare the Dressing: In a small bowl, whisk together the balsamic vinegar, lemon juice, and Dijon mustard. Slowly pour in the walnut oil, followed by the olive oil, whisking continuously with your other hand, until the mixture is emulsified. Smash the garlic clove with a side of a knife and add it to the vinaigrette to infuse while you prepare the salad. Season with salt and pepper to taste. Set aside.

Slice the radicchio in half, remove the core, and slice the radicchio perpendicularly into ¾-inch-thick ribbons. Combine the radicchio and mixed greens in a large salad bowl. Add the pear chunks, walnuts, and pomegranate arils.

Discard the smashed garlic clove, then slowly add the vinaigrette to lightly coat the greens, and gently toss. Top the salad with the crumbled gorgonzola cheese and serve immediately.
Serving: 1serving, Calories: 275kcal, Carbohydrates: 17g, Protein: 6g, Fat: 22g, Saturated Fat: 5g, Polyunsaturated Fat: 16g, Cholesterol: 11mg, Sodium: 251mg, Fiber: 4g, Sugar: 10g
This post contains affiliate links, which means that I make a small commission off items you purchase at no additional cost to you. Please read my
privacy policy
for more information.