Mexican Hash Brown Stack
Mexican Hash Brown Stack – crispy potato topped with sunny-side eggs, sliced avocado, homemade pico de gallo, and crumbled queso fresco cheese!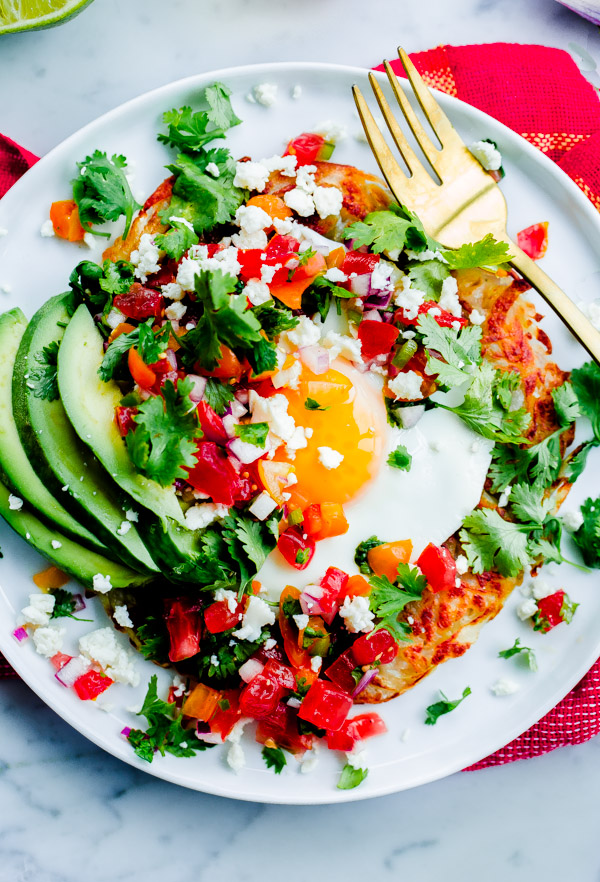 Confession. I had the hardest time naming this recipe. I stared at my computer for an inordinate amount of time (consulted several family members) and still struggled to name this–in fact, I actually changed the name yet again just before publishing this post.
As strange as it sounds, sometimes that is the hardest part of creating a recipe. When you don't know what to call something (so that it actually makes sense to people?), but the dish is straight-forward and logical.
Apparently Mexican hash brown stack won. It's a little long and I've come to realize I don't like the word 'stack', but it really does the best job of describing this dish. A crispy hash brown base topped with sunny-side eggs, homemade pico de gallo, sliced avocado, and queso fresco!
Breakfast, or better yet, breakfast-for-dinner is served.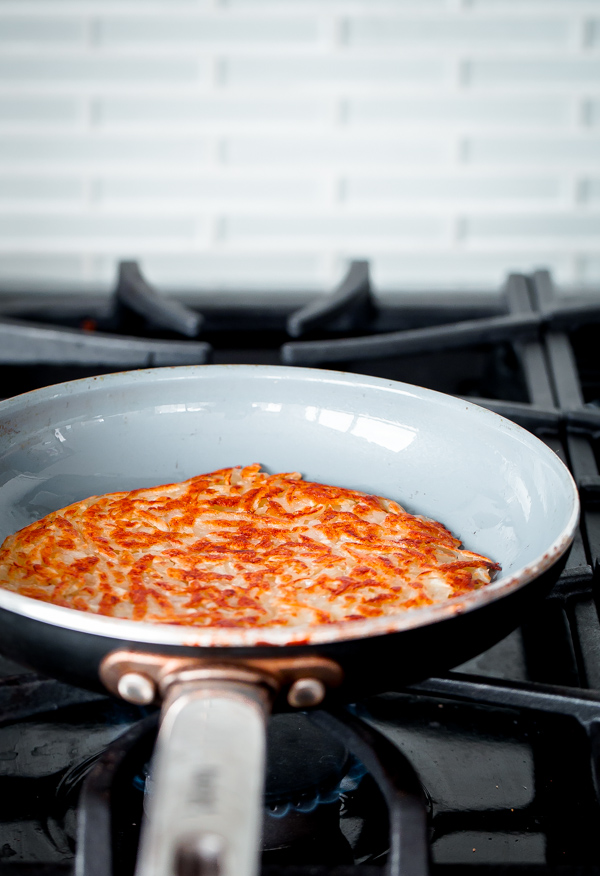 This recipe was loosely inspired by a smoked salmon potato tartine that I shared almost two years ago (i.e. don't look at the pictures).
Though that recipe is equally as delicious in its own way, albeit very different, the two recipes do share something in common: a crispy potato base. In culinary school, we came to know this as a pommes darphin, but in reality, it is very similar to a large, round crispy hash brown.
Have you ever met a person that doesn't like crispy hash browns? Of course not! Everyone (or anyone worth trusting) loves a good hash brown. There are a few tricks to achieving a good hash brown base for this dish:
Grate the potato very quickly (as it will oxidize immediately) and work with just one potato (aka. one hash brown) at a time.
Do not soak the potato in water. You want to remove the excess moisture from the grated potato, but not the starch–as it will allow you to create a pancake-like hash brown that holds together.
Use a neutral, high-smoke point oil, such as grapeseed, safflower, or canola–or better yet, clarified butter–to cook the potato.
Watch the pan carefully, adjust the heat as necessary throughout the cooking process, and flip gently.
To keep the potatoes warm and crisp, hold them in a 275 degree oven (on a rack set on top of a baking sheet) as you prepare the rest of the recipe. No one likes a cold hash brown.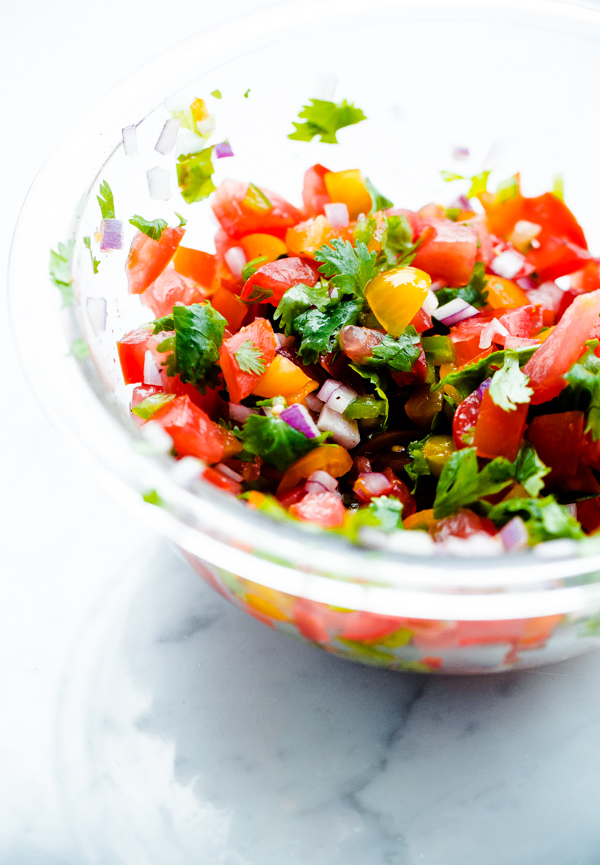 The hash brown base is the most technical aspect of this recipe. The rest comes together very quickly and is very straight-forward! Although you could easily buy a fresh pico de gallo from the store, you'd be surprised just how easy it is to make from scratch.
It takes just 10 minutes or so, tastes infinitely better, and if you're anything like me during the summer months, you already have fresh tomatoes lying around on your kitchen countertop.
My only request is that you use fresh pico de gallo–and not jarred salsa—for this recipe. It's a must!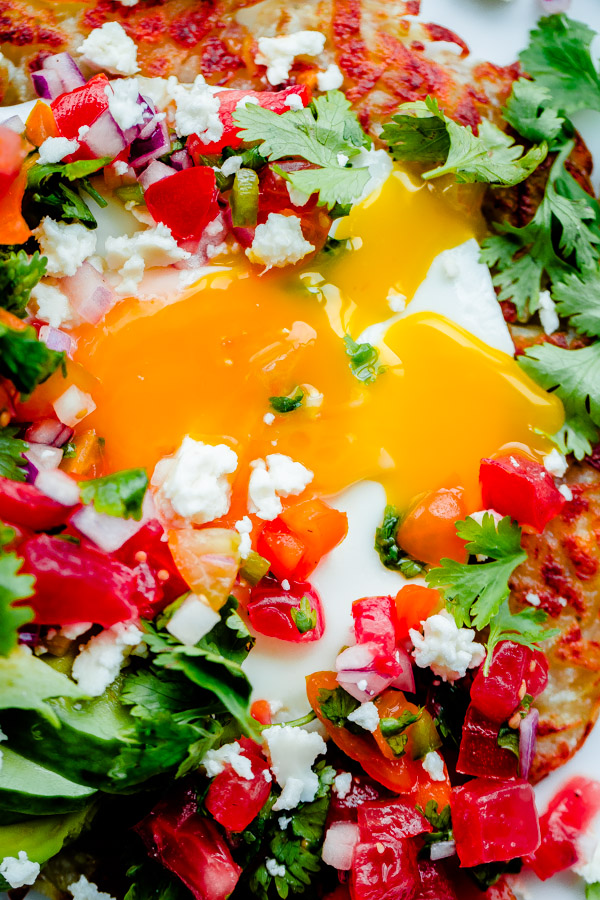 The next step? Cook up the eggs! I topped the hash brown base with sunny-side eggs, but feel free to prepare them as you like. Easy over, fried, or poached would work just as well!
Assemble.
Devour.
Repeat.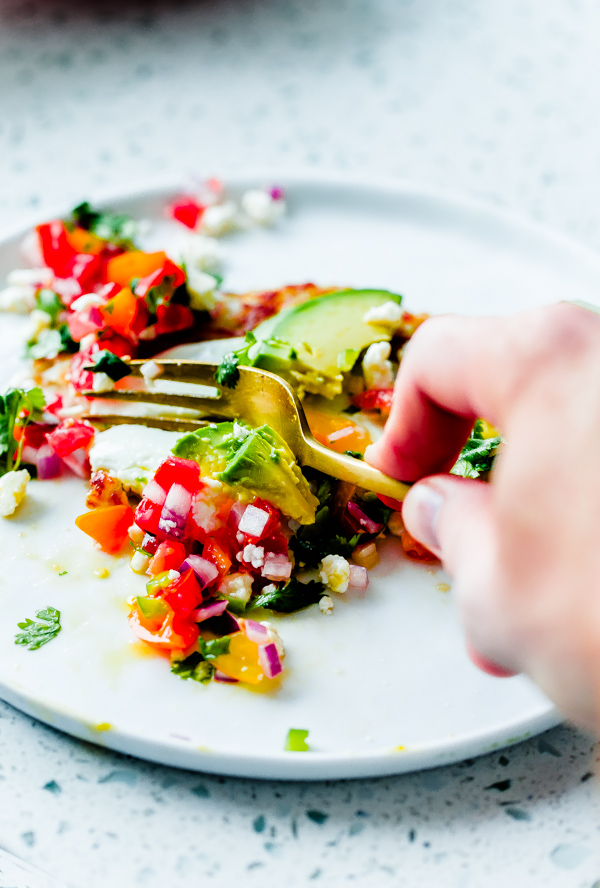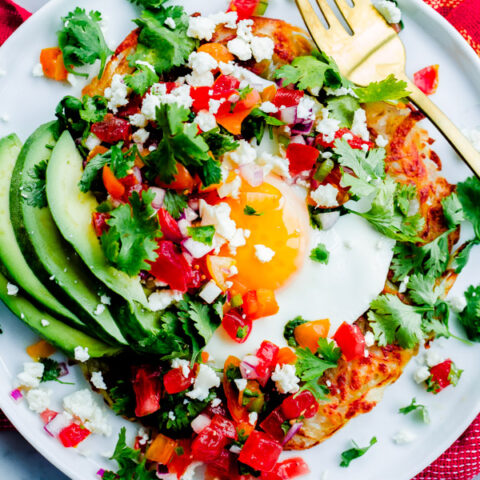 Mexican Hash Brown Stack
Yield: 2 Servings
Prep Time: 30 minutes
Cook Time: 30 minutes
Total Time: 1 hour
Ingredients
Pico de Gallo:
2-3 medium vine-ripened tomatoes (8 ounces), cored, de-seeded and diced
1/4 cup finely chopped red onion (roughly 1/4 medium onion)
1/4 cup packed fresh cilantro leaves, roughly chopped
1 tablespoon finely diced jalapeno pepper (de-seeded and ribs removed)
1 tablespoon freshly squeezed lime juice (half a juicy lime)
kosher salt
freshly ground black pepper
Potato Tartine:
~1 lb – 1.25 lbs russet potatoes (roughly 1 small russet potato per serving)
kosher salt
freshly ground pepper
neutral-flavored oil, for cooking (canola, safflower, or grapeseed)
Toppings:
2 – 4 whole large eggs (1-2 per serving, depending on preference)
1/2 ripe avocado, thinly sliced
2 ounces queso fresco cheese, crumbled
fresh cilantro leaves, for garnish
Instructions
Prepare Pico de Gallo: Combine the ingredients in a small bowl, stir, and allow to sit out at room temperature as you prepare the rest of the recipe.
Prepare Potato Tartine: Preheat the oven to 300 degrees Fahrenheit. To reduce oxidizing, peel, grate, and cook one potato at a time. Using a large box grater, grate the potato lengthwise into a large bowl. Place the pile of grated potato into the center of a clean kitchen towel. Wrap up the grated potato and twist tightly into a ball. Squeeze the pile of grated potato over the sink to remove any excess moisture and starch–repeating several times as necessary. Place the grated potato into a clean, dry bowl and season lightly with salt and pepper.
Heat a tablespoon of oil in a 8-inch non-stick skillet over medium-high heat. Once hot, add the grated potato and shape roughly, using a spatula, into a large circle. Press on the mixture with the back of a spatula to compact it, and cook gently for 8-10 minutes or until the bottom is golden brown and crisp.
Flip the potato carefully and cook for another 8-10 minutes, adding additional oil as necessary, or until both sides are golden and crisp. Place on a cooling rack (set on top of a baking sheet) and keep warm in the oven as you prepare the remaining potato tartine and toppings.
Prepare Toppings: Heat a small non-stick skillet over low heat, grease with a small amount of butter or oil, and crack the eggs (ensuring that the yolk does not break). Cook as desired, or until the eggs until the whites are firm and the yolks are still runny. Remove from heat immediately.
Assemble: Remove the potato tartines from the oven, and serve. Top with 1 or 2 sunny-side eggs, a generous spoonful of pico de gallo, sliced avocado, crumbled queso fresco cheese, and garnish with fresh cilantro. Serve immediately.
Nutrition Information:
Yield: 2
Serving Size: 1
Amount Per Serving:
Calories: 887
Total Fat: 42g
Saturated Fat: 13g
Trans Fat: 1g
Unsaturated Fat: 24g
Cholesterol: 424mg
Sodium: 1109mg
Carbohydrates: 94g
Fiber: 15g
Sugar: 12g
Protein: 37g