Guacamole Greens Salad with Cilantro Lime Jalapeño Vinaigrette
Inspired by the popular salad chain, Sweetgreen, this guacamole greens salad is bursting with flavor and texture!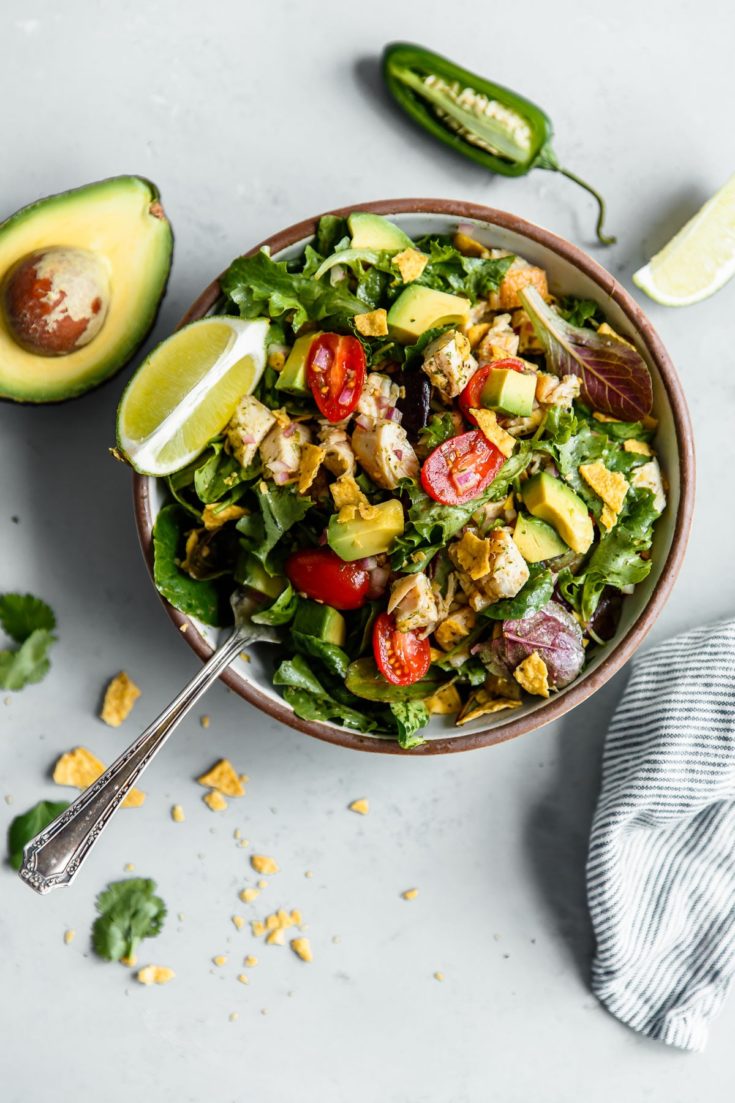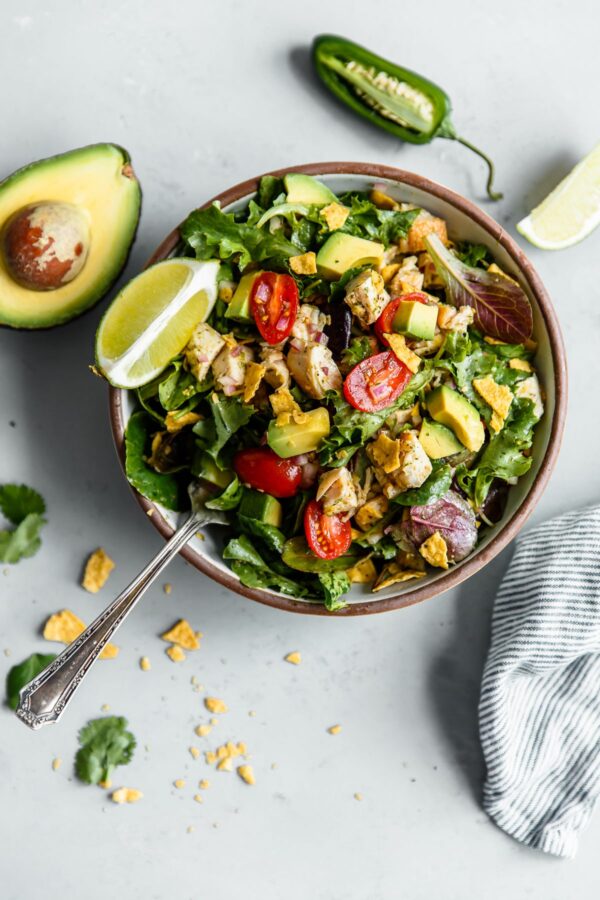 One of my favorite salad recipes got a makeover! I first introduced you to this Guacamole Greens salad over four years ago.
If you're familiar with the popular salad chain, Sweetgreen, you probably recognize this salad. It has a been a mainstay on their menu for years.
Back when I lived in Washington, DC I would occasionally treat myself and grab one of these salads on the way home from work. It didn't take long for me to decide right then and there to recreate it at home.
Can I make a confession? My version tastes better than the original. To this day, it remains one of my (and yours) favorite everyday salad recipes!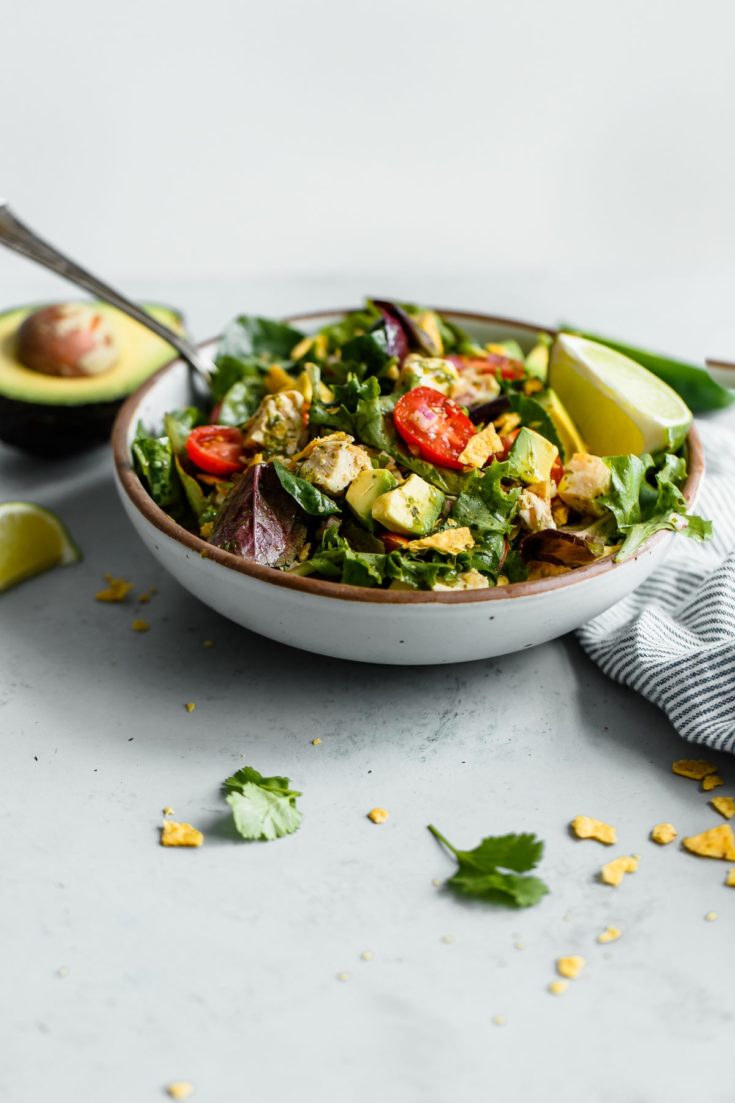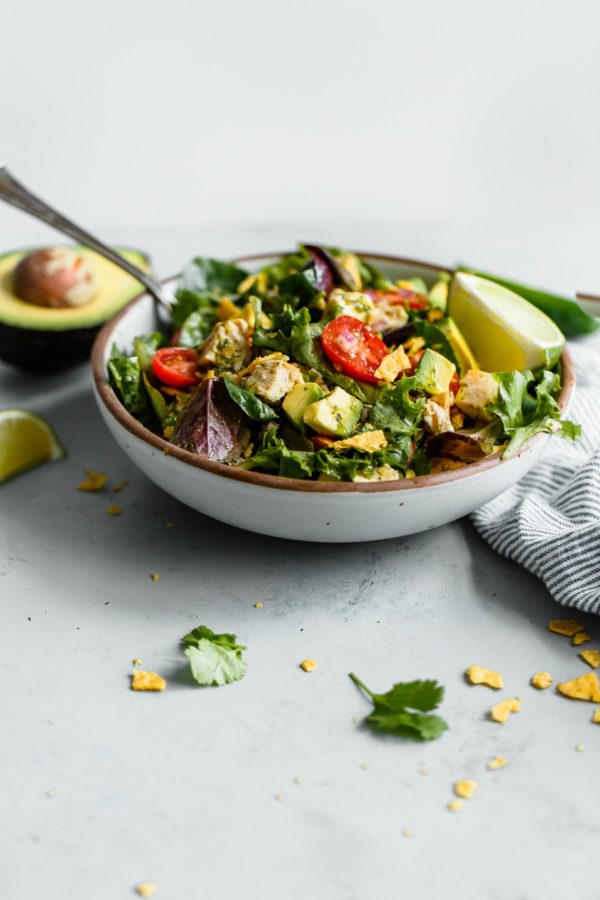 This guacamole chicken salad is brimming with all sorts of goodies: mixed greens, chicken, fresh tomatoes, red onion, avocado, lime juice, and crushed tortilla chips.
The salad is tossed with a zesty homemade cilantro lime vinaigrette! Infused with fresh jalapeño and ground cumin, this herby vinaigrette ties the entire dish together.
The easiest way to prepare the cilantro lime vinaigrette is in a small capacity food processor or high-powered blender, such as a Vitamix (affiliate link).
While the dressing can be prepared in advance, the herbs will oxidize and lose some of their color as it sits. Either way, be sure to shake it well just before tossing.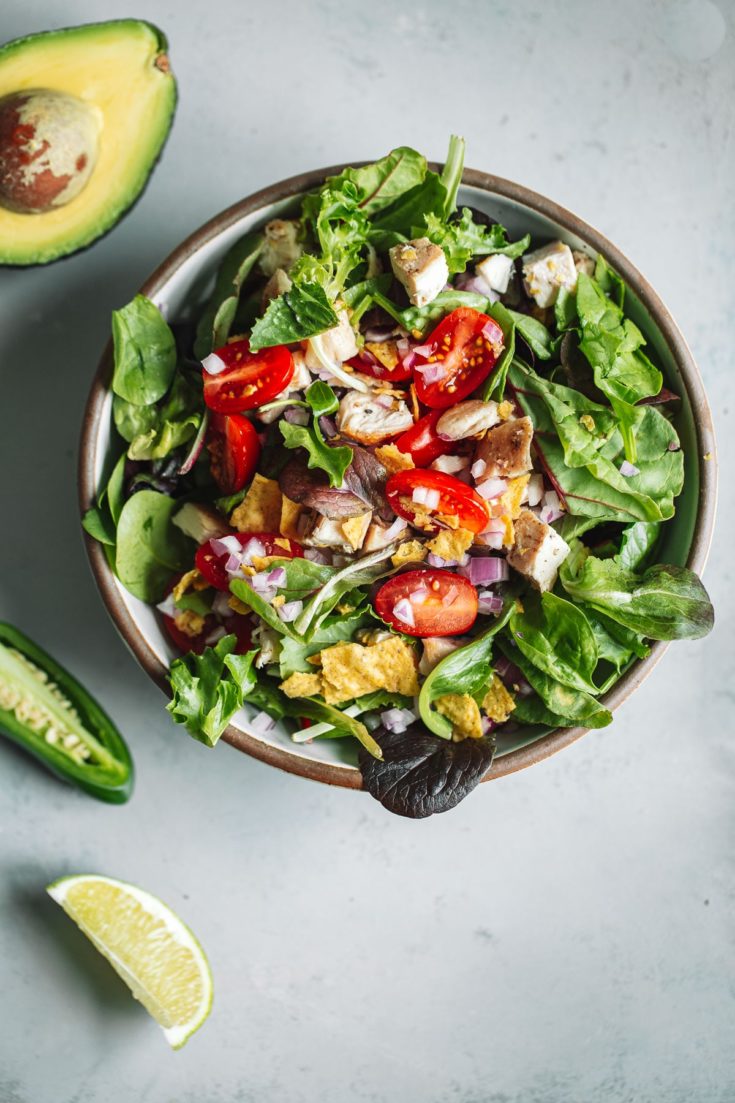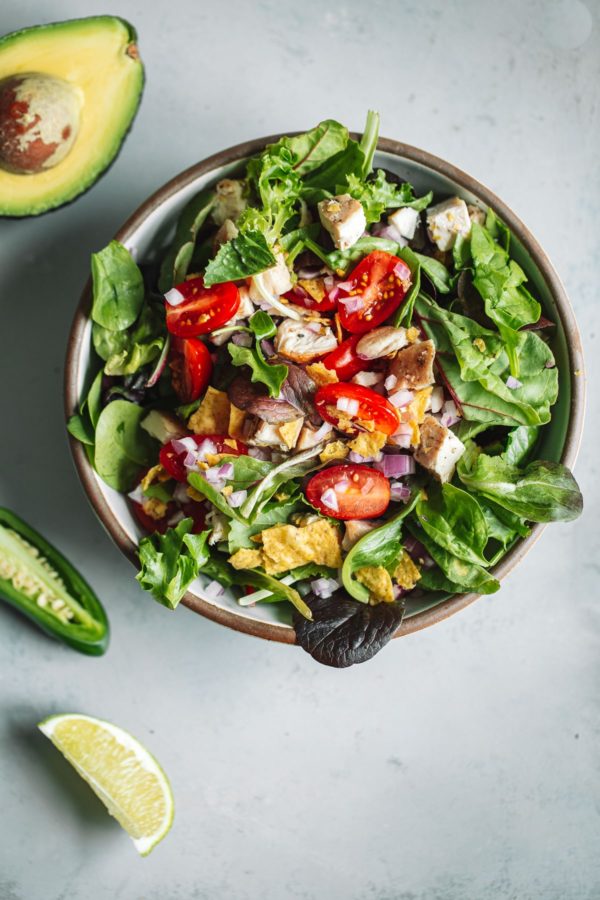 One of the reasons why I love this salad is that it contains only a handful of ingredients, all of which are easy to grab and find year round.
The recipe below prepares one large salad serving or two smaller servings. Feel free to adjust the quantities as needed.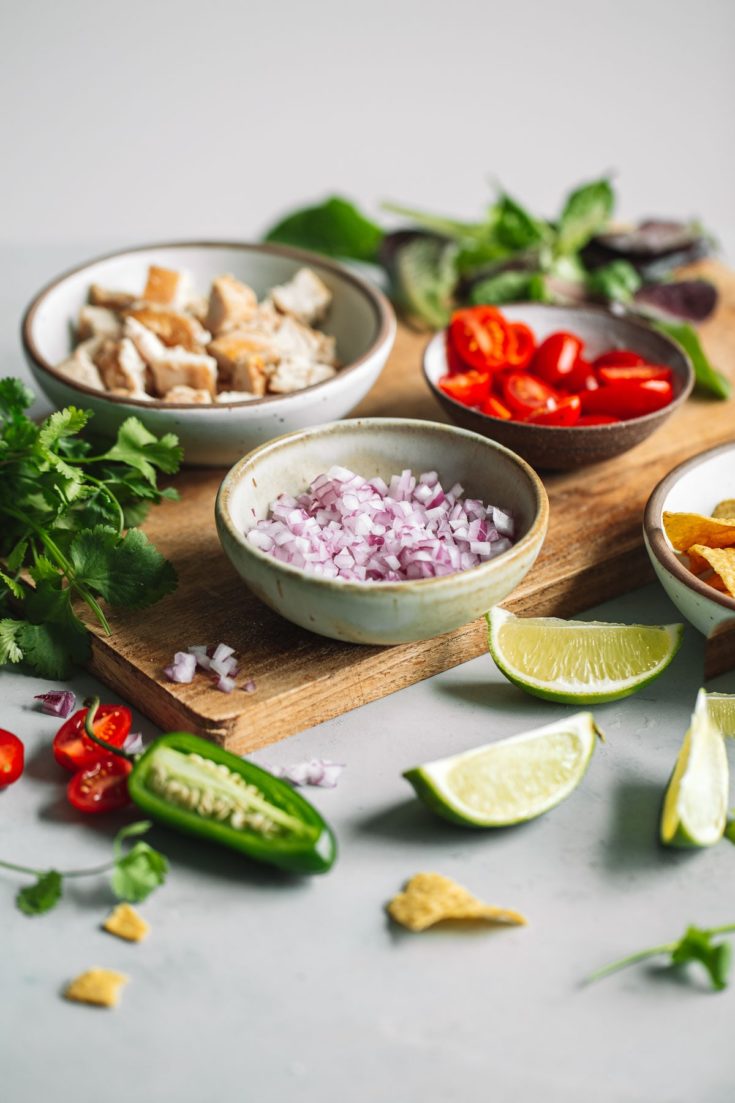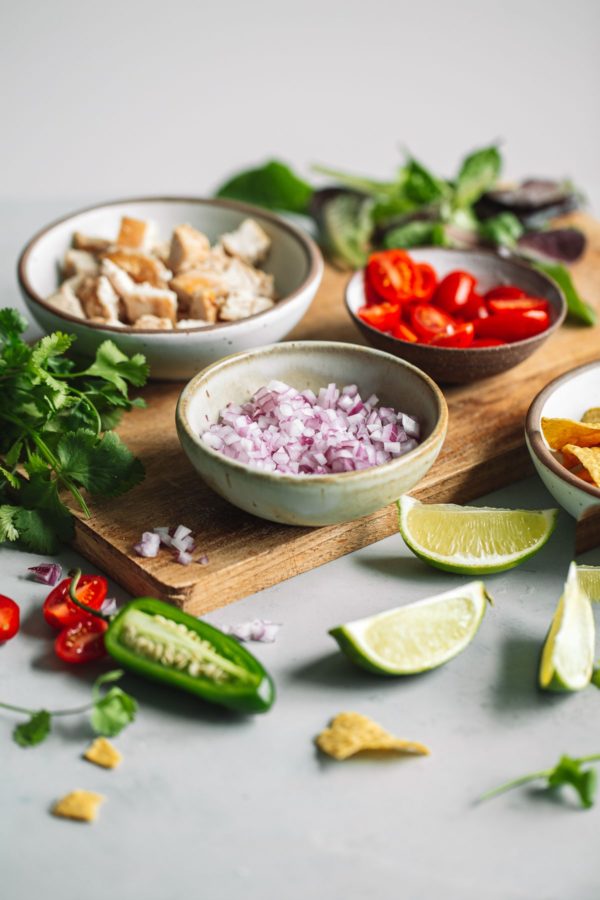 Guacamole Green Salad Ingredients:
Cilantro Lime Vinaigrette – my version of Sweetgreen's popular vinaigrette is prepared with healthy avocado oil, lots of fresh cilantro, lime juice, jalapeno pepper, and ground cumin. Citrus forward with the slightest hint of heat, this vinaigrette tastes great on a variety of salads or grain bowls!
Mixed Greens – mixed baby greens (or a combination of mixed greens and romaine) are my greens of choice in this salad.
Chicken – feel free to use shredded rotisserie chicken or grilled chicken (seasoned with salt and pepper) in this recipe. If you wish to prepare a vegetarian version of this salad, crispy roasted chickpeas would be a great substitute.
Tomatoes – halved or quartered grape or cherry tomatoes add great color and flavor.
Red Onion – the finely diced red onion is one of my favorite components in this salad! If you're sensitive to raw onion, submerge the diced onion in cold water for five minutes, then drain. This will take away some of their bite.
Avocado – it wouldn't be a guacamole salad without the addition of creamy avocado chunks!
Tortilla Chips – we'll add a handful of crushed corn tortilla chips to the salad. They add great texture and flavor, and make the salad extra satisfying.
Lime Wedges – just before tossing, we'll add the juice of half a lime. The burst of fresh lime juice is that final touch that pulls everything together.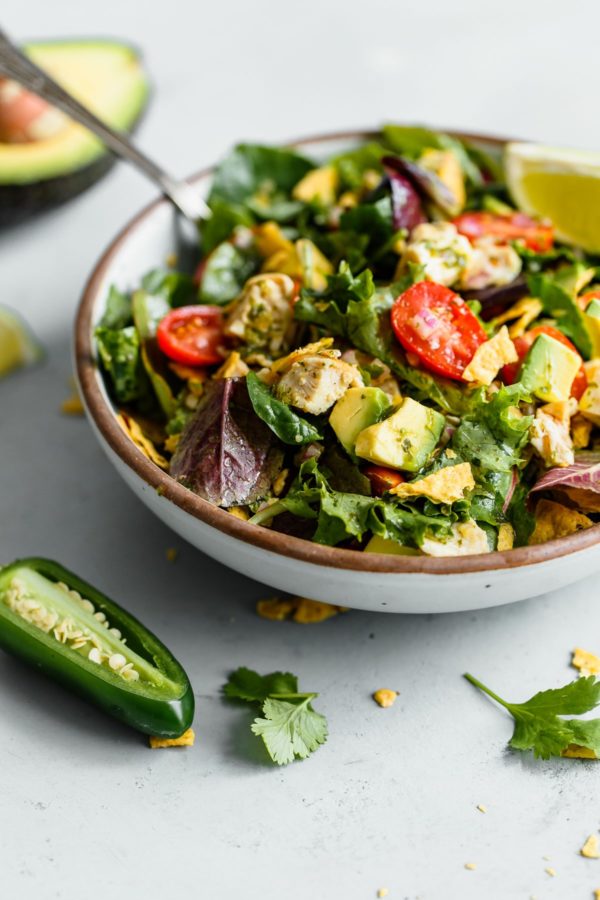 Why You'll Love This Guacamole Greens Salad:
It takes a lot for me to feel completely satisfied with eating a salad as my main course.
It better have a lot going on, and there better be lots of texture and flavor. This guacamole greens salad checks all of those boxes and is easy to prepare. Hearty, yet citrus-forward, light, and great for all seasons.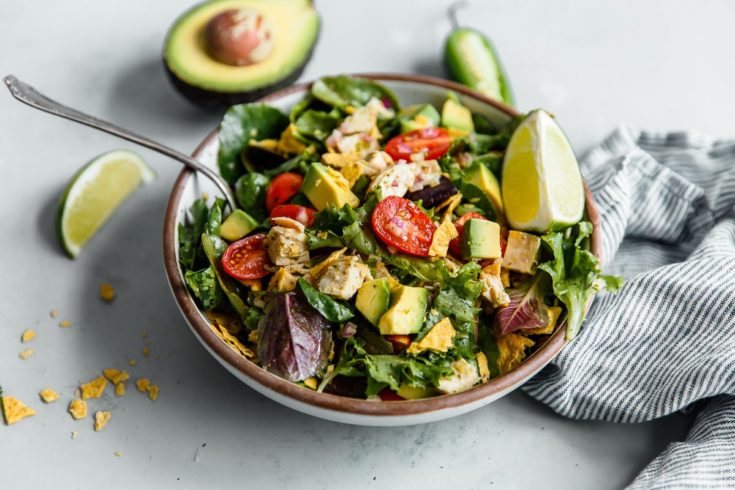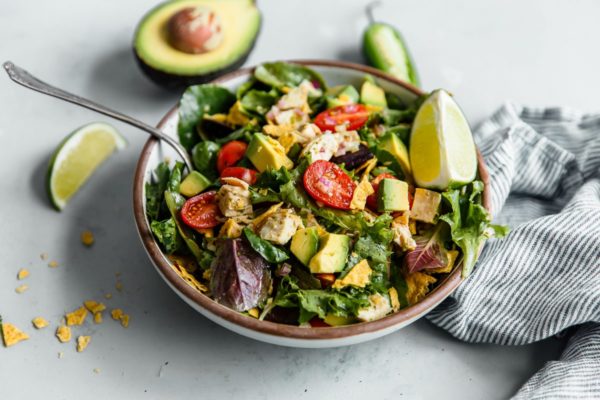 Normally this salad costs $12 dollars at Sweetgreen, and I love that by preparing it at home, it not only saves money and tastes fresher, but also allows me to control the quality of ingredients.
If you're a fan of flavorful main course salads, be sure to try my Mediterranean Chicken Salad with Sumac Dressing next. It is a mainstay in our kitchen too!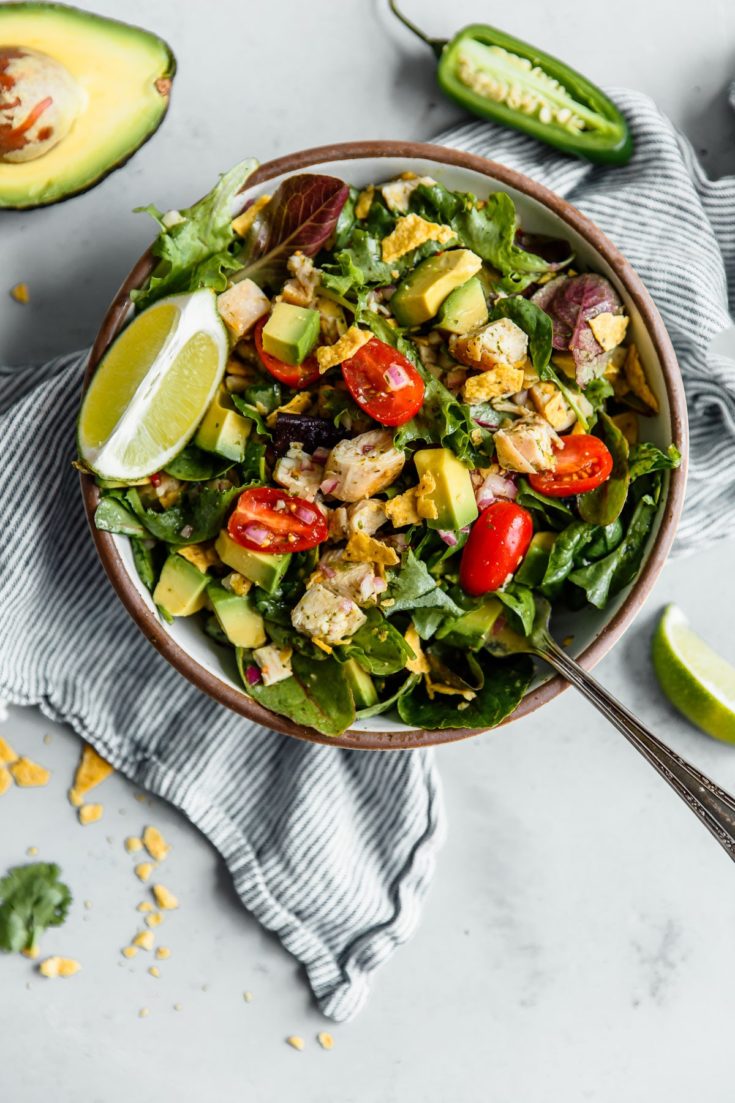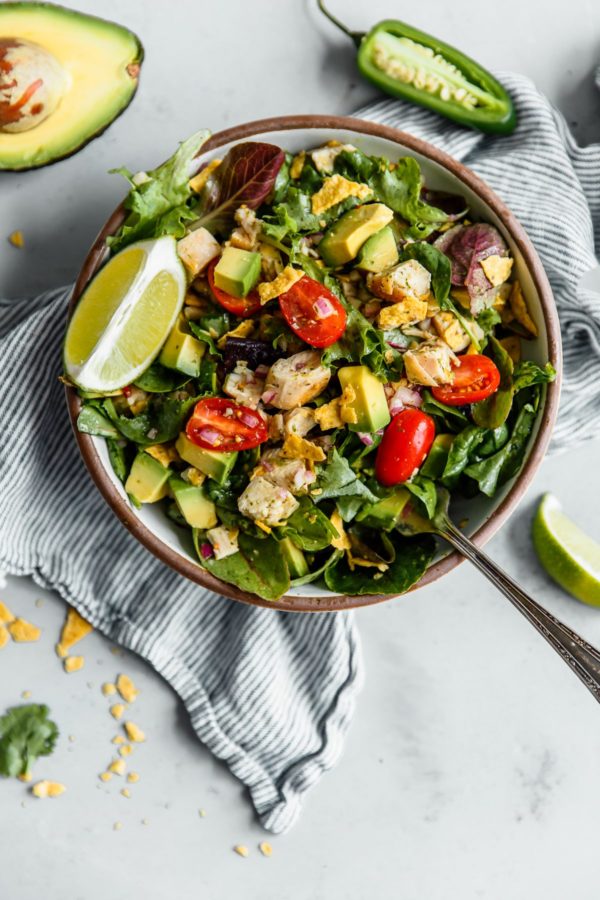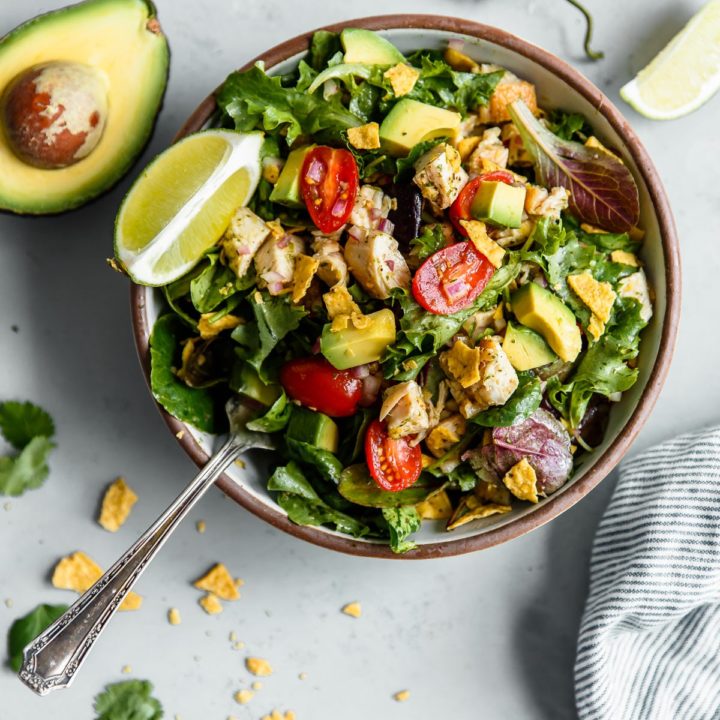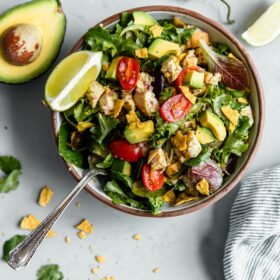 Guacamole Greens Salad with Lime Cilantro Jalapeño Vinaigrette
Guacamole Greens Salad with Lime Cilantro Jalapeno Vinaigrette. An easy, copycat recipe from the popular Sweetgreens salad chain! This chicken salad is easy to make, incredibly filling, and makes a great healthy main course salad!
Ingredients
Cilantro Lime Jalapeno Vinaigrette:
2 tablespoons freshly squeezed lime juice
¼ cup packed fresh cilantro leaves
1 small strip of jalapeno pepper seeds and ribs removed, finely chopped
¼ cup avocado (or grapeseed oil)
¼ teaspoon ground cumin
freshly ground black pepper
kosher salt
Guacamole Greens Salad:
4 ounces grilled chicken breast or rotisserie or leftover roast chicken, cubed
3 ounces grape tomatoes halved
¼ cup (1 ounce) finely diced red onion
8-10 large (1 ounce) corn tortilla chips crushed lightly with hands
1 small avocado pitted and cut into medium chunks
3½ ounces mixed spring greens
wedge of lime for serving
Instructions
Prepare Vinaigrette: Combine all ingredients in a blender, or small food processor bowl. Puree or pulse ingredients together, until mixture just begins to come together, and cilantro is still finely chopped. Set aside in a small container. Shake before using.

Assemble Salad: In a large bowl, place the cooked chicken, halved tomatoes, diced red onion, crushed tortilla chips, avocado, and mixed spring greens. Squeeze the wedge of lime over the salad, then toss the salad lightly with lime cilantro jalapeño vinaigrette. Serve immediately.
Vinaigrette can be prepared up to 2 to 3 days in advance and kept in an airtight container in the refrigerator. Shake before using.
Inspired by Sweetgreen.
Serving: 1serving, Calories: 673kcal, Carbohydrates: 31g, Protein: 38g, Fat: 47g, Saturated Fat: 9g, Polyunsaturated Fat: 32g, Cholesterol: 129mg, Sodium: 535mg, Fiber: 11g, Sugar: 4g
This post contains affiliate links, which means that I make a small commission off items you purchase at no additional cost to you. Please read my
privacy policy
for more information.