Guacamole Greens Salad with Cilantro Lime Jalapeño Vinaigrette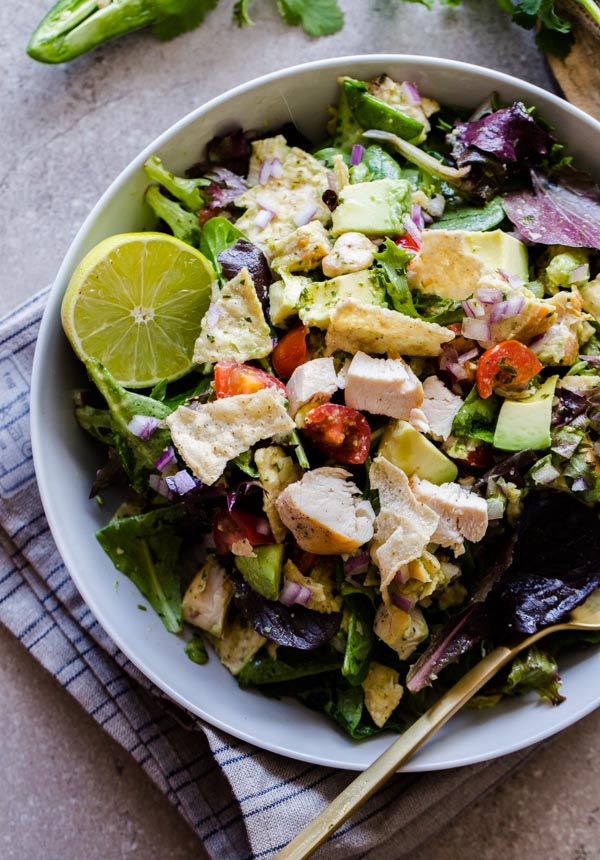 Ok, here's the deal on this guacamole greens salad.
I love salad. Salads are usually supporting acts to my meals. We have a small salad almost every night with dinner, but it takes a lot for me to feel completely satisfied with a salad…as a main course. It better have a lot going on, and there better be lots of texture and lots of flavor. [Oh hi, this burrata salad!]
As you can imagine, since I'm t-minus 39 days away from our wedding and smack dab in the middle of dress fittings, salads have been promoted big time. It's par with the course.
Thankfully, this hasn't been much of a struggle, and this salad gets a lot of the credit for that.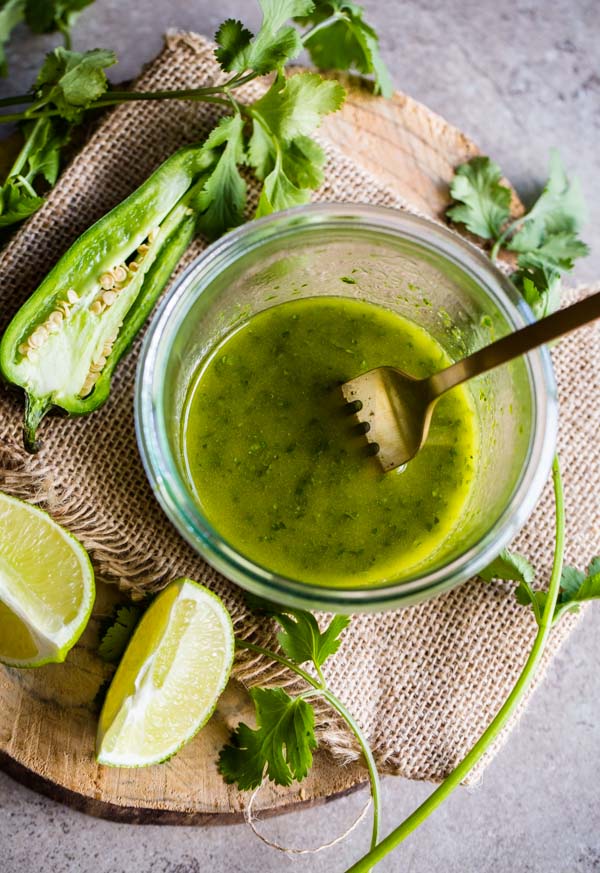 This salad is brimming with all sorts of goodies: avocado, lime juice, grape tomatoes, roast chicken, red onion, and tortilla chips.
It is inspired by the Guacamole Greens salad from the once little and local to Washington, DC–and now relatively huge–salad chain known as Sweetgreen.
I don't visit often (although I have ironically went there a few times directly after wedding dress fittings), but I recently decided that I had to recreate it for the blog and share it with all of you.
Or at least, attempt to recreate it. And let me tell you, with the powers of deduction and some careful analysis of my taste buds, I'm happy to report that I nailed this one.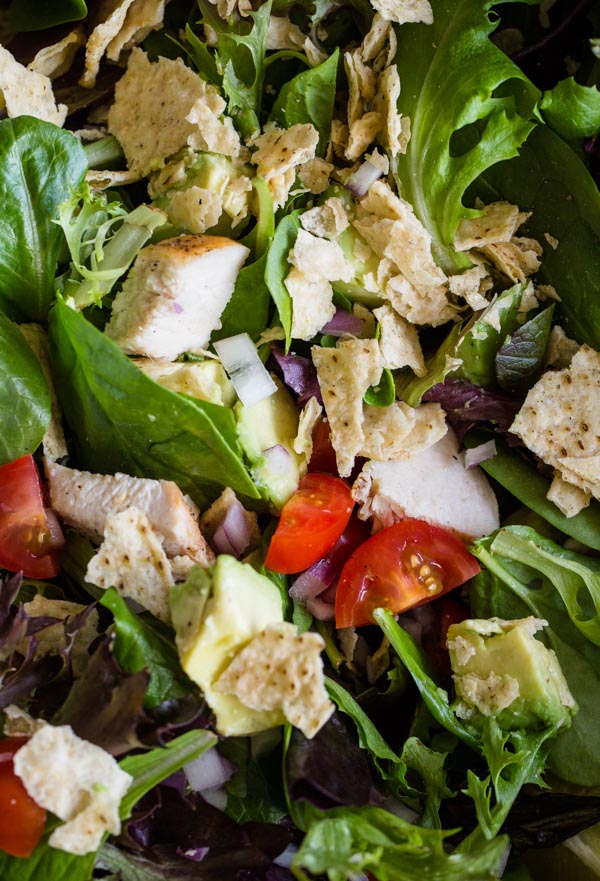 I literally cannot tell the difference between my salad and theirs–and I promise, I am not exaggerating in the slightest. I wouldn't do that to you. That's cruel.
Obviously, the actual salad components were the easy part, the trickiest part to nail was the cilantro lime jalapeño vinaigrette.
As with any good salad, the salad dressing is an integral part of the equation, so I knew this was the make-it-or-break-it element. Since salad dressings usually contain only a handful of ingredients, ratios are key.
This salad's vinaigrette is all about the cilantro and freshly squeezed lime juice.
It is bright, acidic, and incredibly light. The touch of jalapeño pepper (don't worry, it's not spicy!) and ground cumin round it out perfectly!
Since you want the cilantro to be relatively finely chopped in the vinaigrette (similar in consistency to a pesto), the easiest way to make this vinaigrette is in a blender or small food processor.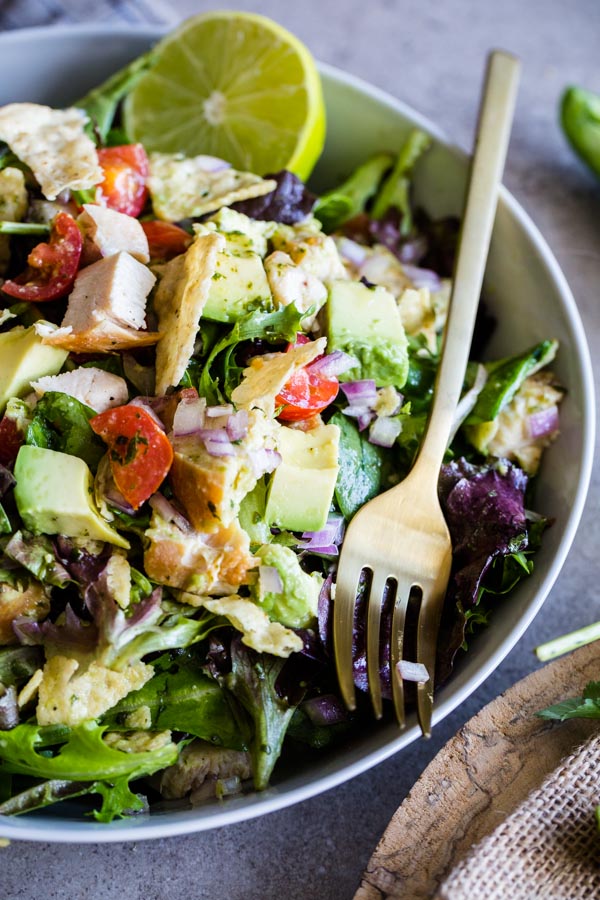 Honestly, this salad vinaigrette could be used as an everyday salad vinaigrette for any occasion, but when tossed with these ingredients, particularly the creamy avocado chunks, it truly shines.
Although I grilled chicken breasts–seasoned with just salt and pepper–on a grill pan for this salad, you could easily use a rotisserie chicken or a leftover roast chicken, and it would have even more flavor.
Don't forget to finish the salad with another squeeze of fresh lime juice! It's the final touch.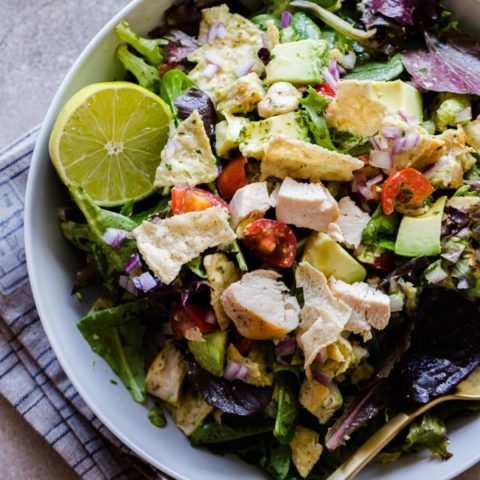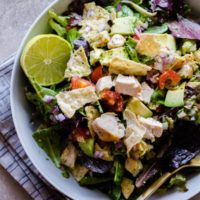 Guacamole Greens Salad with Lime Cilantro Jalapeño Vinaigrette
Yield: 1 Large Serving (easily doubled or tripled)
Guacamole Greens Salad with Lime Cilantro Jalapeno Vinaigrette. An easy, copycat recipe from the popular Sweetgreens salad chain! This chicken salad is easy to make, incredibly filling, and makes a great healthy main course salad!
Prep Time: 15 minutes
Additional Time: 5 minutes
Total Time: 20 minutes
Ingredients
Cilantro Lime Jalapeno Vinaigrette:
 2 tablespoons freshly squeezed lime juice
1/4 cup packed fresh cilantro leaves
1 small strip of jalapeno pepper (seeds and ribs removed), finely chopped
1/4 cup avocado, grapeseed, or other neutral/mild olive oil
1/4 teaspoon ground cumin
freshly ground black pepper
kosher salt
Guacamole Greens Salad:
4 ounces grilled chicken breast (or rotisserie or leftover roast chicken), cubed
3 ounces grape tomatoes, halved
1/4 cup finely diced red onion ( roughly 1 ounce)
8-10 large corn tortilla chips (1 ounce), crushed lightly with hands
1 small avocado, pitted, and cut into medium chunks
3.5 ounces mixed spring greens
wedge of lime
Instructions
Prepare Vinaigrette: Combine all ingredients in a blender, or small food processor bowl. Puree or pulse ingredients together, until mixture just begins to come together, and cilantro is still finely chopped. Set aside in a small container. Shake before using.
Assemble Salad: In a large bowl, place the cooked chicken, halved tomatoes, diced red onion, crushed tortilla chips, avocado, and mixed spring greens. Squeeze the wedge of lime over the salad, then toss the salad lightly with lime cilantro jalapeño vinaigrette. Serve immediately.
Notes
Vinaigrette can be prepared up to 2 to 3 days in advance and kept in an airtight container in the refrigerator.
Inspired by Sweetgreen.
Nutrition Information:
Yield: 1
Serving Size: 1
Amount Per Serving:
Calories: 673
Total Fat: 47g
Saturated Fat: 9g
Trans Fat: 0g
Unsaturated Fat: 32g
Cholesterol: 129mg
Sodium: 535mg
Carbohydrates: 31g
Fiber: 11g
Sugar: 4g
Protein: 38g
A Beautiful Plate provides nutritional information, but these figures should be considered estimates, as they are not calculated by a registered dietician.