Mediterranean Chicken Salad with Sumac Dressing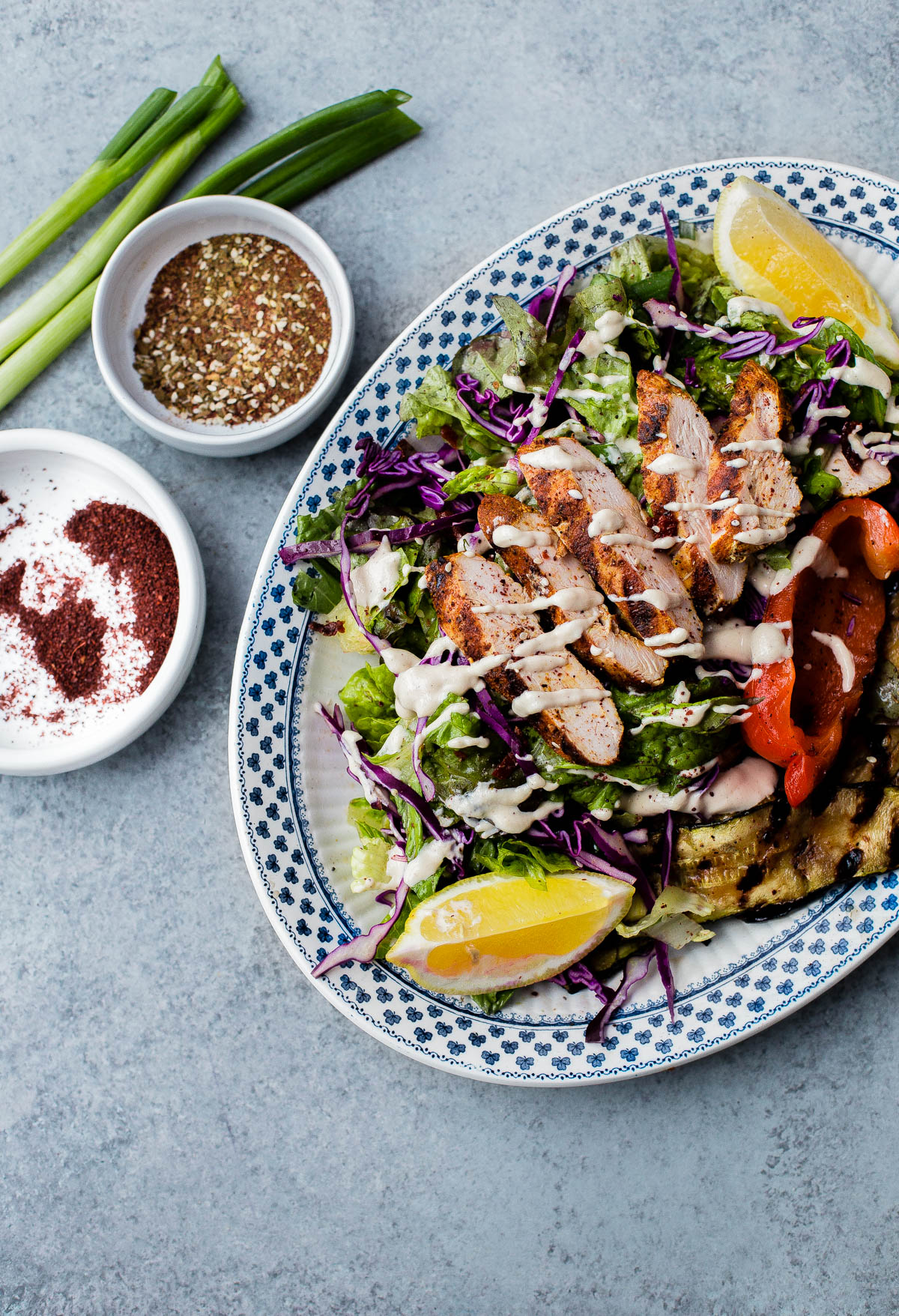 Oh my god! This Mediterranean chicken salad! I could literally eat it every day of the week (in fact, I nearly did this last week). It is that good! I don't do this often, but I would like to politely urge you to make this as soon as possible. The name doesn't give it nearly enough justice.
As a general rule, I enjoy salads. This isn't anything new. But it takes a very special salad for me to feel 100% satiated with one as a main course. It also takes a very special salad for me to crave it more than anything else! It has to have a ton of flavor and texture, and this salad checks all of those boxes. I love it.
The wow factor comes from:
chicken breasts marinaded with a homemade spice mixture made up of ground cumin, coriander, cinnamon, nutmeg, cardamom, paprika, allspice, cloves, and turmeric. It literally makes everything taste better!
crunchy, vibrant, thinly sliced red cabbage (I love adding it to salads for texture nutrition, and heartiness) combined with scallions and umami-rich sun-dried tomatoes
za'atar spice, dried sumac, lots of fresh lemon juice, and good-quality olive oil
creamy, easy lemon tahini sauce for drizzling – this sauce is spectacular!
My favorite recipes are the ones that I end up throwing together at the last minute, and this is exactly how this salad came about. I looked to my pantry and last year's Middle Eastern spatchcocked chicken for inspiration.
The chicken on this salad is marinated with a homemade Middle Eastern inspired spice mixture made up of ground cumin, coriander, cinnamon, nutmeg, cardamom, paprika, allspice, sumac, cloves, and turmeric. If you cook regularly, these are ground spices that are commonly used for both baking and savory dishes. I recommend having all of them in your pantry.
I make a large batch of the spice mixture at once (tip: quadruple the dry spice amounts in the recipe and keep the leftovers in a small ziplock bag for easy grabbing!) and keep some in my pantry at all times. It makes everything taste better and it compliments the other components in this salad perfectly.
The best part? You can marinate the chicken for as little as 20 minutes or up to 12 hours, depending on your time schedule.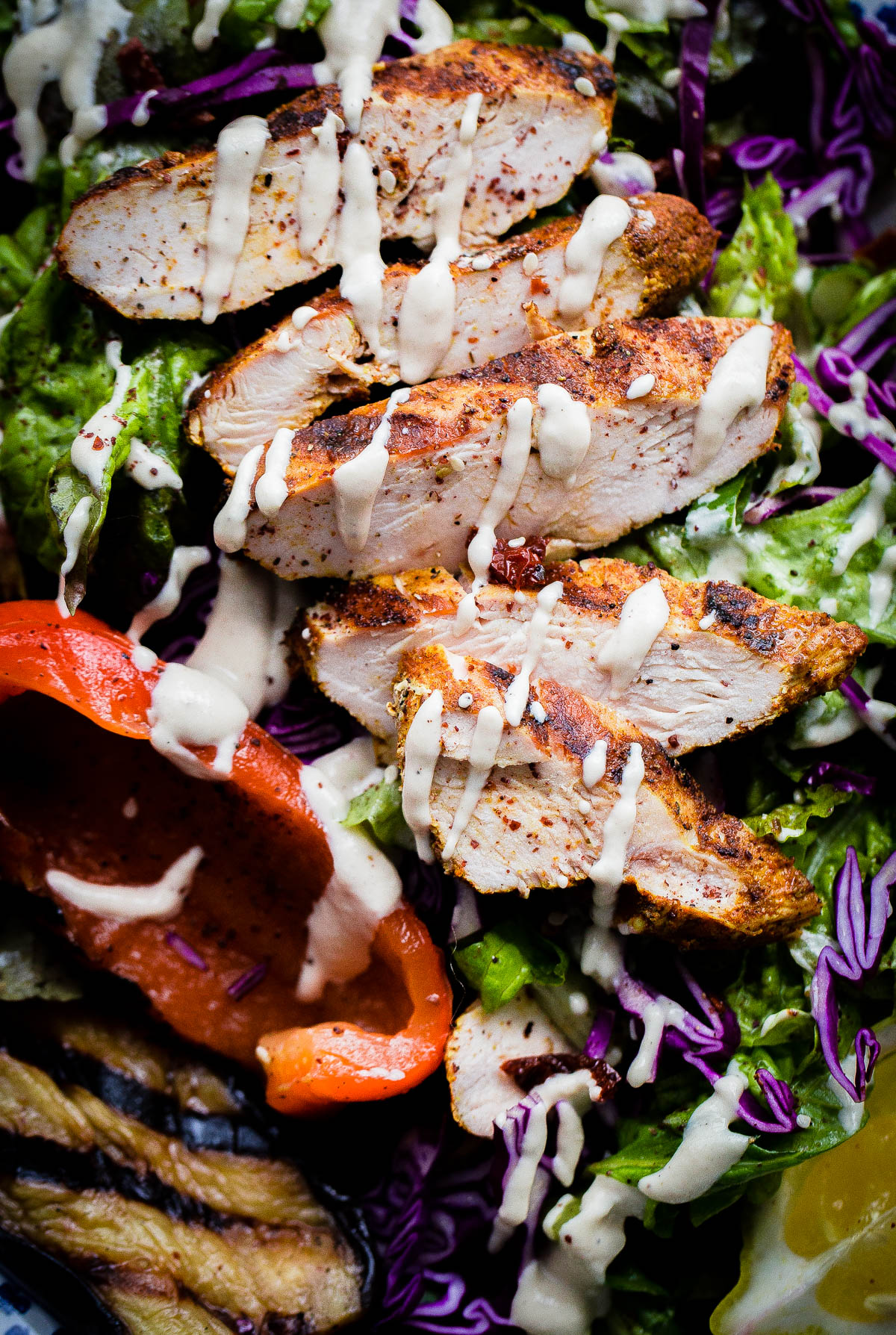 The sumac dressing is made with fresh lemon juice, extra virgin olive oil, za'atar spice blend, and sumac.
Sumac is dark red spice produced from the berry fruit of sumac flowers. It is very citrus-y and tart in flavor, and is a wonderful staple of Middle Eastern and Mediterranean cuisine. I've acquired a habit of sprinkling it on salads, vegetables, dips, and so many other things over the past few years. Unfortunately, sumac is hard to find in most grocery stores, so if you're looking to grab a container of it, I recommend seeking out any local Middle Eastern grocery stores or simply, ordering it online.
Za'atar is a spice blend made from toasted sesame seeds, sumac, and thyme (and occasionally a few other spices!). You can try your hand at making your own – sumac is difficult to find – but I've had better luck finding za'atar spice blend online or in the international aisle of my standard grocery store.
Both of these spices offer so much in flavor! It is hard to meet a vegetable or piece of meat or seafood that doesn't benefit from a sprinkling of both.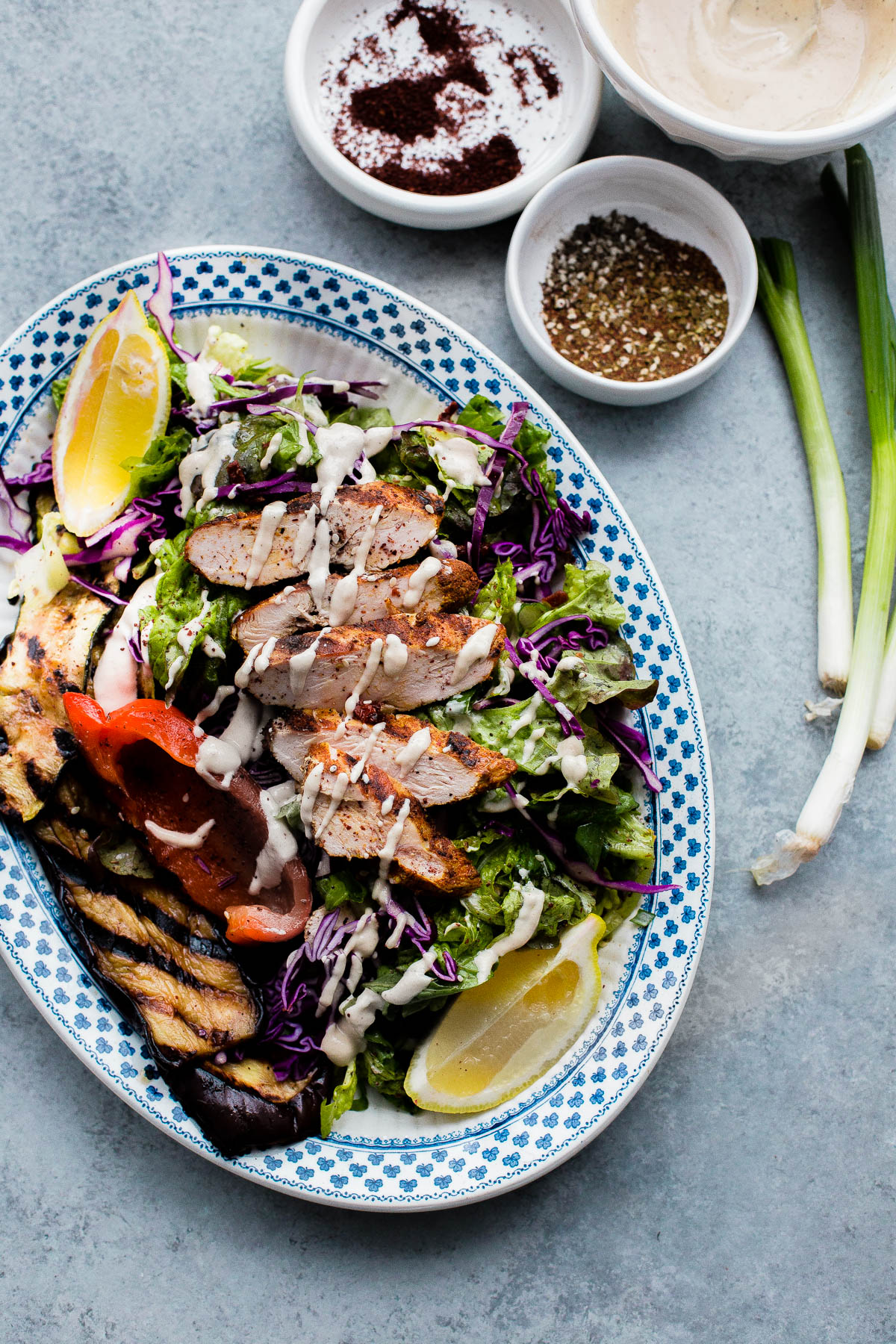 This salad is incredibly hearty and satiating on it's own, and can be whipped up quickly – especially if you prep the spice mixture and tahini sauce ahead of time. All of the components and flavors of the salad come together really well, so please don't be tempted to skimp on one or the other.
It is also worth noting that this Mediterranean chicken salad tastes incredible with of side of grilled vegetables. Eggplant, zucchini, and bell pepper are my favorites for this particular salad!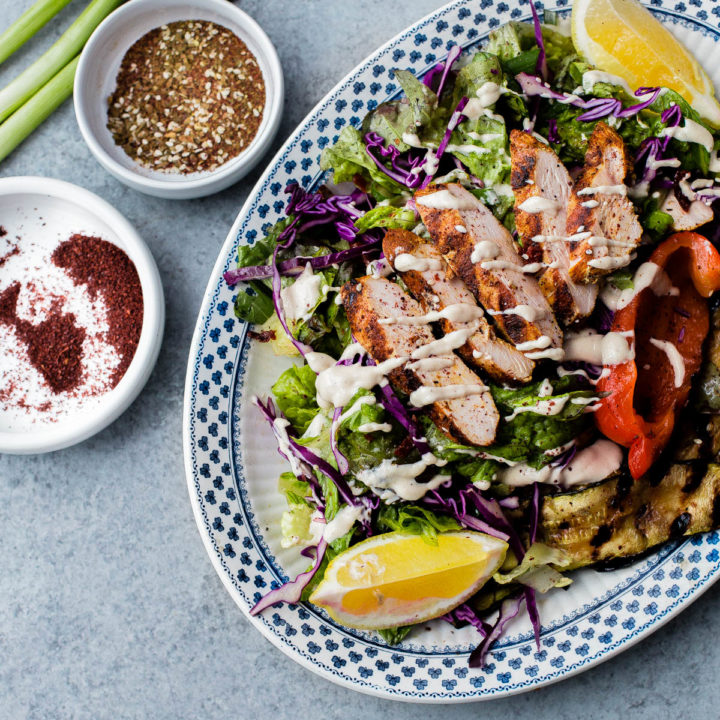 Mediterranean Chicken Salad with Sumac Dressing
Yield: 3-4 Large Servings
The chicken on this salad is marinated with a homemade Middle Eastern inspired spice mixture made up of ground cumin, coriander, cinnamon, nutmeg, cardamom, paprika, allspice, sumac, cloves, and turmeric! It is tossed with crunchy red cabbage, greens, scalions, sun dried tomatoes, za'atar, and a sumac dressing!
Prep Time: 45 minutes
Cook Time: 12 minutes
Additional Time: 3 minutes
Total Time: 1 hour
Ingredients
Chicken Marinade:
1/4 cup extra virgin olive oil
1/2 teaspoon ground sweet paprika
1/2 teaspoon ground cumin
1/2 teaspoon ground coriander
1/2 teaspoon ground allspice
1/2 teaspoon ground sumac
1/4 teaspoon ground cinnamon
1/4 teaspoon ground nutmeg
1/4 teaspoon ground cloves
1/4 teaspoon ground cardamom
1/4 teaspoon ground turmeric
1 large clove garlic, pressed
1 teaspoon lemon juice
4 chicken breasts (about 1.5 lbs)
kosher salt
freshly ground black pepper
Mediterranean Salad:
2 large scallions, finely sliced
4-5 sun-dried tomatoes, packed in oil, finely diced
1 heaping teaspoon za'atar spice blend
1/2 teaspoon ground sumac
1/4 small red cabbage, cored, and thinly sliced (about 3/4 cup)
2 small heads of romaine, cored, and sliced
4-5 ounces mixed greens
2 tablespoons freshly squeezed lemon juice, plus more for serving
2 tablespoons extra virgin olive oil
kosher salt
freshly ground black pepper
Toppings:
1 batch of easy lemon tahini sauce
za'atar spice, for sprinkling
sumac, for sprinkling
lemon wedges, for serving
grilled vegetables (optional)
Instructions
Marinate the Chicken: Place the olive oil, spices, garlic, and lemon juice in a large gallon freezer Ziploc bag. Close the bag (squeeze out any excess air) and combine the ingredients together–you want to make the spices are evenly incorporated–by squishing the contents of the bag with your hands. Using tongs (or your hands), add the chicken breasts to the Ziploc bag, squeeze out the excess air from the bag, and reseal. Make sure the marinade is evenly coating both sides of the chicken breasts. Place the bag flat on a large plate (I like to place mine on a quarter-size baking sheet, as I can store it easily in the fridge) and marinate the chicken in the refrigerator for at least 20 minutes or up to 12 hours if prepping ahead in the morning.
Grill the Chicken: Remove the chicken from the fridge about 15 minutes prior to cooking, so that it comes slightly closer to room temperature. Heat an outdoor grill or large cast-iron pan over medium-high heat. Remove the chicken breasts from the marinade, place on a large plate, and season both sides with salt and pepper. Discard the remainder of the marinade. Grill the chicken (I prefer to do this in batches, depending on the size of the chicken breasts, so that the grill stays hot) for 4 to 5 minutes per side (cooking time is roughly 10 minutes per inch of thickness) or until the internal temperature reads 165 degrees Fahrenheit. Adjust the heat and time depending on the thickness and size of your chicken. Transfer the cooked chicken to a clean plate or serving platter and allow it to rest for at least 5 to 10 minutes while you prepare the salad.
Prepare the Salad: In a large salad bowl, combine the scallions, sun-dried tomatoes, za'atar spice, sumac, and cabbage. Add the romaine, mixed greens, lemon juice, olive oil, and a generous sprinkling of salt and pepper. Toss and season to taste, adjusting with additional salt, lemon juice, or olive oil as needed.
For Serving: Once the chicken breasts have rested, slice them against the grain into 1/2 or 3/4-inch thick slices. Distribute the salad evenly into four large bowls. Top with grilled chicken and sprinkle each serving with a pinch of za'atar spice and sumac. Serve with a wedge of lemon and a large spoonful (drizzled on top or set to the side) of lemon tahini sauce.
Notes
Tips for Success:
I recommend making a large batch (tripling or quadrupling) the spice mixture for the chicken marinade. It tastes fabulous on everything, and you can keep a small batch of it in your pantry for easy access!
This salad stands incredibly well on its own, but tastes fabulous accompanied with a crumbling of feta cheese or simple grilled vegetables, such as eggplant, zucchini, and bell pepper.
Nutrition Information:
Yield: 4
Serving Size: 1
Amount Per Serving:
Calories: 537
Total Fat: 30g
Saturated Fat: 5g
Trans Fat: 0g
Unsaturated Fat: 23g
Cholesterol: 102mg
Sodium: 599mg
Carbohydrates: 27g
Fiber: 11g
Sugar: 7g
Protein: 46g