Mediterranean Chicken Salad with Sumac Dressing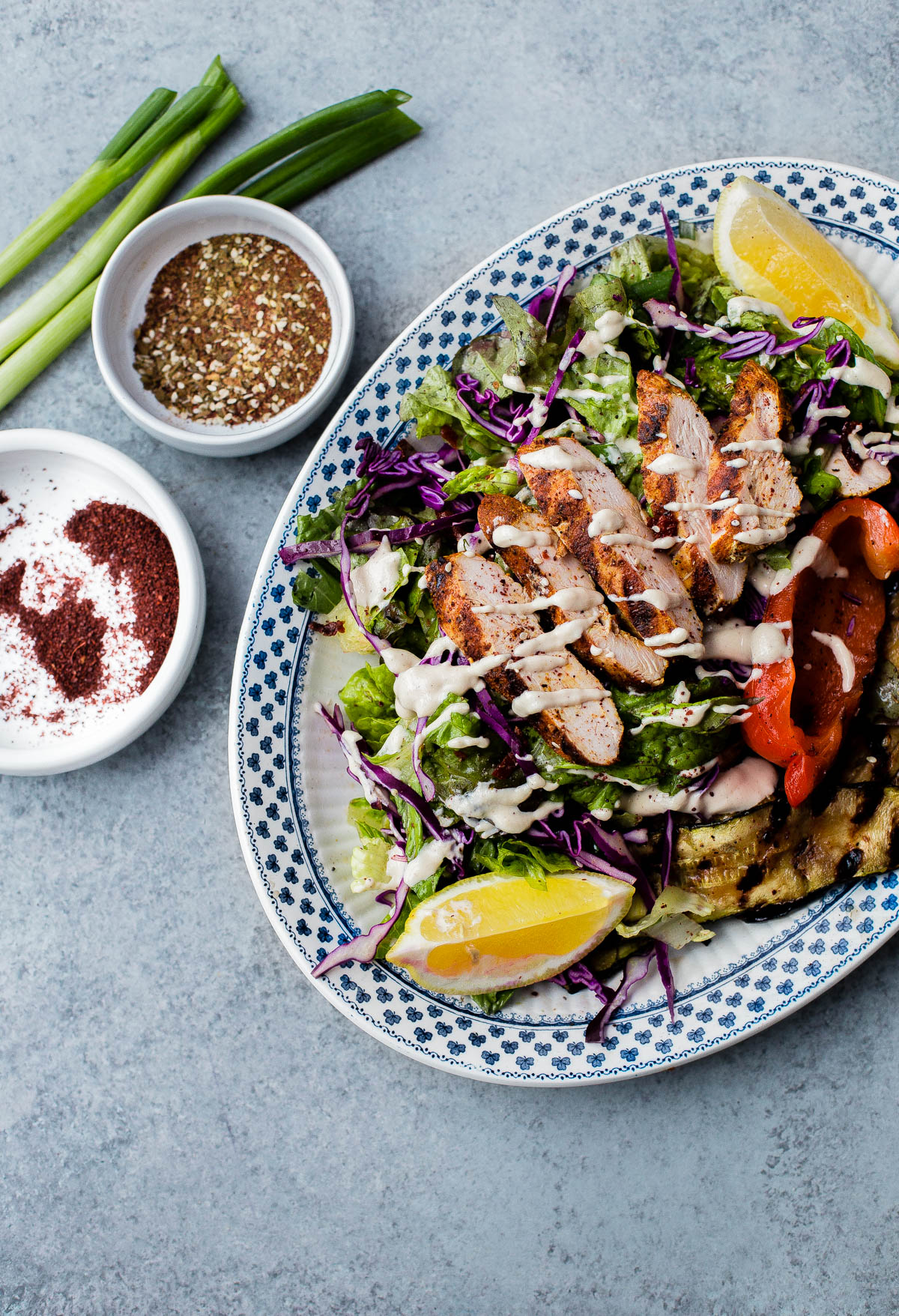 Oh my god! This Mediterranean chicken salad! I could literally it every day of the week (in fact, I nearly did this last week). It is that good! I don't do this often, but I would like to politely urge you to make this as soon as possible. The name doesn't give it nearly enough justice.
As a general rule, I enjoy salads. This isn't anything new. But it takes a very special salad for me to feel 100% satiated with one as a main course. It also takes a very special salad for me to crave it more than anything else! It has to have a ton of flavor and texture, and this salad checks all of those boxes. I love it.
The wow factor comes from:
chicken breasts marinaded with a homemade spice mixture made up of ground cumin, coriander, cinnamon, nutmeg, cardamom, paprika, allspice, cloves, and turmeric. It literally makes everything taste better!
crunchy, vibrant, thinly sliced red cabbage (I love adding it to salads for texture nutrition, and heartiness) combined with scallions and umami-rich sun-dried tomatoes
za'atar spice, dried sumac, lots of fresh lemon juice, and good-quality olive oil
creamy, easy lemon tahini sauce for drizzling – this sauce is spectacular!
My favorite recipes are the ones that I end up throwing together at the last minute, and this is exactly how this salad came about. I looked to my pantry and last year's Middle Eastern spatchcocked chicken for inspiration.
The chicken on this salad is marinated with a homemade Middle Eastern inspired spice mixture made up of ground cumin, coriander, cinnamon, nutmeg, cardamom, paprika, allspice, sumac, cloves, and turmeric. If you cook regularly, these are ground spices that are commonly used for both baking and savory dishes. I recommend having all of them in your pantry.
I make a large batch of the spice mixture at once (tip: quadruple the dry spice amounts in the recipe and keep the leftovers in a small ziplock bag for easy grabbing!) and keep some in my pantry at all times. It makes everything taste better and it compliments the other components in this salad perfectly.
The best part? You can marinate the chicken for as little as 20 minutes or up to 12 hours, depending on your time schedule.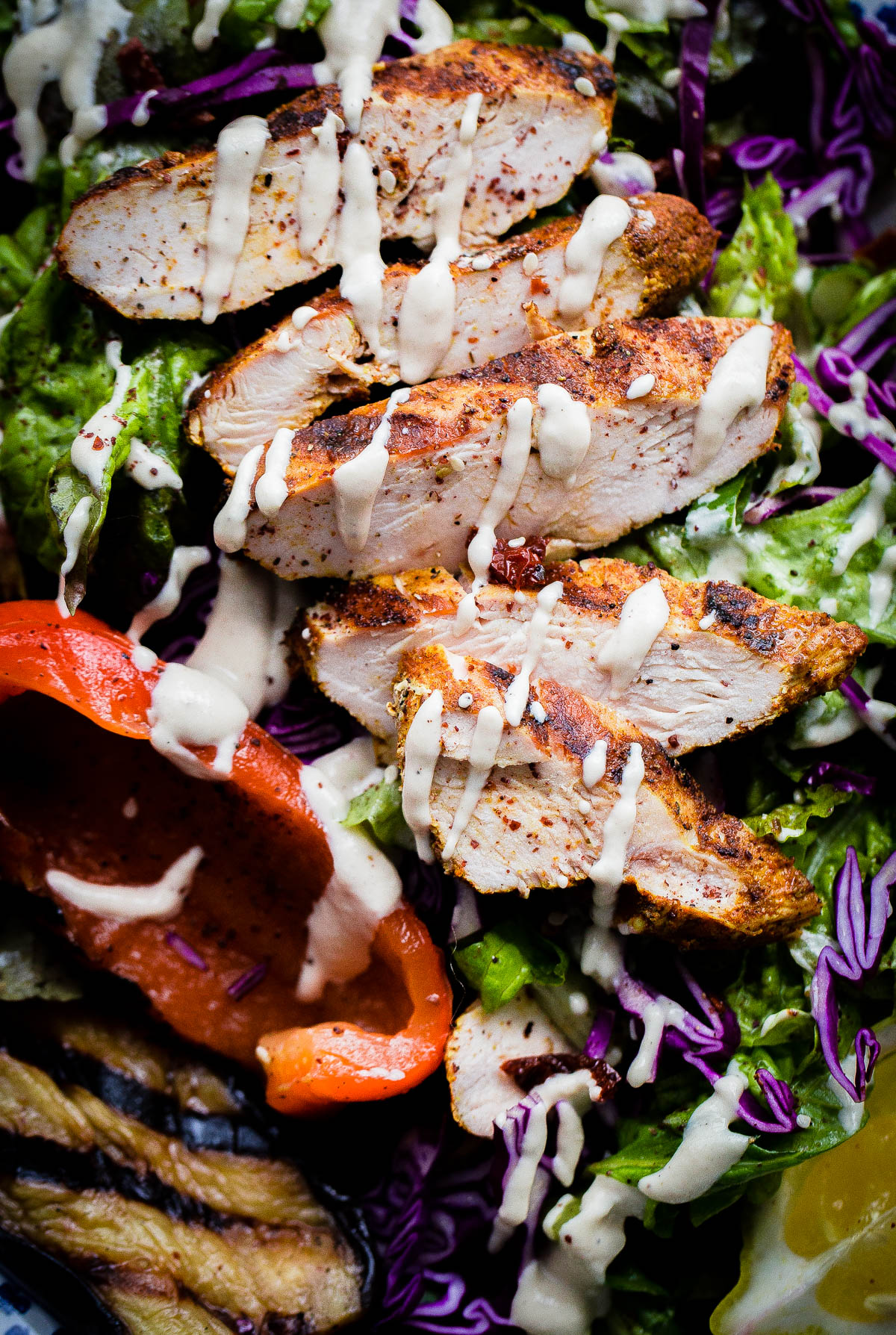 The sumac dressing is made with fresh lemon juice, extra virgin olive oil, za'atar spice blend, and sumac.
Sumac is dark red spice produced from the berry fruit of sumac flowers. It is very citrus-y and tart in flavor, and is a wonderful staple of Middle Eastern and Mediterranean cuisine. I've acquired a habit of sprinkling it on salads, vegetables, dips, and so many other things over the past few years. Unfortunately, sumac is hard to find in most grocery stores, so if you're looking to grab a container of it, I recommend seeking out any local Middle Eastern grocery stores or simply, ordering it online.
Za'atar is a spice blend made from toasted sesame seeds, sumac, and thyme (and occasionally a few other spices!). You can try your hand at making your own – sumac is difficult to find – but I've had better luck finding za'atar spice blend online or in the international aisle of my standard grocery store.
Both of these spices offer so much in flavor!  It is hard to meet a vegetable or piece of meat or seafood that doesn't benefit from a sprinkling of both.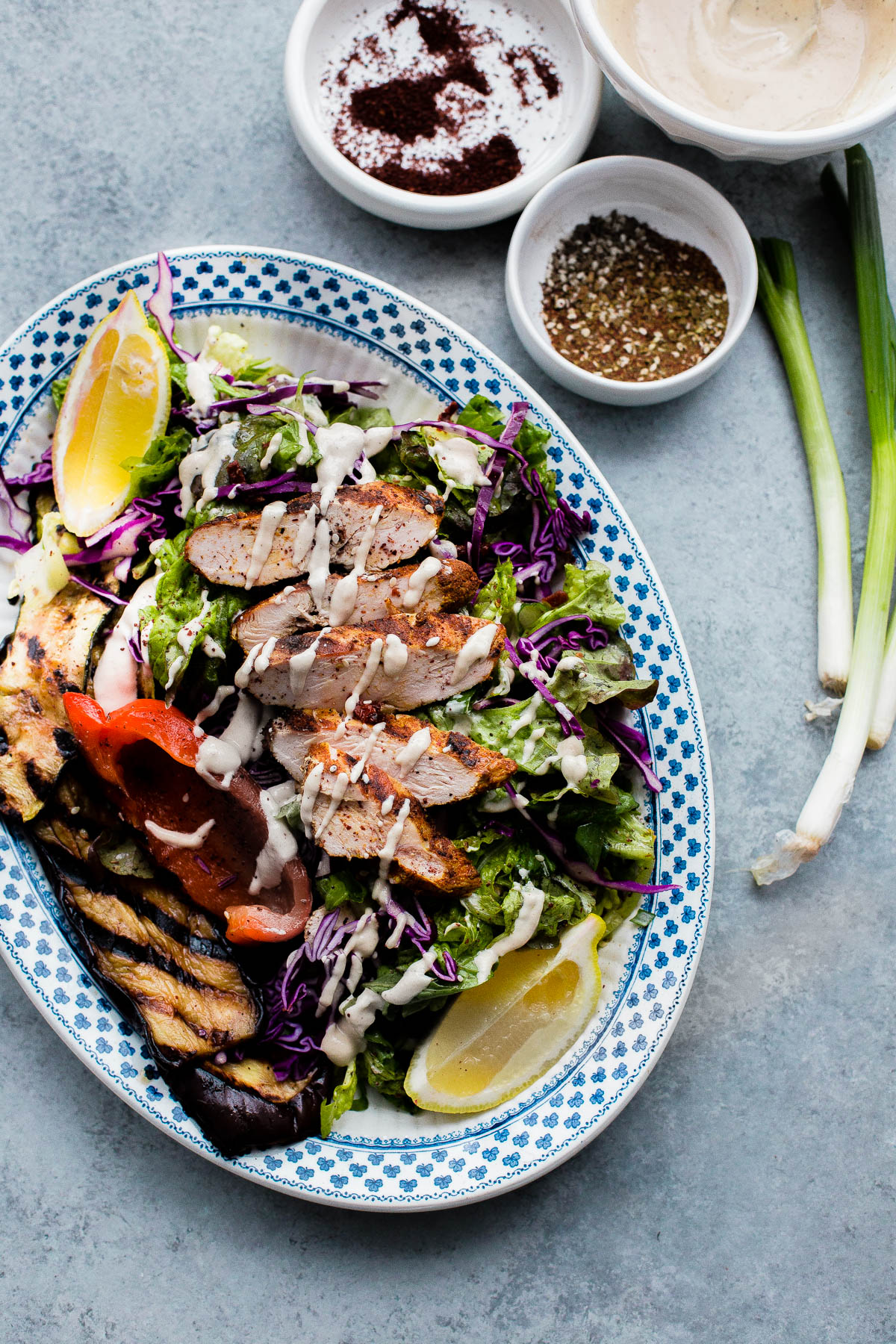 This salad is incredibly hearty and satiating on it's own, and can be whipped up quickly  – especially if you prep the spice mixture and tahini sauce ahead of time. All of the components and flavors of the salad come together really well, so please don't be tempted to skimp on one or the other.
It is also worth noting that this Mediterranean chicken salad tastes incredible with of side of grilled vegetables. Eggplant, zucchini, and bell pepper are my favorites for this particular salad!