Healthy Pumpkin Carrot Pecan Muffins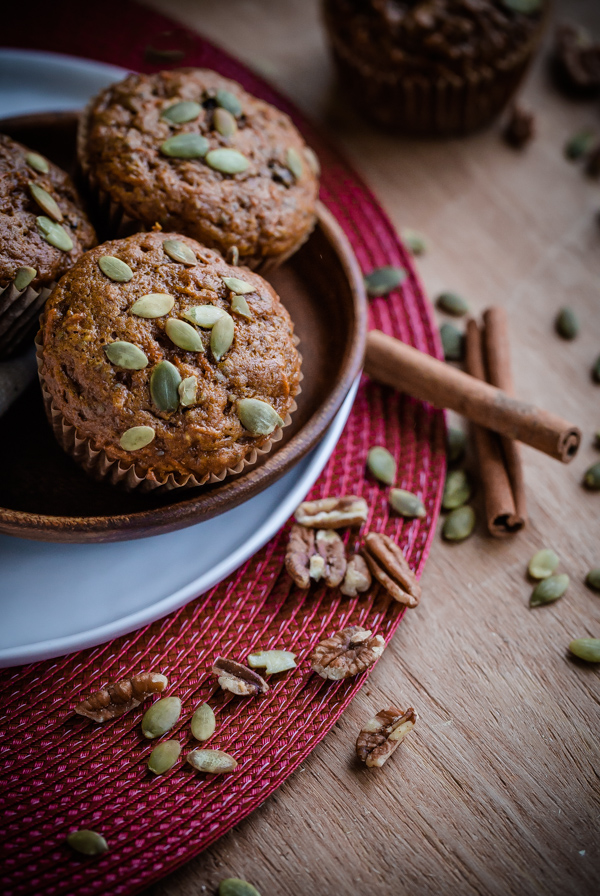 Hi!
Don't hate me–but I caught the pumpkin bug ahead of schedule. My plan was to resist posting any pumpkin recipes for at least a few more weeks (you know, until the weather dipped below 80 degrees) but then you left all of those amazing comments the other day about cozy sweaters, changing leaves, crisp air, boots, and well…pumpkin.
And, and! I went to Whole Foods the other day and they already had the pumpkin displays ! How do I buy all the pumpkins? No, really, how do I?
I stood there taking pictures with my phone for at least five minutes. I secretly wish we were getting married in the fall just so I could use pumpkins at the wedding. Wah.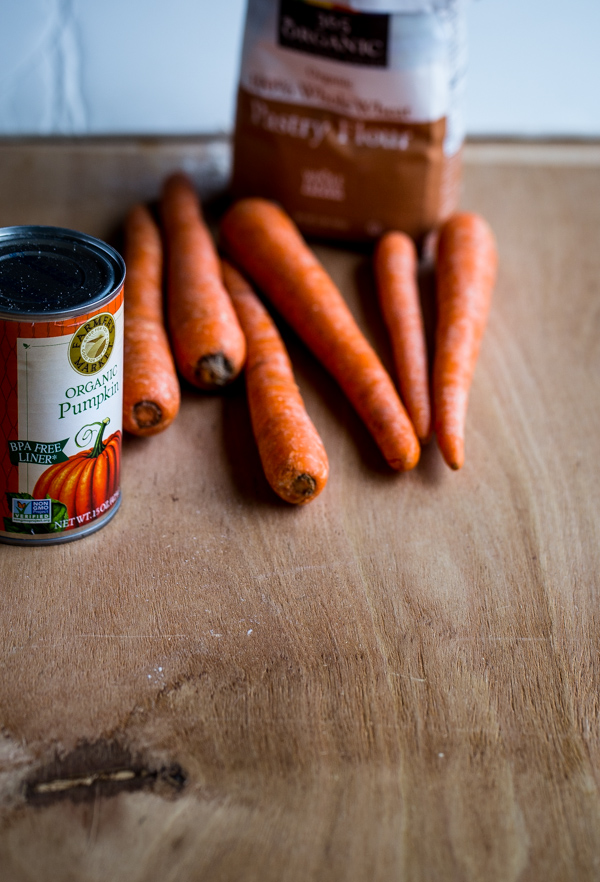 I know this sounds odd, but I have this bizarre infatuation for the ugly pumpkins. Like, the uglier the better.
I'm pretty sure you know the ones I'm talking about and they are ugly. Ugly in a beautiful way. Mottled and warty and wonderful.
I want them all. I probably shouldn't have just used the word 'warty' and 'mottled' in a post about pumpkin muffins. Forgive me.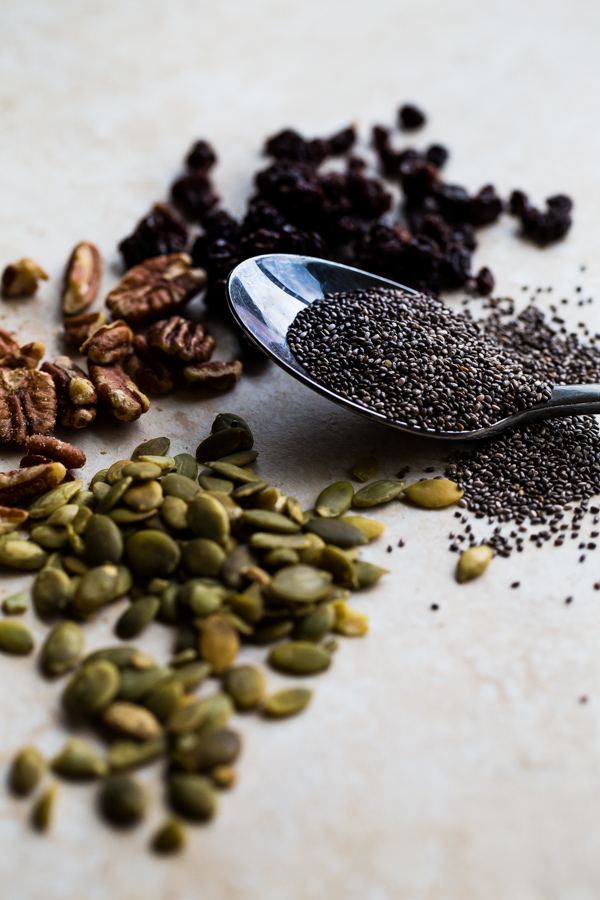 So, I was teetering on the pumpkin abyss (trying my hardest to resist), and then I saw those pumpkins and fell hard. Except, I have an amazing summer-ish recipe that I will be sharing next week, so if you're living in a place where its currently a million degrees outside and you can't stand the thought of pumpkin or anything fall-related, don't fret.
Either way, I recommend making an exception to the rule and baking these muffins. Seriously, guys, these are one of my absolute favorite muffins I've ever, ever made. You'll love them.
If they weren't so seasonal, I would make them year-round.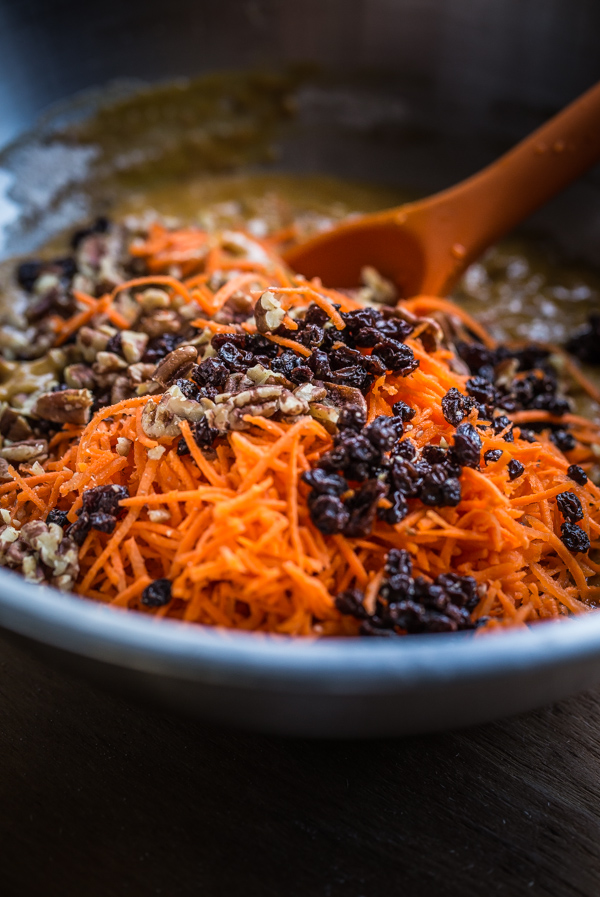 Truth time.
I made and shared a similar version of these muffins on the blog years ago (photography flashback–eek!), but I've been wanting to share them and give them new life for a while now. The original recipe was designed for a very unusual sized muffin tin and called for spelt flour, which as it turns out, is very difficult to come by.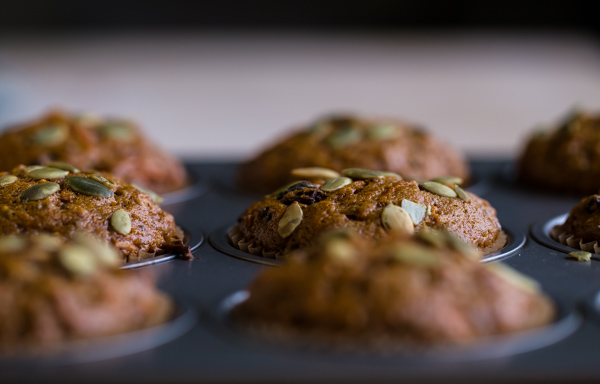 This time around, I adapted the recipe for a standard muffin tin (this recipe yields 9 muffins), used a combination of all-purpose and whole wheat pastry flours, as well as upped the health factor by adding chia seeds, coconut oil, and topping them off with pepita seeds. I also messed around with the spice mixture just a tad, and substituted the walnuts with chopped pecans.
There are also dried Zante currants (a small variety of raisin) in there, but I know a lot of people hate raisins, so feel free to leave them out if you're not feeling them. No biggie.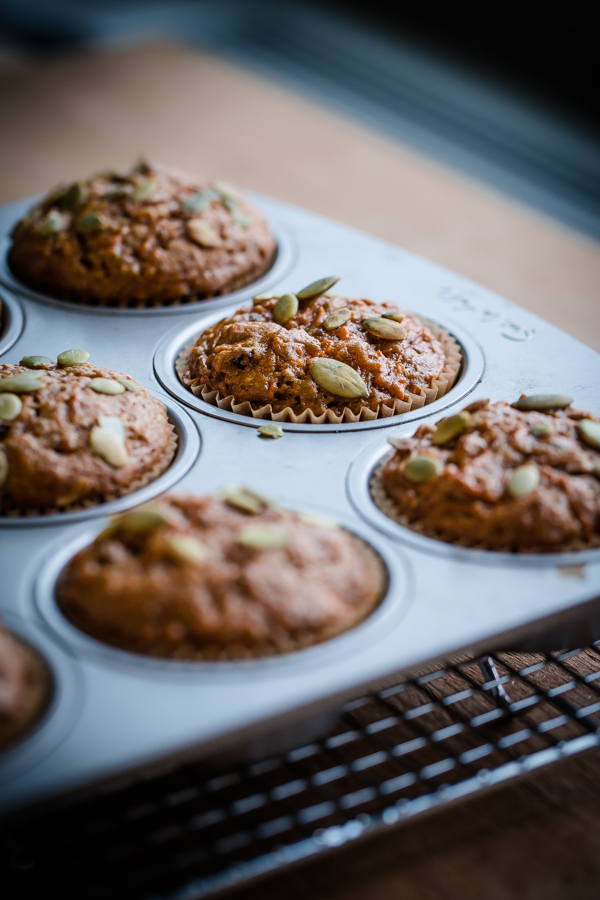 These muffins are also packed with tons of freshly grated carrot (one and a half cups to be exact!). I love the added texture that the grated carrots add, and although these muffins taste like pumpkin muffins, they have a lot more dimension to them than standard pumpkin muffins.
They are ridiculously moist (sorry!) and flavorful. I hate to even call them healthy, because even though they are by default, they could easily stand up to any other (not so healthy) pumpkin muffin out there.
In fact, I'm pretty they would win. I feel pretty confident about these guys.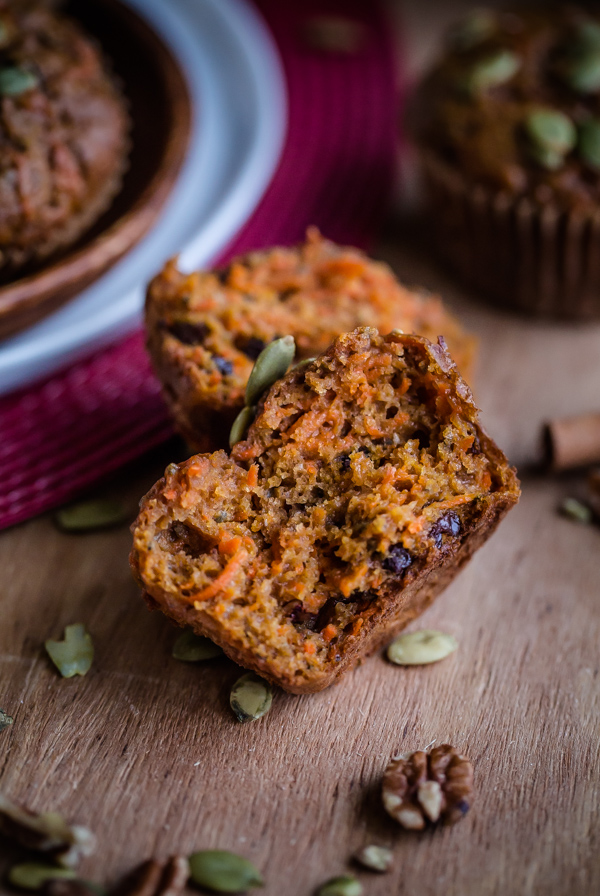 Please, please make them!
Then you can thank me by sending me an ugly pumpkin in the mail or something, mmk? Perfect.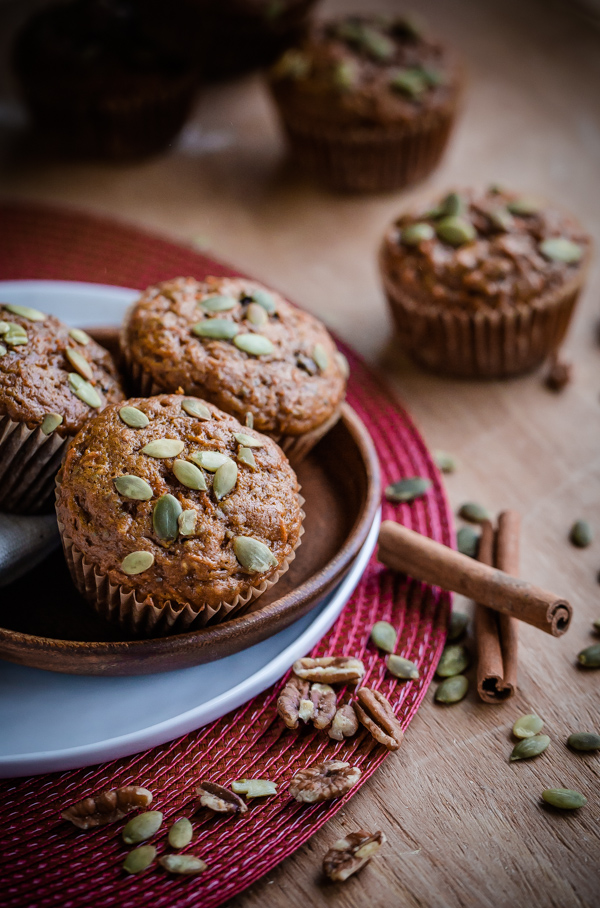 Healthy Pumpkin Carrot Pecan Muffins
Yield: 9 Muffins
These muffins are also packed with tons of freshly grated carrot (one and a half cups to be exact!). I love the added texture that the grated carrots add, and although these muffins taste like pumpkin muffins, they have a lot more dimension to them than standard pumpkin muffins.
Prep Time: 20 minutes
Cook Time: 20 minutes
Additional Time: 5 minutes
Total Time: 45 minutes
Ingredients
1/2 cup unbleached all-purpose flour
1/2 cup whole wheat pastry flour
1.5 tablespoons chia seeds (optional)
1 teaspoon baking soda
1 heaping teaspoon ground cinnamon
1/4 teaspoon ground cardamom
1/8 teaspoon ground ginger
pinch of ground allspice
pinch of ground cloves
1/2 teaspoon kosher salt
3/4 cup pumpkin puree  (not pumpkin pie mix)
2/3 cup turbinado raw cane sugar
3 tablespoons coconut oil (at liquid state), canola, or safflower oil
1/4 teaspoon vanilla extract
2 large eggs, room temperature
1 and 1/2 cups coarsely grated carrot (roughly 2-3 carrots)
1/3 cup coarsely chopped pecans (or walnuts)
1/4 cup Zante currants or raisins (optional)
1 tablespoon raw pepita (pumpkin) seeds
Instructions
Preheat the oven to 375 degrees Fahrenheit. Line a standard muffin tin with nine cup liners. Set aside.
In a medium bowl, whisk together the all-purpose flour, whole wheat pastry flour, chia seeds, baking soda, cinnamon, cardamom, ginger, allspice, cloves, and salt until well combined.
In a separate large bowl, whisk together the pumpkin puree, turbinado sugar, oil, and vanilla until well combined. Add the eggs, one at a time, and whisk until smooth. Add the flour mixture to the wet ingredients, stirring only until just combined. Gently stir in the grated carrot, pecans, and currants (or raisins, if using).
Using an ice cream scoop, evenly distribute the batter among the nine muffin cups–the batter should reach close to the top of each cup. Sprinkle the tops of the muffins evenly with the raw pepita seeds.
Bake the muffins at 375 degrees for 20-22 minutes, or until they are springy to touch and a toothpick inserted in the center comes out clean. Allow the muffins to cool in the pan on a cooling rack for 5 minutes, before removing them from the pan. Muffins can best served slightly warm or at room temperature. Allow to cool completely, and then store them in an airtight container (or Ziploc freezer bag) for up to 3 days.
Nutrition Information:
Yield: 9
Serving Size: 1
Amount Per Serving:
Calories: 349
Total Fat: 13g
Saturated Fat: 6g
Trans Fat: 0g
Unsaturated Fat: 6g
Cholesterol: 46mg
Sodium: 313mg
Carbohydrates: 53g
Fiber: 5g
Sugar: 24g
Protein: 7g
A Beautiful Plate provides nutritional information, but these figures should be considered estimates, as they are not calculated by a registered dietician.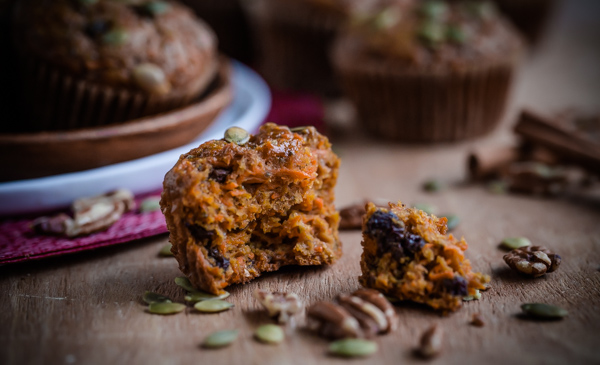 P.S. I updated my 'about' page for the first time in over two years! [Face palm.] Hope you like it!
This post contains affiliate links, which means that I make a small commission off items you purchase at no additional cost to you. Please read my
privacy policy
for more information.