Healthy Carrot Pumpkin Spelt Muffins
I know, that's kind of a mouthful.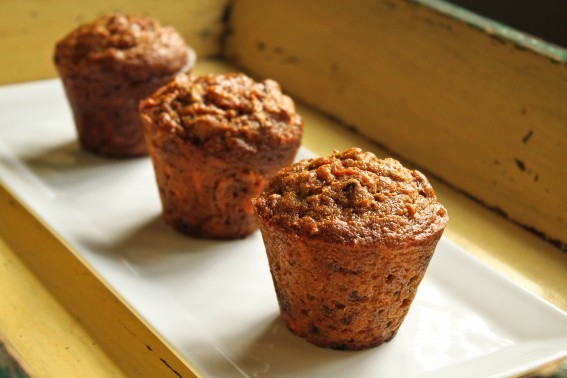 I'm way behind on the pumpkin bandwagon this fall.  Maybe I've gotten my pumpkin cravings satisfied just by looking at delicious blog recipes over the last couple weeks.  It's strange, because I love to bake with pumpkin and really do have a lot of recipes to share with you guys.  In particular, my favorite pumpkin pancakes, which are probably the fluffiest pancakes ever.  Bold statement, but I'm willing to risk it.
Therefore, I have a bunch of pumpkin cans stocked in my pantry for emergency baking sessions.  I actually just realized, while writing this, that I've been buying about a can a week ever since I saw it return to the grocery shelves.  Not intentionally, of course.
 
Since I usually resort to my staple pumpkin recipes during the fall, like pancakes, loaf bread, and pie, I really wanted to try something a little different.  I also really wanted to try baking with another new flour. Spelt seemed like a great place to start!  From my minimal research online, I learned the following fun facts about spelt.
It has more protein than regular whole wheat flour, has a slightly nuttier and sweetertaste, and is slightly easier to digest.  It does contain gluten, so it's a great substitute for most baking recipes.
So I decided to pick some up at the Whole Foods bulk bin and get baking.  Of course, if you aren't able to find it, you could always substitute in more whole wheat pastry flour.
This recipe was actually roughly inspired by a carrot cake recipe!  I decided that pumpkin and carrot would probably taste great together and luckily my predictions came true!  These disappeared incredibly quickly from my house and I think I only ate one of them in the end.
My dad doesn't even like pumpkin and he raved about them.  I take that as a good sign.  Here ya go: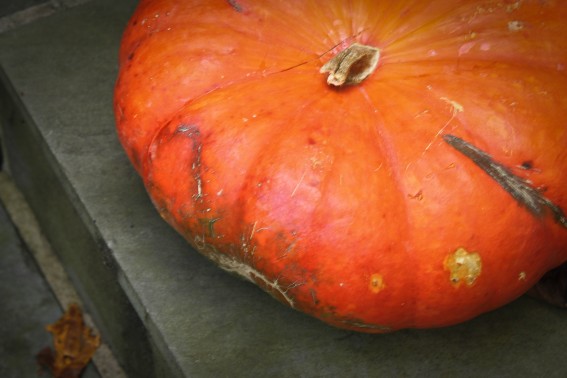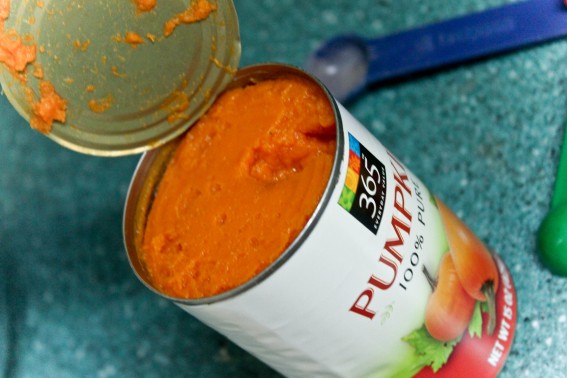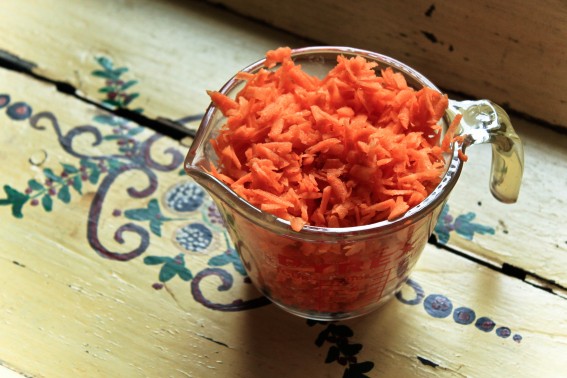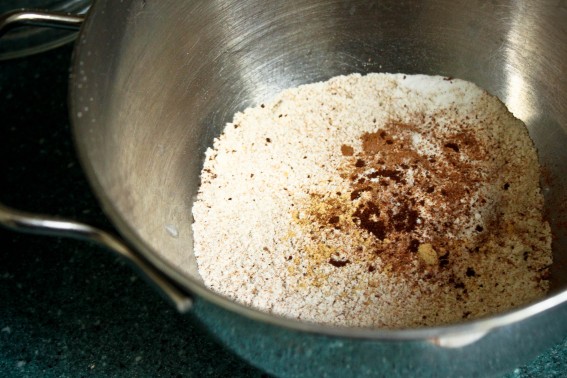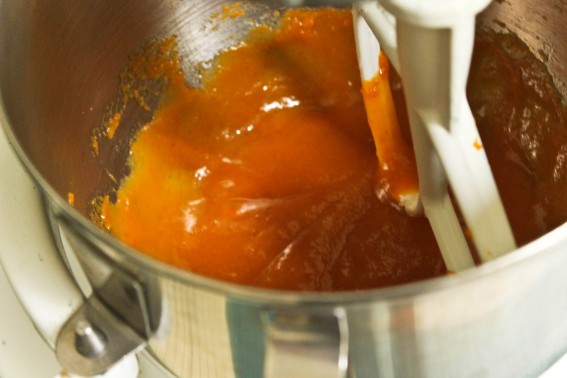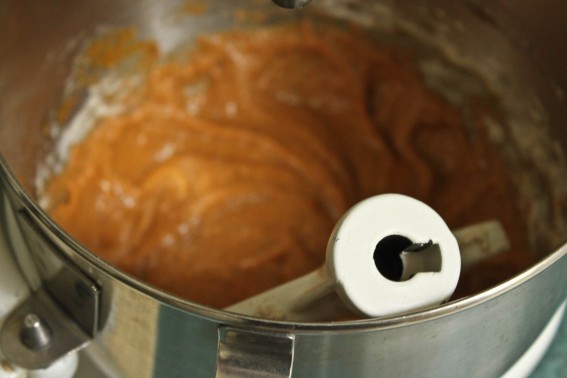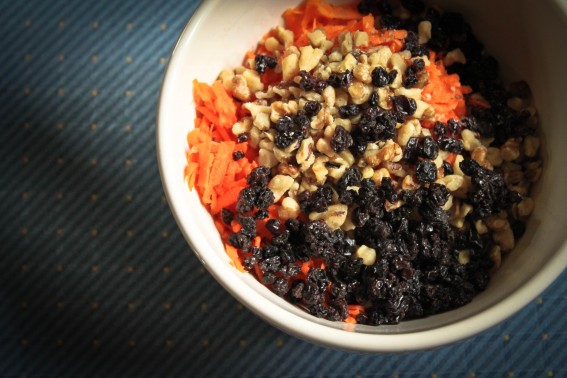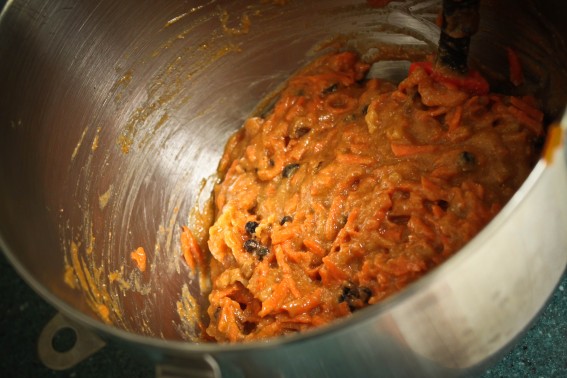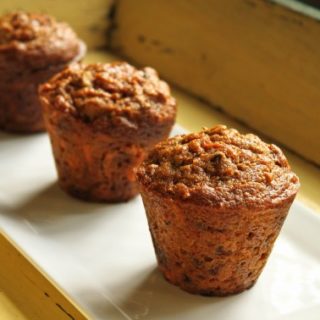 Healthy Carrot Pumpkin Spelt Muffins
Yield: 6 Large Muffins (10-12 Regular)
Prep Time: 20 minutes
Cook Time: 30 minutes
Total Time: 50 minutes
Ingredients
1/2 cup spelt flour
1/2 cup whole wheat pastry flour
1 teaspoon baking soda
1 heaping teaspoon ground cinnamon
pinch of ground nutmeg, cloves & ginger
1/2 teaspoon salt
3/4 cup canned pumpkin puree
3 tablespoons canola oil
2/3 cup granulated sugar
2 eggs
1 and 1/2 cup grated carrots (about 2-3 carrots)'
1/2 cup walnuts, chopped
1/4 cup Zante currants or raisins
Instructions
Preheat the oven to 375 degrees Fahrenheit. Grease a large (or standard) muffin tin lightly with oil. Set aside.
Whisk together the flours, baking soda, cinnamon, nutmeg, cloves, ginger, and salt.
Using a mixer, combine the pumpkin puree, canola oil, and sugar until smooth. Add the eggs one at a time, and continue to beat until smooth.
Reduce speed and slowly add in flour mixture, mixing only until the dry ingredients disappear (whenever baking, you want to mix as little as possible).
Gently stir in carrot, walnut, and currant mixture. Divide into lightly greased muffin tin.
Bake at 375 degrees for 28-32 minutes or until inserted toothpick comes out clean.
Notes
Since I used a larger muffin tin, the cooking time took longer, so if you use a traditional muffin pan, the cooking time will probably be more like 20-22 minutes.
Nutrition Information:
Yield: 12
Serving Size: 1
Amount Per Serving:
Calories: 256
Total Fat: 9g
Saturated Fat: 2g
Trans Fat: 0g
Unsaturated Fat: 7g
Cholesterol: 35mg
Sodium: 235mg
Carbohydrates: 40g
Fiber: 4g
Sugar: 18g
Protein: 6g
A Beautiful Plate provides nutritional information, but these figures should be considered estimates, as they are not calculated by a registered dietician.
While I know everyone is partial to Libby's, including myself, that wasn't the first canned pumpkin I saw this season.  Therefore, I have had to make do with Farmer's Marketorganic  pumpkin, organic pumpkin 'a la Trader Joes, and 365 Whole Foods brandcanned pumpkin.  I can vouch that the Farmer's Market brand is significantly darker in color and less tasty than the Libby's and 365 Whole Foods brand.  As for Trader Joe's, I can't vouch for that as of yet.  Though I'm guessing it's not as good.
I used the 365 Whole Foods brand pumpkin for this recipe and was quite impressed!  It was also on sale for $1.29/can, which is the cheapest pumpkin I've ever seen on the shelves!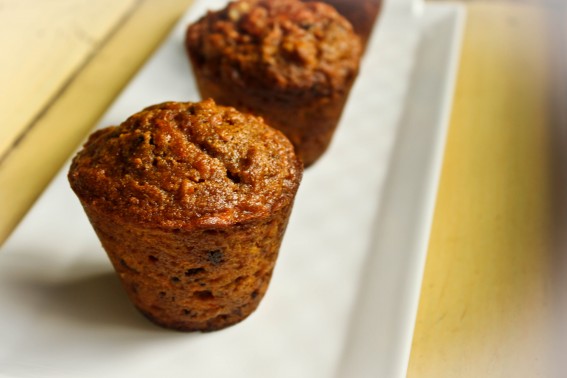 These muffins were incredibly moist.  Most likely due to using both grated carrots, as well as pumpkin.
I know everyone hates that word, but there is no other way to describe them.  They are probably the moistest (sorry!) muffins I've ever had, period.  They taste equally as tasty the second day around.  In fact, I tend to think some baked goods taste better the second day because the flavors have had a chance to settle and become more pronounced.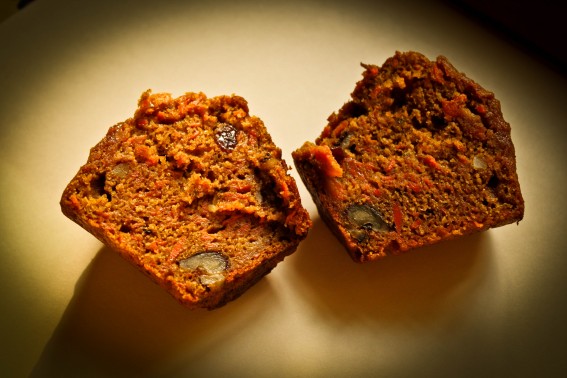 All in all, it was a baking-experiment success!  And I'm excited to add another pumpkin recipe to my arsenal.  Hope you enjoy them, as much as my family did!