Healthy, vegan, dairy-free breakfast smoothie made with frozen bananas, coconut water, pitted dates, almond milk, hemp seeds, and almond butter. You'll want to drink this every day of the week!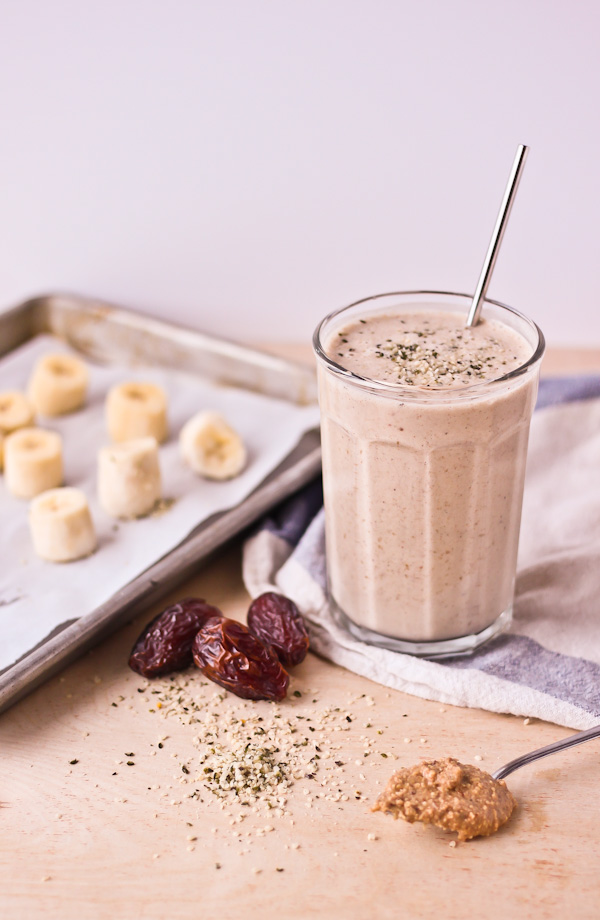 This past week and a half has been a little bit crazy.  You see…I recently started a new job (at my old job–very, very long story) and I've been getting used to a totally new schedule, new traffic patterns, new responsibilities, new meal schedule, new everything.
I feel sort of discombobulated.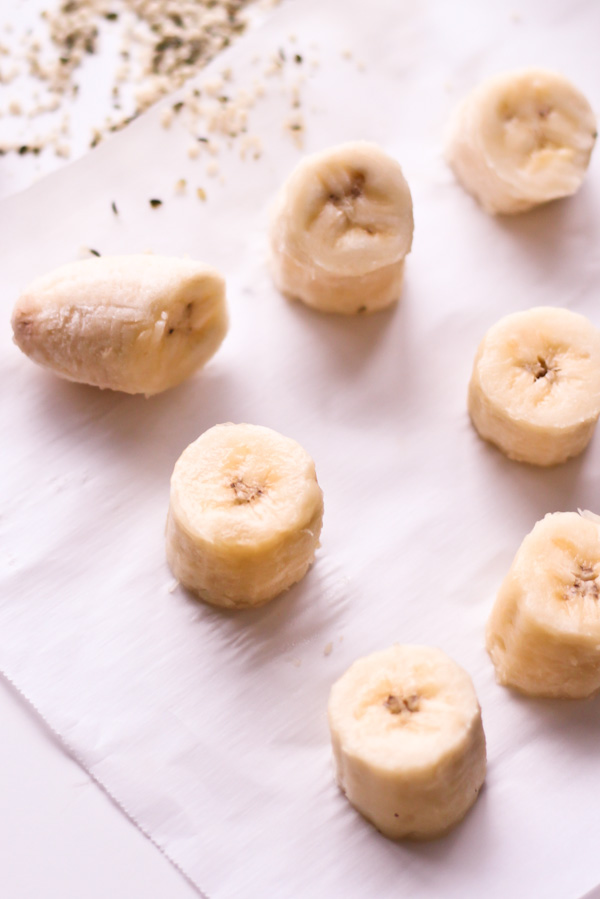 Anyway, one of the things I'm getting used to is waking up earlier.  As someone who tends to go to bed a little too late and enjoys a slightly leisurely breakfast, it has been a bit difficult to get used to.
I've been guilty of repeatedly pressing the snooze button (Connor's says I snooze like it's my job–uhhh, I wish!)–which unfortunately, has resulted in me skipping breakfast way too often.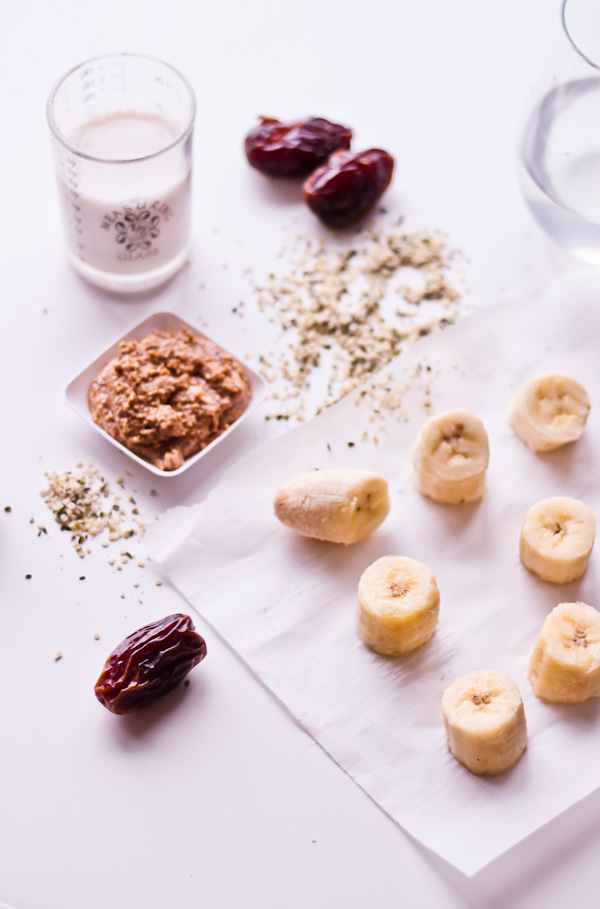 I'm sure some of you guys can relate to this.  It's not so great.
Anyway, the other day I was trying to come up with ideas for easy breakfasts or breakfasts on-the-go, and I couldn't help but remember an incredibly delicious smoothie that I had on a recent trip to New York City back in December.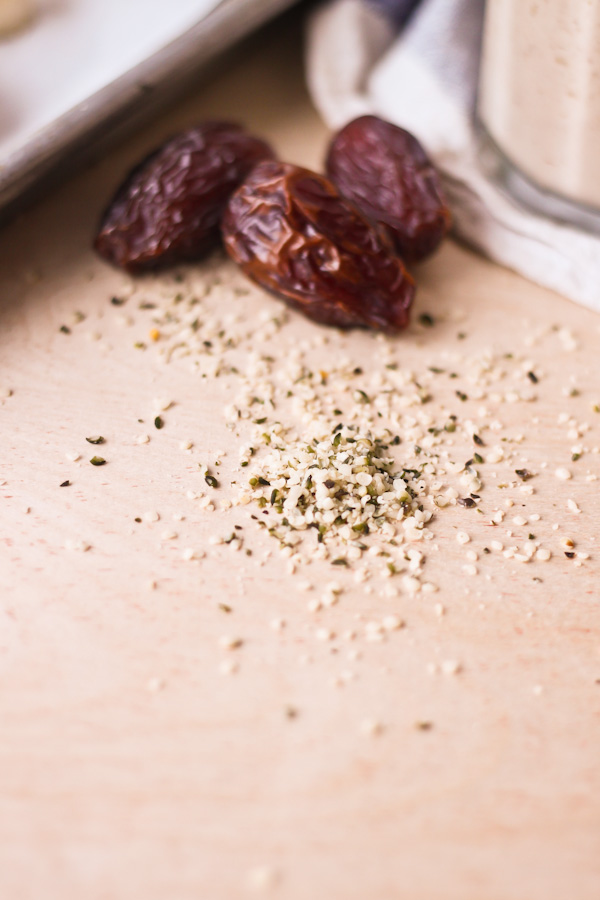 It was at a beautiful takeaway food shop and cafe called Nourish Kitchen + Table, located in the West Village.  Not only is this place absolutely stunning in the inside (my dream cafe come to life!), but it has an amazing menu packed with nutritious, flavorful, and seasonally influenced food.
We tried so many different things on the menu and enjoyed every single thing–but I fell particularly hard for their rise and shine smoothie.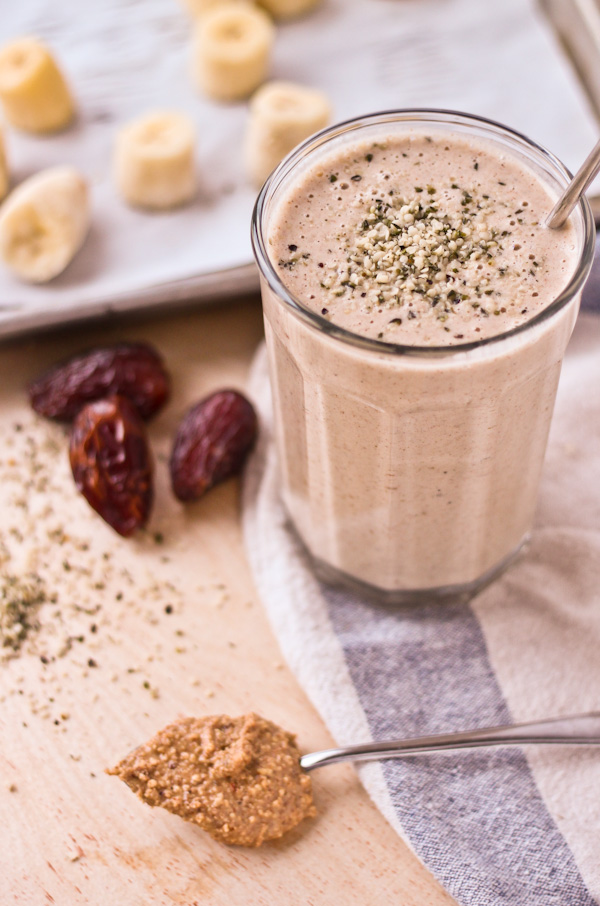 Obviously, this recipe is based purely on memory!  But I'm so happy to say that it tastes incredibly similar to the original.
This version is made with coconut water, unsweetened almond milk, almond butter, frozen banana, hemp seeds, dates, and a pinch of cinnamon.  It almost tastes like banana bread in liquid form, but has the added bonus of being incredibly good for you.
The dates and banana provide just the right amount of natural sweetness–and the almond butter and hemp seeds make it incredibly filling.  Plus, it is  quick to prepare, making this breakfast option super snooze-button friendly.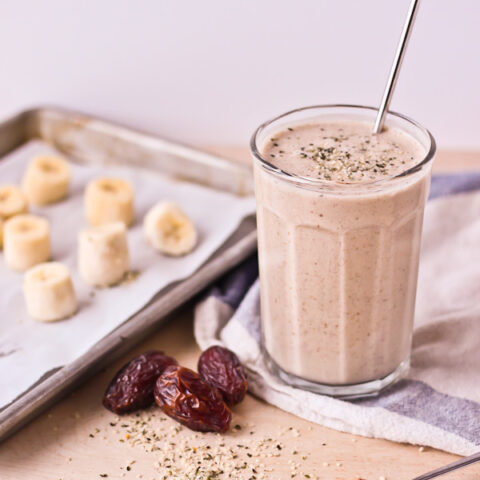 Rise and Shine Smoothie
Yield: 2 Servings
Healthy, vegan, dairy-free breakfast rise and shine smoothie made with frozen bananas, coconut water, pitted dates, almond milk, hemp seeds, and almond butter. You'll want to drink this every day of the week!
Prep Time: 5 minutes
Total Time: 5 minutes
Ingredients
1 cup unsweetened almond milk
1 frozen banana
1/2 cup coconut water (*I love Harmless Harvest brand)
2 or 3 small dried medjool dates, pits removed
2 tablespoons unsalted (and unsweetened) almond butter
2 tablespoons hemp seeds (+ small sprinkling for garnish)
pinch of ground cinnamon
Instructions
Place all ingredients in a blender and puree until smooth.
Pour into glass and sprinkle top with reserved hemp seeds. Best served immediately, or can be kept in a covered container in the fridge for up for 1-2 days.
Nutrition Information:
Yield: 2
Serving Size: 1
Amount Per Serving:
Calories: 336
Total Fat: 18g
Saturated Fat: 8g
Trans Fat: 0g
Unsaturated Fat: 9g
Cholesterol: 31mg
Sodium: 157mg
Carbohydrates: 44g
Fiber: 5g
Sugar: 33g
Protein: 6g
A Beautiful Plate provides nutritional information, but these figures should be considered estimates, as they are not calculated by a registered dietician.